Imagine a place where parents can tote their tots to an art workshop, take a class on CPR, pick up a few back-to-school essentials and then share a healthy meal—all under one roof. No, it's not heaven: It's Wonder!, a 135,000-square-foot concept shop opening Oct. 22 in Chicago's Deerfield suburb, and its owners are hoping […]
Wonder World
A spacious registry area comes staffed with experts.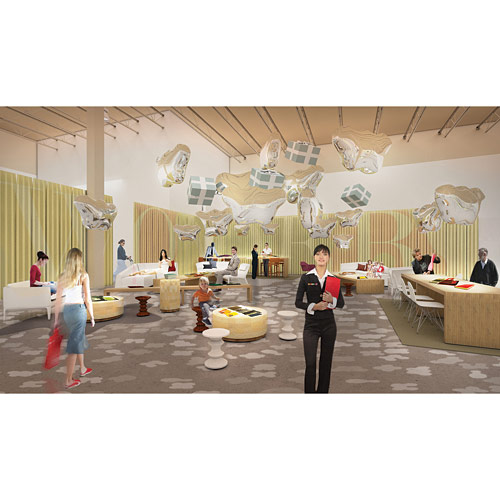 Wonder World
A bumpy track will allow parents to road test the store's wide selection of strollers.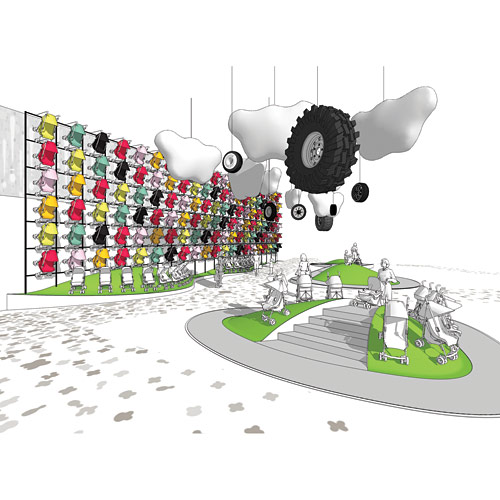 Imagine a place where parents can tote their tots to an art workshop, take a class on CPR, pick up a few back-to-school essentials and then share a healthy meal—all under one roof. No, it's not heaven: It's Wonder!, a 135,000-square-foot concept shop opening Oct. 22 in Chicago's Deerfield suburb, and its owners are hoping to redefine retail by providing both parents and kids with an ethereal shopping experience.
"What we've seen over the last decade or two is a slow transition in retail," says Wonder! Founder Shane Christensen. "Home Depot brought everything under one roof, but it was very transactional. Now the movement we're seeing is experiential, and if there's any area that should be about the experience and emotion, it's children's retail." Christensen, a father of two, had an epiphany one day while carting his kids around town on various errands, realizing that the time was ripe for a retail experience that combined convenience—a big concern for busy parents— with the fun factor of shops like American Girl, Ikea and outdoor giant Cabela's.
For parents, Christensen plans to offer a shopping experience like no other, with a vast selection of baby gear, furniture, bedding, apparel, toys and a whopping 160 strollers—including a track with hilly topography for real-world testing. A 1,600-square-foot baby registry lounge will sit in the center of the retail area, surrounded by layettes and other gear for soon-to-be-parents to peruse, with experts on hand to provide recommendations. And for more in-depth advice, Wonder! will offer classes on everything from prenatal birthing to CPR and breastfeeding, taught by staff members from nearby Prentice Women's Hospital.
Despite the appeal to parents, it will likely be Chicago-area kids begging to return, thanks to the shop's 20,000-square feet allocated for play, party and education, including 10 classrooms offering art, dance and music classes and a half- acre interactive playscape, full of mounds for climbing and real trees. Courtney Watkins, who has worked with Disney and Jim Henson, will be providing all of the shop's art programming, while kindie rock bands like SteveSongs and Ralph's World plan to perform. Thanks to a partnership with the Lincoln Park Zoo, armadillos and other critters will occasionally come to play. And kids with a need for speed will have a chance to test their Hot Wheels on the shop's indoor race track before buying. To recover, families can grab a snack or learn to whip up their own entrées at Bean Sprouts Café & Cooking School, run by Kelly Parthen and Shannon Payette Seip, who previously served up tempting treats for American Girl.
Zutano was so entranced by Wonder!, the children's brand is planning to open a 200-square foot concept store inside, complete with a stacked chair sculpture reminiscent of Alice in Wonderland and a baby-bottle chandelier crafted by a Vermont artist. "I think it's time to rethink retailing," says Michael Belenky, president and founder at Zutano, about the brand's decision to jump on board. "People are getting comfortable shopping on the web, especially in the baby market, and the retail landscape continues to evolve with different venues for shopping," he notes. "If we can make the specialty retail experience even more special, there's really a reason for parents to make that drive." —Audrey Goodson