Red and white aren't the only shades to stock this Holiday season—childrenswear execs are using increasingly inspired ways to deck the halls with boughs of green.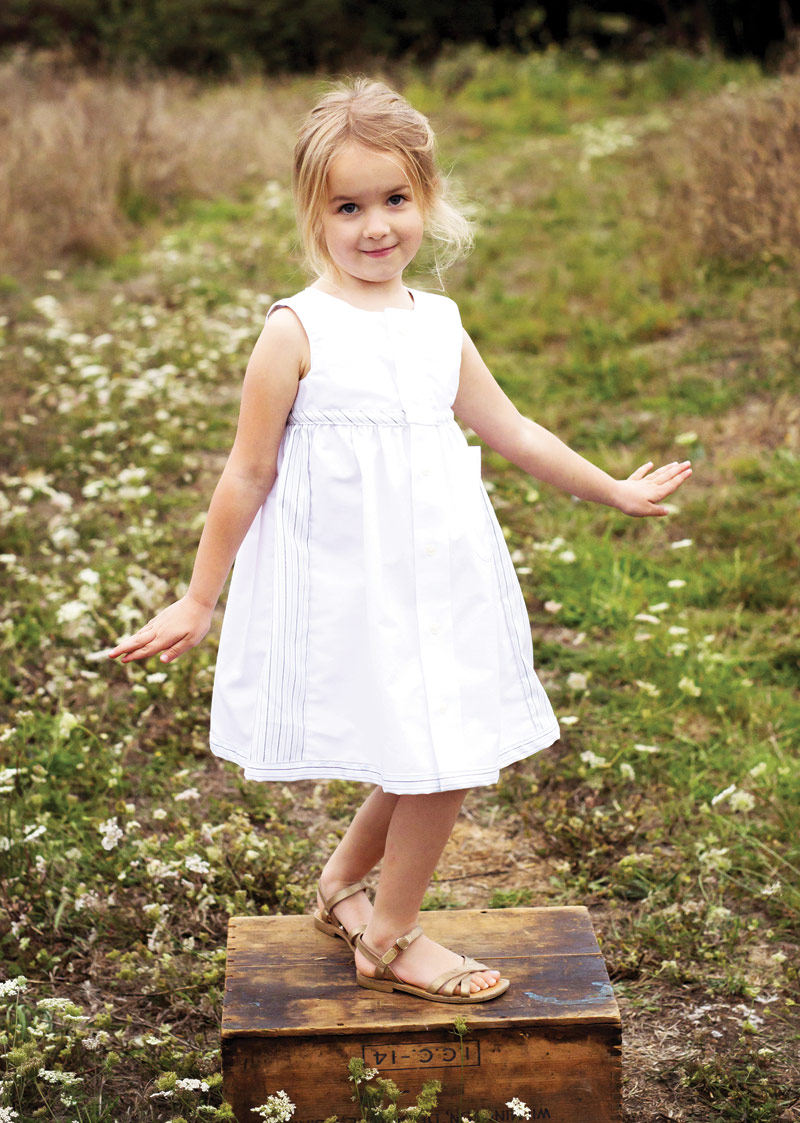 Move over green juice, a much larger entity is at the forefront of consumers' attention these days: preserving our planet. Reusing and recycling are trending, particularly with Millennial moms, meaning industry insiders are finding new ways to keep little ones in looks that are comfy, stylish and ethical. Sofia Melograno, founder of Beru Kids, laments that the fashion industry is one of the most polluting, second only to oil. The fix? Changing production practices to reduce a brand's global footprint. "Businesses are really making a concerted effort to produce and operate sustainably, ethically and responsibly," asserts Melograno. Here's how brands are making sure the footprint they're leaving is eco-chic.    
Unused fabric left over from fashion production is a reality in the industry, and often too much of a specific fabric is ordered, or is not right for the envisioned purpose. Consequently, some smart brands are figuring out how to use what is dubbed "deadstock." Melograno, whose holiday collection will consist of about 80 percent deadstock, explains that the unwanted fabric is typically sold to a jobber at a heavily discounted price and then sold to other ("small-ish") brands, like her own. Kristin Coia, founder and president of Go Gently Baby, says that her team has always reworked her brand's own past season fabric deadstock and often puts it back into its production cuts. Michelle Chaplin, owner and designer of mostly deadstock-based Ultra Violet Kids, adds that since children's clothing is smaller in scale, less fabric is necessary, so getting enough yardage should not be an issue. And, for many brands, it is nearly impossible to hit the minimum orders fabric houses require so it's often difficult for those small companies to develop custom prints anyway. For some, deadstock is the solution, and consumers are responding positively. "Once people understand what it is, they really love and support our mission," Melograno reflects.
While deadstock usually refers to using new bolts of fabric that go unused, "upcycling" is yet another sustainable option that greatly reduces landfill waste, according to Petite Marin Co-Founder Rachel Schohn. "With textile upcycling, a used garment is creatively repurposed into a new garment," she explains. She defines the phenomenon as "the process of reusing or repurposing materials to create new, even higher quality products than the original." Two years ago, Schohn picked out a men's dress shirt from her husband's donation pile and upcycled it into a romper for her then-infant son. "It had the cherished memories of my husband and baby playfulness all in one," she recalls. "It all fell into place." The result? Her brand's upcycling process today consists of using high-end men's dress shirts, laying a pattern on them and creating  clothing  for boys and girls up to age 2. Kristen Saylor, owner and founder of the Boho Baby Boutique, an online source for upcycled garments, adds that her products are special in that they are one-of-a-kind. "This design is as unique and special as the child wearing it," she muses.
But brands need not necessarily use deadstock or use upcycling practices to keep the green, ethical movement aflame. Goat-Milk uses low impact dyes, only organic cotton, and keeps packaging to a minimum. Cate & Levi manufactures with scale using 100 percent reclaimed wool sweaters. Billie Blooms ensures all bloomers are handmade locally in the USA and donates $1 for each pair of bloomers sold to support the Every Mother Counts organization, dedicated to making pregnancy and childbirth safe for every mother. Schohn's eco-friendly little secret? "We use seed paper for our hang tags, so they don't have to be discarded. If you plant the paper in soil and water it, wildflowers will bloom!"
No matter the technique, it is clear that eco-friendly retailers and brands will continue to become more and more relevant, particularly at the consumer level. "I think the customer is becoming more aware of waste and excess," confirms Coia. As Melograno puts it: "Our world is changing." •