Vail might be a world-class skiing destination, but its well-heeled tourist crowd is as eager to shop the stores as slalom down the slopes.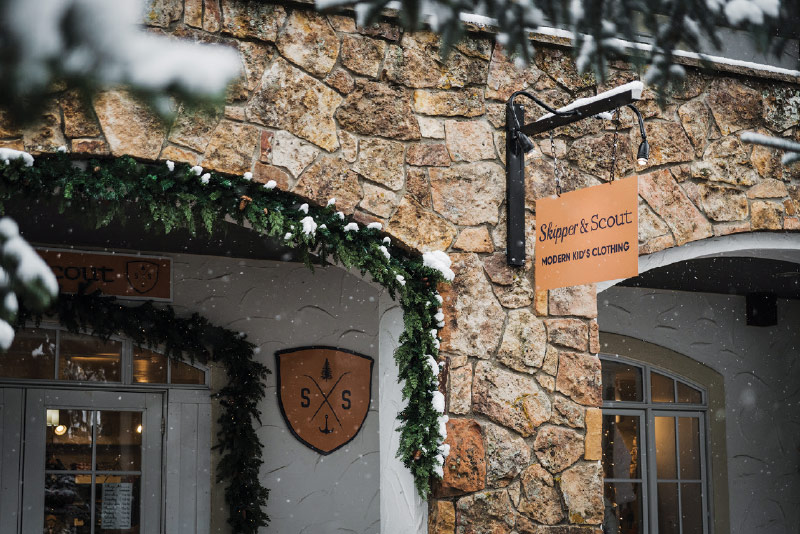 Vail might be a world-class skiing destination, but its well-heeled tourist crowd is as eager to shop the stores as slalom down the slopes. Skipper & Scout hits both proclivities with ski-themed fashion and fashion-themed skiwear, plus toys and cross-generational games to play back at the condo.
Transplanted "a snowball's throw" from its former location, Skipper & Scout's new 930-square-foot boutique re-opened in November on its fifth anniversary. The cozy space features more than 300 lines targeting newborn to 16 with everything from $5 impulse accessories to $200 Tutu Du Monde dress or $160 Stella McCartney boys' quilted jacket to a $700 Aviator Nation jacket. The store's customer base is 80 percent tourists, including a big international following, and while Vail evokes winter sports, it's a year-round destination. Kids even get outfitted for summer camp, notes Owner Kerry Roach, a Boston transplant. The store also co-brands with women's boutique, Perch, and men's boutique, Grey Salt. "We have something for everyone in the family now," Roach says.
Skipper & Scout is growing its online presence with marketing dollars behind Instagram promotions to drive people to the website, which was launched a year ago. The store posts product as soon as it arrives, which lets tourists feel connected when they're not in Vail. The store also regularly posts kids' modeling sessions on Instagram/Facebook to generate intrigue. "Customers then order online or show up at the store looking for what was posted the day prior," Roach says, adding, "People in Vail love shopping as much as they love skiing." —Lauren Parker
How's business? Snow or no snow, the Vail tradition runs deep, with families coming year after year and many eventually buying second homes. We've never had a down month. In 2019, I'd say the tourist traffic increased, with people coming in for the World Cup in November and holiday skiing. New clients are increasing each year, and we added a VIP program for loyal customers. It costs $1,000 to join, but that money applies to purchases throughout the year with 20 percent off. For moms with a few kids, it really pays off.
Tell me about your Custom Box program. We continue our customer relationships through our boxes when they leave Vail. In store, we learn about their families, favorite brands, etc., trade cell phone numbers and text photos when new product arrives. We then put together boxes to send them, they give us input and then we become their virtual personal shopper. We talk this up a lot in the store, so customers know we're a one-stop-shop for everything kids, with free gift wrapping and shipping. They'll use us year-round for baby gifts, Christmas gifts, etc. An average box sells for $500-$800 retail, unless it's a baby or birthday gift, and then they usually spend $100-$150. We love doing this, since our regulars come once or twice a year, so we can help out in between. We even do summer camp care boxes with candy, diaries and accessories.
What is your best-selling brand? Aviator Nation! The retro look has been everywhere in fashion, and they've been ahead of the curve. People love it as ski and après ski wear, and we're one of the only shops in Vail village with such a large selection, selling pieces for the whole family.
What are your best-selling items this season? Anything ski from Sol Angeles, Chaser, Rylee & Cru and Petit Bateau for babies. In girls' apparel, athleisure is hot. We've been lucky to have access to Ivivva, the active line from Lululemon, and it sells like crazy. Anything sequin from Hannah Banana, Lola + the Boys, and Mia New York have been great sellers, with Sally Miller special occasion dresses a great fit for a variety of our girls. For boys, we sell Appaman's flannels, fleeces and down-quilted director jackets all day, plus Aviator Nation's cozy sweats and cool tees. In Layette, Magnetic Me with its magnetic closure system is revolutionary for new moms!
Any new outerwear brands added to the mix recently? We brought in Sam jackets this year ($400 range), and they've been so popular. Aviator Nation puffy journey jackets are also popular to wear under a ski jacket and keep on for the après ski/lunch crowd to see. We partnered with local ski company Skea as well, who designs very fashion-forward ski jackets for women and brought in XS, S and M for tweens.
How about popular accessories? Oh, lots of hats. We sell a ton of CC Beanies with the ski goggles knit into the hat, Melina's Bowtique double pom-pom hats and Bari Lynn's crystallized knot headbands. Grandparents, who aren't always comfortable guessing sizes, love toys and accessories. Floss and Rock toys are top sellers, like cute puzzles, tea sets and cool water art sets. We have a huge art wall plus travel-ready toys—clay, markers, sticker books etc.—that keep kids off electronics while on vacation! Puzzles are fun for the whole family. Tourists also buy things they forgot to pack, like bathing suits for the pool and underwear, or full outfits if the luggage didn't arrive at all!
What's your trick to drawing tourists (and locals)? We host events from 3pm to 5pm to catch the après ski crowd—from face painting and cookie making to crazy braiding hair stations. We brought in local hat company, Ski Town All-Stars, to make custom hats, and Petite n' Pretty for a makeup party. We've gone back to grassroots marketing to get people to our events. The day of, we send staff into the village with logo punching balloons and flyers letting everyone know what event we have at Skipper & Scout that day!
How else do you engage the community? We started great community involvement for boys and also empowering girls, doing events at local gyms, climbing events and yoga studios etc.   We've also created a Skipper Squad where we host fashion shoots, and they've really helped create buzz around our store as a cool hangout. •