How teething accessory company Three Hearts evolved from being sold on Etsy to becoming a specialty store must-have.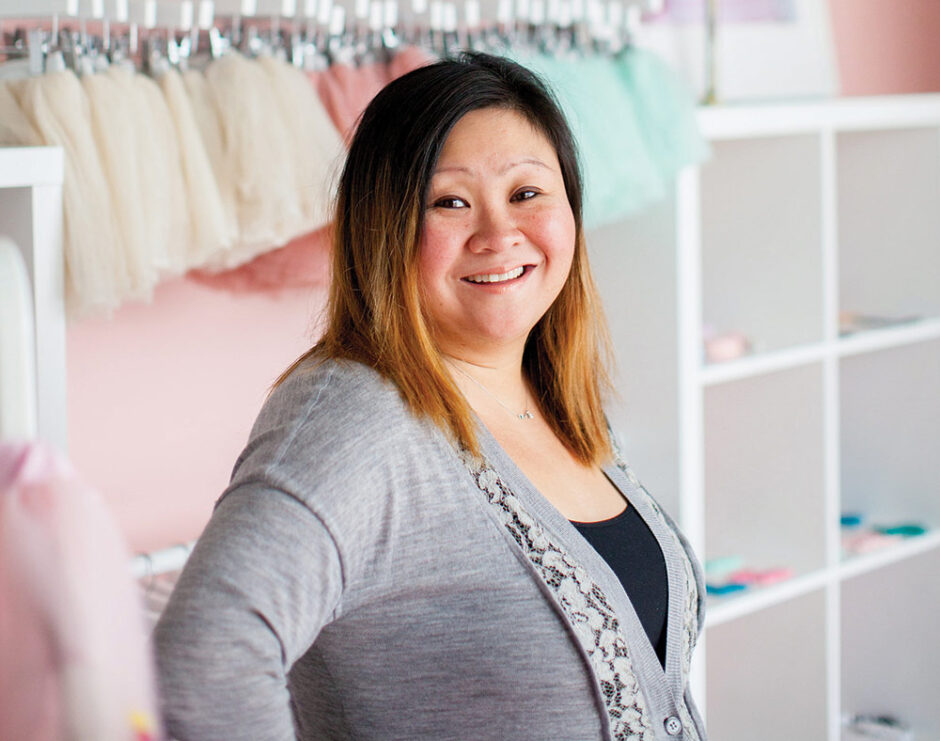 Linda Trieu never intended for her handmade teethers that she first sold on Etsy to become a sought-after brand now sold in approximately 1,500 stores nationwide. But after five years, three kids and one pandemic, the Three Hearts of Houston founder has achieved tremendous success through innovation, determination and passion. Three Hearts is truly a labor of love story, as Trieu continues to add chapters one market, one retailer and one order at a time.
Here, Trieu reveals the key ingredients to the Three Hearts recipe. It's a blend of product, people and planning. And while that may seem pretty basic, it's all about how this Mompreneur mixes those ingredients. Dig in.
You must get asked this all the time, but who are the three "hearts"?
When I began the business in February 2017, my son Eden was an only child. He was my inspiration for my children's products, and so the company represented the union of him, my husband and myself. By 2019, I had two more children and I felt it was my destiny to be a mom of three so now, my three hearts are Eden, Maya and Ori.
How did Three Hearts evolve from an Etsy operation to selling in 1,500 stores all over the country?
I began making pacifier clips, bibs and teethers and selling at arts & craft shows and farmers' markets all over Houston. I was a mom during the week, and on the weekends, I would sell what I could. In September 2017, post Hurricane Harvey, we planned to open a small baby boutique in the Houston Heights area focused on our products and children's apparel. That October, I went to shop the Dallas Market Center and happened to meet a rep, Annette Cardona-Stein, who had heard about our Texas teething rattlers via social media. She asked if I would consider selling to retailers. While I had never looked at my business as a manufacturer, she was so convincing, so I had to give it a try. We've grown naturally one store at a time, one order at a time, one market at a time.
Why do you think your handmade products are resonating so strongly with customers?
I believe that our ability to make many of our products by hand in the U.S. is what sets us apart from our competition. Many companies in our category source most, if not all, of their products in China. Our ability to customize the products in-house is also what makes our buyers feel like they get something special. We do a tremendous amount of custom work for our retail partners. We are deep rooted in the boutique business, and we want [these buyers] to have a luxury brand in their stores. I really appreciate and understand the unique psychology of a specialty store, and that's why we grow our business one store at a time. I'm very hands on and no matter how big we get, I'll always remain that way. A lot of manufacturers don't have that personal connection.
What makes your products unique?
My objective in design is to have multi-use products for on-the-go parents. The focus of has always been to produce baby products that modern parents would find aesthetically pleasing with functional features for baby.
We saw a big demand for silicone teething toys that have built-in cognitive skill-building, were easy to clean and had a modern, contemporary aesthetic. We began with our toy selections in 2019 with the release of our 12-piece teething blocks. The block set is a teether, bath toy, shape teacher, and math skill builder. The blocks have sides with numbers, animals, shapes, and textures, which are all great to help baby navigate through their teething needs—they also come in beautiful colors. Our block sets did so well during the first release that in January 2020, we released a new sequence of colors. Since then, we've added many other silicone teething toys with the same function and style, from star and heart stack sets to teething puzzle sets and much more. We have several new releases of stackers coming for August 2021.
Will Three Hearts be attending any trade shows this season?
We plan to attend Kids Hub and NY NOW in August. Since Three Hearts product is generally immediate with shorter turnaround time with each collection, we're planning to showcase our fall and holiday collections.
How are you getting the word out about Three Hearts?
I have done my own social media for years. As a mother I know what I'm looking for in products for my children, so it has come natural to me to promote what I've made. We've been very blessed with the support from our stores and their dedication and loyalty to our brand, and much of that support comes from being a woman, mother and maker.
In March 2018, you stated in a local Houston magazine that your goal for 2019 was to be in 200 stores but you have zoomed past that. What do you attribute that success to most?
We finished 2019 with over 700 stores. We expanded to the LA Market, AmericasMart Atlanta and NY Children's Club. We also joined Faire online wholesale market and we've seen tremendous growth there. Today, we are in approximately 1,500 stores nationwide. Our buyers are buying our toys, our story and our service, and we're more focused than ever on providing great quality products and the best customer service. 
How have you pivoted amid the pandemic?
So, we came off our best first quarter in 2020. All our stores in March were still selling, and I came in every day and continued to ship orders. Then we needed to reassess in April. While less than a handful of stores asked us to cancel their orders, [we weren't] receiving a lot of new orders. And once Easter passed, everything came to a screeching halt, and I made the decision to relaunch our website. I did Instagram live warehouse sales with discontinued product and new product we made with recycled materials. People were home, they were tuned in and buying. Our products are utilitarian, and people were having babies. By mid-May, the virtual marketplace blew up, and we became number six in the teething category on Faire.com. We wound up expanding our office space from 1,500 to 4,000 square feet and five to 15 employees.
In addition to innovative products, what are some other factors contributing to Three Hearts' success?
I think that our objective to provide the high level of service to our buyers is what helps us to grow. I've spent a great deal of time over the past three years going to market, writing orders and meeting with buyers face to face across the country. I pride myself in visiting our showrooms and being hands on with our branding and service. So many of the stores we've done business since we launched know me personally. I take great pride in that fact.
What type of marketing support do you provide your retail partners to help sell your products?
We work hard to provide the best support we can for our retailers. We provide assets via Pixieset, so that they have both lifestyle and product photos. This helped greatly during the pandemic. We were able to support stores to go live online as fast as possible. We also spend a lot of time on social media supporting our stores. We want our retail partners to be the key to our company rather than ourselves.
What has been most rewarding about running Three Hearts?
Providing products for parents that I'm proud to use for my own kids. Seeing the joy that babies and parents have using our products. Most of all, how proud my son, Eden, is of our products and our company. It means the world to me when he talks about what his mother does for work.