Heeding requests from concerned parents demanding more options for sun safe swimwear, U.S. vendors are catching on to what retailers and parents in Australia and New Zealand have been preaching for years: Swim safely in UV50+ protective swimwear. By Angela Velasquez In 2005 when Platypus Australia first dipped its toes into the American market, Karel […]
Platypus Australia
Platypus Australia rash guard and board shorts.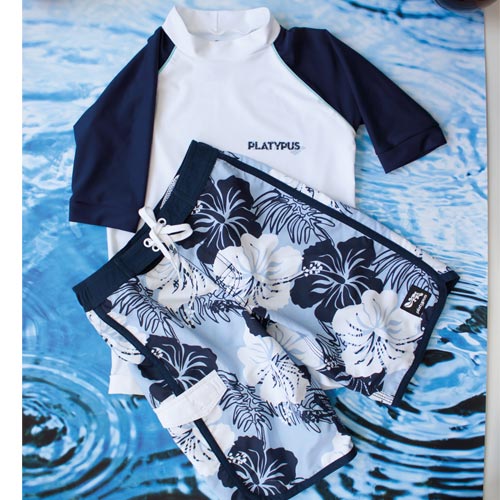 To the 9's
To the 9's tank dress.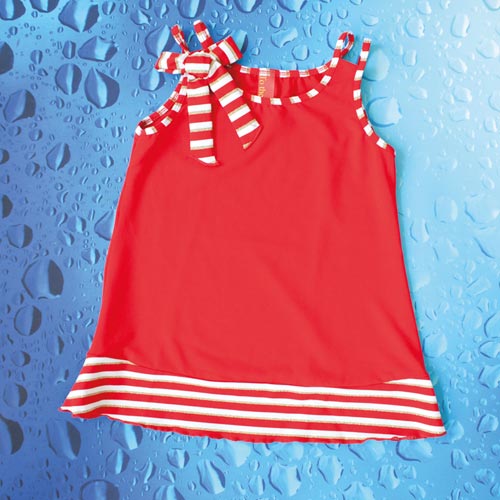 Elizabeth Hurley
Elizabeth Hurley Beach tunic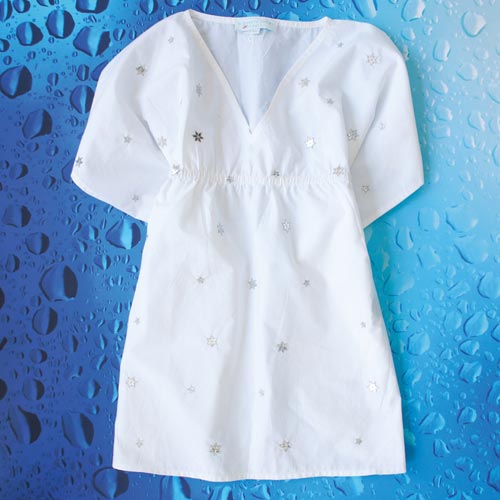 Snapper Rock
Snapper Rock floral and striped swim set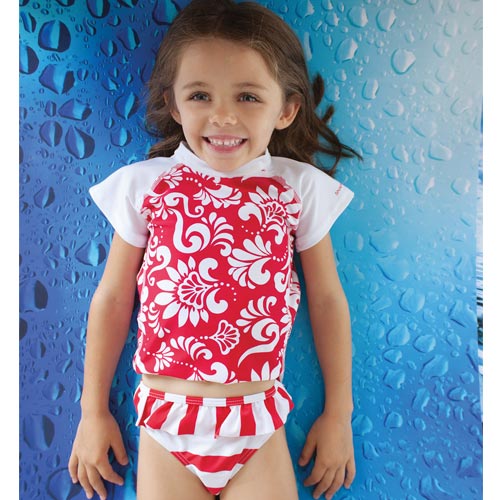 UV Skinz
UV Skinz tie-dye rash guard and swim trunks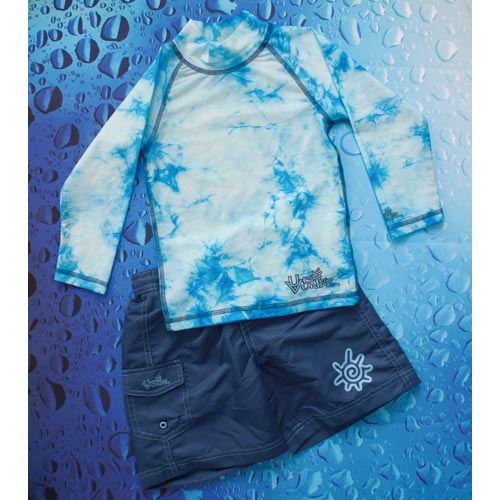 Ququa Kids
Ququa Kids long-sleeve rash guard and skirted bikini bottom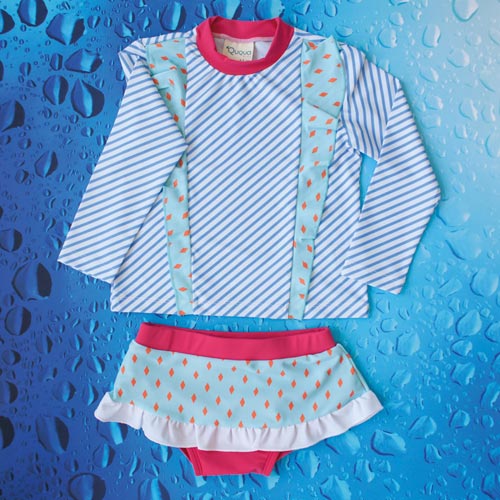 Heeding requests from concerned parents demanding more options for sun safe swimwear, U.S. vendors are catching on to what retailers and parents in Australia and New Zealand have been preaching for years: Swim safely in UV50+ protective swimwear. By Angela Velasquez
In 2005 when Platypus Australia first dipped its toes into the American market, Karel Wheen says retailers liked the range of rash guards for its prints and colors, but they weren't quite sure what they were looking at. "A lightweight, fashionable wetsuit, maybe," the company director recalls. Similarly, Liz Eglinton founder of New Zealand-based Snapper Rock was met with questions about her line of UV50+ protective swimwear such as "Can you wear it in the water?" and "Does the sun protection wash off?" Fast-forward to the August 2012 ENK Children's Club and Eglinton describes retailers as aware of the benefits of UV protective swimwear and eager to learn more. In fact, Snapper Rock's sales have tripled each year. "The days of buying a bikini for your child are quickly moving away. No one wants to see a sunburnt child. There's a real social stigma attached to this," she explains.
Case in point: This summer the media had a field day with news about the New Jersey "tanorexic" mom who was accused of bringing her 6-year-old daughter to a tanning salon. Shortly after, Swedish behemoth H&M got scorched for featuring an overly tan model in their summer ad campaign. "Gone are the days when we thought it was great to get a sunburn because it would turn into a tan," adds Rhonda Sparks, spokesperson for UV Skinz. "Parents are realizing and paying the price for the damage they have done to their skin from past overexposure to the sun and they want to help their children make better choices for themselves."
Thanks to more schools implementing sun smart initiatives, including guidelines on the safest time to hold outside gym classes, and a new generation of young parents becoming increasingly aware of the effects of overexposure, Youngin Em designer of Ququa Kids says more American retailers are taking note of the trend and are positioning their products to meet the increasing demand for protective swimwear. The niche is particularly strong for babies and toddlers, she adds. Eglinton agrees: "With pediatricians recommending babies under 6 months should not wear sunblock, a sun protection suit is the only way to go. We are seeing that new babies start off in one-piece swimsuits, and then continue to wear sun protection gear throughout their childhoods."
Wheen points out that pro surfers have helped UV rash guards become more fashionable and in terms of style, they are matching their fashion-driven counterparts by incorporating snazzy details like bold colors, wild prints and offering coordinating hats, cover-ups and other beach accessories. For example, Snapper Rock adds cap sleeves to girls' tops; UV Skinz mixes in ruffles and ruching; Ququa designs with the aim to make "adorable swimwear that will produce photos that will last a lifetime."
At the moment, protective swimwear brands' bread and butter tend to be suits for 12 months to 8 years, but Sparks says it is important for brands to start putting out fun styles for the tween and teen market as it is the age range that is most susceptible to too much sun exposure. Eglinton agrees, and for 2013 Snapper Rock launched a range specially designed with this age group in mind, including bikinis with coordinating rash tops. "Moms are happy and their daughters are happy. If we can just encourage our kids to keep their rash guards on between the hottest hours, we are saving their skin from skin cancer. It is that simple," she explains.
Thinking about adding sun protective swimwear to your summer mix? Here are some tips to remember before diving in.
Seek out garments with UPF 50+ swing tags. "The most important thing for parents and retailers to do is to ensure that the fabric used in the garment is tested by an accredited agency," explains Wheen of Platypus Australia.
Pass the awareness on. Sparks says every order that leaves the UV Skinz warehouse has an element of "sun awareness" ranging from sun facts coloring pages and activity sheets for kids to educational pamphlets for adults.
Invest and explore. "This segment of swimwear is vital to the health and safety of children for now and in the long term. It's not a passing fad… and it will exist at every price point, quality and look in time," Wheen notes.