Boho chic meets soft and simple.
Press Play
Swimwear label Floatimini may have dipped a toe into playwear for Spring '15, but it's diving headfirst into the category for fall. And while its swim collections are typically print-heavy, the playwear selection is anything but. Inspired by the athleisure trend that's taken over the adults' market, the line comprises comfy sweatpants, hoodies, skirts and dresses in a toned-down palette of marled purple, blue, berry and pink. Sweatshirts and long-sleeve tees, meanwhile, are livened up with with illustrations, metallic bows or pom-poms, designed to pair as perfectly with the collection's black and silver tutus as with the casual bottoms. Wholesaling from $12 to $23, sizes range from 2T to 6X. Check out www.floatimini.com.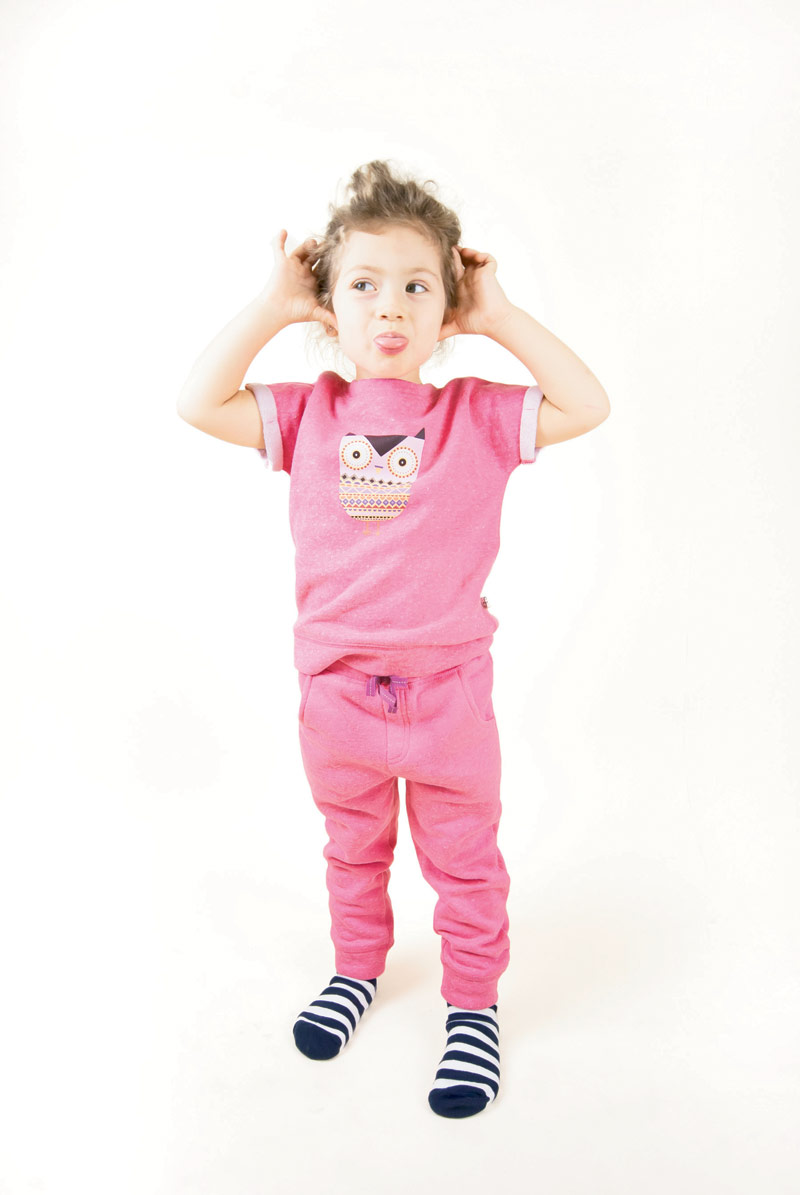 New Arrival
San Francisco-based Angel Dear is supplementing its core selection of super-soft baby basics with a bamboo-based collection of layette and swaddles set to launch in Fall '15. The 16-year-old company has always been committed to using organic fabrics when possible and bamboo is not only eco-friendly, it's also hypoallergenic, thermo-regulating and breathable, making it suitable for babies with extra-sensitive skin. Wholesaling from $16 to $22, gowns, footies, two-piece sets, blankets, bibs and beanies feature three new prints: blue pirate pups for boys, pink mermaids for girls and a gender-neutral option starring safari animals. Sizes range from 0-3 to 18-24 months. Go to www.angeldear.net.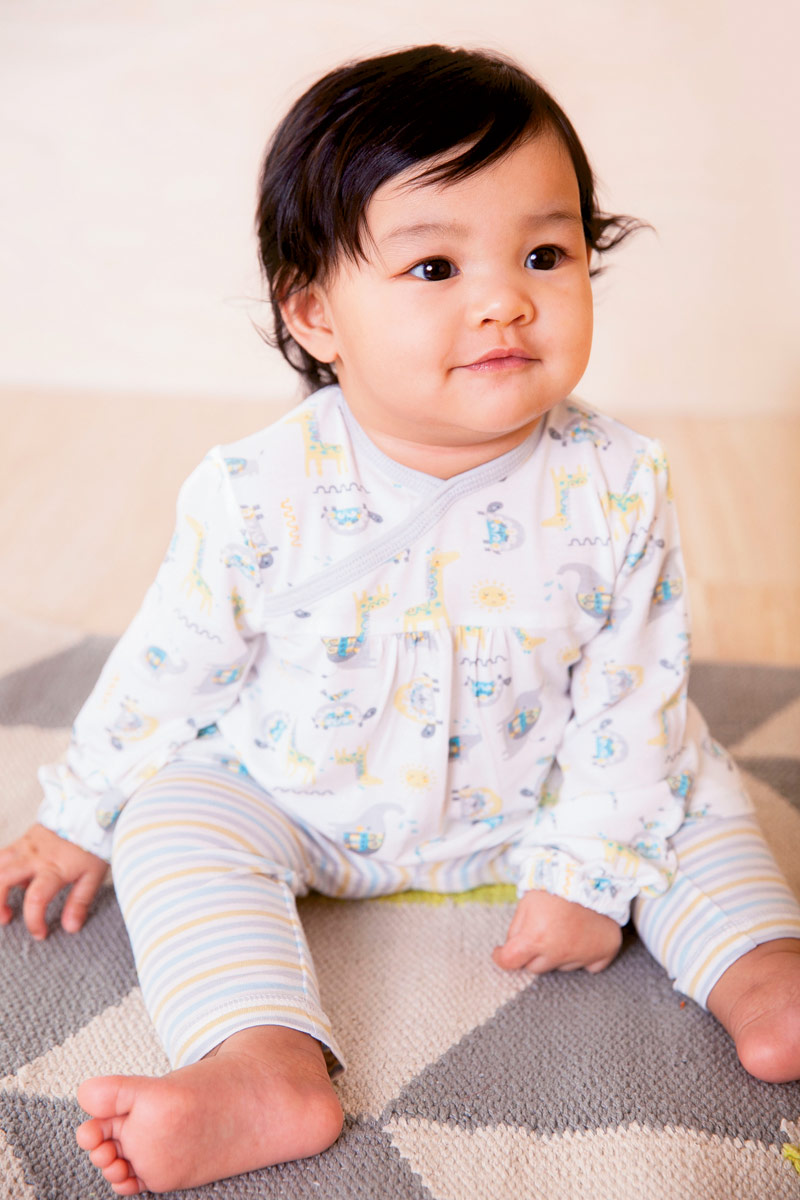 Sister, Sister
Kate Bowen didn't want her two daughters to look back at baby pictures and cringe at how she had dressed them in matching outfits, but she did want them to stylishly (and easily) coordinate for special occasions. That's the basis for Petit Peony, a line of simple designs for girls in sizes 1 to 8 years that launches this spring. The Fall '15 collection follows suit, with printed leggings, tunics, sweaters and skirts that can stand alone or mix and match with each other. Wholesaling from $14 to $28.50, everything is hand-cut and sewn in partnership with Mothers Helping Mothers, a nonprofit in Honduras, dedicated to elevating women out of poverty. Check out www.petitpeony.com.
Express Yourself
From the makers of Mustard Pie comes Jak & Peppar, a clothing line for girls sizes 2 to 16 years that wants to empower free-spirited children to feel good about themselves. The label, which launched in Fall '14, fuses hippy, gypsy and boho-chic styles à la Free People to bow a Fall '15 collection chock full of prints, tie dyes, trims, fringe and denim, designed to be mixed, matched and layered for the ultimate expression of personality through style. Designed in Chicago and made in India, the brand is also in talks to partner with several anti-bullying organizations through fundraisers and donations. Wholesale prices range from $14 to $44. Visit www.jakandpeppar.com.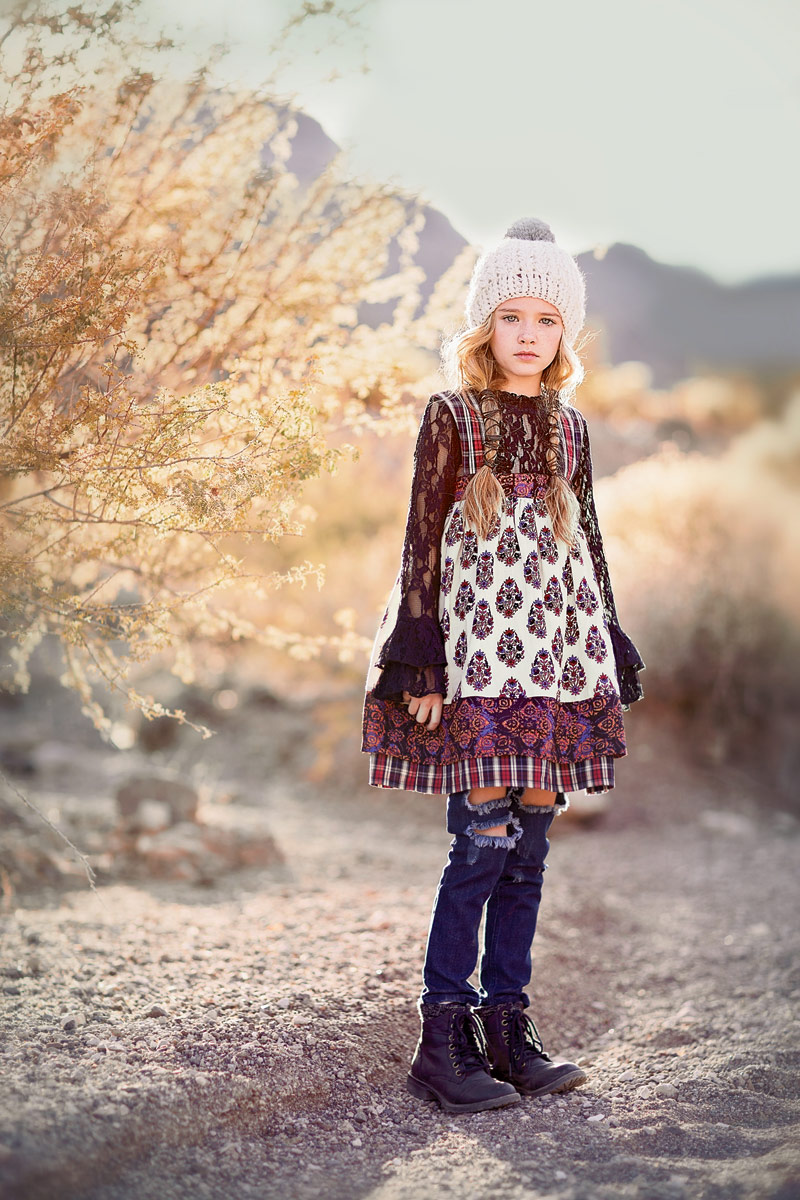 Tiny Tots
Looking to freshen up your selection of baby girl products that appeal to millennial moms? Meet Lait-ette, the latest collection from Baby Biscotti. Available in sizes newborn to 24 months, each piece is designed to be versatile, soft and comfortable. Comprising one-pieces, footies, leggings, tops and jackets, as well as bibs, hats, swaddle blankets and soft toys, the collection is divided into groupings dubbed "Cute as a Button," "Young at Art" and "Little Kingdom," and comes in a soft palette of gray, cream and baby pink. Wholesale prices range from $4 to $28. Check out www.biscotti andkatemack.com.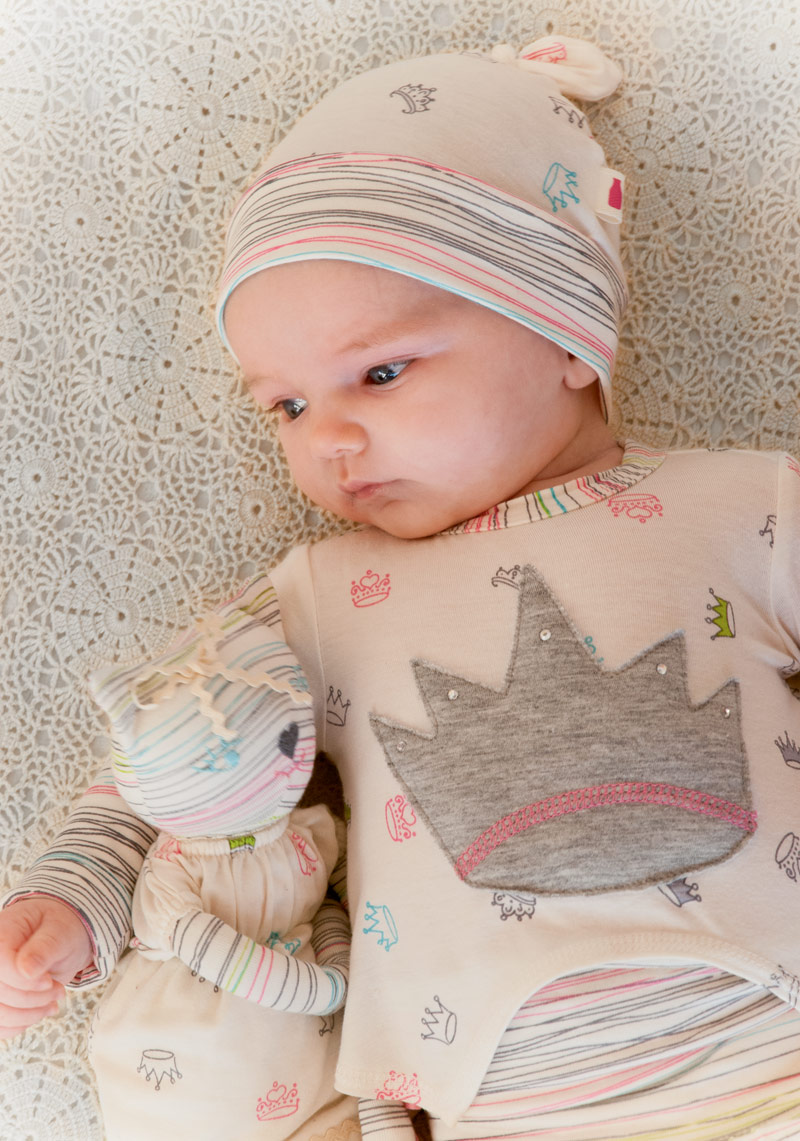 Wrap Up
After a soft launch in Fall '13, Mack & Co. is hoping its new brand Magpie will make a dent in the girls' outerwear market in Fall '15. Combining custom-made fabrics and fashion-forward designs with 3M Thinsulate insulation and down-filled lining, the collection includes such styles as a silver-gray topper accented by tulle and faux fur and a coral puffer with a ruffled skirt and faux fur collar. Wholesaling from $79 to $126, sizes range from 12 months to 14 years. Visit www.magpiecoats.com.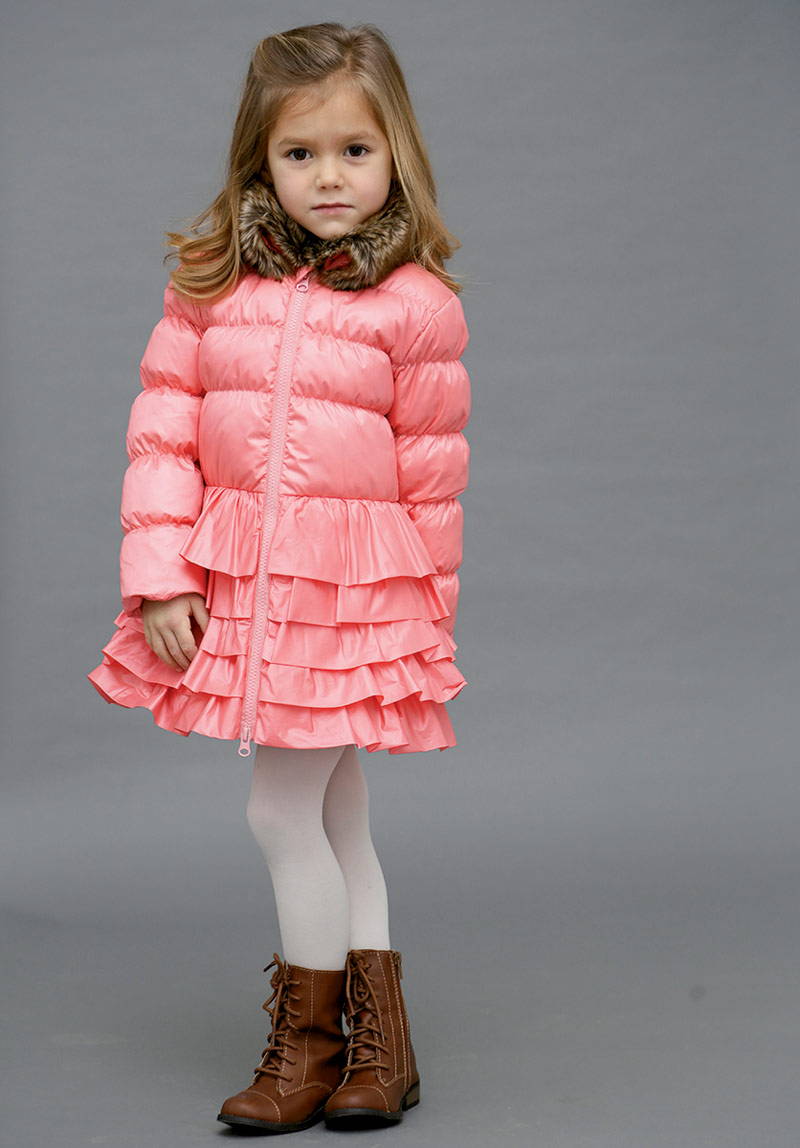 Slip Kicks
For kids who can't—or won't—tie their laces, Brooklyn, NY-based Doohickies lands on the scene in 2015 with a stretchy alternative that transforms any lace-up into a slip-on. Made from a high-performance elastomer developed by parent company Hickies, these "laces" thread through the eyelets of any shoe and snap securely in place for a hassle-free fit or stretch to slide the shoe on and off. Available in a rainbow of color options and wholesaling for $4.50 per pack of 10, Doohickies can be customized into all kinds of combinations and patterns. Go to www.doohickies.com.

Global Market
If your customers covet the caliber of kids' fashion that gets snapped for street style blogs from Paris to Tokyo, Marin + Morgan hopes its market debut will satisfy that thirst for international panache. The New York City-based label launches in Fall '15 with a runway-inspired collection of threads for kids sizes 2 to 8 years. Made using 100 percent natural fibers and low impact dyes, styles span crisp button-downs and blazers for boys to chic shift dresses and blouses for girls. And the line is not without its whimsy—pants and shirtsleeves can be cuffed to reveal contrast linings. Wholesale prices range from $18 to $55. Check out www.marinandmorgan.com.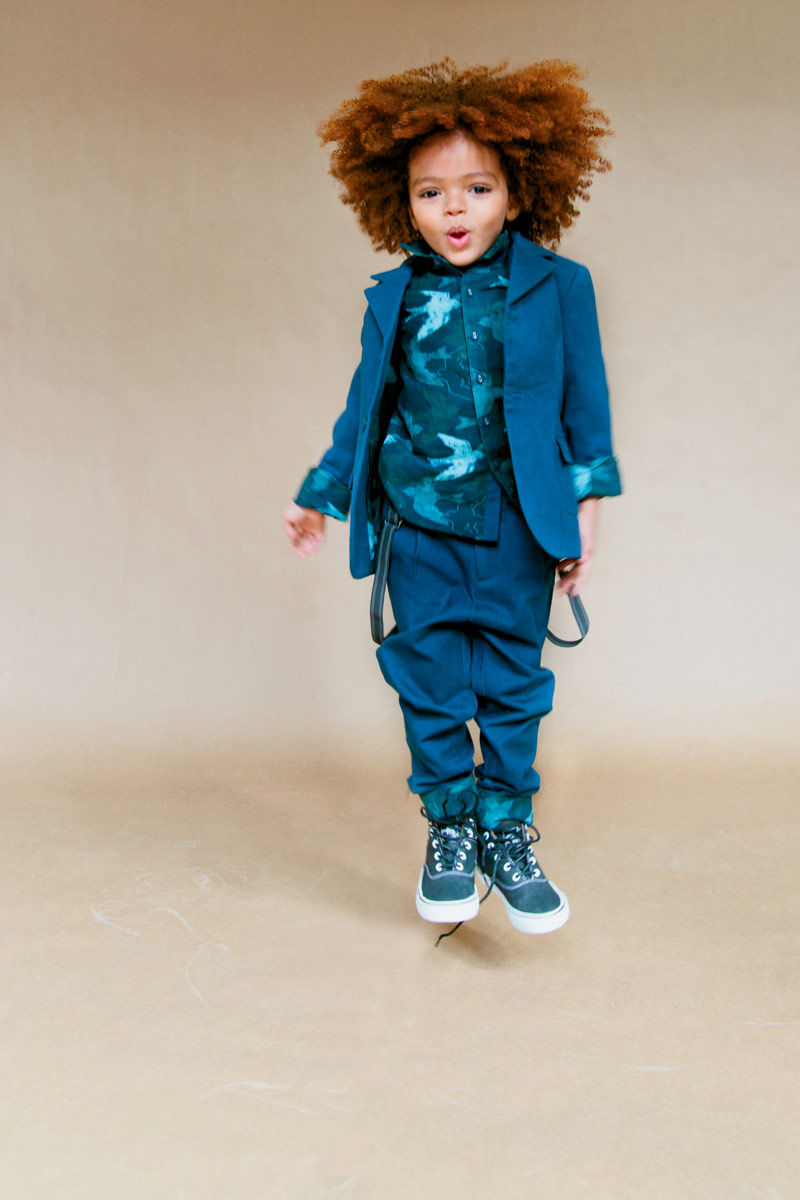 Head Gear
Known for its whimsical array of hats, legwarmers, sweaters and pettiskirts, Huggalugs is growing its offering in Fall '15 with vintage-inspired bonnets for babies. Wholesaling for $7.50 each, the eight styles draw inspiration from heirloom patterns and come in solids (white, pink and blue), seersucker, lace and eyelet options. Suitable for everyday wear to protect little ones from sun and wind, sizes for the bonnets range from 0-3 months to 6-12 months for boys and up to 18-24 months for girls. Go to www.huggalugs.com.
Chew on This
British brand Cheeky Chompers makes its stateside debut in Fall '15 with a line of combination dribble cloths/teethers. Created by moms to help simplify teething necessities, the brand offers the snap-backed bib neckerchew and the safety blanket comfortchew that attaches to a car seat, stroller or baby. Both come with a chewable teether attached and are made using a soft cotton material featuring safari and vintage-inspired floral prints, as well as classic stripes. Intended for children ages 3 to 36 months, wholesale prices range from $9.50 to $14.75. Check out www.kalencom.com.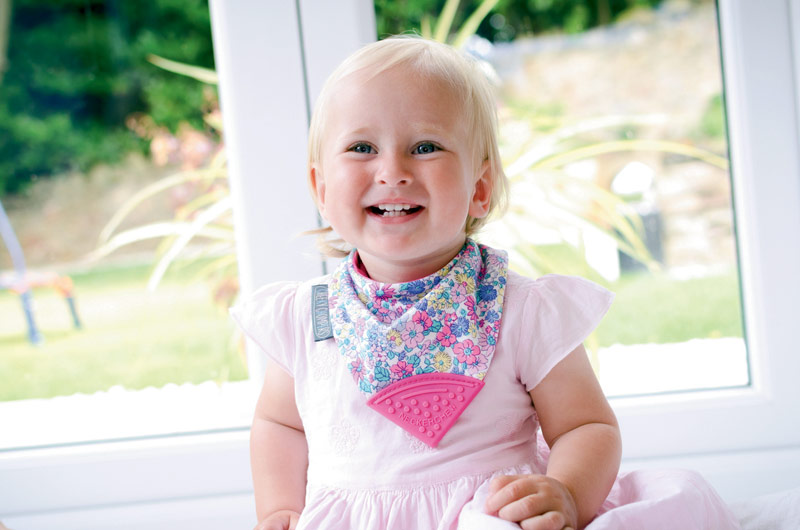 Daisy Fresh
Italian childrenswear brand Margherita, which debuted exclusively at Nordstrom in Spring '15, is ramping up its retail presence for fall. Designed by Margherita Maccapani Missoni Amos, granddaughter of the couple behind the Missoni fashion empire, the Fall '15 collection offers a contemporary take on a '60s-inspired aesthetic. Dresses, tops, skirts, leggings, sweaters and outerwear in a mélange of tweedy knits, checks, washed cottons and quilted jerseys come in rich shades of cranberry, navy, charcoal and gold, while faux fur, neoprene and lurex add a touch of flair. A daisy motif (the line's namesake in Italian) weaves a common thread throughout, popping up in 3-D appliqués, embroidery and prints. Wholesaling from $8 to $40, sizes range from 6 to 24 months for babies and 2 to 10 years for girls. Visit www.margheritakids.com.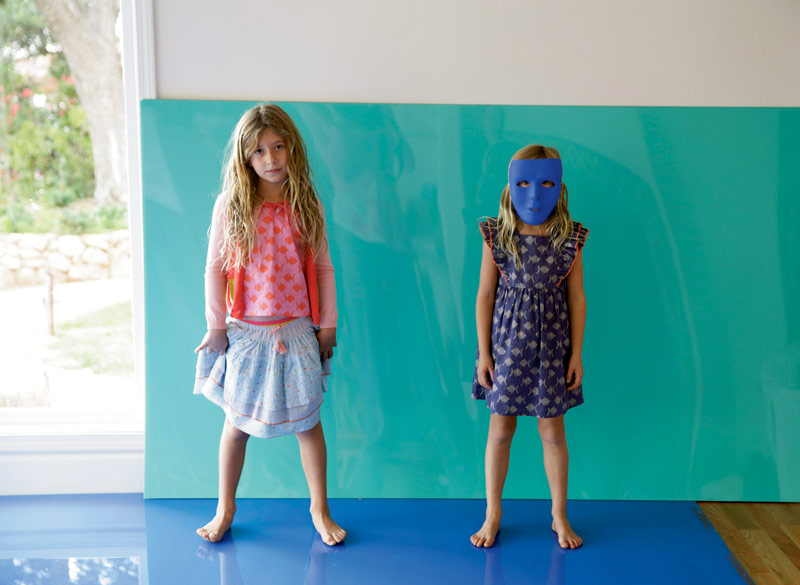 East Meets West
There's more to Chicago-based Evalina than party dresses. The label, which debuted to buyers at January's ENK Children's Club, aims to raise social awareness by donating a portion of all proceeds to charities that fight for children's rights to education around the world. Wholesaling from $34 to $47, the collection combines Eastern influences with a Western aesthetic to offer an array of A-line silhouettes embellished with embroidered lace, rhinestone trimmings and shimmering sequins. Visit www.evalinadresses.com.