Fresh color and versatile design combine.
Inside Out
For parents whose kids have had their fair share of spillages and stains on freshly washed clothes, Two Sliders offers a stylish solution. Launching in Spring '15, the U.S.-made label presents reversible clothing for girls sizes 3 months to 4T. (A boys' collection is in the pipe- line.) Dresses, tees, leggings and tops feature a "fun" side with tie-dye or feathered patterns, while the reverse is more sedate. Plus, the entire collection is color coordinated, so if a top has to be flipped out, it will still match the out- fit's leggings, and vice versa. Wholesale prices range from $15 to $28. Check out www.twosliders.com.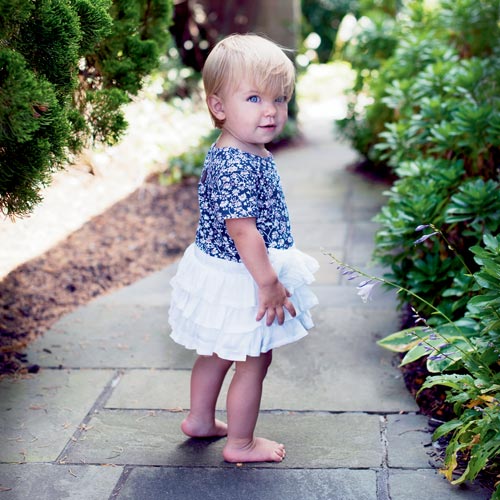 Relaxed Fit
London-based boys' brand ABC123Me lands on U.S. shores in Spring '15. Founder and mom of two Louisa Rowland struggled to find clothing for her kids that wasn't heavily branded, so in 2014 she launched a line of relaxed, vintage-feeling hoodies, jackets, trousers and tees that could be dressed up or down. Inspired by California cool and produced in Portugal, the latest collection includes sweat shorts, slim fit track pants and corduroy skate shorts in a mix of primary colors and muted earth tones in sizes 4 to 11 years. Wholesale prices range from $16 to $110. Check out www.abc123me.com.

Sherbet Fizz
Inspired by her daughters' love of dressing up, Parsons grad Aracely Santamaria launches Luna Girl, a line of "dressy playwear," in Spring '15. Designed to take girls ages 4T to 14 years from school to play to a birthday party, the Norwalk, CT-based collection of dresses, skirts and flowy tops is made mostly from jersey and embellished with mesh, ruffles and rhinestones. Available in sherbet shades of lilac, lemon, peach and mint, wholesale prices range from $12.50 to $26.50. Go to www.lunagirlclothing.com.

Sun Safety
Sun Safety Australia-born, Minneapolis-based Coolibar dives into the wholesale market for the first time in Spring '15. Recognized by the Skin Cancer Foundation and the Melanoma International Foundation, the 14-year- old sun protective clothing label guarantees UPF 50+ ratings for the life of its children's rash guards, surf suits and shorts. That means the sun protection won't wash out with wear. Retailing from $28 to $49.50 in sizes 6 months to 10 years, everything is made using rapid-dry chlorine- and saltwater- resistant Suntect fabric and comes in tropical colors like juicy orange, fuchsia, aqua and electric green. Go to www. coolibar.com.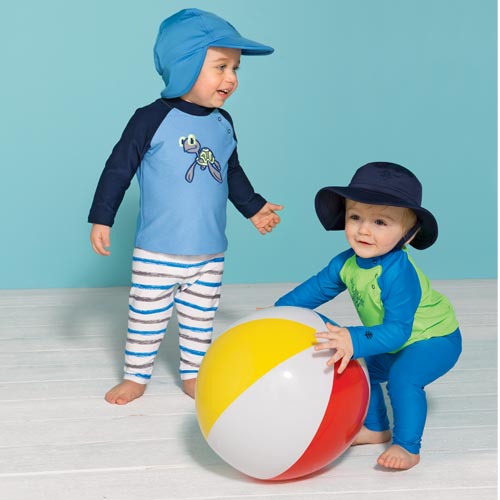 Over the Moon
Weaving the age-old craft of hand-knitting with updated aesthetics from nostalgic nursery rhymes, Daisy & Blu debuts its first collection of luxury baby and toddler knits in Fall '15. Sentimental whimsy abounds throughout the line of blankets depicting "Hey, Diddle, Diddle," pillows shaped like stars, crescent moons and clouds and accessories such as bibs, hats, bath wraps and soft toys featuring cows, pigs and bunnies. Designed to remind consumers of their own childhood and inspire the imaginations of generations to come, wholesale prices range from $15 to $70. Visit www.daisyandblu.com.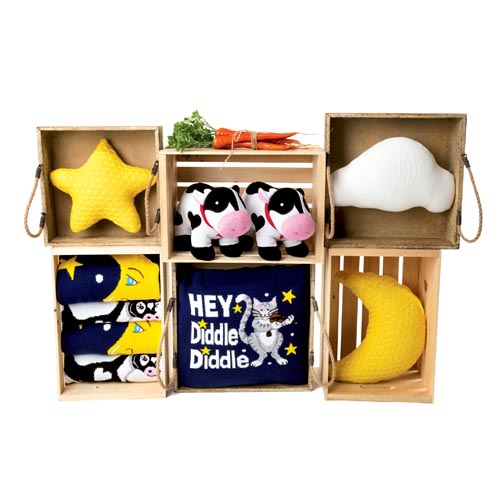 Switch it Up
Launching in Spring '15, Fayvel is Erin Slater's sartorial take on stick- er collecting. Aimed at "inspiring kids to wear their heart on their feet," the customizable footwear brand offers boys and girls a blank canvas to express their personalities through embroidered patches featuring fairies, pirates, sports, superheroes and more, with Velcro-like hook fasteners that they can attach to their sneakers and collect, share or trade with friends. Available in purple, blue, pink and green, sizes range from 10 to 2 and wholesale pricing is $22 per pair of shoes and $6 for a four-pack of patches. Check out www.fayvelwear.com.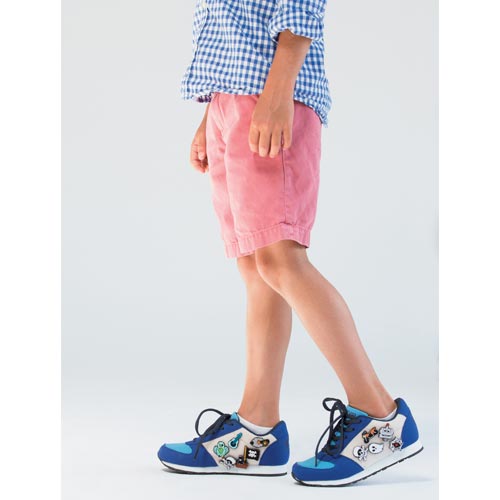 Fancy Pants
Nancy McCormick, owner of the tony New York City- based boutique Florence Fancy, is bringing her store's eponymous private label to market in Spring '15. Made in Portugal, the line fuses a European aesthetic with American ease to bow dressy duds spanning layette in sizes 3 to 18 months and girls' clothing in sizes 2 to 10 years. Wholesaling from $24 to $100, styles range from everyday pieces like pants, skirts, tops and jumpsuits to party dresses. And the girly label lives up to its moniker, using materials like lace, chiffon and tweed in soft shades of cream, petal pink, green and blue, with pops of yellow, red and candy-dot prints. Visit www.florencefancy.com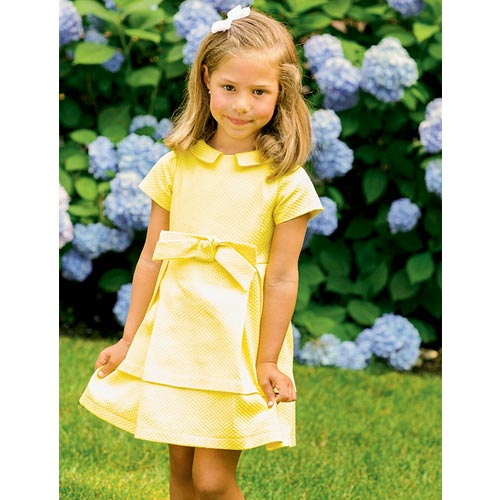 Carefree Clothes
FIT alum Chelsea Slocombe blends bold colors with soft silhouettes and floral prints for the spring launch of Ashira, her clothing line for girls in sizes 2T to 6. Made from 100 percent cotton, the mix-and-match collection comprises one-shoulder dresses, flared skirts, harem pants and jumpers and comes in an easy-to-wear (and pair) palette of white, pink and subtle floral print. Wholesaling from $20 to $30, the machine wash- able pieces also feature thought- ful details like elasticated waist- bands and necklines to allow for easy dressing of fussy little ladies. Visit www.ashiraclothing.com.