After conquering bone cancer, 14-year-old Jackson Carter of Clearwater, FL, inspires other pediatric patients with his story.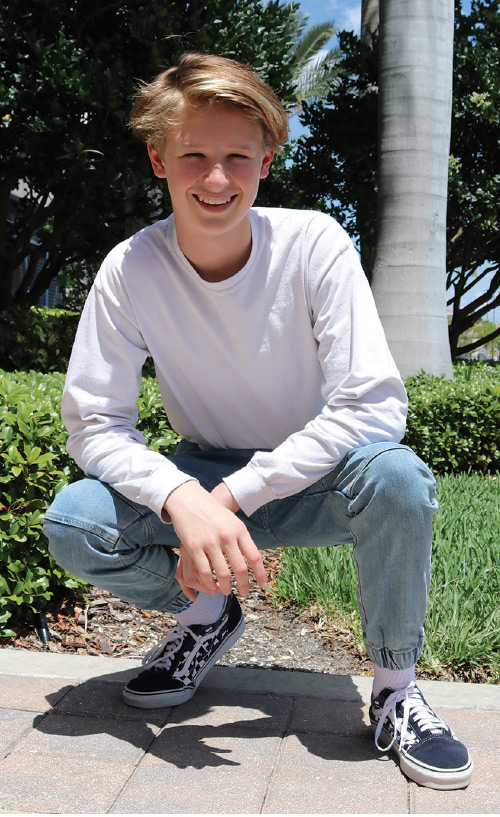 Although a cape doesn't jibe with Jackson Carter's laidback street style, this teen hero certainly deserves one for his heroics fighting Osteosarcoma, a rare form of bone cancer. Just five years ago, Carter began the fight for his life when the stage 3 tumor was discovered in his left distal femur, commencing 22 rounds of chemotherapy treatments, multiple blood transfusions and two surgeries for an internal prosthetic leg. That alone is super hero-worthy, but Carter also serves as an ambassador for the National Pediatric Cancer Foundation (NPCF), where he regularly visits newly diagnosed children in the hospital to give them hope, advice and much-needed therapeutic laughter.
"I just want them to know how important it is to stay strong and keep fighting," Carter says, noting his efforts extend to kids struggling with other diseases, disorders and bullying. "Lean on your friends and family for support," he says. "There's always hope, no matter what."   
Carter spreads his positivity message at various NPCF events held throughout the year, including fashion shows, fishing contests, corn hole tournaments and charitable walks. His family also organizes fundraisers to benefit cancer research, like restaurant campaigns and lemonade stands. "The lemonade stand alone has raised about $9,000," he says, adding that every cent is donated to the NPCF. "It's the least we can do to help find a cure."
Fast Faves
Food: Raw oysters
Sports Team: Tampa Bay Lightning
TV Show:The Office
Music: Everything from Lil Mosey to A Perfect Circle
Vacation: Visiting family in Wisconsin
Social Media: Instagram
Confident and now healthy, the resilient eighth grader leads an otherwise normal life, only steering clear of contact sports out of precaution. Carter still attends monthly appointments for his left leg to be magnetically extended to match the growth of his right one. Carter compares the painless process to "extending a telescope," lengthening his leg about 4 millimeters for every 16 minutes he's exposed to the device. "It's pretty easy," he says with a modest shrug. A music enthusiast, sneaker lover and science fair winner, Carter looks forward to a bright future packed with passion. Nothing is going to stop him. "I've learned how important it is to just keep pushing," Carter says. "Make sure you don't ever quit."
You are four years cancer-free today! Congratulations! How does that feel? Amazing! It's so special. I could not be more thankful for everyone who helped me get here. It was helpful having friends and family come to the hospital for visits. That was always awesome and took my mind off what was happening.
Have all your medical experiences put you ahead of your peers in science class? Yes! It's funny how people are like, 'Whoa, wait a second, how do you know all this?' I picked up on a lot in the hospital through all the chemo and blood transfusions. While I was going through chemo, I even won my school's science fair!
What other areas of school are you interested in? Music. I love band. I've played the trumpet since sixth grade and participate in concert and jazz bands. I'm also enrolling in a music and arts high school next year.
What are your other hobbies? I like to hang out with my friends, play video games and do outdoor activities like hunting and hiking. I also love customizing my sneakers. I buy white Vans and paint designs on them or just different colors. Whatever I'm feeling!
What else is trending in streetwear now? My friends and I wear oversized sweatshirts, shirts with retro graphics (classic rock bands), joggers and cool sneakers. I also like watches. I have a really cool wooden one that I love. Fanny packs are also big, especially for girls. People like to wear them cross-body style. Another trend is mismatched socks. 
Where do you like to shop? Depends what I'm buying. If it's sneakers, I'll usually do it online. But with clothing, it's harder to know my size. I go to the store for that kind of stuff.
What are your favorite stores? Recently, I discovered Cotton On. They have their own brand, and I really like the style. I also like to window shop Supreme. Online, I like GOAT. It's a really good site and app. StockX is another. They have everything—shoes, streetwear, watches, everything.    
Where do you get most of your style inspiration? Instagram, for sure. Music videos are also big. Kids will buy part of what the artist wears and make their own look with it.
What do you want to be when you grow up? I've got a few ideas. Music is definitely an option, or maybe something in media. I also love to cook, so I'm thinking culinary would be cool. Luckily, I've got some time to decide!