Eleven-year-old crochet prodigy Jonah Larson on making change—one stitch at a time.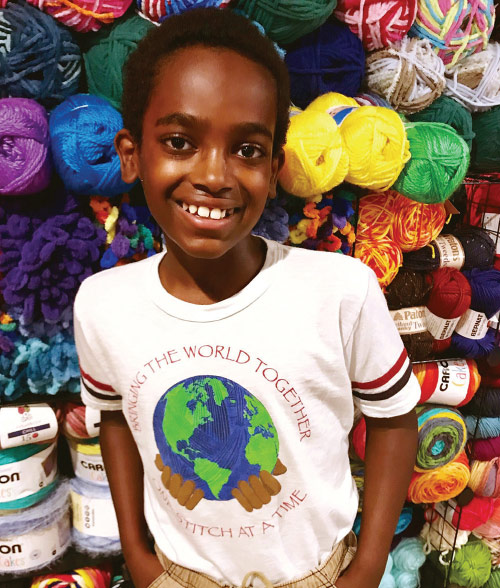 Jonah Larson was five years old when he picked up his first crochet hook. His mother—not skilled with the tool herself—cued up a YouTube tutorial so her curious son could better understand the craft. Less than an hour later, she checked back in to find Larson holding a beautifully crocheted dishrag.
Larson was hooked! Crocheting an average of 35 hours a week, the self-taught Wisconsin sixth grader has spent the past few years donating his crocheted work and proceeds to Roots Ethiopia, an organization that supports the orphanage he was adopted from at five months old. To date, he has raised nearly $20,000 for the charity. The awareness around his mission has also skyrocketed after the La Crosse Tribune published an article earlier this year about his efforts. Larson's social media following has mushroomed to more than 191,000 followers on Instagram and 45,000 subscribers on YouTube. The increased traffic to his website JonahHands.com led the young philanthropist to launch his own line of merchandise (furthering his support of Roots Ethiopia), including T-shirts with witty phrases like "Bro-chet" and "Crochet Away" as well as a crochet utility jacket that holds up to four hooks and two balls of yarn.
Larson has become a sought-after guest on the daytime talk show circuit. Interview requests include The Rachael Ray Show, The Steve Harvey Show, The Today Show, Ellen and Pickler & Ben. "It's been crazy! We had to turn down Ellen because we were already booked that day!" he says, adding, "It's so fun to share my skills."
This month, Larson released his autobiography Hello Crochet Friends, named after his catchphrase that begins each of his YouTube tutorials. Larson is also working closely with Anthropologie on a collection of 12 crochet-based styles for this fall. Also on the slate, a trip to New York to attend a Vogue Knitting event as well as to speak at the Ethiopian Embassy about successful adoptions. If that isn't enough, Larson will showcase his speedy crocheting skills on the new season of Little Big Shots, hosted by Melissa McCarthy.
"I'm just so grateful for all the awareness gained through each opportunity," Larson says, noting his No. 1 goal now is to raise
enough money to go to Ethiopia and teach families how to crochet so they can use those skills to make money. Further down the road, Larson dreams of becoming a surgeon. "I want to give free surgeries to people in need," he says. "I've learned so many incredible lessons every step of the way, and I'm so thankful for what's still to come."
What's trending in the world of crochet? Summer cardigans are obviously a hit because of the warmer weather. I prefer to use cotton yarn in the summer to stay cool. Neutral colors are also very popular. It's a great choice all year round.   
How would you describe your personal style? I like to wear things that are comfortable, especially when I'm crocheting.
What's your go-to outfit? Jeans and a T-shirt. I keep it simple. However, the clothes I design are typically mixed media. I have a vintage crochet book I compare with modern looks, which I then combine into new designs!
Is there a specific designer who inspires you? Daniel Sheehan. Or, as I call him, 'Uncle Daniel.' He's an Atlanta-based fashion designer with clients like Kelly Clarkson. He found my Instagram account (@jonahhands) and messaged me. He's helped me learn the ropes, which included flying my family and I to Atlanta to design with him.
What do you love most about being a designer? Seeing other people wear my work. I also love experimenting with new kinds of art.
What's the most challenging design you've ever created? My flower afghan. I had to crochet 800 individual flowers using a time-consuming stitch, and after I completed those flowers I had to sew all of them together. It taught me the importance of patience and persistence.   
How long does it take you to crochet a standard winter pom-pom hat? Forty-six minutes! I typically crochet around five hours a day—before and after school. But now that it's summer, I have more flexibility.
Aside from yarn stores, where do you like to shop? Well, I'm currently sitting in the Gap. I shop here a lot with my mom. I also love Converse.
How would you describe your dream shopping experience? Going to a vintage shop. I would try things on to get new ideas for my designs.
Any advice for kids chasing their dreams? Do whatever you love. Do what keeps you happy. And just keep trying, no matter what.