Twin actors Cameron and Nicholas Crovetti share what it's like to be fifth graders, competitive gymnasts and stars of HBO's series Big Little Lies.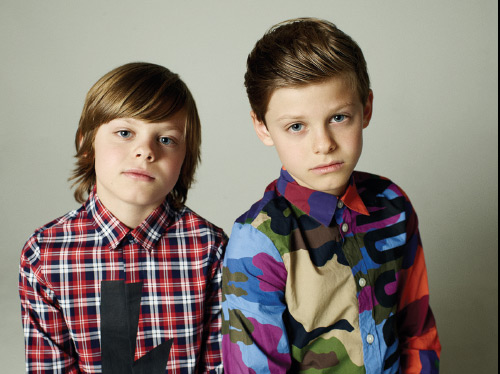 Living in Hollywood and working alongside A-list celebrities like Meryl Streep, Shailene Woodley, Nicole Kidman and Reese Witherspoon is a remarkable accomplishment for any actor, but especially if you're just 11 years old! Cameron and Nicholas Crovetti, the twin actors playing sons of Nicole Kidman's lead character on HBO's "Big Little Lies," excitedly rattle off stories of their experiences on the set, including play dates at Kidman's pool, Jenga games with Meryl Streep and lots of yummy catering. "We get peanut butter and jelly sandwiches when we're done with every shot," Cameron says. "Remember that day they had churros?" Nicholas adds. "I had like 10!"
The twins developed an interest in acting four years ago after watching their older sister Isabella (the voice of popular children's show character Vampirina) appear as a regular in shows like "The Neighbors" and "Colony". Starting with commercials, the twins quickly landed their first major TV roles in "Big Little Lies." "We didn't know all the famous people we were working with at first," Cameron says. "But then our mom had us watch a lot of their movies, and we were like, 'Wow, this is so awesome!'"
If that's not impressive enough, the twins pack their schedule further with gymnastics 16 hours a week on a Junior Olympic competitive team. "It's such a fun sport," Nicholas says, adding that he also enjoys playing soccer and making TikTok videos with his brother in their spare time. Cameron is more involved with singing and participates in musicals each year. "It's a lot of stuff to do, but it's all really fun," he says. Nicholas nods in agreement and, ever the budding Hollywood star, says, "The new season of 'Big Little Lies' comes out this month—don't forget to watch!"
Fast Faves
Sport: Soccer and gymnastics.
Activities: Swimming, skiing and making movies on our iPads.
Movie: Anything Marvel and Horror
TV Show: A Series of Unfortunate Events
Food: PB&J, chicken nuggets and rigatoni pasta.
Animal: Dogs! We have two big ones—Jake and Zuma.
How would you describe your personal style? Cameron: Casual. I wear jeans, a long-sleeve shirt, Vans and a puffer jacket. I love puffer jackets, especially my black one. Nicholas: I'm more sporty. I like tennis shoes and my galaxy jacket.
Where'd you find your galaxy jacket? Nicholas: Amazon. I just typed in 'galaxy jackets and hoodies' and a bunch of cool stuff popped up. Not sure what brand it is, but I wear it all the time.
Do you typically shop online? Nicholas: Yeah, we shop a lot online. We like Amazon because it has everything, and you don't have to walk around. Cameron: Well, sometimes we go to Nordstrom.
Why Nordstrom? Nicholas: They have all the clothes I like—seriously, all of them. Cameron: Yeah, it's like a one-stop area.
What's some of your favorite brands? Nicholas: Definitely Nike, Adidas and Ralph Lauren for me. Cameron: It's Appaman, Guess, Zara,  La Miniatura and Vans for me.
What's one big trend you've shopped for of late? Nicholas: Ripped jeans! Cameron: And mismatched stuff. Like one of our friends wears one red Nike and one red Adidas at the same time. It's so funny!
Do you get a lot of fashion inspiration from social media? Nicholas: Yes! We love Instagram, especially.
Who do you follow? Cameron: Lots of people from the show, like Nicole Kidman. She's so nice.
Has she given you any advice to succeeding in acting? Nicholas: Just to keep working really hard. Even if it's a lot of lines, you have to be confident, practice and eventually it'll get easier. Cameron: We had an audition today with nine pages of lines. I was like, 'I'm never going to get this,' but I was finally able to do it after lots of tries.
Are you planning to stay in entertainment? Nicholas: I don't think so. I'm going to medical school, and I want to become a doctor. Cameron: I plan to stay in the business. I want to become a director, producer or maybe still an actor. It would be really fun to work on horror movies!