Brimming with passion, 13-year-old model, dancer and actress Amalina Ace hits the streets to discover all New York has to offer.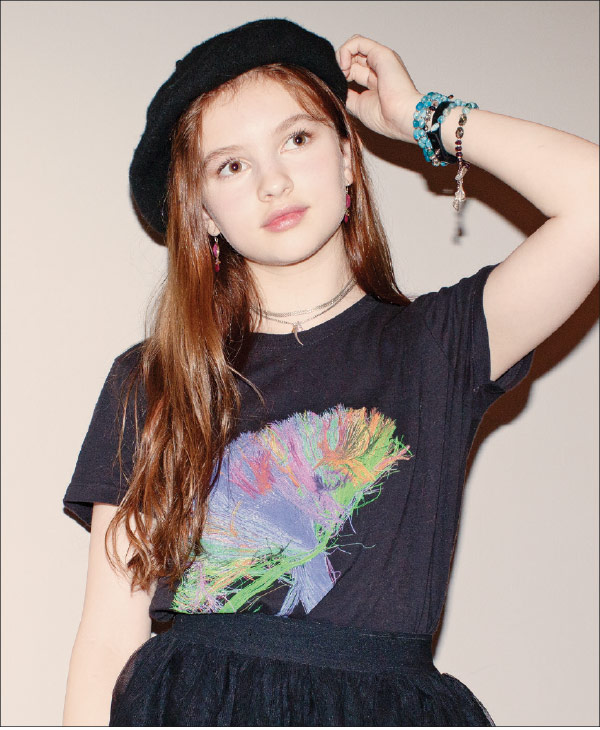 Answering her cell phone with a cheery, "Bonjour!," 13-year-old precocious New Yorker Amalina Ace opened the conversation with an overly humble introduction to her ambitious lifestyle. "I just do my best," she says. "I'll give anything a try."
On that note, the aspiring actress, dancer, signed model of Ohlsson Model & Talent and talk-show host for the YouTube channel Kids Chat Show is constantly discovering new passions. Along with recently enrolling in a jazz dance class, Ace rattled off ballet, tap and African dance as genres she's dabbled with in the past. "I also love learning new languages," she says. "I'm learning French, Russian and I've gotten very involved with ASL (American Sign Language)."
Living with two sisters, a brother and her rambunctious Pomeranian, Blue, Ace admits to having a fun (and occasionally crazy) household. "I'm homeschooled, which allows me the flexibility in my schedule to pursue so many different activities," she says. "Living in the city and being surrounded by so much amazing talent is really a dream come true."
Fast Favorites
Celebrities: Zendaya, Selena Gomez and Beyoncé!
Movie: The Princess and the Frog and Hitchcock movies.
TV show: I don't really watch TV that much.
Music: Rolling Stones and Panic! at the Disco.
School subject: Science—I like the cool experiments.
Color: Pink! Gold is second.
How would you describe your personal style? Hmm…I'd call it 'dancer on a day off' because I always want my outfits to be functional. If someone says 'Dance!' I want to be able to. I do backbends whenever I can, so if I'm wearing a dress you can bet there's shorts under it!
Where's your favorite place to shop? I'm a big fan of thrift stores. I find it exciting to discover things that are different. I love arts and crafts though, so I make a lot of fashionable things from DIY projects at home.   
What's something you've designed of late? Well, I'm going to Disney World in a few days, so I was looking at Minnie Mouse ears online. They were all super expensive, so I decided to make my own by taking an old headband, crocheting a pair of Minnie Mouse ears and cutting out a bow from felt. I put those pieces together and added decorations. It came out great! 
Do you shop online frequently? Not really.  I just look. I prefer to shop in stores. I like being able to feel clothes before I buy them. When you buy stuff online it can arrive all wrinkly or not the right color—I don't want that. 
Where do you look for style inspiration? I live right by Fifth Avenue, so I usually window shop. Instagram and Pinterest are also fun for fashion ideas.
Do you post your own #OOTD on social media?  Sometimes. I also post a lot of dance photos. I post whatever I'm inspired by that day. Even my dog Blue has her own Instagram page! We dyed her paws red so she looks like she's wearing Louis Vuitton's!
What trends are you and your friends obsessed with right now? A lot of neutral basics—black, white, grays. But I don't mind accenting it with color. Pretty pastels are fun or even a cool denim jacket. And sparkles—lots of sparkles!
How about reversible sequins? Yes, I love those! I'd also say my friends and I do a lot of mix-and-matching with different styles. If I'm going to wear a tutu, I'd pair it with combat boots.
Besides combat boots, what other shoes do you like? Converse! Really anything comfy for walking around the city.
How do you accessorize? I love all jewelry. Accessories can change a whole look.
Any hobbies? I love making ASL music videos. I found someone on YouTube who stared doing songs in ASL, and I thought it was cool. I post my videos on Instagram. I even organized a homeschooling group in New York where we go to a library for an hour and speak only in ASL.
Where do you see yourself in five years? Continuing to improve my acting and dancing. I hope to one day become a professional actress. I need to keep working hard!