Retailers increasingly focus on pintsize pundits and their phenomenal purchasing power. By Lyndsay McGregor. Photography by McCandliss and Campbell. When Hailee Steinfeld teamed her pink tulle Marchesa gown with Converse sneakers at the 2011 Vanity Fair Oscars party, the internet erupted. In a move that sealed her reputation as a style icon (and smacked of […]
Tween Spirit
Party favor sunglasses, free. Tank top from LA street vendor, $10. Prissy Pop Tops necklace worn as bracelet, $6.50. Dolce & Gabbana skirt, $360. Ralph Lauren socks, $6; wingtips, $150.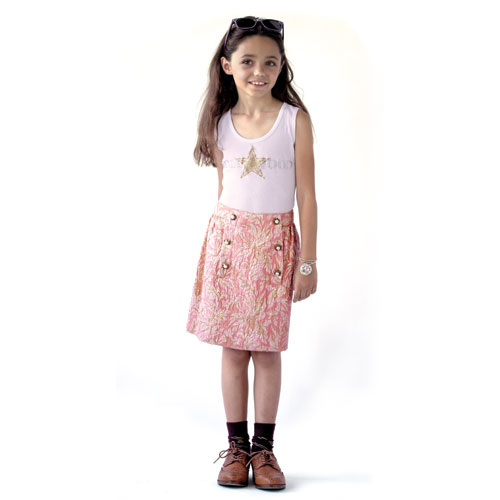 Retailers increasingly focus on pintsize pundits and their phenomenal purchasing power.
By Lyndsay McGregor. Photography by McCandliss and Campbell.
When Hailee Steinfeld teamed her pink tulle Marchesa gown with Converse sneakers at the 2011 Vanity Fair Oscars party, the internet erupted. In a move that sealed her reputation as a style icon (and smacked of that memorable moment when Sharon Stone wore her husband's white Gap shirt with a Vera Wang skirt to the Oscars in 1998) the then-14-year-old actress swapped the Ferragamo heels she wore to the awards ceremony for casual red kicks. And it's not just Steinfeld.
Far from simply copying grown ups, the new generation of tween-age "It" girls, like Chloe Moretz, 15, and 14-year-old Elle Fanning, is setting a style bar that's all its own: In a 2011 Teen Vogue interview, Moretz said she likes to mix high fashion with high street, like pairing an Alexander McQueen jacket with a Topshop tee, while Fanning is no stranger to thrift store rummaging. It's a high-low mix that tweens (and their parents) can happily get on board with.
"Parents are more willing to listen to what tweens are saying they want," says Kit Yarrow, a professor of consumer psychology at Golden Gate University and author of Gen BuY. "Tweens get an idea of what they want and then they find a way to get it, whether it's getting their parents or grandparents to buy it, or finding a low-end version of it. They're remarkably resourceful." So much so that today's persistent tweens are turning out to be a boon for the retail industry: As a group, the United States' 21 million tweens account for about $43 billion in spending power annually, according to EPM Communications' "Tween Spending & Influence" report. Stores catering to this age group are designed to grab these billions, something that several retailers started doing about a decade ago: Abercrombie & Fitch reaches out to tweens with Abercrombie Kids; Gap has Gap Kids; Aeropostale offers P.S. Aeropostale; and J. Crew has Crewcuts.
Stores like Delia's and Justice are tween specific, while department stores offer tween labels like Jessica and Ashlee Simpson's Jessica Simpson Girls or Madonna's Material Girl. Even Kmart and J.C. Penney have Selena Gomez's Live Out Loud and Mary-Kate and Ashley Olsen's Olsenboye collections respectively. For the past 12 months ending in May, childrenswear sales rose 4 percent, with the upscale component up 7 percent, according to NPD's most recent data. That compares with a 3 percent rise for the clothing market overall.
Living the high-end life
A few years ago major players like Ralph Lauren, Burberry and Christian Dior dominated the high-end children's apparel market; now more designers than ever are introducing takedowns of their expensive duds and cashing in on the lucrative tween demographic. Following in the footsteps of Gucci—which launched a children's collection two years ago and opened its first children's store on Manhattan's Fifth Avenue late last year—Oscar de la Renta and Dolce & Gabbana launched mini-me collections this fall. Meanwhile luxury department stores Nordstrom and Bergdorf Goodman are expanding their children's areas to make room for the high-end newbies. It's the latest sign that the urge to splurge is back, and as the wealthy feel more comfortable about spending again, they increasingly want their kids to reflect themselves. "Parents seem to be enjoying the whole 'mini-me' phenomenon, along with putting the money back into the economy," says Barbara Seggio, a childrenswear professor at FIT. "Tween fashion is one of the fastest growing targeted retail markets. Manufacturers are creating clothing that the tween thinks is cool yet is acceptable to the parent." Many of the new designer entries are more expensive than some of the more established brands like Ralph Lauren, whose cotton shirts for boys are priced at about $59, compared to Armani Junior's dress shirts for boys that can run up to $160. "Today's tweens definitely know about labels in a way that other generations of tweens didn't, but I don't think anybody laying down that kind of dough for designer outfits is doing so because they're fueled by the kid," Yarrow says.
"I think it's a well-known fact that parents typically forego spending money on themselves to dress their kids well," continues Alex Theophanus, co-founder and owner of luxury online retailer AlexandAlexa, whose business has been growing 150 percent annually since its 2007 beginnings. "It's a reflection of the times. A lot of our customers still have money, and they've always had money. They're pretty unaffected by the recession." Dubbed "the Net-A-Porter for under 14 year olds" by UK newspaper The Independent, AlexandAlexa offers more than 100 international labels, from heavyweights like Chloe, Fendi and Dior to contemporary clothing from the likes of Imps & Elfs, Finger In The Nose and Muchacha. "If you look at the market three to four years ago, only around 1 or 2 percent of childrenswear was online. Today around 15 percent is online. That compares to around 25 percent of women's wear," he says, adding, "All the market dynamics suggest that kids' should continue to grow." But as much purchasing power as today's tweens have, Theophanus believes that as long as parents are holding the purse strings and ultimately making the final decision, they're still more important to retailers than their kids.
While researching for her latest book, Yarrow spoke to lots of tweens whose parents were teaching them how to budget. "They were learning they could buy three of those for the price of one," she says, using the "throw-away-fashion" of Forever 21 as an example. "Investment fashion is dead. It's not a concept people relate to anymore, especially the tweens. They get attention from having freshness in their appearance. They want to rejuvenate and get new things all year long." No surprise then that Five Below, a discount retailer for tweens and teens where every item is priced between a buck and $5, was named one of the fastest growing chains in the U.S. by Stores magazine, with TTM revenues of $322 million.
"Tweens like to change their fashion," confirms Norma Hafif, owner of Style.licious, an accessories emporium on New York's Upper East Side that caters to tweens, teens and their moms, and whose prices range from a dollar to $300. "They want to get the latest trends so I think it's more economical to buy things that are less expensive because the trends really come and go." Hafif is very careful in what she brings into her store, eschewing licensed product and name brands in favor of start-ups and one-of-a-kind jewelry. "A lot of the moms that come in aren't looking for labels," she says. "It's more about 'What am I getting for $24? How does it look? How useful will it be?'" And when it comes to how much influence tweens have on their parents' spending habits, Hafif thinks the ball is still very much in the parents' court. "Parents today are very careful. They don't spoil their tweens. They're not rushing to spend money today, because of the economy and because parents want kids to be a little more appreciative," she says. Seggio, however, does not share this sentiment: "These young adults have grown up with social media and have a strong sense of fashion and style, but mostly they are concerned with fitting in. Girls especially, who are too old for toys but too young for boys, will do almost anything to persuade their parents to purchase that must-have item."