Wee Soles offers L.A. parents an option to outfit their offspring in footwear as stylish as their own. By Lyndsay McGregor When Tamsin Carlson found five stray kittens near her home in August 2011, she had a light bulb moment. She collected the wildlings, had them neutered and vaccinated and hosted an adoption drive at […]
Sole Provider
Wee Soles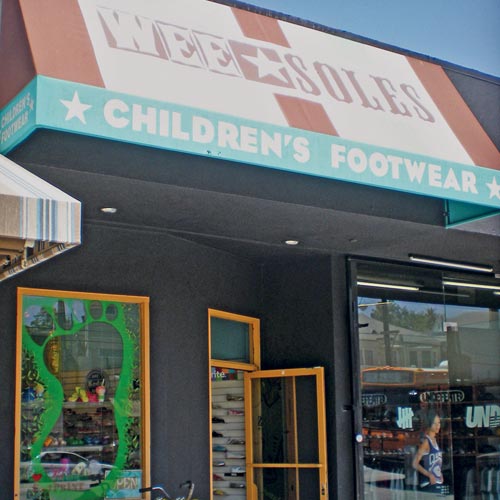 Sole Provider
Wee Soles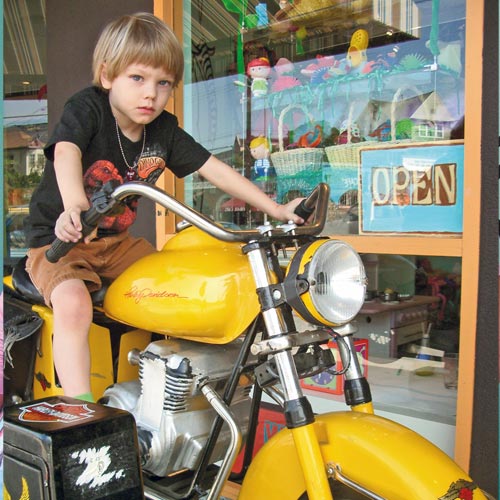 Sole Provider
From Left: Darci Rosenberg, Tamsin Carlson and Joanna Sacavitch.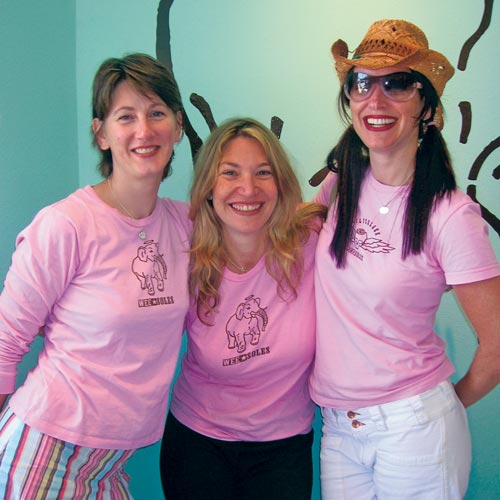 Wee Soles offers L.A. parents an option to outfit their offspring in footwear as stylish as their own.
By Lyndsay McGregor
When Tamsin Carlson found five stray kittens near her home in August 2011, she had a light bulb moment. She collected the wildlings, had them neutered and vaccinated and hosted an adoption drive at Wee Soles, the kids' shoe store she owns and runs in Silver Lake, CA, a hip neighborhood just east of Hollywood. "They were so sociable that if children wanted to hold them we would take one out—I kept them in a large dog crate—and they could play with them," she remembers. Within a few weeks, each kitten was settled with one of Carlson's customers.
Who says you should never work with children and animals? It's exactly that sort of kid-friendly attitude that's kept Wee Sole's register ringing since its doors first opened in the fall of 2006. Together with co-owners Joanna Sacavitch and Darci Rosenberg, Carlson wanted to create a children's shoe boutique that offers everything from traditional to trendy, keeping comfort and quality top of mind—something the three mothers found their nabe to be seriously lacking. "The only place around here where you could get children's shoes was at the mall, or you had to drive to the west side, and the idea of schlepping over there was not appealing," Carlson says. Seven years later she counts Will Ferrell, Thandie Newton and January Jones among her celebrity clientele. "We try to have everything from basics to really hard-to-find, unique things," she says. "Even with the regular brands like Stride Rite, I try to find the shoes that are really different, color-wise."
So Goes the Neighborhood
Despite the store's plum location (Silver Lake tops Forbes' list of America's Best Hipster Neighborhoods, thanks to its booming arts scene and one of the largest creative class communities in the country. Oh, and James Franco just bought a duplex there. Enough said.) Carlson reveals "something shifted" when the economy went south. "My prices were a lot higher when we opened in 2006 than they are now. People bought [expensive shoes] then. Price really became an issue after the crash, even among people who still had money," she says, continuing, "I have to be really careful what I get. It has to be something super-special that I know people will really love. When I'm buying I have to ask myself, is this shoe going to hold up? Is it a decent price point? Is it going to fit well?" She points to Florsheim Kids as an example of a brand that appeals to parent, pocket and child alike. "Usually boys don't like desert boots, but because of the orange sole with the gray on top, they liked it," she says, adding, "I have customers who know that whatever I pull out has gone under my scrutiny."
Shelves filled with such category leaders as Geox, See Kai Run, Primigi and Venettini line the shop's checkered floor. And while plenty of orange cube seating is scattered about, Carlson, a self-proclaimed fit enthusiast, prefers to sit on the floor with the kids while she measures and fits—a habit that has worn through multiple pairs of her favorite jeans. "It's amazing what I've learned over the past seven years. Some toddlers have fat feet; some have high arches. Even brands that say they are wide fitting [sometimes don't fit]—if the shoe doesn't open wide then you can't get it on!" Flexibility is another key product attribute she looks for now more than before. "We've really moved away from the supportive, stiff-soled shoe. If you can't flex it with one-hand, we don't want it," she offers. "I see lots of kids in fashion shoes like Jordans and they can't walk in them because they don't bend."
Process of Selection
A well-worn play kitchen and coloring table keep kids occupied, as does a coin-operated motorcycle outside, while their parents browse the shop's offerings, which range from quirky (a cherry sandal by Ricosta) to formal (Naturino's red patent Mary Jane) to everyday (a gray and navy Tsukihoshi sneaker).
"The staff at Wee Soles is extremely creative in its taste and manages to get an amazing selection of See Kai Run shoes in a modest amount of space," says Kelly Peterson, director of sales at See Kai Run. "We can always count on Tamsin for creative merchandising and presenting a unique assortment of our shoes that quickly sell through to her customers. We love her for that." It's a sentiment that's echoed by Gina LaRossa, director of marketing at Primigi USA. "Wee Soles has been a favorite partner and client of ours for a long time. The store represents our brand very well and has a great understanding for the fashion and quality of the Primigi brand," she says.
As with most retailers, Carlson is trying to guess what's important to parents, from machine-washable footwear to accessible price points. "Twenty-five percent of my customers come to me because they know I'll have something unique that they won't find anywhere else. We have an online store, too, and I even had a customer call me from Florida because she said she couldn't find anything on Zappos. I'm not saying that we're competition for Zappos, but we do carry some things that they don't have," she says, adding, "I've also noticed that online is playing it safer and safer and has less and less unique products. The hard thing with online is the prices. That's my biggest battle right now. That 25 percent is probably 60 percent of my business."
But the value of face-to-face contact at a brick-and-mortar store cannot be underestimated, and Carlson and her business partners take as much pride in their community as they do in Wee Soles. A small section of the store is a gallery for local artists who create art for children and a colorful Alice in Wonderland mural by Andy Sklar currently covers the back wall of the shop. Wee Soles also partners with Soles4Souls by hosting shoe drives and offering a discount to all customers who bring in gently worn pairs of shoes toward the effort. "And we always donate to all the school fundraisers as, between the three of us, our five kids are all at local public schools," Carlson shares, noting that running a successful neighborhood kids' shoe store is not always about pushing product. At Wee Soles, it's also about becoming a part of the community it serves.