The Duke and Duchess of Cambridge's first baby is set to be the jewel in the infant and toddler industry's crown. By Angela Velasquez You could say the start of the celebrity baby craze began on June 22, 1982, when Prince Charles and Princess Diana, dressed in an oh-so eighties polka dot maternity dress, stepped […]
Magnificent Baby
Magnificent Baby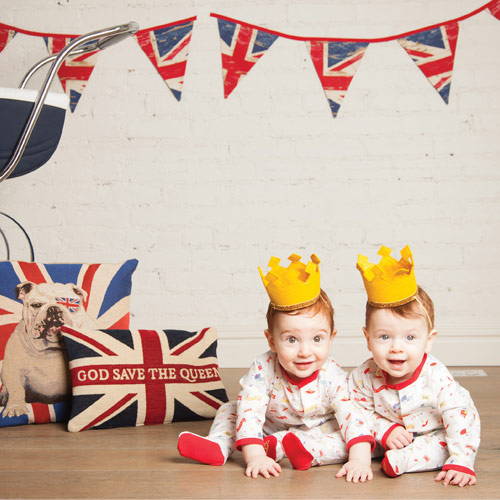 Royally Appointed
Rachel Riley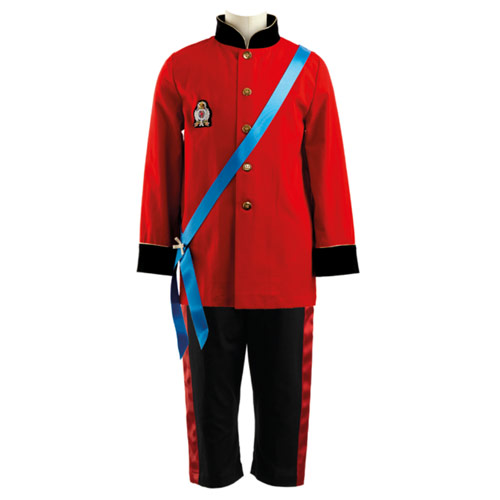 The Duke and Duchess of Cambridge's first baby is set to be the jewel in the infant and toddler industry's crown.
By Angela Velasquez
You could say the start of the celebrity baby craze began on June 22, 1982, when Prince Charles and Princess Diana, dressed in an oh-so eighties polka dot maternity dress, stepped out of St. Mary's Hospital in Paddington, London, with baby William in tow. The cheering crowd of well-wishers and the pack of international photographers camped outside, not to mention the 41-gun salute out of the Tower of London, were only the first hints of the fanfare the royal tot would herald in.
This summer the world's infatuation with babies and the British Royal Family will be revived by a new generation of royal watchers when the Duke and Duchess of Cambridge welcome their heir at that very same hospital—and London, the world and the baby industry will be ready. From British bookies taking bets on the baby's name (Ladbrokes are offering 8 to 1 odds that if it is a girl the tot will be named after her Gram, Elizabeth) and W magazine creating a fantasy registry—Tiffany & Co.'s $754 silver baby sets, a Marie-Chantal tea time-themed bib and Ulubulu's diamond pacifier made the exclusive cut—to a Harvard-MIT genetics graduate student conjuring up what Kate and Will's offspring may look like, the baby is already stirring up an eclectic mix of headlines.
And as designer Rachel Riley puts it, now is a very good time to be British. So good that Riley says her country's positive attitude has sparked a baby boom with the number of pregnancies up by 30 percent. The birth of the Royal Baby will cap off a three-year long national celebration that began with the wedding of parents-to-be in April 2011, carried into 2012 with Queen Elizabeth's 60th Diamond Jubilee and reached fever pitch with the Summer Olympics in London. Riley even admits to tidying up her home on the Thames to prepare for the Queen's Jubilee flotilla to pass by. "It's not like she was going to stop in, but I felt like I had to spruce up the place," Riley laughs.
"There's been a very patriotic feeling in Britain," says Mimi Hubbard, director of the British shopping advice site Cool Mum Hunting. She notes that businesses contributed to the festive atmosphere with limited-edition products, collections and British-themed promotions and window displays to mark the occasions. "Everyone got behind these celebrations and every brand had something to offer," Hubbard reports. "We had great fun with the Royal Wedding," recalls Alex Theophanous, founder and CEO of AlexandAlexa. The online retailer staged a Royal Couple-themed photo shoot in the style of William and Kate with two young models against a backdrop of a royal palace. The mini look-a-likes wore heritage British brands including Burberry and Hunter Wellington boots.
Selfridges on Oxford Street dished out celebratory slices of wedding cake to customers on Will and Kate's big day. Liberty London named its 2012 class of signature prints the Jubilee Collection. Shoppers at luxury department store Harvey Nichols got a taste of the 1950s with window displays modeled after those from the same era of the Queen's coronation—and across the street at Harrods, the standard bearer of British retail, Rachel Riley's creative eye was enlisted to decorate the entrance of the store's children's restaurant for the Jubilee and the Olympics. "We had to go in after the store closed at 9 p.m. and be out the next morning by 8. It was all very fairy-like," the designer says of her Harrods experience. Up next for Riley and Harrods? A children's floor display to mark the arrival of the Royal Baby.
Expect to see plenty more Royal Baby-centric items, like the prince and princess paper plates Raggs & Rattles blog editor Nneka Ike-Prince reports the Middleton grandparents-to-be (controversially) touting on their party supply website to the specialty cupcakes and reworked "Keep calm and carry on" baby products Hubbard is anticipating. "As soon as the birth and sex of the baby is announced, I think the excitement will ramp up even more, but baby and kid brands are already getting into it with crown prints and Born to be Queen bibs," Hubbard says. Riley agrees: "If there was ever a time when baby clothes will be trendsetting it will be now. Childrenswear is often not considered as fashionable to talk about as much as women's and men's but I think that is about to change."
Just as the Royal Wedding shone a spotlight on British wedding designers such as Sarah Burton and Jenny Packham, its children's industry hopes for similar buzz. "As soon as we heard the announcement we thought, 'This is going to be so much fun,'" Riley recalls. Known for vintage prints and classic British style, and having already gained a royal following (Queen Elizabeth's granddaughter wore a Rachel Riley flag print frock for the flotilla), the designer created the Heritage Collection inspired by Britain's regal history. The special collection spans navy and white unisex baby bodysuits, blankets and bibs with stork and pram prints, traditional rompers with crown embroidery and prince and princess-themed footed one-pieces. For older kids, Riley had fun recreating Prince William's scarlet Irish Guards uniform he wore for his wedding and a white and frothy ball dress inspired by the Duchess of Cambridge, complete with a matching guard teddy and princess doll.
Unlike the rest of the Fall '13 line, which will begin to ship in August, the Heritage Collection is set to hit stores in July—just in time for congratulatory window dressings. But getting the collection completed in time for Bubble London in March was no easy task. "We moved heaven and earth in four weeks to finish the collection," Riley recalls. The collection was unveiled on the first day of the show. "I think buyers were in awe, as we were ourselves, that we were able to get something so relevant completed in time for the show," Riley says.
Excitement for the Royal Baby has crossed the Atlantic, too, sending designers Lauren Levy and Lawrence Scheer of Magnificent Baby into a tizzy to complete a royal-themed range in time for market. As Levy points out, every expectant parent is also expecting an heir. "New parents everywhere are in the same boat as Kate and William. Our children will grow up alongside theirs," she explains. It's that personal connection, not to mention the huge potential for publicity and Levy's own love for the Royal Family that sealed the company's decision to create the "An Heir is Born" collection as soon as the Palace announced the baby news in December. The limited edition line of one-pieces, bibs and blankets features a unisex print comprised of crowns, shields, prams and bottles rested on regal pillows in colors that Levy describes as "British-centric hues in a European palette," with some items embellished with gold foil and embroidery.
Levy says the retailers who will benefit from the Royal Baby buzz are the ones that saw how the Royal Wedding impacted the wedding industry and acted quickly. Existing Magnificent Baby accounts jumped on the idea, she reports. "They saw the potential immediately and as it comes closer to Kate's due date, everyone else is going to start realizing it, but it will be too late," Levy explains. "If people don't think it will matter, they're not seeing the scope of Kate's influence."
"If you can imagine how much hype has surrounded the Beckham children, just wait until the Royal Baby is born," Hubbard offers. She says the public is behind the Royal Family more than ever and much of the adoration is owed to William and Kate's love story. "It's so relatable—they met in college, broke up, got back together, had a beautiful wedding. It's a story that people worldwide have been following from the start," she explains. Hubbard expects British retailers and brands to vie for royal attention and predicts Kate to shop from a mix of fine children's boutiques in London's Chelsea district, high street stores like Mothercare, as well as department stores with a Royal Appointment such as Selfridges. "She's a high street girl, an advocate for high street shopping and British designers," Hubbard says.
Ike-Prince agrees: "Kate is a style ambassador for Britain and the baby will be too. London's fashion is fun and creative. I think we'll see a combination of trendy and traditional styles done in a modern way, especially since she's embraced that way of shopping for herself." With affordable stores like Topshop and Jigsaw as some of the Duchess' favorite places to shop, Hubbard says don't expect the baby to be seen wearing Baby Dior or Gucci. "I imagine that if she shops for up-market labels it will be brands like Rachel Riley, Marie-Chantal and Bonpoint," she suggests.
That's music to Riley's ears because she believes the Royal Family has a good tradition for supporting British companies. Just as the public was swayed by the late Princess Diana's choice of everything from baby names and schools, down to the type of snowsuits she dressed William and Harry in, the designer says Kate and her heir will influence an entire generation of children. However, if the baby is a boy she believes people will be reflective and nostalgic. "Everyone loved Diana and people will look back to that time to see how she dressed her boys," she says.
If the baby is a girl, Riley says expect even more excitement because the 300-year-old principle of male primogeniture rule will officially come to an end. Last year the British government introduced the succession to the Crown Bill, meaning that regardless if William and Kate's baby is a girl or boy, it will succeed to the throne—and consequently knock Prince Harry to fourth in line. "Lots of people would like for the baby to be a girl because it would change the course of history," Riley adds.
And history may be the single factor distinguishing this well-known baby from all other celebrity babies. The wedding, the Jubilee and the Olympics brought everyone together, but now Hubbard says it is the younger royals' time and opportunity to keep the momentum going. "Kate has taken on Diana's role beautifully, working with children and William is perceived to be down-to-earth. They're really similar to other young modern couples, except they are also the people's prince and princess," she explains. As such, their baby will become a figure in history—and will need a wardrobe to match—and is why Hubbard laughs, "If you want trendy and funky children's fashion, you'll have to wait for Harry to have a baby."