Whimsy and novelty permeated the Fall '10 shows in Europe, resulting in fresh ideas and tweaks on existing concepts all designed to evoke a "gotta-have-it" feeling in shoppers. Though consumers may still be wary of unnecessary expenditures, they can be wooed by something new so long as it represents value, according to Jamie Ross, creative […]
Novel Ideas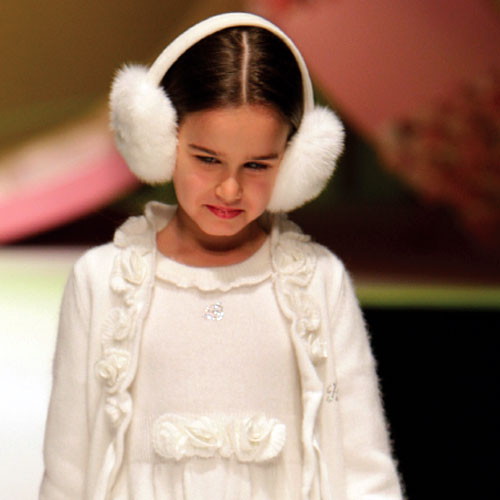 Whimsy and novelty permeated the Fall '10 shows in Europe, resulting in fresh ideas and tweaks on existing concepts all designed to evoke a "gotta-have-it" feeling in shoppers. Though consumers may still be wary of unnecessary expenditures, they can be wooed by something new so long as it represents value, according to Jamie Ross, creative director of The Doneger Group, a trend forecasting firm. "Consumers aren't interested in anything that screams 'last year,'" she stated. "It can't be something they have in their closet already."
The junior and adult markets still serve as huge influences for the children's category, but designers are taking liberties with their interpretations. For instance, preppy, which has overtaken the men's urban market, remains a strong direction in kids' wear as well, but in the littler sizes collections pop in fun elements like trompe l'oeil pockets and deconstructed argyles. Instead of getting mired in the heaviness surrounding our economic outlook, children's brands strike a consciously fun, fanciful tone. For instance, nothing is more optimistic than designers' exuberant use of novelty graph- ics and accents or the generous helping of fur pieces that cropped up in many lines. In general, this season's collections showed less restraint than in the recent past, and designers were rewarded with healthy traffic at the shows. "Over the summer the shows were quiet and the buyers were unsure," said Melissa Hago, trend editor at style forecaster Fashion Snoops. "But people were feeling more comfortable this time."
EASY DOES IT
Sportswear takes an
active turn as designers
employ soft, casual fabrics
to undercut the formalness
of structured
silhouettes, according
to Khalym Schell,
children's trend editor
for the forecasting firm
Stylesight. In some
groupings this means
vests and blazers cut
from fleece or knits; in
others, traditional tailored
bodies are paired
with sweats. "The silhouette
reads tailored
but in fleece or heavy
knit the items can be
worn every day for
playdates and school,"
Schell explained.
FLIGHTS OF FANCY
Fashion observers noted a
fairytale, escapist quality to
many designs, which isn't
a surprise given the sometimes
harsh realities of this
economy. "Designers are
finding a place that feels like
home that is comforting and
feels nostalgic," Schell noted.
"They're gravitating to fun
ideas because it reflects how
they felt when they had no
responsibilities." Schell pointed
to what she calls "everyday
costumes": garments adorned
with tails, capes and other
elements borrowed from the
dress-up trunk.
COZYING UP
Tough times have
produced a look
inward, putting an
emphasis on experiences
rather than
ownership, according
to Fiona Coleman,
senior kids' wear editor
at Worth Global
Style Network.
"We call this trend
'Emotive.' It is less
about owning things
and more about
emotional connection,
memory and
meaning. With the
economy the way it is,
people are wanting to
look back and inside
instead of looking
at the world around
them." These ideals
are represented
by literal icons like
hearts and messages
of love and friendship,
and figuratively
through chunky
knits, buttery cords,
brushed checks,
updated Fair Isle
sweaters and warm
thermals.
PARISIAN CHIC
Girly trappings are abundantly
plentiful for fall.
Ruffles—a designer favorite
for seasons now—take
an offbeat twist. "Ruffles
are off-kilter and less traditional,"
Ross described.
"They are asymmetrical
or cascading on everything
from dresses to
tees." Trompe l'oeil
effects made a statement
in spring with a wealth of
eye-catching faux necklaces
and patterns. For
fall, Schell said the look
has become more subtle
with tonal lace or cable
knit prints. Ruffles, fur
and teaser artwork run
rampant through most
groupings, but none more
so than in what Hago has
termed "Parisian chic."
The hallmarks of this
trend include Chanelinspired
styling in black,
white and powder pink.
ALSO LOOK FOR:
• Military to trickle down
from adults' apparel, commanding
attention in kids'
through styles like structured
jackets and cargo
pants. Pairings with voluminous
tutus and treatments
like faux insignia
keep the look from becoming
too severe.
• The '80s vibe to continue
with activewear pieces
that tie back to the movie
"Fame," such as oversized
hoodies, cropped tops and
stencil screenprints.
• Grunge to pick up where
the '90s Seattle movement
left off, with lots of layering.
• A continuation of the
folkloric direction. Rich
reds, blues and forest greens
overtake the folktale influence
this season, which
Coleman said ties back
into designers' escapism
instinct. The trend sees lots
of pattern mixing and tons
of rich embellishments.