A growing number of boutiques are stocking high-end licensed products, cashing in on parents' nostalgia and desire to make their kids stand out. By Mary Avant Chances are, if you spend even five minutes in a store—whether it's the local Walmart or a fast-fashion chain like H&M—you'll see your fair share of licensed products. Everywhere […]
Boutique Licensing
Imoga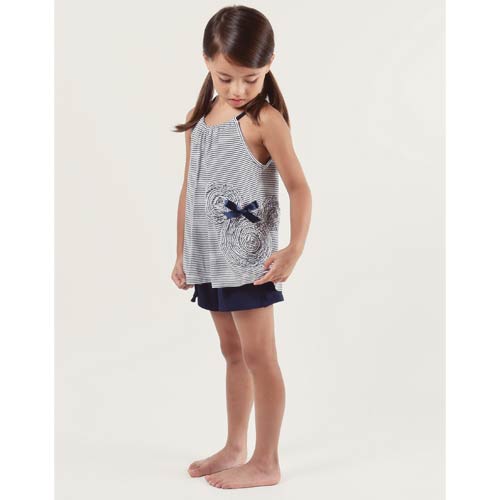 Boutique Licensing
Misha Lulu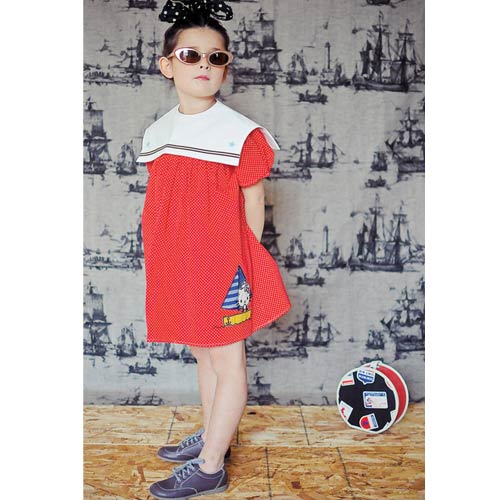 Boutique Licensing
Paul Frank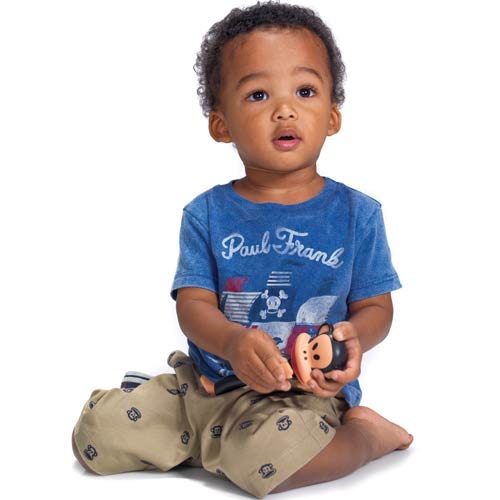 Boutique Licensing
Rowdy Sprout AC/DC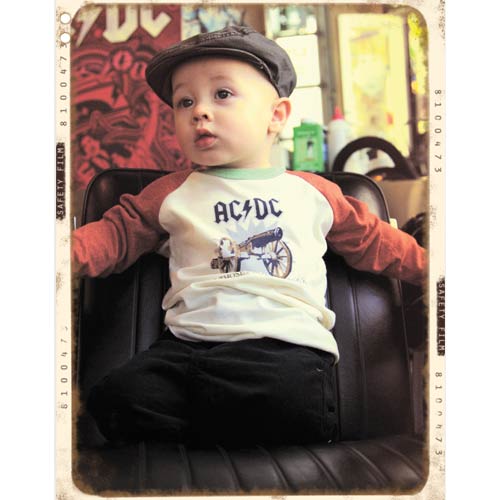 A growing number of boutiques are stocking high-end licensed products, cashing in on parents' nostalgia and desire to make their kids stand out.
By Mary Avant
Chances are, if you spend even five minutes in a store—whether it's the local Walmart or a fast-fashion chain like H&M—you'll see your fair share of licensed products. Everywhere shoppers turn today, they're met with item after branded item featuring characters and logos from their favorite movies, bands or TV shows. The question isn't whether licensing is a popular sales scheme—that's apparent, given that The NPD Group's Kids Industry Data Service reported that children's licensed sales hit $27 billion in 2011—but, rather, it's how to cash in on the craze.
More and more frequently, licensors, brands and retailers are turning to a new and growing solution: boutique licensing, a form of branding that elevates the everyday Mickey Mouse item into a high-end, high-quality and high-fashion product that can't be found on every other street corner. "There's a difference between a Mickey Mouse T-shirt you get at Walmart and something that's designed by a high-end licensee that's used to dealing in the boutique marketplace," notes Marty Brochstein, SVP of the International Licensing Industry Merchandisers' Association (LIMA). And since a number of factors are setting the stage for this subdivision of licensing to thrive—the fact that almost a fourth of purchases for children are licensed items is just one of these—now may be the perfect time for boutique retailers to jump aboard.
The Case for Boutique Licensing
It may sound like a broken record, but with the U.S. and global economies still on the mend, it might run counterintuitive for retailers to turn toward high-end, higher-priced items to draw in sales. However, it's the high-income and middle-tier consumers who are getting back on their shopping feet and setting the stage for boutique licensing's success, notes Debra Joester, president and CEO of the Joester Loria Group, a licensing firm that represents brands like Pepsi and Annoying Orange. "Retail results show that higher-end product is selling well, as higher income consumers return to shopping for their favorite brands and new trends," she reports. And since customers are increasingly willing to shell out big bucks for finer-quality items, licensors, brands and retailers can now take advantage of these higher-margin items.
Plus, due to the explosion of blogs and social media over the past few years, licensors and brands are finding that high-end licensing creates the type of interest that not even the best-planned PR efforts can spark. "Brand owners and licensors have been eager to build buzz and elevate their brands by co-branding with designers, creating boutique collections and reinforcing the appeal of their branded products among opinion leaders," Joester explains. In addition, because consumers are becoming more web savvy, they have better access to high-end, often-limited-run collaborations. "In the past, these collections only received visibility through placement in fashion magazines and to customers who frequented high-end boutiques and finer department stores," says Stephanie Kraus, vice president of softlines product development for Disney Consumer Products, which has collaborated with everyone from Dolce & Gabbana to kids' brand Atsuyo et Akiko. "The Internet has broken down those limitations, exposing more consumers to these collaborations and offering them a mechanism in which to purchase these pieces."
The Good and the Bad
Not only is the time ripe for a surge in boutique licensing, but license-holders and kids' brands are buying into it for good reason. As mentioned, the children's market may be drowning in a sea of branded products, but high-end offerings give diluted licenses a chance to regain and retain their hard-fought-for value. "These days, Disney is so prevalent," states Heajung Chung, creative director of children's brand Imoga, who teamed up with the kids' entertainment giant in 2011 for a high-end collaboration that resulted in sophisticated and classic pieces for little ladies based on characters like Bambi and Winnie the Pooh. "By having a high-end collection, they wanted to bring their Disney line to a more artistic level," Chung says. Instead of featuring characters on items in the collection, Imoga's designs are inspired by the personality of each lovable character. For example, for the Bambi collection, Chung channeled an Audrey Hepburn style to create charming, elegant pieces with a unique quality that Disney—and her consumers—adored.
Not to mention, taking on big-name licenses opens up a whole new world for smaller brands like Imoga. Joe Salazar, CEO of Misha Lulu, a kids' lifestyle brand that began producing Hello Kitty collections in Fall '11, says that the brand's involvement with the über-popular license allowed it to tap into a massive pool of Hello Kitty fans. "People who wouldn't buy Misha Lulu in the first place are being introduced to the brand through this collaboration," Salazar notes, adding that boutique licensing helps nurture smaller brands like his own. In turn, retailers reap the benefits that come along with an expanded fan base—namely, more sales.
However, whatever the advantages, this growing breed of licensing has its own set of challenges. First, because the economy is still on the rebound, consumers and retailers continue to place a major emphasis on value, even—or especially—in the high-end sphere. "The challenge is to still be able to put into the product the really great, higher-end fabrics and decoration and make sure that value is still there," points out Nina Leong, SVP of licensing for Saban Brands, owner of the popular Paul Frank franchise. "Even the small mom-and-pop [stores] are all pushing back for higher margins."
Another difficulty—which may actually be more of a blessing than a curse—involves the limited quantity of many licensed boutique collections. "There's that consumer who understands that [exclusivity] and gets the collection the second it comes out," explains Jill Koch, SVP of brand management for Sanrio, owner of the Hello Kitty brand. "But there are other consumers who don't play in that world that much and get frustrated. You have to balance the demand with the limited quantity."
And for brands and retailers just venturing into the boutique licensing market, it can prove challenging. "It was very tough in the beginning," Imoga's Chung says. "When I actually presented to the market, retailers weren't too happy about it because they didn't want to compete with the Disney store." However, she reports that once retailers and consumers witnessed the collection's quality firsthand, selling the Fall '12 line was a cinch. "Now I'm having a lot of positive feedback," Chung says, noting that she even gets emails straight from shoppers praising her branded work.
Capturing the Parent Market
As much as boutique licensing is giving brands and licensors a leg up in the kids' market, it can also be a major boost for high-end and boutique retailers, mostly because it's the parents who are strongly drawn to licensed items. Sure, kids love to wear their favorite Disney characters on a T-shirt, but it's mom and dad whose fond memories of Sesame Street or their favorite '80s band are willing to shell out big bucks for finer-quality licensed products. "If the parents are shopping in that environment to begin with, they're prequalified as to the amount they're looking to spend, but it has to hit a chord," LIMA's Brochstein explains. "If you're shopping in a boutique and you come upon a Sesame Street character well-executed in a high-quality garment and it strikes a chord with a parent, that's part of the evaluation of, 'Is it worth it?' "
That nostalgia-driven purchasing is one of the reasons high-end boutiques and retailers should stick with tried-and-true licenses, advises Tina Burgos, owner of Boston-based Monkey and the Bug. "Those characters have stood the test of time, and not only because they're really popular with children, but with the parents, as well," she says. "Personally, I wouldn't spend $45 on a cotton T-shirt if it doesn't have some major grab. It's not just about the product itself; it's about the lifestyle and the nostalgia."
In addition, for licensed products to capture the attention and dollars of picky, high-end shoppers, there's no room to skimp on quality. "People who go to these stores are looking for something that doesn't look cheap and that looks more classic," Imoga's Chung notes. That's why band T-shirt brand Rowdy Sprout—whose tees, rompers, dresses and more feature logos from bands like Journey, The Beatles and Blondie—uses a made-in-California cotton poly-blend material and unique trims to offer consumers and retailers top-notch quality. "High-end licensed items have to have a unique graphic or better quality," points out Gina Rothwell, owner of kids' boutique Sol Baby in Hermosa Beach, CA, whose No. 1 selling brand is Rowdy Sprout. "Their construction is awesome, and that just sets them apart." Laura Angotti, creator of Rowdy Sprout, says that she's seen 15 to 35 percent sales growth each year, noting that "it sells steadily and people who buy it continue to place orders."
High-quality branded items must also stand out from the crowd of licensed offerings on the market. "Make sure the product is different enough that it can't be found at the big box, H&M and Toys"R"Us," Rothwell advises. "It has to have something that will differentiate a $30 item from a $7 item." Monkey and the Bug's Burgos says the distinctive quality of Atsuyo et Akiko's Disney items is the reason she carries the line in her store. "They're able to do [licensing] in a way that it's still cool. It's not a licensed product that would be found in a mainstream children's shop," she says of the line, which sells out almost immediately each time the store receives a new shipment. "They're able to inject their own style into the licensed products."
Add these qualities together and the result is brands that can help retailers cash in on licensed offerings. "Parents will always spend something on their kids to help them stand out from the crowd," Misha Lulu's Salazar maintains. Sanrio's Koch echoes this sentiment, saying "If a consumer appreciates unique product or items that she won't see on every other kid in her child's class, she'll seek out that unique item." And not only does high-end licensed product stand out, but it also separates retailers that offer these items from those that don't. "It sets me apart and gives me the ability to offer something to the customer that they're not seeing everywhere else in town," Sol Baby's Rothwell says. "Most people can relate to something from pop culture, whether it's a band, retro character or beloved image from their past. By not offering something in that category, a boutique could miss out on those impulse purchases that tug at the heart strings."