DeNai Jones still remembers the first time she encountered a consumer carrying one of her bags: She was crouched behind her mother, gripped by panic. "We were in downtown L.A. shopping for fabric, and I was hiding behind fixtures in the store," she recalled. "My mom said, 'Why don't you introduce yourself?' But I was […]
High Gear
The Petunia Pickle Bottom Family: At far left, Korie Conant with her husband William and son Beckett. Braden and Denai Jones with their sons, Miller and Sutton.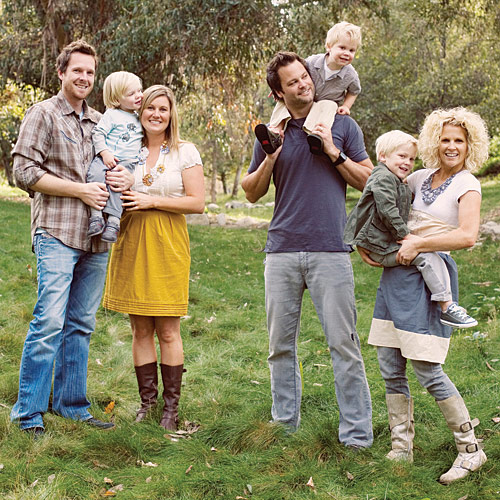 High Gear
The company's Boxy Backpack (now).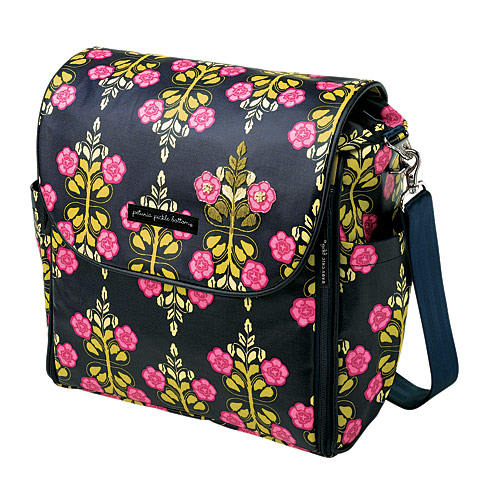 High Gear
The company's Boxy Backpack (then).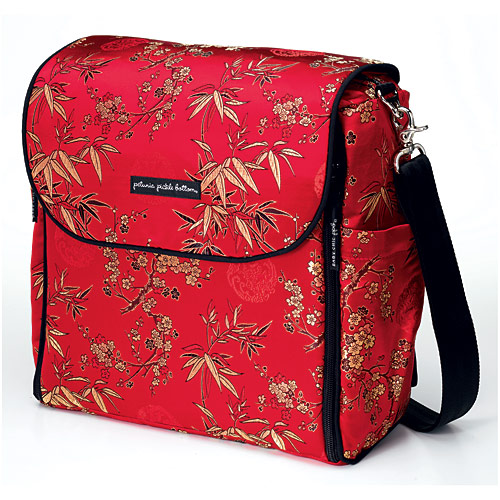 High Gear
The company's Boxy Backpack, then and now, has birthed coordinating accessories.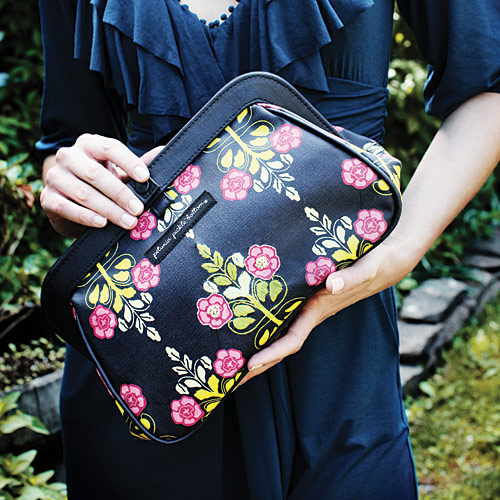 High Gear
The company's award-winning hangtags that depict founder DeNai as a child have been key to Petunia Pickle Bottom's success.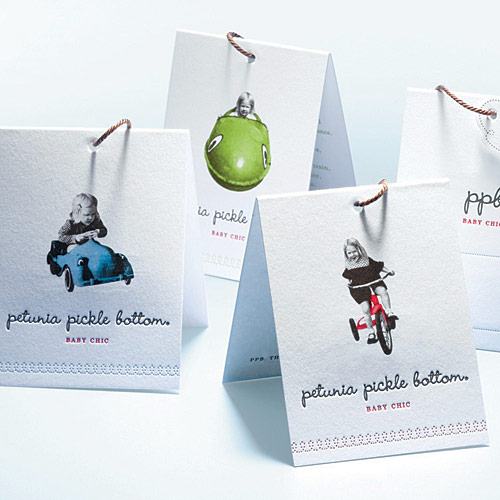 High Gear
The company's award-winning catalogs have been key to Petunia Pickle Bottom's success.

DeNai Jones still remembers the first time she encountered a consumer carrying one of her bags: She was crouched behind her mother, gripped by panic. "We were in downtown L.A. shopping for fabric, and I was hiding behind fixtures in the store," she recalled. "My mom said, 'Why don't you introduce yourself?' But I was panic-stricken. I was so excited to see someone who actually spent the money to purchase the product." Ten years after launching Petunia Pickle Bottom with her husband, Braden Jones, and her best friend, Korie Conant, the sight of one of her bags on a customer's arm still gives the designer a thrill.
Unlike the usual path that leads people into the children's industry, DeNai and Braden weren't frustrated parents looking for a way to reinvent the wheel. They were a young married couple who, instead of planning for a family, had dreams of charting their own path in life. From childhood, DeNai had been encouraged to pursue artistic endeavors, while Braden was preoccupied with the idea of starting a business of his own. "As far back as high school, I remember trying to plan out a career path but not really having a word for what I wanted to do at the time. I did know that I wanted to create, develop and start companies. I think it came down to the freedom that I perceived it would create at the time."
Today, the company they've built centers on a relaxed, fun working environment where employees often stay for years. The line, which started with diaper bags, has now grown to include layette, baby carriers and bedding that is sold in better boutiques and department stores worldwide. But as a teenager, Braden couldn't have known the struggle and determination it would take to get there—a period DeNai remembers vividly. "People look in from the outside and say, 'How great that you have your own company!' But they don't know how painful it was those first years," DeNai said, recalling the stints the partners spent living with their parents and taking odd jobs to make ends meet. DeNai credits their work ethic, family support and belief in the brand for seeing them through those trying times.
Ultimately, the three partners each had two other big advantages: each other. Their individual strengths are perfectly complementary, said founder and designer DeNai, who describes herself as "the creative," CEO Braden as "the business" and CMO Korie as "the brand." Braden keeps his eye on the big picture and is always calculating the company's next step, be it moving production overseas, expanding into department stores or hiring the company's new COO, Mike Fowler. "Braden has always been one to take a risk, whereas I'm more risk adverse," she said. "He's always the one to push the company to the next level, where I'll say 'Are you sure? I don't think we can afford to do that.' And then [his idea is] always the best decision possible."
Both DeNai and Braden agree that Korie, who joined the company a year after its launch, has been instrumental in not only establishing the company's message, but also getting it out to the press and the public. The brand's corporate persona—which focuses on style and function with a hefty dose of wanderlust—helped the company pioneer the "yummy mummy" concept and continue to thrive despite the recession. "Today, you're seeing more of that 'mom can be fashionable' story [in the press]," DeNai said, noting that the industry has finally caught up to her original concept. "From the beginning, we envisioned a lifestyle brand with a story that every mom could relate to: You don't have to lose your fashion savvy when you become a mother."
Now that the partners are parents themselves, they are able to provide deeper insights into their products and enjoy the "mindboggling" consumer loyalty they've developed over the years. This fervor for the brand has also helped them solidify retail relationships and real estate. "We know that when times are bad, retailers have less money to take risks on products they haven't sold before," Braden said. "But they know us and are confident that if they buy our product, it will sell."
What was the diaper bag landscape like when you launched?
DeNai: Although we had a good reception [initially], I don't think retailers knew what to do with us. The idea of a fashionable diaper bag was a hard sell in the beginning, especially for the price. At the time, it wasn't an item that every baby boutique had sitting on their shelves. Those dollars were being spent elsewhere, in areas where they felt they could make a quick sale and satisfy their customers. Placing an order was a risk for them. They had to see the potential.
Braden: Those original stores have stayed with us because they saw how fast the product sold once it was on the shelf. They took the risk, and it was something they hadn't experienced before.
DeNai: Those are the relationships that are really sentimental for us. When I see orders come across the fax machine from those original stores, I get a warm feeling because they're still with us.
What was the biggest hurdle when you launched your company?
Braden: During that time we were struggling to keep up with production. We could only put out as much as we could afford to produce, which created stressful moments for us and the stores. They couldn't reorder because we would sell out of goods.
DeNai: We call that era "behind the curtain" because we were still working out of a garage. I had set up a voicemail system that said we had a customer service department, a shipping department, a design department, etc., but it was just Korie and I, and Braden helping with business strategy on the side. We were packing boxes, wearing every hat we could wear.
Ten years later, diaper bags are the 'it' accessory. How do you feel about having pioneered this evolution?
DeNai: It's an honor to see that the category is now so large. People looked to us and thought, "That's a place where we could generate revenue."
On the flip side, it must be frustrating to see competitors attempting to knockoff your designs.
Braden: If you look at all of the other bags out there, you still know which is the Petunia bag. Whether it's the functionality people love so much or the designs, it's a unique product. Every six months DeNai and our team introduce new fabrics. We print, cut, glaze and hand-embroider the fabric, which is expensive and time-consuming—and difficult for others to copy.
DeNai: I think that's what sets our brand apart. At year five or six, we were seeing quite a few knockoffs, and that's when we thought, "Let's zig when they zag."
It's also our brand story. When you go to our website, browse our catalog or read our hangtag, our message permeates everything. Our consumer would like to be in Marrakech or Brussels or the other places the products evoke. They fall in love with the fabric from across the room, then step closer and see the item has function, and then they learn about the brand. Our brand identity translates through every detail.
Having a consistent story and image is sometimes underrated in the children's industry, but it certainly has its benefits.
Braden: It's not something we take pride in, but we have been able to build market share through the tough economy. I think that has to do with the fact that we have an actual brand, whereas others don't. In this industry, people tend to not know what a brand is or what it should be, which is a problem for growth. Korie focuses on branding, works with our PR groups and marketing companies, and produces studio and lifestyle shots multiple times a year to tell our story.
DeNai: Thankfully, we had a lot of product coming out of the gate when the economy [fell]. Having Korie onboard early helped us see the value of branding. We could see what it's worth in the eyes of retailers and customers when there's a story that goes with the product. It's just a whole picture. I think a lot of companies hold out in spending money in that area. But [without a brand identity], it's like you have this great product and put it in a cardboard box with no tissue or wrapping or hangtag or emotion. It's the icing on the cake that makes a consumer fall in love with the product. If that starts early on, your brand is going to have a much longer lifespan.
Over time, you've branched into new product categories. How do you decide which direction to take next?
DeNai: Any new product comes from our consumer and retail feedback. [Mothers today] are more informed because of media and social networking and Facebook. There are so many more products on the market, and their expectations are higher. We get so many requests over Facebook for products, and if one becomes a trend and we see the market isn't being filled, that's when we develop a new product idea. Plus, we have two children, and Korie is pregnant with her second child, so now we experience the voids firsthand.
Initially the bags had blankets and beanies included. The hats became a small layette and swaddle collection, and now we offer the blankets in plush, fuzzy organic cotton. Customers loved our prints and wanted to see them translated into the home through bedding, and they wanted coordinated prints in the babywearing category.
You've also simultaneously expanded your distribution. How have you done this without creating waves with the boutique base that supported you initially?
Braden: We started selling at Nordstrom about six years ago. Shortly thereafter, a retailer approached me at a trade show and asked if we sold to Nordstrom. I was hesitant to say yes, because I thought she'd be disappointed, but she said, "I'm fine with that, because as much as we don't want the competition from Nordstrom, we use it in our sales approach. We say, 'These bags sell at Nordstrom.'" That's a good thing at the boutique level, because it means it's a high-quality product.
DeNai: Before we sold to Nordstrom, we asked for their store list and chose 50 percent of their doors. If we had a high-performing boutique nearby, we chose not to sell to a particular location. We tried to protect the boutiques as much as we could. We're also offering some exclusive fabrics and prints for Nordstrom, to separate them from the boutiques.
Braden: We launched product at Pottery Barn Kids last month. It took a year from the time that they approached us because we wanted to do it right. All of the prints at Pottery Barn are exclusives. We have a similar agreement with Gap. We protect our boutiques that way. These products are still high-end and the same price points.
Would you say that, given your product selection, you were insulated from the economic fallout?
DeNai: [Juvenile products] is an area where parents will spend money regardless of the economy. Since diaper bags are on the registry, a lot of our retailers commented that we helped them stay in business last year. They know it's product they could keep on the floor and continue to sell. It may have been three or four people buying the bag as a group gift instead of each buying a separate gift, but it was product that people did continue to purchase.
Braden: The last few years have been good for us. We haven't gotten any push back on our pricing, but we've responded to the change in the market with lower price-point bags. We're offering styles under $100—they typically run about $180 to $300. We've already sold out of our first run. We've heard [retailers say], "If you have Petunia, you'll pay your monthly rent."
DeNai: Unfortunately, we have seen the fallout of the economy. We did lose a lot of our near-and-dear retailers. It's been hard to see a lot of people we really care about close their doors.
Braden: We've seen a lot of new stores open, though. We have a great sales team and reps who've been working nonstop for two years.
DeNai: They've been making lots of in-store visits to find out how we can help with merchandising or provide more sales tools.
Have those visits steered your designs or business decisions?
DeNai: It's so important to see how your product is merchandised and the real estate you have. You can help your retailers merchandise better, teach them how best to represent the brand and give selling tools to the salespeople. We'll go in [undercover] and pretend to be looking for a diaper bag to see how they sell the product and what they're lacking. Retailers are so appreciative when you take the time to visit them. They're honored that you're in their store.
Braden: It's also about listening to them. They may have a great product idea or suggestions for improvement. It's good for everybody because you can get honest feedback.
What are the most successful stores doing right?
DeNai: It comes down to how they merchandise their products. In a successful store, items are well coordinated, well organized, and the salesperson has product knowledge and is willing to walk you through the product.
Braden: The most successful retailers are the ones that commit to certain brands. I'm always disappointed when I go into a store and see they've tried to hit on too many things. In my opinion, they're rolling the dice. The ones that commit shelf space and buy deeply with us buy consistently with us.
DeNai: So many retailers have said that to us. They used to carry three of our bags and now they carry eight to 10 with more in the backroom, and their sales have quadrupled because they are representing the collection more. And when one item sells out, they're able to put another one on the floor. I know for retailers it's a financial commitment, but by committing, their sales have increased.
What has been the best part about growing this business together?
DeNai: I love that it's something that we're growing together with a bunch of other exciting and talented people. Plus, growing our family with the company has been a real benefit. We intentionally waited to have kids because the business was a child for us.
Braden: This wouldn't be as exciting if either of us had it by ourselves, but to share it is fun. —Caletha Crawford