TOMS Shoes, a company that rose to public consciousness with their mission to donate a pair of shoes to a child in need for every one sold, made giving back cool—and personal. They fly to needy areas and personally distribute the shoes to deserving kids. In June, TOMS' founder Blake Mycoskie announced his business' transformation […]
Every Good Deed
Eager students in a new classroom, part of Little Society's fundraising initiative with utu foundation.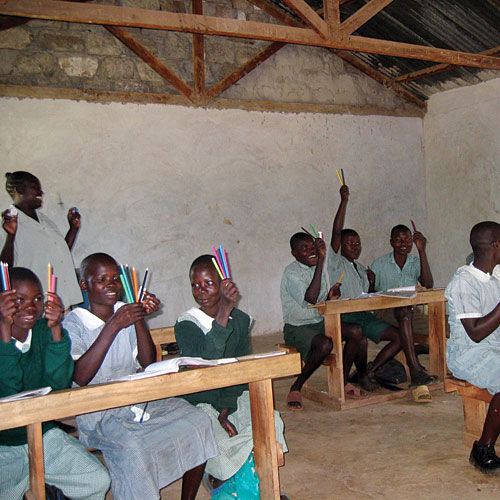 Every Good Deed
Operation Smile baby shower for military families.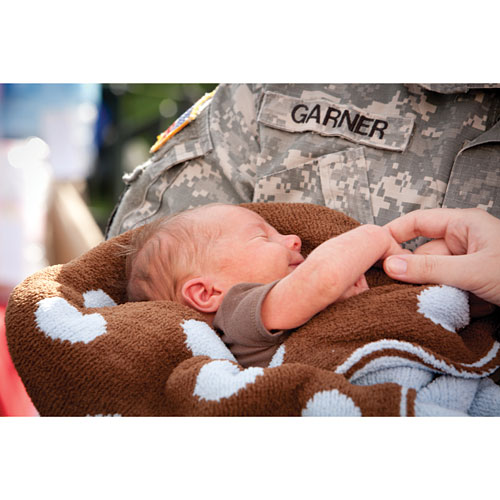 Every Good Deed
Lucky Puppy T-shirt.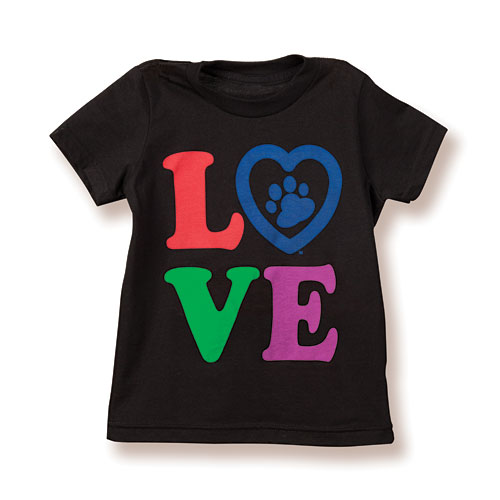 Every Good Deed
Yellow Label Kids' children's toys.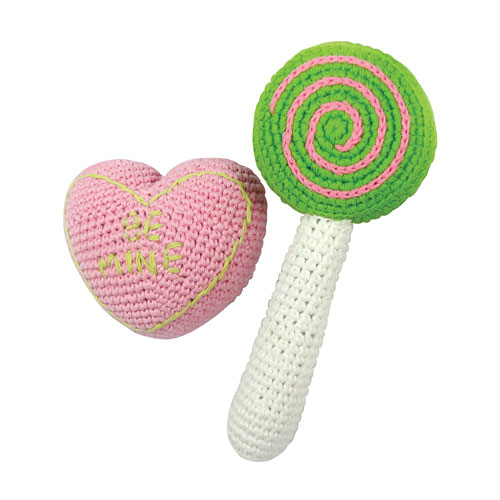 Every Good Deed
Kenyan women knitting Bébé Ravi childrenswear.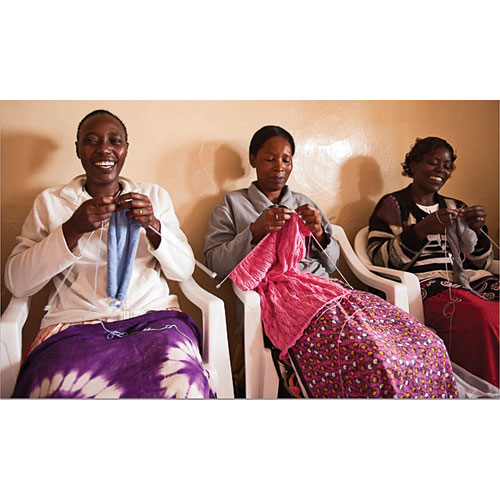 Every Good Deed
SpiritHoods' furry hats help support wildlife conservation groups.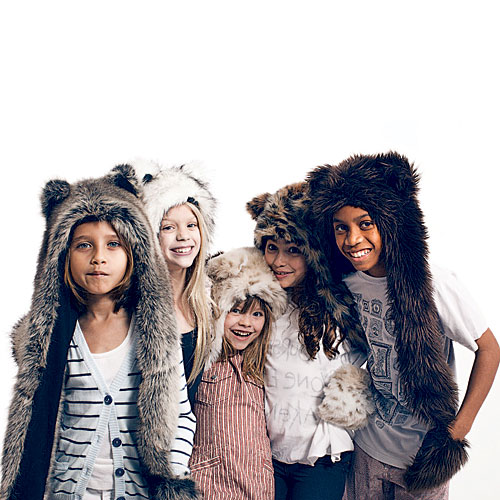 TOMS Shoes, a company that rose to public consciousness with their mission to donate a pair of shoes to a child in need for every one sold, made giving back cool—and personal. They fly to needy areas and personally distribute the shoes to deserving kids. In June, TOMS' founder Blake Mycoskie announced his business' transformation from a shoe company to a one-for-one company when he unveiled a new initiative for giving: a pair of eyeglasses to someone in need for each pair of new TOMS shades sold.
Inspired by TOMS' success, many manufacturers followed suit. Virginia-based company Rockin' Baby Slings recently changed hands, and as of Jan. 1, 2011, began a mission to donate a sling to women in Haiti for each one purchased. "The slings go to churches and community groups where there are people on hand to teach the proper usage," says Katie Coleman, spokesperson for the company, who calls the initiative "mother-to-mother." The slings give women the freedom to gather fresh water and food while keeping the baby close, ready to breastfeed and be loved and nurtured.
Children's classic brand Carter's has recently announced an exclusive partnership with Kids in Distressed Situations (K.I.D.S.), an initiative for donating excess inventory from its 500 stores across the U.S. Goods will be distributed to local children in need via the nearly 1,000 social services agencies that support children of military families and those challenged by homelessness, poverty and domestic abuse. The value of Carter's product donations is anticipated to exceed $3 million dollars.
These days, companies are taking charge of their giving, no longer just purchasing the odd charity dinner ticket or cutting a yearly check. For companies big and small, making charity part of their corporate DNA means good business. It's a concept called
"creating shared value" so dubbed by Michael Porter of the Institute for Strategy and Competitiveness at Harvard
Business School, who championed the concept that doing good for a community is doing good for business.
There are numerous ways companies tie charity into their businesses. Some, for instance, make the face of manufacturing an essential part of their company's story by giving economic opportunity to areas in need and insisting on fair trade and labor practices. Bébé Ravi, a clothing
manufacturer that produces children's woven sweaters and knitwear, provides employment for women from Nakuru, Kenya, where unemployment is as high as 40 percent, and many families have one parent due to the AIDS epidemic. "Local women know how to knit and crochet since it's an art most girls learn early on in the village," says Siamanda Chege, a former fashion model and founder of the company. "I designed children's garments and brought high-quality yarn from Europe. Now we have 100 trained women at the center and are hoping to have more women empowered this year as the demand for our product has gone even higher."
Hillary Sciarillo of Yellow Label Kids has been working with artisans from Peru, Armenia and Bangladesh to make her goods. "I wanted to be part of the solution," says Sciarillo who cringed at the mass produced plastic toys that were rampant when she began her company in 2005. She wanted to create natural, simple playthings for babies, using fair trade resources in production, and manufacturing with organic cotton and bamboo. With mind to making quality, environmentally sustainable products, she found her manufacturing team through the Fair Trade Association and later by word of mouth. "Since I've been working with these collectives for years, I have been able to see them grow their businesses. I feel we had a part in that. Many of the companies are non-profits that use the money to fund health care, childbirth education and literacy programs. This is having a direct impact."
In order to incorporate social and environmental missives into their business practices, other companies have allocated a percentage of sales to a cause or a host of causes.
Alexander Mendeluk of SpiritHoods, a company that makes wild faux fur hats, donates 10 percent of the sale of the hats designated with a "Pro Blue" label to selected conservation groups, including the Snow Leopard Conservancy and Pandas International. When a customer selects a wolf-inspired hat, for instance, a donation is made to a wolf conservation group. This decision, he says, really inspires consumers to connect more deeply with the products. "When our customers know they're helping animals when buying a SpiritHood, it helps them connect to the product emotionally and adds depth to the experience."
Sandi Hochman, owner of Lucky Puppy—a California-based manufacturer of adult and children's tees—sees cause-related goods as an easy way for consumers to feel like they're making a difference. "Many people want to give but they don't know how," she says. She connects her fashions with dog-related causes such as Much Love Animal Rescue and Animal Haven Shelter, but hopes to eventually collect enough to buy land and open a dog rescue organization herself.
"Corporate responsibility is now a big part of one's buying decision," says Angela Edgeworth, co-owner of Pediped Footwear. Over the past decade Pediped raised in excess of a million dollars for the Make-a-Wish Foundation. This year, to increase their philanthropic reach they decided to create their own foundation for giving. Most recently, Edgeworth says they have focused on committing funds to the local area around their warehouse and first retail location in Henderson, NV.
Leslie Pine, senior vice president of The Philanthropic Initiative, Inc., a Boston-based consultancy that specializes in strategic giving, says that size doesn't necessarily matter, and small, targeted charitable campaigns can have a large effect. "Before giving, you want to do a needs assessment—what are the needs, who else is doing it, and how can you enter in and make a meaningful contribution. Even a small amount of money can make a big impact," says Pine.
This is in line with the business motto of children's clothing manufacturer, Little Society, which touts, "small step to a big change." For Spring 2012, the company is producing a special line of T-shirts, the proceeds of which are earmarked to help build a classroom in a rural community in sub-Saharan Africa. Little Society has routinely given 10 percent of proceeds from their company to kids' and environmental causes, but wanted to direct some of their giving toward this specific goal. Says owner Taira Soo, "It's about making a difference however you can."
And making a difference is best when shared. Ensuring that consumers are aware of the impact of their purchases and the causes the company values is key. Shabby Apple, an adult and children's clothing manufacturer, gives 5 percent of net sales to Unitus—a non-profit that provides micro-credit loans to women in India where many of their dresses are made and textiles are sourced. The Shabby Apple website illustrates how the money helps, by including profiles of women who have received Unitus microloans, like Bhagyamma, who was able to purchase a buffalo and sell milk to her neighbors, and Uma who purchased a sewing machine to go into business as a tailor. Company co-owner Athelia Woolley says, "It's much more effective for a consumer to know what they are doing on a personal level. It's one thing to know that a company is helping people. It's another
to personally understand the people they are helping. This allows a consumer to connect with the consequences of his consumption." —Jennifer Cattaui