BY ANGELA VELASQUEZ If the appeal of a few days in a European city doesn't pique your interest and the thrill of a fashion catwalk falls flat, Bubble London, CIFFKIDS and Pitti Bimbo gave retailers many new reasons to attend the Fall/Winter '12 round of shows, most notably a host of new lines adding to […]
European Trend Report 2012
Pinco Pallino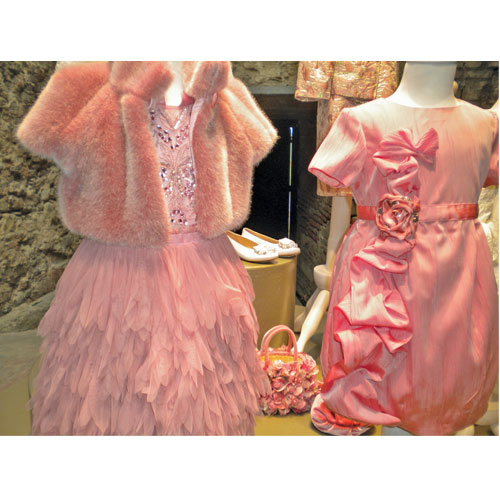 European Trend Report 2012
Fendi Baby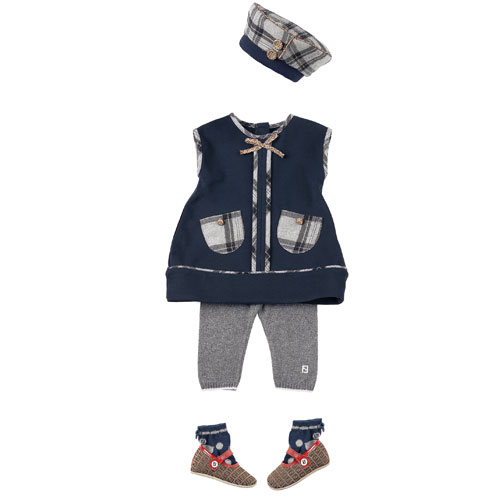 European Trend Report 2012
CIFFKIDS Runway Show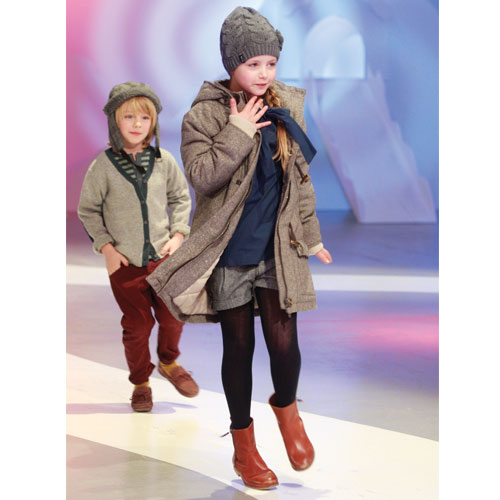 European Trend Report 2012
CIFFKIDS Runway Show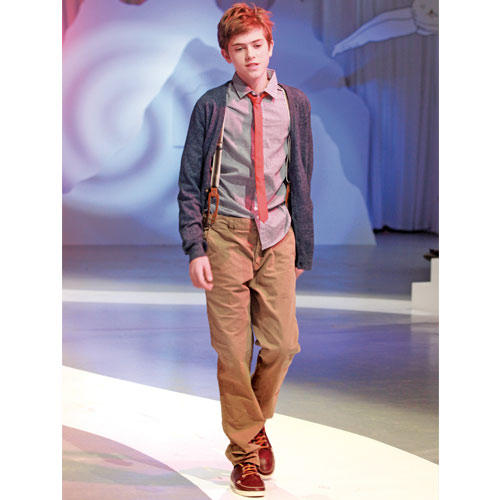 European Trend Report 2012
CIFFKIDS Runway Show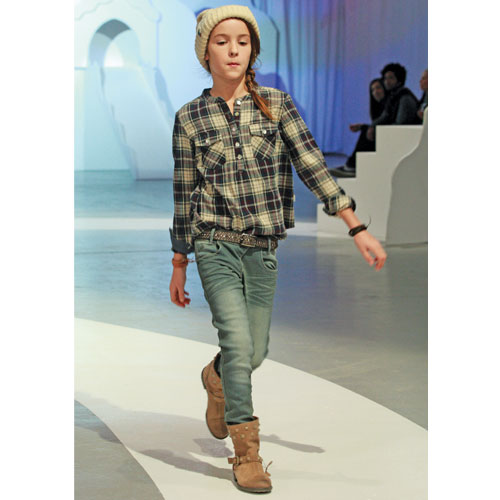 European Trend Report 2012
Monnalisa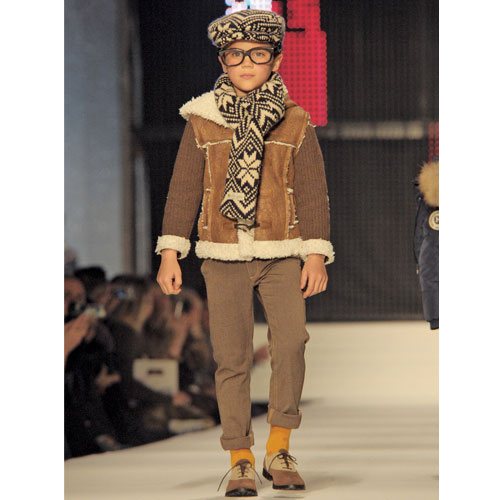 European Trend Report 2012
Paul Smith Junior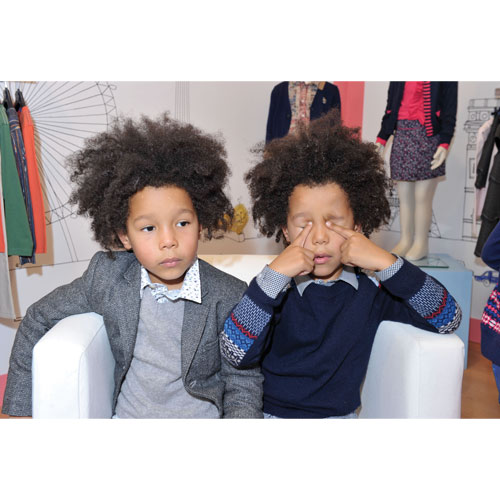 European Trend Report 2012
Miss Blumarine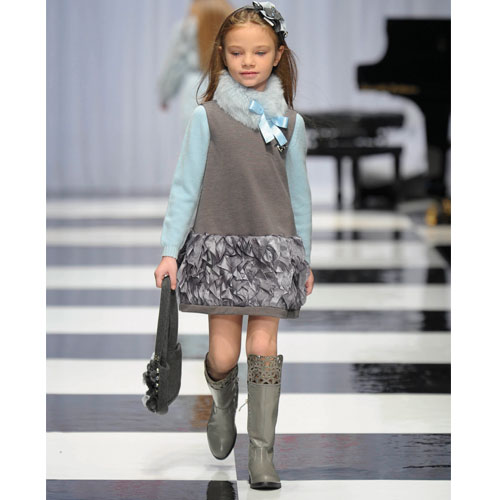 European Trend Report 2012
Miss Blumarine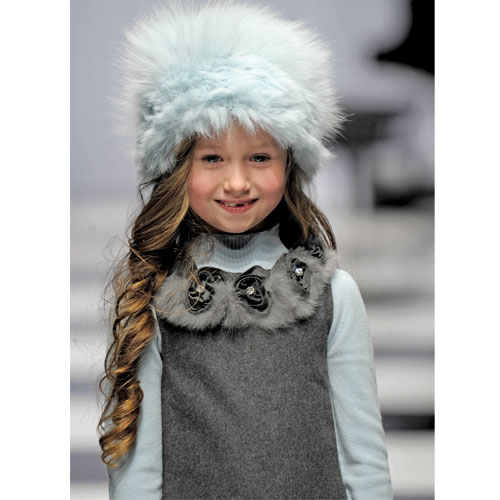 European Trend Report 2012
Miss Grant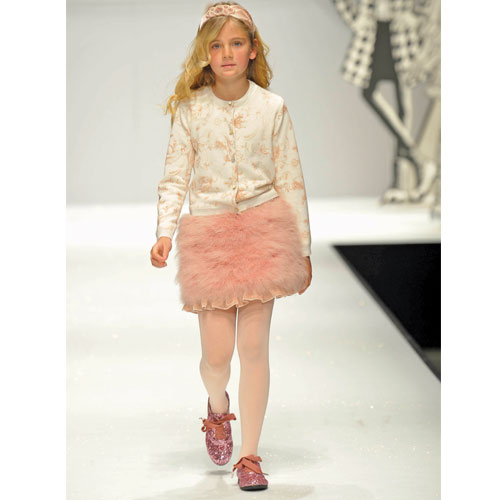 European Trend Report 2012
Sarabanda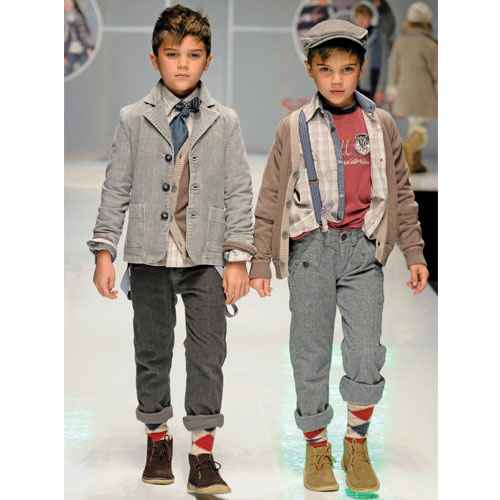 European Trend Report 2012
Swarovski Elements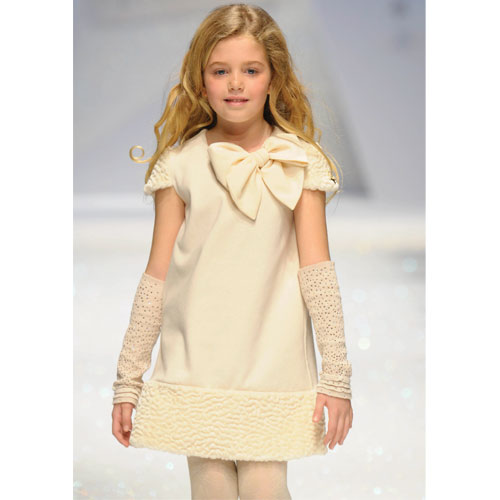 European Trend Report 2012
Twinset Girl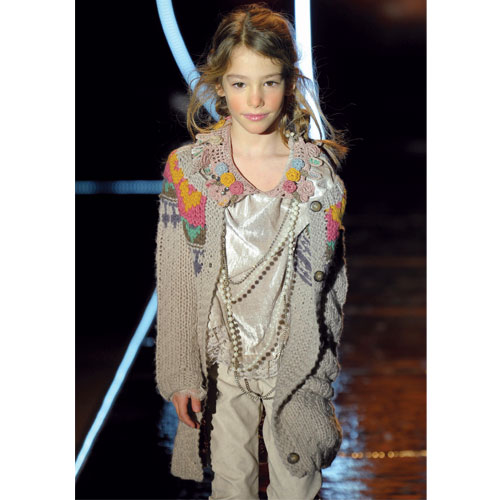 European Trend Report 2012
Twinset Girl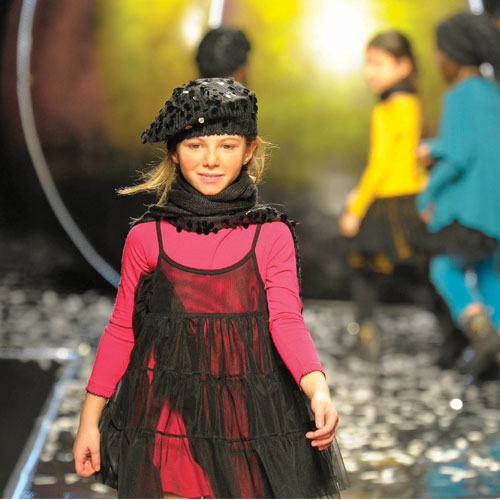 European Trend Report 2012
Young Versace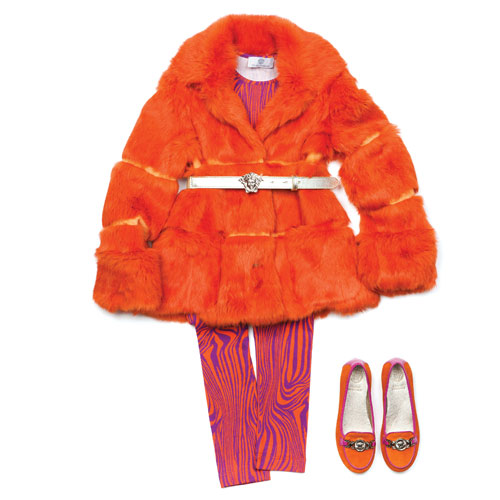 European Trend Report 2012
IdaT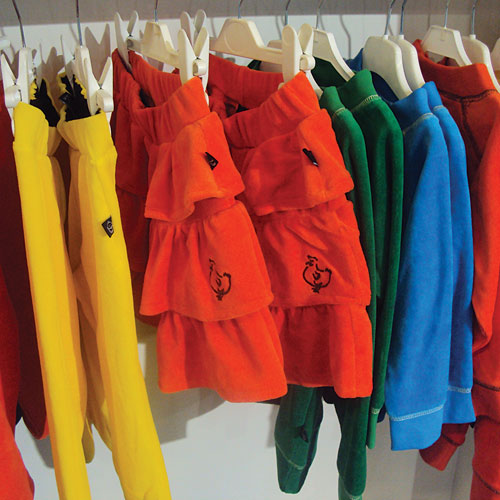 European Trend Report 2012
Abeko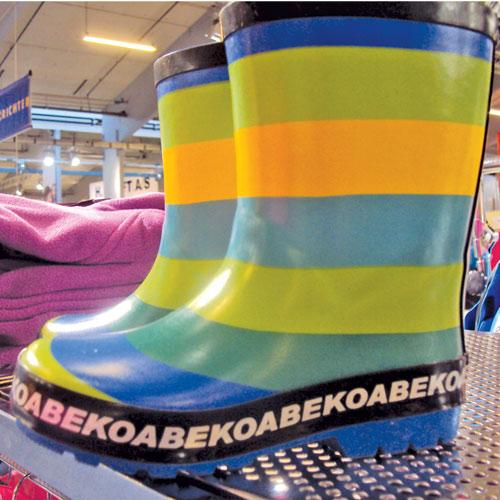 BY ANGELA VELASQUEZ
If the appeal of a few days in a European city doesn't pique your interest and the thrill of a fashion catwalk falls flat, Bubble London, CIFFKIDS and Pitti Bimbo gave retailers many new reasons to attend the Fall/Winter '12 round of shows, most notably a host of new lines adding to the incessantly imaginative European childrenswear market.
And while retailers, fashion-savvy moms and mini-trendsetters can always count on the European shows to dazzle, collections seemed to be even more illuminated this fall. At Pitti Bimbo, Swarovski Elements highlighted more than 30 childrenswear designs—including frocks by Miss Blumarine, Simonetta and Miss Grant, as well as shoes by Naturino—in an imaginative and sparkling runway show. Metallic gold and silver sneakers, boots and ballerina flats finessed head-to-toe looks and, taking a more literal approach, star prints shone on apparel and accessories.
On a more practical note, shapeshifting designs with removable pieces carried into outerwear and cold weather accessories. At Bubble London, Rachel Riley's collection with "quirky yet functional details" included a hooded coat with an attached plaid backpack, noted Nicole Yee, associate children's editor for trend forecasting firm Stylesight. Gaultier Junior got into the utilitarian action with a down coat featuring a removable fur panel that extended the bomber to a knee-length coat. And winter accessories like leg and arm warmers bridged the gap between seasons and were spotted with dresses and short-sleeve shirts. In Milan, detachable collars in fur, knit and lace lent girls' apparel a dose of glamour, warmth and versatility.
These chic add-ons were just part of a new crop of accessories collections added to established apparel brands. Francesca Sammaritano, assistant professor at The New School of Fashion, reported a notable uptick in the amount of scarves, gloves, hats, bags and jewelry showcased at Pitti. "Many designers are developing their own lines of accessories instead of collaborating or bringing in pieces from outside brands," she said, adding that by merchandising collections like a womenswear line with all of the accoutrements, "the collections appear stronger." Still, infant/toddler brand Mini Moostic caught the eye of Sammaritano with its minimalistic kimono tops adorned with removable neon plush toys. "It was one of the most innovative collections I saw at Pitti—so clean and modern. All of the lace and velvet at Pitti is beautiful, but sometimes you have to cleanse your palate," she explained.
Live in Technicolor
Leaving no crayon in the box untouched, bright colors coated boys', girls' and unisex collections. Indikidual, a brand new unisex line from London, showcased a range of mix-and-match layering pieces for kids 3 months to 4 years with fresh colors and funky graphics like dots and bananas. Likewise, IdaT's collection of solid long-sleeve tees, leggings and tiered skirts opened the door for endless color combinations—a merchandising mix that IdaT CFO Morten Trads predicts will be a hit at the company's California showroom, noting a cheery fall collection is likely to speak to the West Coast's sunny demeanor.
In true Scandinavian form, simple silhouettes and crisp lines gave the green light for the intense palette to dazzle in chic, yet kid-friendly style at CIFFKIDS. A slew of outerwear brands offered color-blocked snowsuits and rubber boots in shocks of turquoise, lime green and fuschia. Mim-Pi's approach to color was more whimsical, tapping into little girls' imaginations with solid tulle skirts and striped waistbands and cardigans. Girls' accessories took a spin on the color wheel, too: Rich knit tights, totes with contrasting color handles and striped scarves made for funky add-ons.
For tech-crazy boys, graffiti and graphics were just two of the edgy trends seen in London, with outerwear brand Abeko layering Stephen-Sprouse-inspired lettering over bold color. Boys' brand Hound keyed into the 8 to 16-year-old crowd's tech obsession with multi-colored QR code printed T-shirts, while Young Versace reinterpreted its signature scroll pattern into a neon-hued maze befitting the latest video games for boys.
Lumberjack & Jill
Cut from men's apparel, footwear and even facial hair trends, childrenswear took a decidedly rugged turn with gritty denim, brushed flannels, vintage plaids and utilitarian details. The lumberjack look was second nature to outerwear brand BCWW, which featured cargo pocket pants and plaid jackets in red and green. Similarly, NZA New Zealand Auckland offered boys a more casual look with plaid snap-button jackets that could be worn on their own or over sporty hoodies and tees.
The burly look was spotted on the runway for girls in the form of denim vests and slouchy sandblasted skinny jeans paired with flannel shirts and plaid shirtdresses. Bright suspenders, trapper hats and knit beanies upped the style ante and added a bit of whimsy to the laidback, easy-to-wear trend.
And last fall's Fair Isle craze gave way to more Nordic-inspired sweaters, many in contemporary color mixes like brown and turquoise and hunter green with pops of neon. For a heartier look, designers accented hems with heavy whipstitching and added bulky sweater silhouettes that double as jackets.
"It's impossible to not be inspired by Denmark's beautiful landscape," explained Nikolaj Hust, co-owner of Claire Group, makers of Hust & Claire. The Danish brand interpreted the outdoor trend with flannels peeking from textured sweaters, lots of dark brown and a track of moose prints. In fact, animal motifs were key in making the trend kid-friendly. From galloping horses on cardigans and prancing reindeer knits in Copenhagen to Little Paul & Joe's Little Red Riding Hood T-shirt and Tootsa MacGinty's sweatshirt with an interactive bear appliqué, woodland creatures proved to be little lumberjack and Jill's best friends.
School Rivalry
References to French and British school uniforms were peppered throughout European collections, but at CIFFKIDS the traditional look was decidedly more quirky and less picture day-perfect. Instead, with shirttails mussed over cords and hints of prim dresses beneath oversized duffle coats, designers embraced kids' cute disheveled appearance after a long day of classes. The look was kookier in London with Baroque prints and school stripes updating tailored pieces. Similarly in Milan, Marni showcased poppy red cardigans with trompe-l'oeil labels and pockets for a touch of whimsy. Narrow-cut wool blazers, pleated jumper dresses, corduroy blazers with crests and V-neck cardigans refined the look.
For visual interest, the preppy separates called for texture mixing. Wool, tweed, houndstooth, windowpane checks and cable knits built a rich look with old-world charm. Pops of rusty orange by way of skinny ties, Henleys and corduroy trousers enlivened the muted neutral palette. Old-timey suspenders, argyle knee socks, loafers, metallic mustard oxfords and Chelsea boots added a dash of character to the finishing school looks.
At Pitti, many designers sweetened the look for girls with blouses featuring neckties and tiny polka dots, feathered knit hats and tights worn under menswear-inspired wool shorts, Sammaritano reports. Mi Mi-Sol's second collection captured the eclectic look with satin bows at the wrist, flocked shorts, scalloped collars and velvet caps.
For the classroom rebel—and as an alternative to the prim and proper look—boys' designers tapped into America's Ivy League history with kitschy letterman patches. Cool, sporty and casual, the jackets and cardigans also opened the door for some subtle branding.
Pretty Little Things
Dreamy snowfalls and frosted flowers inspired designers to cast a richer and more sophisticated shadow on otherwise girly pastels. All-over shades of dusty rose, steel blue and majestic hues of purple and mauve blanketed lines at CIFFKIDS, acting as a neutral for many casual collections. For example, petal pink heathered sweaters and a pink soft structured coat laid the foundation for Wheat's signature ditzy prints. Even Pale Cloud, known for making basic cream and beige appear lush and decadent, incorporated a touch of color this season with a salmon hue.
Inspired by "little princesses deep in a snowy wonderland," Miss Blumarine bundled up girls in weightless feathers, powder puff pink Mongolian knits, light blue floral overcoats and an abundance of macramé lace, embroidered tulle and frayed ribbon. Frostbitten shades also complemented frothy flower accents, satin-tied furry vests and opulent tassels in Creamie's fall collection. Pinco Pallino took it a step further with icy white peplum-waist dresses and cotton candy-like fur coats.
While many girls' designers chose a romantic approach, others retreated to a mythical world mixing dainty colors with full-bodied browns, camel and gray for a Nordic woodland take on the feminine trend. Wintery layers, fine-gauge sweaters, thermals, and sweater tights helped coin a look Stylesight's Yee called "storybook creature meets folkloric villagers in an imaginary land, far, far away." For a dash of elegance, Illudia's mostly beige, gray and rose fall collection, based on an Icelandic legend about fairies and elves, told a magical story with Swarovski-embellished dresses and faux fur. The pixie look was also carried into sleepwear in Maison Gabrielle Lemaitre's line of chic velvety robes, pink pantaloon pajama bottoms and an ethereal nightgown with antique lace flutter sleeves.