Dance Mashup: The Mashed Potato was more than a dinner staple in 1962, when it became synonymous with a new dance move sweeping the nation, performed during songs like Dee Dee Sharp's "Mashed Potato Time." Also referred to as "mash potato" or "mashed potatoes," the move vaguely resembles that of the Twist, by Sharp's fellow Philadel- phian, Chubby Checker.

Autumn Cashmere peplum sweater and skirt, knee socks by Jefferies, Bass saddle shoes; Val & Max sweater dress, TicTacToe knee socks, Pediped shoes, Ribbit headband; Ralph Lauren letterman jacket, Woolrich denim button-down shirt, stylist's pants and shoes; Andy & Evan cardigan, plaid shirt, pants and bowtie, shoes by Clarks; Anthem of the Ants retro print dress, Jefferies knee socks, Nina Kids patent Mary Janes; Bock Copenhagen sweater and skirt, Rachel Riley scallop collar blouse, Jefferies cuffed socks, Cole Haan Mary Janes.

Hair and makeup: JSterling; hair and makeup assistant: Briana Mirzo; shot on location at AMF Bay Shore Lanes and the American Legion Hall, Bay Shore, NY; adult vintage fash- ion provided by Linda Varaday.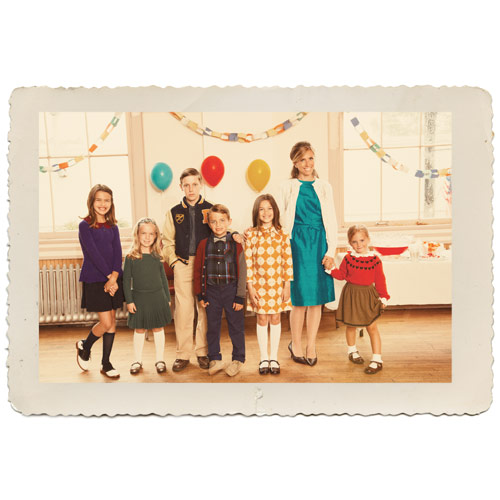 From left: Andy & Evan suit jacket, shirt, pants and bowtie; Toobydoo zipper sweater, Rachel Riley airplane print button-down shirt, Stinky McGee tie, pants by Karpi; Kallio jumper dress, Mademoiselle Charlotte Peter Pan collar sweater, tights by TicTacToe, Bows Arts headband.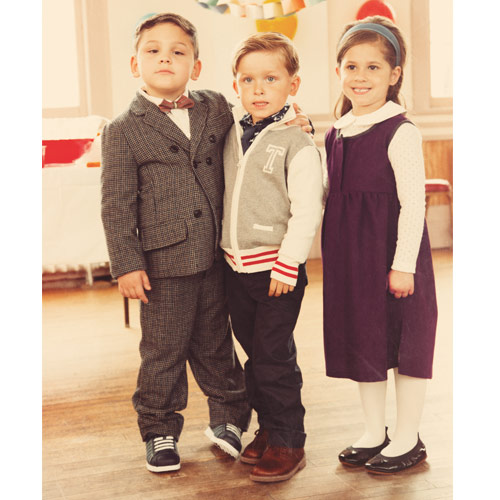 It's MyParty: American singer Lesley Gore scored a hit with her 1963 single "It's My Party," which she recorded when she was 16. The song hit No. 1 on the pop and rhythm and blues charts in the United States and peaked at No. 9 in the United Kingdom, becoming Gore's only major hit there. It was the first hit single for producer Quincy Jones.

Florence Eiseman apple dress worn over Little Threads Peter Pan collar shirt, TicTacToe tights; Appaman dress, Jefferies socks.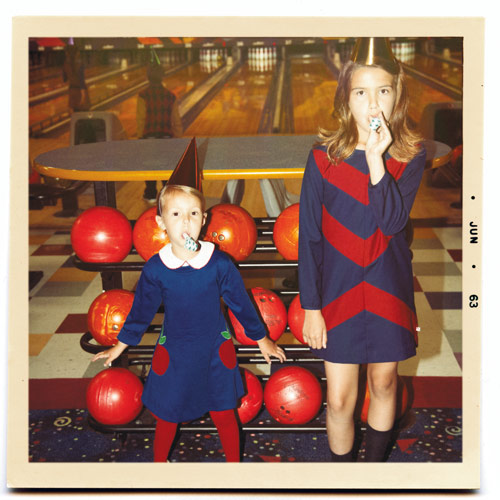 Val & Max coat, Two Patches corduroy dress, Jefferies knee socks, Pediped Mary Janes, turban by Reina Mora.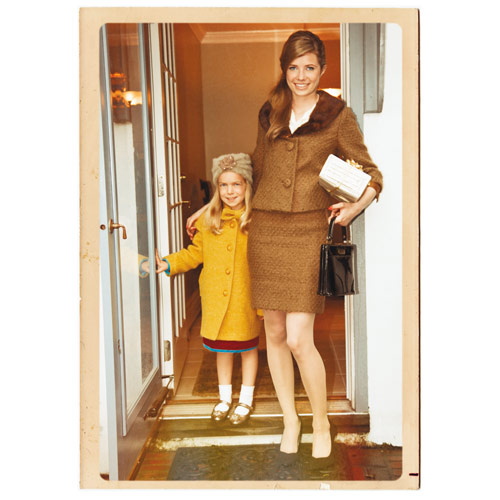 Crowning Around: Even though historians are certain that people have observed their birthdays for quite some time, there are very few records of such celebrations that still exist. The only ones documented in history are the birthdays of kings, high-ranking nobility and other important figures. Why? Historians chalk it up to the fact that nobles were the only people wealthy enough to throw such celebrations, and quite possibly were the only ones thought to be important enough to have been written about or remembered. Some historians believe these early birthday bashes resulted in the custom of wearing birthday "crowns" as time went on.

From left: Carolina K cardigan, Hucklebones sleeveless blouse, Millions of Colors skirt, frilly socks by Jefferies, Yosi Samra flats; La Miniatura dress, leaf cardigan by Rachel Riley, Jefferies socks, Cole Haan Mary Janes; Busy Bees sweater worn over Gil & Jas button-down shirt, Toobydoo jeans, See Kai Run sneakers.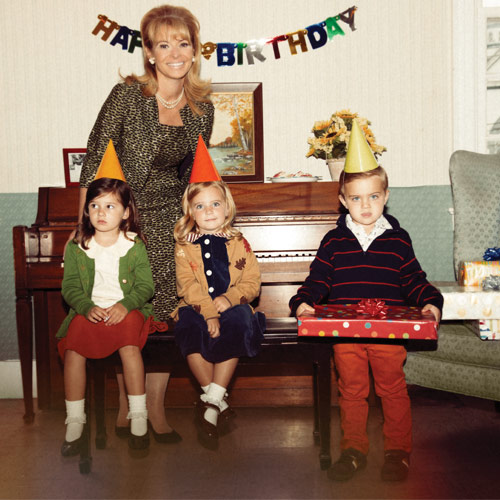 The kids were cool. The parties aplenty and the fashion as classic then as it is today. Styling by Angela Velasquez. Photography by Augustus Butera.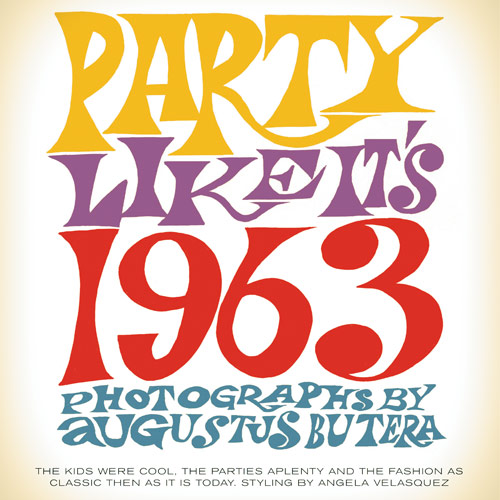 Little Joule sweater vest, La Miniatura button-down shirt and check pants.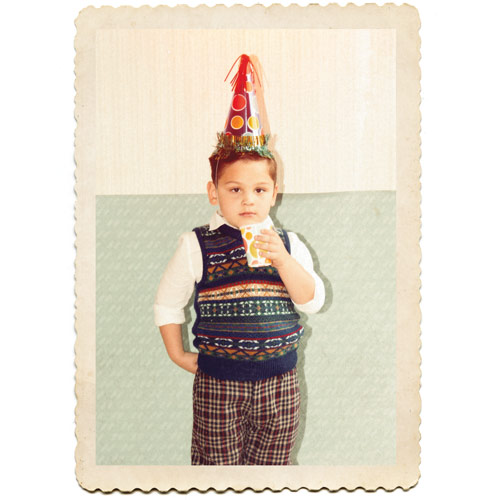 Let's Bowl! The invention of the automatic pinsetter led to a rapid growth in the number of bowling alleys and lanes in the late 1950s and early 1960s. The heyday of bowling was the mid-1960s, when there were approximately 12,000 bowling centers in the United States. Business predominately was driven by leagues, where bowlers signed up to come once or more every week for at least 30 weeks and to participate in tournaments. On weekends bowling alleys were populated with kids throwing birthday parties.

From left: La Miniatura cardigan, Little Joule plaid shirt, Stinky McGee bowtie, Andy & Evan pants; Truly Me dress, Jefferies tights.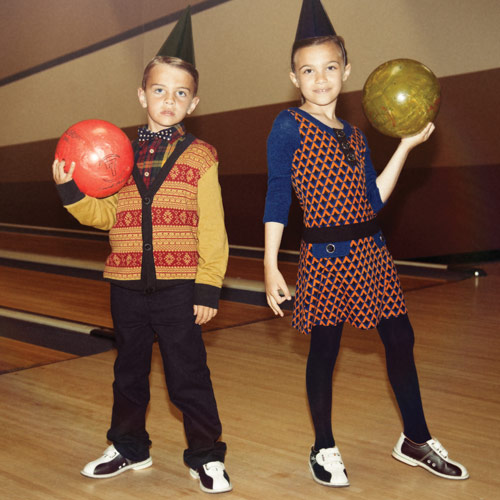 Presents in the Past: One theory on the history of birthday gifts suggests that years ago in Europe, people believed evil spirits would seek out and haunt someone on his or her birthday, most importantly the king. Therefore, people would gather to protect the birthday boy or girl and would bring with them good wishes. These gatherings became our modern day birthday parties, and over time, people brought more than just good wishes to ward off evil spirits—they brought presents, too.

Bella Bliss Peter Pan collar dress.