The Stylists
Left to right: Sperry Top-Sider laceless sneakers, Andy and Evan vest, rugby shirt and pants, stylist's glasses. Lacoste hi-top sneakers, blazer by Bleu Comme Gris, Andy and Evan gingham shirt and tie, Eddie Penn pants.

Wyatt Saxon and Quinn Belvedere
Since bonding over a shared adoration for their prep school navy blazer—and insisting on wearing it even on weekends— Wyatt and Quinn have become Hollywood's go-to fashion stylists and stars of their own hit Bravo reality show The Refined World of Wyatt and Quinn. Now that red carpet season is over—with many of their clients making it onto Best Dressed lists—the duo is trying their own hands at design with a line of men's cashmere socks sold exclusively through HSN because as Quinn has said, "Even regular people should have fancy socks."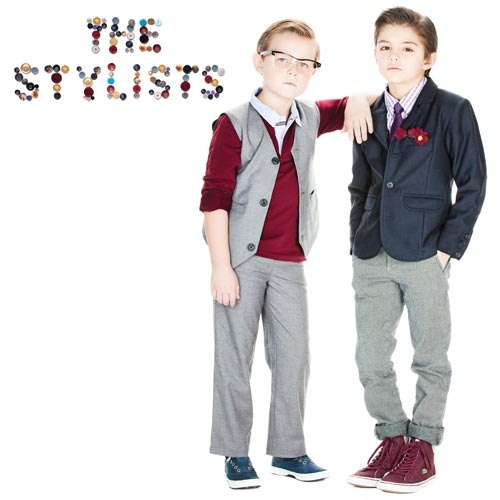 The Heiress
Michael Kors wedge sneakers, Fendi ribbon- embellished top, Marni cape, metallic polka dot pants by La Stupenderia.

Olga Petrossian
With a generous stipend from her caviar tycoon father, the Russian heiress globetrots to each fashion week and is often spotted front row next to whichever starlet the designer may be courting that season. Not one to stay at luxury hotels, Olga made headlines last year by purchasing the most expen- sive apartments New York, London, Paris and Milan had to offer and installed gilded refrigerators chilled at a perfect 28 degrees for her caviar. Although she was groomed to be the next star of the Russian ballet, Olga refused to give up her 1.75-ounces-of- caviar-a-day habit and is now in talks with La Mer to develop a caviar-based age defying cream.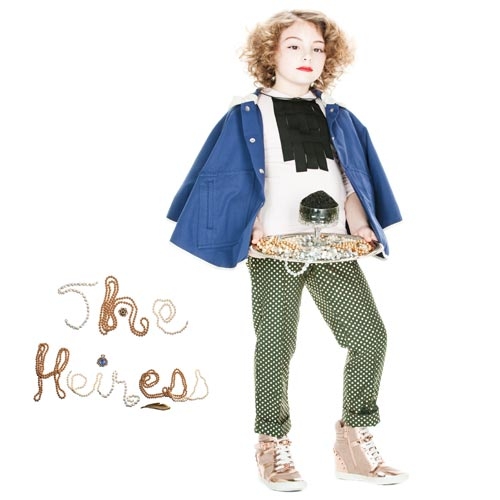 The Socialite
Hush Puppies glitter flats, dress by I Pinco Pallino, Trimfit glitter tights, stylist's necklace.

Georgina Bancroft
The Upper East Side "It" girl is a natural at public relations. Having split her child- hood between Paris and New York, the goddaughter of Valentino and one of Zac Posen's charges during his babysit- ting career, Georgina has hobnobbed with an elite circle of daughters and sons of designers, models, politicians and rock stars from an early age. Unfazed by celebrity or wealth—she prefers shopping excursions with her Maltipoo Muffy to the flashing bulbs of paparazzi—the socialite is best known for organizing the Annual Pony Fashion Show at the Bridgehampton Polo grounds, which kicks off the summer party season in the Hamptons and raises funds for horses to get Brazilian Keratin treatments.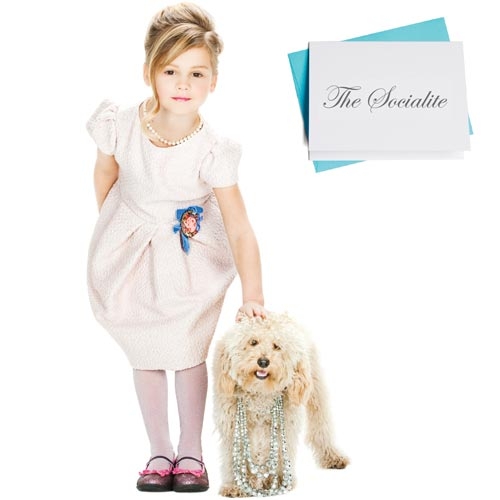 The Party Kids
Left to right: K-Swiss sneakers, T-shirt by Stella McCartney Kids, La Miniatura camo jacket and shorts, zebra socks by Happy Socks, Nineteen 47 baseball cap. Fila hi-top sneakers, layered tee by Heart N Crush, Anne Kurris skirt, TicTacToe tights, Rubbs bracelet, boombox necklace by 100% Gumdrop.

Marcus Davis and Gemma Star (a.k.a DJs Terrible Twos)
The former band geeks turned Lower East Side party king and queen got their big break in the industry while spinning at a Sony Music exec's son's Bar Mitzvah. Marcus and Gemma's unique blend of pop hits and soulful funk give even the most rhythm-less models something to strut to and is a must-have for any designer who wants Rihanna to attend the after party. Since Jay-Z gave them a shout out at his New Year's Eve concert at the Barclays Center, endorsement deals are pouring in. As the fresh-faced brand ambassadors for a new bubble- gum-flavored energy drink, the night owls rarely make their bedtimes.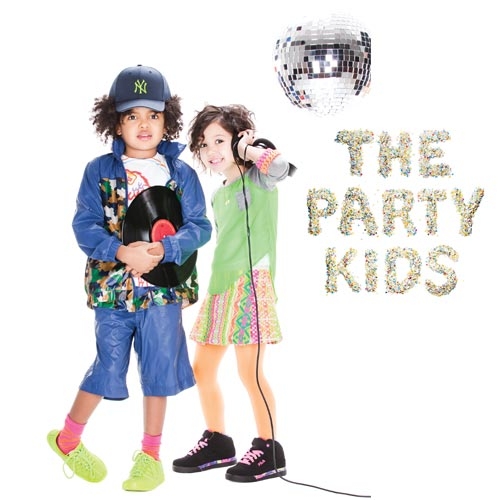 The Bloggers
Left to right: Ralph Lauren knit boots, Lands' End chunky knit sweater, tulle skirt by Tutu Du Monde, SpiritHoods necklace, bag by Lucky, stylist's feathers. Pazitos boots, Stella McCartney Kids dress and cardigan, Pale Cloud belt worn as a headband, BabyLegs legwarmers, bracelet by A.Bird.

Natalie Carr and Molly Chung
Since meeting at Coachella during a trip sponsored by a designer denim brand, the fashion blog- gers became best friends and now roomies having recently moved into a shabby chic apartment off Bowery. Lauded for their per- fectly disheveled bohemian flair, the bloggers say their nabe's cobblestone streets are the perfect backdrops for pictorials of their outfits—a mix of vintage finds and freebies from events—which they post to their blog. Natalie is typi- cally photographed while strum- ming her guitar on a stoop, while Molly is known for her wistful gaze. They fund their Organic Avenue addiction by selling unwanted, free clothes on eBay.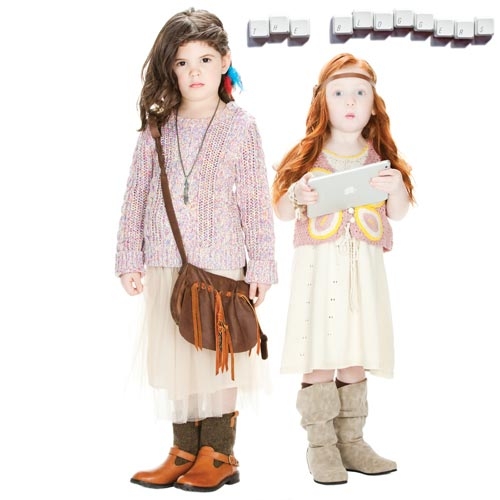 The Intern
Minnetonka moccasins, Tumble 'N Dry tunic, tights by Jefferies, glasses by Very French Gangsters.

Bailey Montgomery
As the recipient of the "Best Dressed" superlative in school, Bailey left the Midwest to pursue her big city dreams of becoming a fashion designer for Mattel's Barbie division, but her demanding internship with an infa- mously tan women's designer has the Parson's sophomore reconsidering her future and the state of humanity. To release her pent-up frustration, she's taken an active role in her campus' support group for overworked, unpaid and underappreciated fashion interns and has cut a deal with the local Starbucks barista to replace said designer's Venti Skinny Vanilla Lattes with half-and-half milk.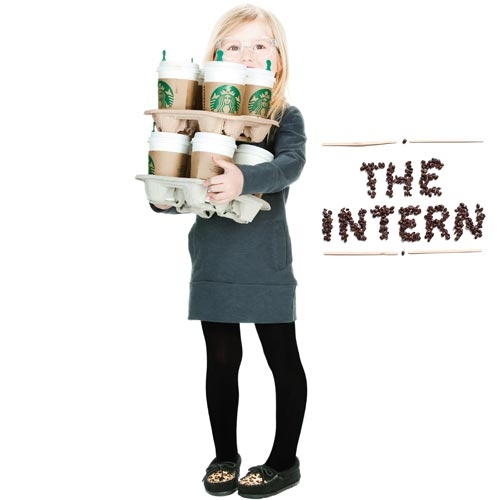 The Photographer
Palladium canvas boots, Scotch Shrunk tee, La Miniatura vest and jeans, Children's Place fedora, stylist's cuff and socks.

Finn Bennett
Since shooting his controversial American Apparel campaign in the privacy of his Los Ange- les bachelor pad, the lothario photographer—nicknamed "Napoleon" for turning each gig into a conquest—has been linked to every Victoria's Secret model to grace the catwalk in recent memory. But Finn's roaming eye and kiss-and-tell antics have landed him in hot water with each of them. Ever since an unnamed Disney actress revealed to Page Six that he naps with a blankie, Finn hasn't been seen in public and is said to be seeking guidance from recovering modelizer, John Mayer.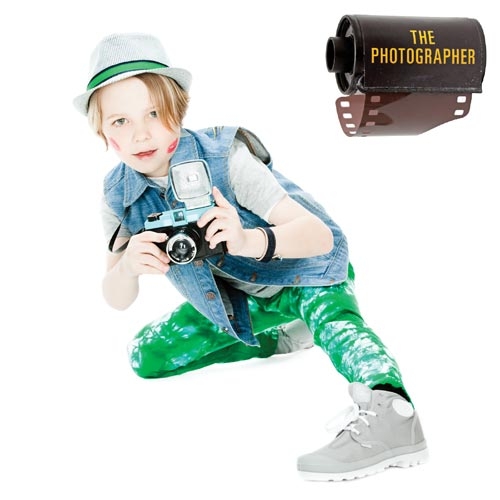 The Designers
Left to right: Primigi studded hi-tops, Truly Scrumptious tee, leggings and tulle skirt by Old Navy, necklace by Claire's. Kensie Girl studded combat boots, blazer by La Miniatura, Stella McCartney Kids tank, leggings by La Loi.

Elk Monroe and Willow Wilson
Inspired by childhood nightmares like the Boogie Man, the dark and photo ops with the shopping mall Santa Claus, the designing duo took the industry by storm with their debut collection of edgy gowns that landed a slew of avant-garde editorials. To keep their creativity "pure," they declined Hamish Bowles' request for a Vogue profile—which infamously resulted in a year-long ban from the publication—and in 2012 they turned down the CFDA Womenswear Designer of the Year Award in protest against the industry's use of fur. Little is known about the designers except both speak with British accents despite having grown up in Connecticut.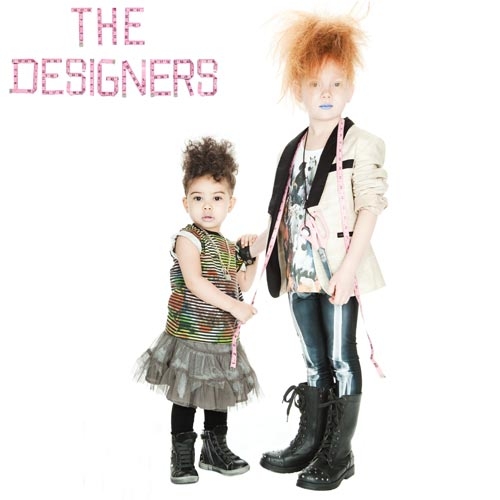 Pint-Size Personalities Sport Front Row-Worthy Looks for Fall
Photography by Michael Brian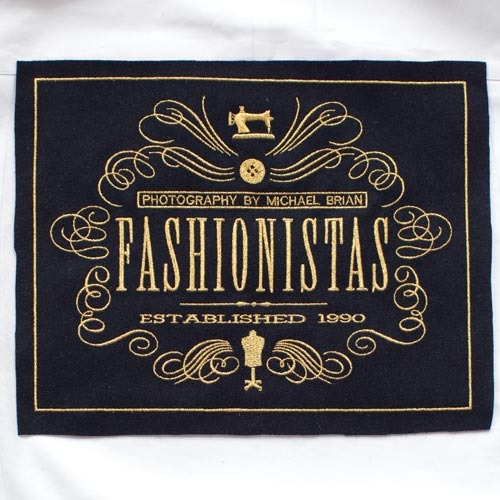 The Editors
Yosi Samra flats, Ralph Lauren trench coat, Trimfit tights, Burberry headband, Chanel purse. Melissa polka dot flats, Ralph Lauren khaki trench, Jefferies tights, stylist's sunglasses.

Hannah and Cece Winthrop
Feared and revered across the world, the legendary editor in chief of Couture has made as many careers as she has broken them and is notorious for sending designers back to their mothers for a cuddle. In fact, the journalism-school dropout hasn't cracked a smile since a Fall '06 OshKosh B'gosh collection that paid homage to her single weakness, calico kit- tens. Back at the office, Hannah keeps a rigid schedule of line edits, previews, edit meetings and a mid-day nap—her staff's only opportunity to sneak out for an extremely light lunch. After having policies regarding nepotism edited from the com- pany handbook, rumors of her retirement loom as the editrix has begun to allow her protégé, Cece, out in public.