Recognizing excellence in design and retail across the children's fashion market for 2018.
Company of the Year

:
Mayoral
Summed up by its motto "making friends," what began as a modest Spanish company dedicated to the production and commercialization of socks and tights (known as "Dominguez Toledo" in 1941) has grown into internationally recognized label Mayoral. The poster child for high-quality yet affordable kids' apparel spanning newborn, baby, mini, junior, shoes and accessories, the company experienced another strong year in sales and retail expansion as well as introduced Abel & Lula, a special occasion brand that will debut this spring.
"I cannot put into words the amount of detail, planning and time that went into successfully rolling out Abel & Lula in almost 70 countries," says Adam Herman, Mayoral's director of U.S. and Canada. "That, along with the continued internal investment, has positioned us well for more growth." 
Herman reports Mayoral sales and accounts rose in 2018, with the company producing more than 26 million pieces of apparel and accessories for approximately 10,000 retail partners in over 100 countries. The company also surpassed 200 Mayoral flagships worldwide and introduced a subsidiary office in Peru. "This is our first foray into the Southern Hemisphere," he says. "We're very excited to take on this new endeavor."
Herman summarizes Mayoral's success with two words: consistency and diversity. "What makes carrying the brand so successful for our retail partners is that collections can be purchased as open stock, in any size, color or pattern the buyer desires," he says. "This gives them flexibility to build style stories they believe work best for their clientele." And thanks to a fully automated warehouse system at its headquarters in Malaga, Spain, Mayoral is able to manufacture and deliver 95 to 100 percent of buyers' orders. "Our retail partners rely on that consistency each season and can be assured that their buying dollar will not go to waste," Herman says. Mayoral has just about completed construction on an additional warehouse facility in Spain that will almost double its current capacity and allow for even more efficient delivery options.
Behind the scenes of Mayoral's well-received collections is a team of about 120 designers who pour over trend books and attend trade fairs around the world to keep pace with the latest colors, materials and styles. "What separates Mayoral from competitors is the value built into our product," Herman says. "We create cheerful, colorful and innovative collections that, thanks to the volume we produce, are at a reasonable price for consumers."
In an effort to make sure Mayoral's designs are spot-on for the coming season, every six months its 250 sales reps gather at its Spain headquarters to preview the latest collections as well as interact with the top brass and agents. "Our goal has always been to develop a close relationship with our employees, sales reps, retail partners and, ultimately, the millions of consumers we serve worldwide each year," Herman says, noting that the company refuses to sell from line sheets or virtual showrooms. "Mayoral has always believed in the importance of seeing and feeling the collection during the sales process, at which time reps can then pass along the information they learned during their trip to Spain." Herman says the overall goal—a better-informed retailer—can translate Mayoral's vision for the coming season to consumers. "It's an old-school, hands-on approach that we believe is one of the keys to longevity in the apparel industry," he says. 
As for 2019, Mayoral will continue to roll out Abel & Lula, as well as put together initiatives to help retailers better understand, buy and merchandise its goods. "We grow if our retailers grow, and our goal is to help them do just that," Herman says. It's a rule of thumb  he hopes companies copy. "As an industry, we need to get back to our roots, connect with our community and redefine the customer connections that will allow us all to prosper for years to come," he says. —Emily Beckman
Boys' Playwear:
Appaman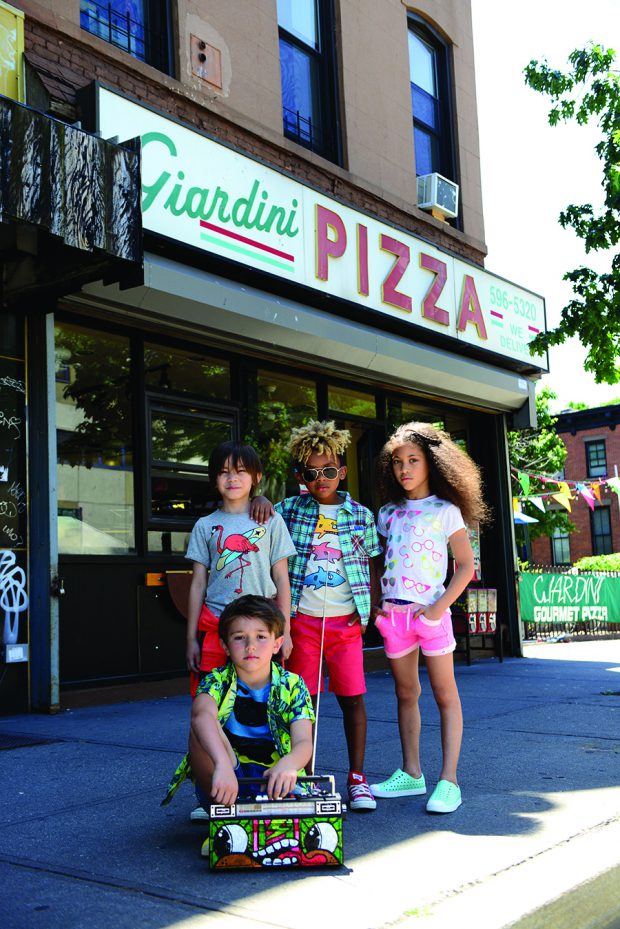 Founded by Brooklyn couple Lynn and Harald Husum in 2003, Appaman first made its mark by taking the city's street chic and extending it to children's clothing. Originally inspired by seeing a father and son walking through Manhattan's East Village in vintage rock band T-shirts, the company first focused on graphic tees. The brand quickly established itself as a go-to selection of the hip and famous when children of celebrities including Gwen Stefani and Angelina Jolie were photographed wearing Appaman. In the years since, the Husums have expanded Appaman into a full range of apparel, outwear and accessories for girls and boys—and won a number of Earnie awards in the process.
In boys' playwear, Appaman has found success keeping the style street smart whether it's in graphic tees or boys' suits. "We reinvent styles, new details and graphics," says Lynn Husum, creative director. "Our designer is very clued in to what's happening—on trend without being trendy." One of the challenges for makers of boys' playwear is overcoming the tendency of kids to wear soccer gear or sweatpants all the time. To make looking good more appealing, the company is careful not to veer from using comfortable fabrics. The current winter line, for example, has seen strong response in the market, especially snowfleece, a shirt combining the sartorial cool of flannel with the extra warmth and coziness of fleece. Hoodies and button front shirts have been strong performers through the year as well.
Appaman has also established itself as a fashion leader in dresswear for boys. Fine tailoring has been doing very well for the company, echoing trends popular in men's haberdashery seen around the company's New York headquarters, including tailored vests that pair well with sports coats. "You can't walk into an elevator in Midtown without seeing a patterned vest with a blazer," Husum jokes. It's not unusual to see child actors wearing Appaman suits on the red carpet, adding to the fashion appeal of the brand and of dressing better.
Looking ahead to the coming year, Appaman plans to continue building the momentum it has seen in its swimwear line, first introduced this year. "Brand awareness has been very strong," Husum says. "We're very excited for swimwear for the spring."
Husum credits Appaman's success to more than just the quality of the lines it makes – the relationship with retailers is vitally important too. The company has been focused this past year on assisting its core group of retailers, who tend to be smaller businesses waging a constant battle against online behemoths. "We do what we can to help. It's tough out there for brick-and-mortar," says Husum. As an example, the company held a trunk sale at one retailer who committed to promoting the event and found that business doubled. Overall, 2018 extended a run of years that have seen sales grow double digits, according to Husum, and reorders are looking quite strong for the coming year, too, she adds. "We're very fortunate to have a core group of very loyal buyers," Husum says. —Brendan Coffey

Outerwear:
Hatley's
Being a family-owned children's outerwear maker and having school-aged kids lends to built-in quality control for Lasalle, Quebec-based Hatley's. "I can't go to a schoolyard or pick up some kids and not see nine or 10 other kids wearing our raincoats or winter coats," says Chris Oldland, president of Hatley's and co-owner with his two brothers, Jeremy and Nick. "And everyone knows we make this outerwear, so they're not going to be shy about telling me the button came off." The family's dedication to quality—along with local parents' eye for it—has made Hatley's a favorite for stylish and long-lasting children's outerwear.    
The company was founded by Oldland's parents more than two decades ago as a lakeside gift shop that also made aprons. After taking over for their retiring parents, the brothers focused Hatley's on apparel for women and children, adding children's winter- and rain-wear as staple lines about 10 years ago. Now sold worldwide, Hatley's remains a smaller brand compared to many, which means the company works to ensure its offerings are fresh and unique. "Our competitive edge is that every six months we come out with anywhere from 15 to 20 new prints," says Oldland. "All the customers, all the retailers can expect to see something brand new that they haven't seen before from anybody else, and that's because we have a big illustration team creating prints all day long."
Hatley's five-person illustration team specializes in crafting new interpretations of design themes that are consistently child favorites, like dinosaurs, sharks and trains for boys and unicorns, fruit and rainbows for girls. Beyond favorite themes, Oldland credits Hatley's emphasis on creating full matching outfits as a differentiator. That means patterns for rainwear, for instance, are replicated from a raincoat on to pants to boots and even onto umbrellas. "We give the little kid the opportunity to dress up, and they love that," he adds.
This year, the company has seen strong response to its Sherpa-lined raincoat and microfiber coat in addition to its traditional polyurethane-lined jacket. Hatley's is also introducing a raincoat made of Neoprene. Sales have benefitted from the strong flow of new products and patterns, with growth consistently running about 20 percent annually in recent years, culminating in sales for 2018 that are about triple where they stood eight years ago. Though Hatley's doesn't release revenue figures, the children's division is "easily" the fastest growing segment, Oldland allows, over the company's women's apparel line and a family pajama brand, The Little Blue House.
Looking ahead, the siblings are adding to Hatley's children's winter wear line and planning a large expansion into infant rain and snow outerwear. The line will include infant raincoats, rain bundlers, winter jumpsuits and two-piece snow sets in response to an explosion of interest in the category the company has seen in recent seasons. "We've been dabbling in it and it has done well—it's proven the demand there is massive," Oldland says. —B.C.
Hosiery:
Jefferies Socks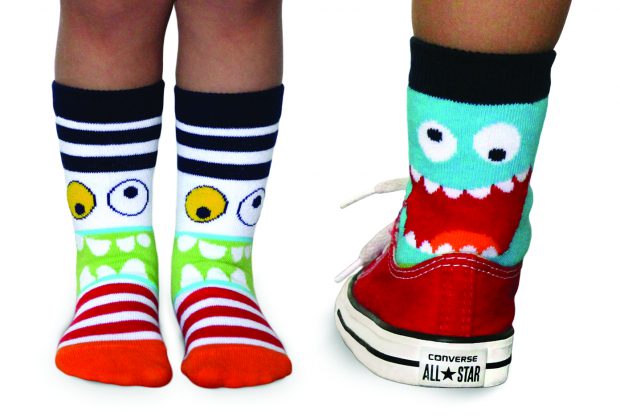 Colorful socks and a commitment to customer service has led Jefferies Socks to post its tenth straight year of sales increases, says Emily Coleman, design and merchandise manager for the Burlington, NC-based company. "Sales are trending up, and we see many new small shops opening up to fill the void left in many areas where large retailers have exited the marketplace," she says. Though specific revenue figures aren't disclosed, sales for the year increased 4.5 percent, Coleman reports.
An emphasis on bright colors and a comprehensive selection of socks drove Jefferies Socks' successful 2018. Coleman cites trendy fashion patterns, knee highs and tights, among others, as notable favorites of consumers. Last year, Jefferies saw great customer response to seamless toe socks, and this year's offerings have featured a good selection of seamless for girls, including in organic cotton, footies, knee-highs and even religion-themed lace socks for special events. One of Jefferies Socks' strengths is its comprehensiveness and focus on classic needs in addition to fun patterns, and the business has eight major lines of sock styles for girls. Boys socks include a large selection of seamless as well, with a range of offerings from traditional solid colors to bright multicolor patterns including sharks, dinosaurs and funky argyle, in addition to essentials such as active socks and no-skid crews.
Jefferies Socks is one of a clutch of businesses owned by the Koury family. Hosiery has long been the central family activity: returning from serving in World War II, Ernest Koury started out of his parents' basement buying damaged socks from manufacturers, repairing them and reselling. Later joined by brother Maurice, they built Carolina Hosiery into one of the largest hosiery makers in the world, which today manufactures socks under the Ducks Unlimited, Top Flite and Wrangler brands. Jefferies Socks was established as a related business and like Carolina Hosiery, makes its socks domestically.
While a long-running business often means the formula for success shouldn't be tinkered with much, Jefferies Socks took big strides this past year in sales and marketing by embracing social media and the internet. Jefferies launched its own Instagram feed in the latter half of last year. "We had a team of Instagram brand models and their cute style and outfits of the day inspired the designs and colors in our 2018 collection," Coleman says.    
Jefferies cites its focus on servicing retailers as a primary reason for its success. The company has a dedicated customer service staff taking calls daily and endeavors to ship out orders in one to two working days, with most going same-day, Coleman says. A focus for the coming year is to increase the promotion of the Jefferies Socks brand through social media. The company also launched a new website for wholesale buyers, JefferiesSocks.com, featuring online specials for buyers as well as flash sales. "Our dedication to retailers certainly helped us," Coleman adds. —B.C.
Infant Accessories:
Little Giraffe
Nearly 20 years serving the children's industry, and Little Giraffe shows no signs of resting on its many laurels. "Success is a constantly evolving journey," says Trish Moreno, creative director and CEO, noting that the company has been working overtime this year to improve infrastructure, expand online distribution and (as always) stay on top of the latest trends. And while the brand's hard work has paid off in another Earnie award (its sixth to date) as well as a bump in sales growth, Moreno admits 2018 to have been quite challenging. "This climate is the toughest I've experienced throughout my time in this industry," she says. "As a result, we've taken on some gargantuan tasks to improve our response time and ability to serve customers."
Moreno credits Little Giraffe's thorough understanding of the specific wants and needs of today's parents for much of its success this year. "The Millennial mom and dad are responding to offerings that aren't necessarily traditional baby, which opens up a world of new inspiration for us," she says. For example, this year's collections of infant blankets, swaddles, plush and throws drew inspiration from the dusty pastels and unique takes on prints seen in womenswear, including muted colorblocking and nontraditional animal prints. "Presenting styles that fit the lifestyle of young families is how we grow sales," she says, citing the cozy neutrals and sophisticated metallic accents in the "Giraffe at Home" throw collection as also performing well this year. The brand traces this trend back to parents looking for nursery items and baby accessories as a natural extension of home décor. Last but not least, Moreno reports its Baby Love and geographic printed blankets sold through well this year. The success follows considerable work on the print text process. "It's finally perfected to offer our signature, super-soft hand-feel with a fun message," she says.
In addition to trend-right products, Little Giraffe's dedication to philanthropy continues to be another key brand attribute with Millennials, according to Moreno. Many of today's shoppers want the brands they purchase to mirror their own values. Efforts on Little Giraffe's part include its annual donations of blankets to children's hospitals across the country. Company employees most recently distributed product to the oncology and ICU at Children's Hospital of Orange County, CA, in October. "It's so heartwarming to share the blankets with kids who really benefit from a little cozy, cuddly joy," Moreno says. "More companies should recognize the importance of giving back."    
Looking ahead, Little Giraffe will continue to adapt and innovate in order to keep pace with its retail partners and consumers. The company has begun outsourcing its fulfillment and logistics to focus more on product development and marketing. It has also expanded its network of domestic factories to respond quicker to increasing demand. "You have to stay several steps ahead of change," Moreno says. "It's all about being nimble." —Aleda Johnson
Showroom:
In Play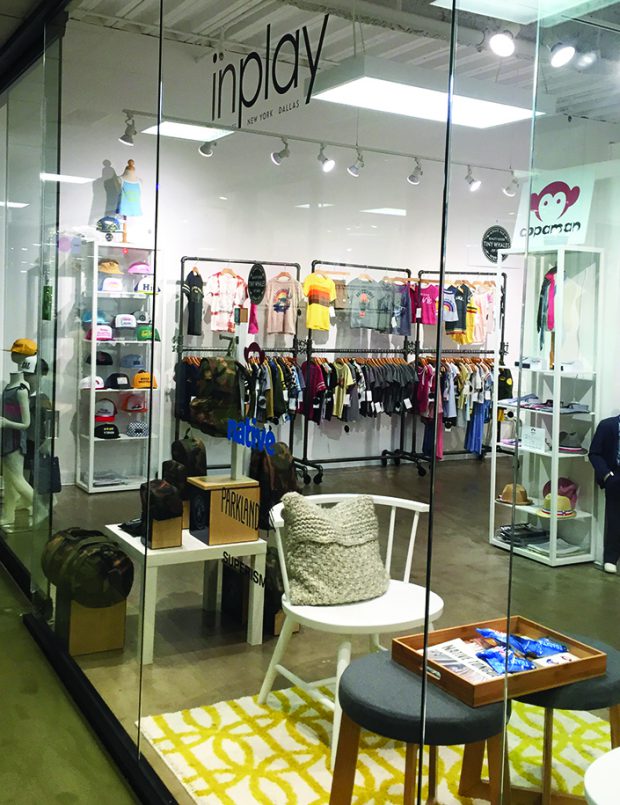 Tapping into consumers' desire for sustainability and eco-conscious goods has powered In Play Showroom to another successful year, says Sandra M. Roe, CEO, with Hilary Beck, co-owner of the company. "We're changing with the times and growing as a showroom to really start identifying who we are," Roe explains. "We have tapped into sustainability and partnering with brands whose values align with ours."
That care for the environment is seen in all of the brands In Play currently represents. Shoemaker Native, for instance, encourages consumers to send in old shoes which are then reprocessed into protective mats for children's playgrounds, while backpack maker Parkland produces all its bags from recycled bottles. The company represents five brands overall, including Tiny Whales, which manufactures its shirts and apparel in California, kids apparel producer Superism and children's clothing maker Appaman.  Though the company doesn't disclose revenue, Roe says sales have been "consistently going up."
It's a continuing evolution for In Play, which was a decade-old, single-location showroom in Los Angeles when Roe joined the company in 1999. She bought the showroom in 2003 and set about expanding out of California during the Great Recession to find a larger base of clients. Today, In Play has four showrooms across the country, having added Atlanta, Dallas and New York to its footprint in recent years.
Operating a national showroom company does mean adjusting strategies to conform to the demands of each market, especially since In Play is a contemporary style showroom occupying about 1,500 to 1,800 square feet per location. "In the Southeast, surely, they're not as trend-forward, but they are open to trying new things and that really helps us," Roe explains. Similarly, in Dallas, customers tend to be more conservative than L.A. or New York, which means Roe and her team are more hands-on to help guide retailers to the boundaries of their comfort zone. The success In Play has had in both Atlanta and Dallas proves the generalizations of the areas she heard prior to opening are overdone. "Maybe we can't sell everybody, but the people we do, perform well with our product," she adds.
Roe credits In Play's attention to its customers as one of the factors that propelled it to its 2018 Earnie Award. The showroom focuses on making reorders easy—Brandboom has been its online ordering system for a number of years—and offers images for retailers to utilize on social media. More importantly, In Play emphasizes getting regular feedback beyond the typical seasonal sales calls, Roe adds. Team members are required to be in close contact with retailers, usually through weekly calls to discuss what's selling, what isn't and what factors are affecting business, be it the weather or the appeal of a certain brand. "That's really helpful for them and for us, to get in tune with what is selling so we can report back to the brand to capitalize on that for future seasons," Roe says. —B.C.
Swimwear:
Gossip Girl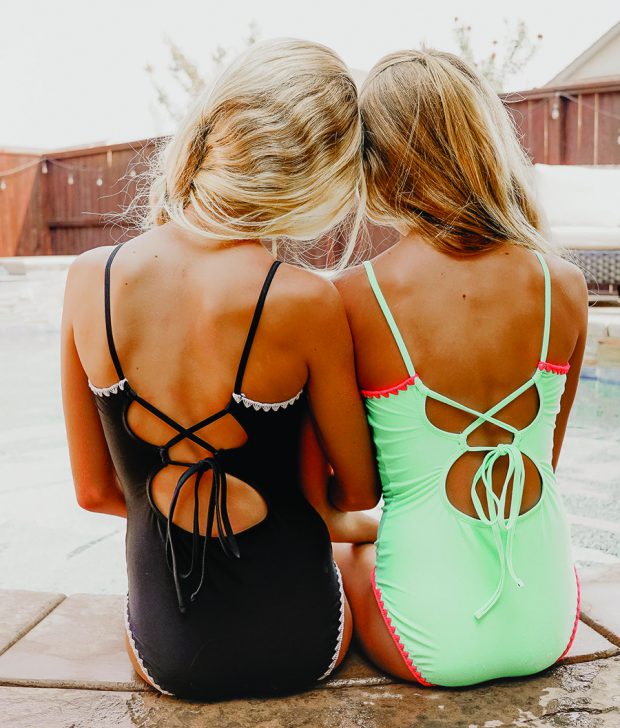 First-time Earnie winner Gossip Girl swimwear has come a long way since its debut in 2007 under Malibu Design Group. In the market of bright colors and frills, Gossip Girl has learned to stand out with affordable swimwear that doesn't compromise quality for design. "It's important to represent the trends, but to also create a collection that stays true to your DNA and what your customers love about your brand," says Shannon Barr, brand manager. "For us, that's eye-catching prints with great fit and functionality." 
Social media played a large role in what trends Gossip Girl emulated in its 2018 collections. The challenge—and subsequent success—came in balancing what the women's and teen markets were selling with what a Gossip Girl customer would want. "Girls this age are looking up to their older sister, but they're still young at heart," Barr says. "We took inspiration from the junior market and applied it to this age group while maintaining our fit and coverage customers like about us." The driving factor in sales was all in the details, with suits that featured fun and interesting details. Top sellers included floral prints with a pom-pom trim, cropped rashguards with tassel hems and one-pieces with cutouts and crochet paneling. Sun protection was another hot trend. One-pieces dominated tankinis while rashguard sales exploded and will see a collection expansion next year. 
Barr credits Gossip Girl's ability to evolve and predict the market for making a splash with key trends. "The tween world reflects trends we see in juniors in our other house brands," she says. "It's important for us to represent all personalities of the Gossip Girl—one day she might be feeling sporty and the next girly." Sometimes that also means reaching beyond swimwear. Gossip Girl released a limited activewear line for fall that features popular prints from the swimwear category and will be expanded in Spring '19. 
Overall, Gossip Girl saw a 10 percent growth in sales despite a few curveballs thrown by Mother Nature, including hurricanes impacting key vacation areas and erratic seasonal temperatures. "The summer arrived a little later than we had hoped, but we're not flat in sales which is good," Barr says, adding the specialty store market helped immensely. Along those lines, she says Gossip Girl will continue to primarily focus on independent retailers in 2019 for growth—a distribution strategy that matches up well with Gossip Girl's ethos. "People are going back to the 'support local business' mindset," Barr says. "We are also family-owned, so those principles are important to us." —A.J.
Sleepwear:
Kickee Pants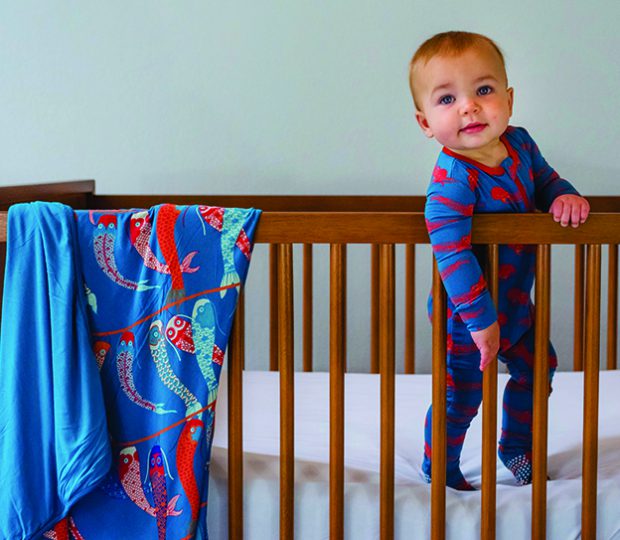 With multiple Earnie Awards to its name, Kickee Pants knows what it takes to succeed in children's sleepwear: creating great collections and lots of them. Now in its 11th year, the company produces nine collections annually (three per season, two yearly and one holiday), always keeping customers on the lookout for the latest in cute, cozy and comfy sleepwear.
"We're launching a collection every 60 days that features new body styles and prints," says Lindsey Sims, director of marketing and public relations. "It's important for retailers to keep the inventory in their store fresh and new, so consumers keep coming back."
Kickee Pants' breakneck pace over the past decade shows no sign of slowing. In addition to releasing new prints every season, it launched divisions for men, women and home with the goal of becoming a lifestyle brand. "We love the coordinated looks of pajamas for the whole family," Sims says. "It's really fun to see all the posts on social media, and we even have pet products so it really is the whole family." Kickee has also released sleepwear in extended sizes up to 14-16 to accommodate original customers that are "growing up Kickee."
Bestsellers in 2018 include bamboo woven products like the new lightweight sleepsack, which gives customers the brand's signature soft handfeel for $20 less than competitors, and a new line of bed sheets made of 100-percent woven bamboo for kids and adults. "They're so silky soft and lightweight," Sims says, adding the bamboo knit is easy to wash and comes in a ton of fun prints. "They're a game changer."
This year's collections fit under the umbrella theme of world travel, focusing on different cultures and locations. Prints inspired by Australia, France, Brazil and Kenya, with the most recent release featuring England-inspired motifs including red phone booths, tea time, double-decker buses and royal guards. "It's been fun to explore different cultures the American customer may not be familiar with and celebrate what's important to those cultures," Sims says, adding a Japanese-inspired sushi print was launched in November.
All the hard work has paid off in results, with sales seeing double-digit growth despite the unstable retail market. Sims credits Kickee Pants' new verticals and its continued dedication to its traditional retail partners for the continued success. "It's been a challenge for them in the digital age with online shopping, so we want to make sure those brick-and-mortar stores aren't left out," she says. Kickee Pants even launched its "Back to Bricks" campaign in October to support physical retail spaces. "We want to let them know we're here for them, whether that means us going to the store, doing events or book readings," Sims says. —A.J.
Licensed Partnership:
Lillébaby x Disney Baby
With this year marking Mickey and Minnie Mouse's 90th birthday, Lillébaby took it as an opportunity to team with Disney Baby for a licensed line of Disney and Pixar character carriers. The legacy of the two most famous mice ever and their lasting impression on generations was a deciding factor when considering the collaboration, according to Lillébaby CEO Jeff Colton. "Not only do their characters transcend generations, but also represent as iconic features in today's fashion," he says. "For us, there's something very special about giving a parent, who grew up with Disney, the chance to bring all of the fun and whimsy of the brand into their everyday interactions with their little ones."
This year, the Complete All Seasons Embossed carrier was created specifically for the Disney partnership. It features Lillébaby's signature 3-D mesh on the inside panel for comfort and breathability, and the bright red fabric is embossed with the iconic Mickey Mouse silhouette on the zip-down temperature control panel. Lillébaby's Complete Airflow, Complete All Seasons and matching doll carriers were all outfitted in Disney and Pixar characters, with the All Seasons continuing to be the most popular design in 2018 in retailers nationwide, Colton reports.
Inspired by Disney's history, Lillébaby designed prints to connect with both parent and child, like "Stitched Sweethearts," which features a classic red, black and gray pattern of Mickey ears and Minnie bows to honor the sweethearts, and "Sunday Funnies," a vintage newspaper comic pattern reminiscent of Mickey and Minnie's early days. Targeting the newer generation, characters from Disney•Pixar's Incredibles 2 are also available in a print on two carriers. "We provided a way for caregivers to celebrate their own Disney fandom while including their little ones," Colton says.
As with all Disney touches, Lillébaby sales in 2018 were "absolutely phenomenal," and Colton credits the company's communication with its customers as a key reason for the success. "From our own website, to customer service, to our social media channels and communities, we are in constant contact with our consumers," he says, adding that structure research are important elements to the mix as well. "Not only does this give us the 'pulse' and help us set strategy, but also helps us respond to issues, and more importantly opportunities." Colton expects good things from the continued Disney Baby partnership through 2019. "We are working on some great new designs for release in the spring," he says. —A.J.
Girls' Playwear:
Tea Collection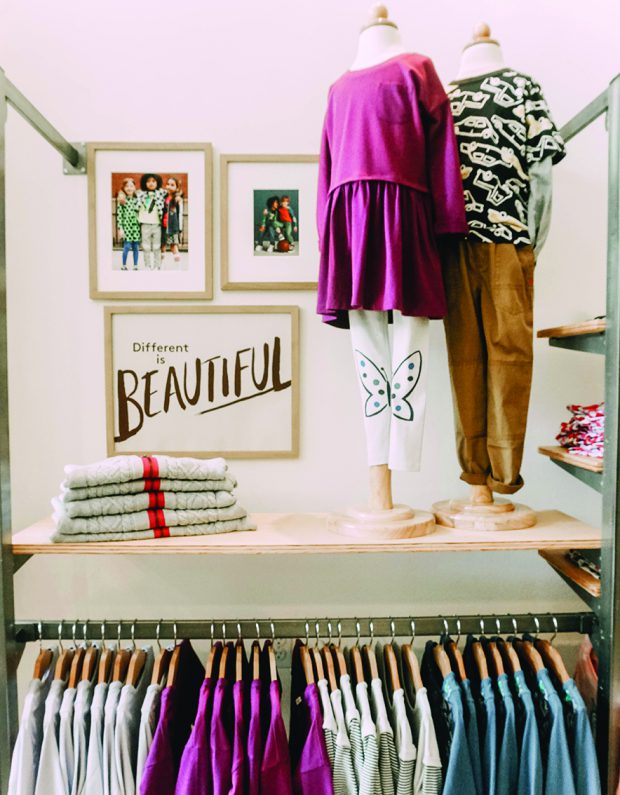 From the art of traditional Korean patchwork to the graphic boldness of Brazilian street graffiti, California-based brand Tea Collection has used far and away travel destinations to inspire modern and consummately wearable children's apparel since its launch 15 years ago. This year, however, the company decided to look to its home country for inspiration, and did so in stunning, Earnie-worthy fashion.
"This year was especially exciting as we celebrated our own country for the first time," Co-founder Leigh Rawdon says, describing how the team traveled the United States to understand the scope of its many unique and creative cultures. "Customers enjoyed the beauty of our designs showcasing how these communities can co-exist."
To achieve the mission of "fresh designs that honor tradition and inspire curiosity," Tea's designers researched more than 550 indigenous Native American communities. Not only was the artisanship incorporated into the designs, the brand supplemented the collections with blog posts explaining the craftsmanship behind each muse. The stories connected the fashions to artwork spanning native textiles, pueblo pottery, beadwork, quillwork and painting. "We wanted to highlight the cultural backstories of this seasons' collections everywhere we could," Rawdon says, noting catalogs, marketing collateral and customer service also conveyed the designs' rich artisanal history. "Our sales team works with each store owner to ensure they understand the inspiration behind each piece."    
Rawdon cites the addition of a tween collection for girls (sizes 7 to 16) as another key factor contributing to the company's success this year. The assortment features comfortable and cool silhouettes like hoodie dresses, knit tunics, velour shift dresses and fleece pullovers in jewel tones to muted hues. "This new assortment gives choices to the Tea girl who maybe has outgrown our regular collection and is looking for something more sophisticated but isn't quite ready for women's styles," she says, adding, "It's all about listening to your customer to help sustain their loyalty to your brand."
Rawdon says the Earnie award is proof that the company has been doing just that. "We're extremely honored and proud to have specifically won the girls' playwear category," she says, noting that printed knit dresses were top sellers this year. "We received tremendous feedback on our girls' designs and are very excited to see it translate into an Earnie."
Rawdon expects continued success for Tea Collection going forward as the key ingredients are firmly in place. "We're very fortunate to be well-positioned with authentic inspiration, good quality and a commitment to giving back," she says. "Our partnership with the Global Fund for Children has allowed each Tea purchase to give back to children in need for the past 15 years." Rawdon adds, "We have some exciting ideas ahead about how to accelerate these efforts and make a bigger difference—lots to still unfold." —E.B.     
Infant Gear:
Ju-Ju-Be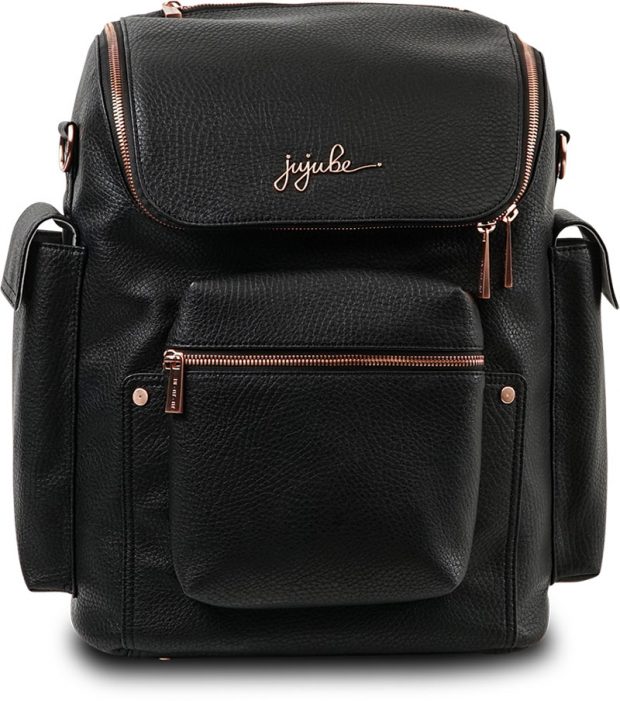 Another Earnie award in the bag—literally! SoCal-based Ju-Ju-Be's wide selection of totes, messenger bags and backpacks for on-the-go parents grabbed the market's attention once again. "The company is stoked about winning an Earnie," says Bryant Figueroa, vice president of marketing.
With Ju-Ju-Be consistently growing 15 to 20 percent annually, Figueroa says it was the brand's first line of rose gold accessories that shone brightly at retail in 2018. "They sold like gangbusters," he says. "Timing was right on the money as the hardware resonated tremendously with current fashion trends."
Although runways are the key inspiration for Ju-Ju-Be's designs, the team keeps a close eye on today's tech powerhouses for inspiration as well. "A niche indicator for hardware is whatever Apple's doing," Figueroa says, noting the millions of rose gold iPhones in the marketplace. "What's popular there now is guaranteed to stick around for a few years," he adds. "A phone is like a third hand these days, so you have to assume the consumer considers it an important accessory—an extension of what's trending in fashion."
With a phone in one hand and a baby in the other, it's not surprising backpack style diaper bags are crushing sales, according to Figueroa. "Backpacks are performing well across the board," he says, verifying it as the company's top-selling style this year. "We expect this trend to move more into solids, grays and texture-based products, as opposed to being so print-focused."
Ju-Ju-Be's research indicates this shift toward gender-neutral bag styling is due to more dads becoming involved in daily childcare. "Mom now often takes into account what Dad would be comfortable using," Figueroa says. "One of the most frequent comments we hear is, 'Oh, my husband could carry this, too!'" With neutral diaper bags on the rise, the brand plans on rolling out more subdued styles in addition to its signature prints.
Ju-Ju-Be's success also comes from its never-ending commitment to its retail partners. For example, stores get exclusive access to its best licensed goods like Tokidoki, Sanrio and this year's Blizzard collaboration, to name a few. "We also allow our retailers to offer 'print placement'—letting customers choose where the licensed characters end up on the bag," he adds.
There's plenty more to come from Ju-Ju-Be. Figueroa says the company spent much of 2018 restructuring to be able to introduce new ingenuities into the marketplace. "Starting in March, there will be a push for more affordable bags, priced between $50 and $100, to answer consumer demands for more accessible options," he says. In addition, the company plans to open a marketplace for other retailers and manufacturers to sell their goods on its website. It's slated for debut in January. "We've always been digitally savvy and believe we can serve as a landing page for the baby gear industry," Figueroa says, believing it'd be a win-win for all parties involved. "The key is staying two steps ahead; That way you're always poised for growth." —E.B.
Layette:
Angel Dear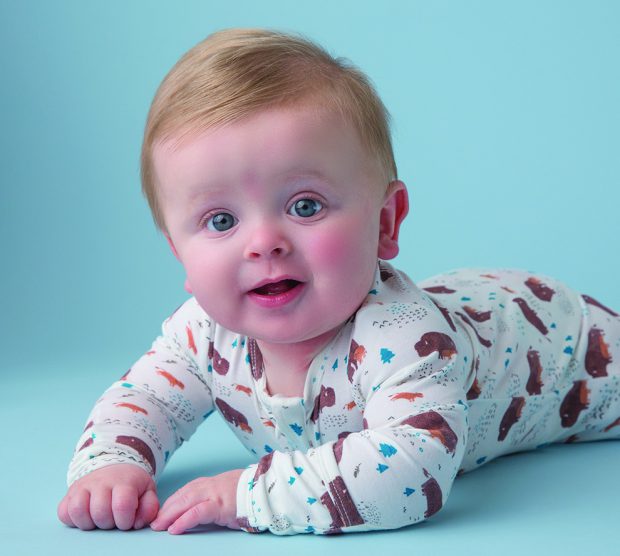 Fusing whimsy custom prints with practicality new parents need, Angel Dear secured its second straight Earnie Award in the layette category. Kim Perrin, director of sales and marketing, says that having a team exclusively made up of parents helps maintain an edge over its competition. "It lends a great perspective," she says. "We tap into that baby world our staff knows so well, allowing our prints, clothes and accessories to consistently resonate with new parents."         
Based in the San Francisco Bay Area, Angel Dear draws much of its inspiration from the ocean and nearby national parks. This year's spring collection introduced a watercolor technique to its prints, which performed exceptionally and will be carried into future seasons. For fall, Angel Dear interpreted the wilderness with its playful-yet-classic aesthetic, including endearing sketches of American Bison that will also be featured in its Fall '19 line, as well. "We're always looking at trends that celebrate everyday quirks and emotions of modern family," Perrin says. "We had much success reimagining our popular fall woodland trend using abstract crayon-like scribbles of quirky animals, funny faces on veggies, as well as playful details like mini pompoms on knits for holiday."
In addition to creative designs, Angel Dear is dedicated to sourcing soft fabrics, so parents can wrap their children in comfort. The brand expanded its muslin and bamboo lines this year, in addition to growing its large knit collections. "This way parents can choose super soft bamboo, soft and comfy knits or light and airy muslin," Perrin says, citing its bamboo zipper footie and muslin bubbles as top sellers.
With sales on the rise this year, Angel Dear plans on further expanding its lines for additional growth in 2019. "We will continue participating in tradeshows all over the world as we find this to be a reliable source of connecting with the industry," Perrin says. "Social media and advertising in Earnshaw's are also key for us to connect with new customers." Looking ahead, Perrin says Angel Dear will be adding organic cotton back into its layette mix, as well as introducing a cotton and cashmere group to its popular "Take Me Home" collection. The brand will also be wading into the female empowerment movement, in addition to introducing some Kawaii-inspired designs. "We love diving into all things Japanese," Perrin says, noting the inspiration as a personal favorite. "You can't go wrong with the 'culture of cuteness!'" —A.J.   
Underwear:
Esme
Most parents remember buying their child his or her first pair of underwear—something comfortable yet fun enough that they'll actually wear it. When Sara Oh, co-founder and designer of Esme, struggled to find proper undergarments for her young daughters, she realized a void in the market. "My sister, Catherine Lee, had seen me create clothes for my girls when they were toddlers and encouraged me to create my own line," Oh says. "She even offered to be the sales rep!"
With a family background in manufacturing and Oh's degree from the Fashion Institute of Design and Merchandising, the sisters launched Esme in 2001, starting with a small collection of girls' apparel like dresses and jackets before honing in on the brand's underwear and sleepwear niche around 2004. "That's when we really got serious about pajamas and panties," Oh says, admitting that it was a tough sell at first. "Our wholesale prices were relatively high, so boutique buyers were hesitant before we educated them about our product."
The brand thanks its reps, Ali's Market in New York and The Dressing Room in Los Angeles, to being a huge help in conveying the line's superior, USA-made, eco-friendly product qualities. It was around 2006 when Esme started working with Ali's Market and secured its first relatively large panty order from Lester's. "I still remember—274 packs—a very large request for us at the time," Oh says. "From there, Lester's merchandised our panties and the rest is history!"
Sales have risen steadily, with Oh reporting an approximate 15-percent increase year to year. Having a customizable selection is major factor Oh attributes to Esme's success. "All the prints and solids that we offer in the pajamas for girls, we offer different lace colors for boutiques to choose from," she says. "Maybe a handful of boutiques carry the same prints, but they all have different color lace which keeps it special."    
This year, Esme also launched its first tutu dress for girls with the same mix-and-match options as its panties. "We offer our prints for the bodice and then color options for the tulle skirt," Oh says. "What we did differently from other companies is that the tulle skirt includes shorts underneath instead of a snapped one-piece. It's an easy-to-wear dress with shorts—a two-piece set!"
Oh foresees continued growth for Esme in the years ahead, especially with its boys' selection. "We're very excited how much that category has grown and expect it to become as popular as our girls' items," she says, adding that the support of its loyal retail partners has made it all possible. "We're just so thankful for all the retailers that support us," she says. "We couldn't have won this award or done any of this without them." —E.B.
Accessories:
Iscream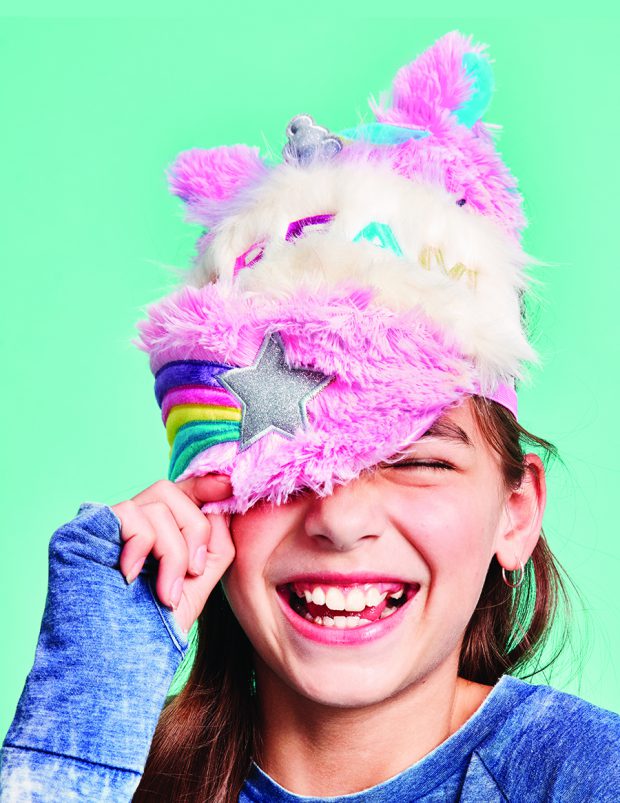 Good accessories should help tell a story. This is especially true with children, who embrace accessories as a way to develop and define their personality. Iscream has been building lines of fun and colorful accessories for more than 10 years and today encompasses anything a person may pair with their outfit.
"We create multiple price points within the trends and make it an easy, one-stop shop for retailers to come to," says Jennifer Mines, vice president of Iscream. "With price points from $5 to $125, they can create a story around whatever that trend is and attract all types of consumers."
Tactile goods are on trend now, an extension of the recent fidget spinner craze. "All sorts of different mixed mediums have entered into the marketplace, which can meld together to make different patterns," Mines explains, citing animal prints, soft furs, chenille and pom-poms as successful mediums for Iscream this year. Beyond materials, anything with a rainbow appearance or a metallic look got excellent results at retail in 2018, and sustainability remains a strong theme with consumers too, she adds. The year has seen strong appeal to girls and tweens in products featuring llamas, narwhals and mermaids, powering the company to another positive year of sales growth.   
Iscream originally found success featuring explosions of color in stylishly designed lenticular journals Mines created as part of her family's 85-year old New York-based printing business. Around the start of this decade, Mines expanded Iscream into duffel and messenger bags with colorful, tween-friendly designs as well as microbead pillows that capitalized on the consistently strong appeal of sweets like cupcakes and ice cream. "We might design a pattern that would go on a pair of plush pants for Iscream, and then we would take it through to a pillow that would go with it, then a nightlight, maybe stationary and a pocketbook that could be in the shape of that design," Mines says. "It goes across so many different categories."
Of late, Iscream has been able to build off of traditionally strong product lines, such as sleeping bags and eye masks, and extend into lower price point items such as lip gloss and putties. Broadening the product selection has improved sales because it's appealing to retailers to work with fewer vendors, especially when they can be on top of the latest trend children shoppers are searching for, according to Mines.
Iscream's strategy for the year ahead will be a little different, however. Rather than adding products at lower price points, Mines is aiming to expand materials and offer more higher priced goods. "We already sell some pretty high-end products, but we're willing to take it to the next level, working with a different level of materials that may attract a higher level of consumer while keeping our regular customer as well," she says. —B.C.
Dresswear:
Joan Calabrese for Mon Cheri
A year ago Earnshaw's honored the late Joan Calabrese with a Hall of Fame memoriam, and her legacy lives on with an Earnie award in 2018. "When Joan joined the Mon Cheri team in 2008, she had a couture business that was very well-known," says Karen Walsh, sales manager of Joan Calabrese for Mon Cheri Bridals. "She brought her quality, design and construction with her. This, along with Joan's classic elegance, is why we are where we are today."
After years of working closely with Calabrese, the Mon Cheri team continues to uphold her tasteful traditions with the support of her daughters Elena and Marisa. "Our quality and craftsmanship continue to set us apart from other brands," Walsh says, noting the constant search for new fabrications, laces and beading patterns. "Joan was always inspired by the happenings of the fashion world, so it's our mission to sustain the image she taught us all so much about."   
Popular trends this year included sequin linings, as well as fuller skirts and asymmetry. Walsh describes one of the brand's bestsellers as the "ballerina dress," a tulle skirt with a satin bodice adorned at the waist by an organza floral pattern and covered in crystal beading. Orders this year also indicated interest in longer hems. "That was a surprise to me since we usually avoid longer lengths to prevent girls from tripping or ripping their gown," Walsh says. Nonetheless, the brand met the demand with more length variation at diversified prices to best serve its customers.     
While sales for the company are up over last year, Walsh acknowledges the challenging climate for dresswear as the world grows more casual. "We do our best to overcome this by sticking to what we do well, which is special occasion with significant business from first communions," she says. "We also support our stores and showcase product on social media to keep it relevant."
Speaking of the power of social media, Walsh notes that less kids may be dressing up for formal occasions, but there's been a bump in sales thanks to parents purchasing pretty dresses to capture those "social media-worthy" moments. "Just because the fashion world is evolving doesn't mean your business is in jeopardy," Walsh says, noting the importance of reacting fast and making necessary adaptations. Walsh cites the company's upgraded in-house inventory and ordering system as boosting convenience for its retail partners. "Our customers can view inventory up to the minute and order any time of day," she says, adding that its sales team also travels to stores frequently to put a face to the business. "The key to success is to just keep listening," Walsh says. —E.B.
Toys:
Jellycat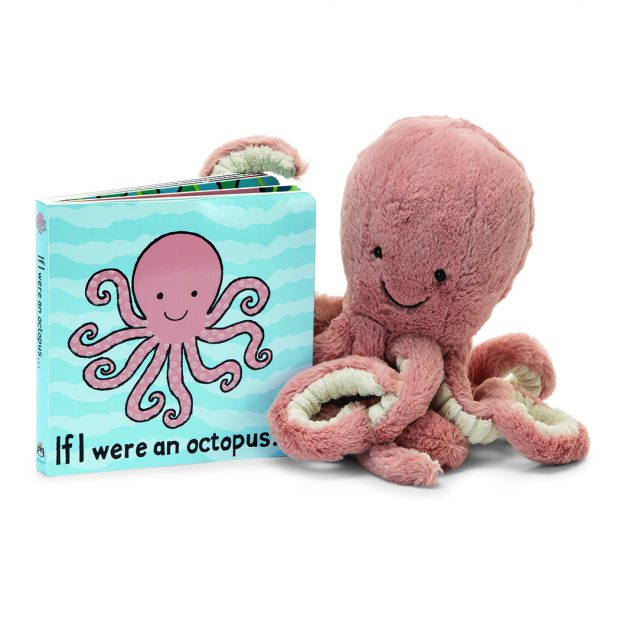 Since 1999, London-based gift company and two-time Earnie winner Jellycat has brought hundreds of lovable (and often quirky) characters to life. "We're fortunate to have growth every year, with another great performance in 2018," says Danell Gibbins, president of Jellycat. "It's also particularly exciting to see our numbers indicate the most growth from specialty retail." 
Despite the tough retail landscape, Jellycat's network of dealers has expanded considerably, with growth throughout North America, Europe, Asia and Australia. It first landed ashore here in Minneapolis in 2001, quickly gelling with high-end boutiques and department stores. Gibbins attributes much of the company's success to a combination of consistency, loyalty and quality. "It's important to remember that if you don't stay committed to the people who got you here, everything will fall fast," she says. "We protect our retailers' margins, keep designs fresh, ship when we say we're going to ship and never ever sacrifice quality."
Jellycat's bi-annual collections are most widely recognized for the unique variety of soft characters spanning bunnies, birds, bugs and beasts in luxurious fabrications from curly to corduroy. "Our assortment gives excitement to your typical wall of soft toys," Gibbins says, noting that most of the brand's inspiration comes from colors and materials used in high fashion to match its couture-level quality.     
This year, new soft toys Drake Dragon, Odell Octopus and Harry Panda were top sellers, along with the signature Bashful Bunny that "probably sells thousands a day," Gibbins laughs. Jellycat also launched puzzles mid-year, which quickly exceeded sales expectations. "We're telling more stories with coordinating products," she says. "It's much easier to captivate a customer when you can lure them in with a small compilation of product that tells a story."     
Quality is another strong lure, especially when people are buying for their children, Gibbins says. In fact, she believes price is not an obstacle if the merchandise is of matching value. To further enhance Jellycat's premium market position, the company will cease selling new designs on Amazon next year. The aim is to help its retail partners maintain pricing and margins. "There's been a really sharp turn away from being super price-conscious," Gibbins says. "I'm really excited to see more retailers thinking, 'Hey, if I'm going to put this in my store, I have to make enough margin to make it worth my time.'" 
Gibbins expects another strong year of growth for Jellycat in 2019, buoyed by lots of "surprises." The company's drive to innovate and entice remains as strong as ever. "Sure, we take a lot of risks, which sometimes work and sometimes don't," Gibbins says. "But because we consistently deliver to our retailers, they are willing to take the risks with us. It's the best feeling." —E.B. 
Crib Shoes:
Baby Deer
This year marks 80 years of Baby Deer delivering quality infant and toddler footwear specially designed for wiggling, waddling and walking. Gary Gorsuch, president and COO of Baby Deer's parent company, Trimfoot, says the team has been working hard to better understand its longstanding position in the market and act accordingly. Most recently, the company appointed an independent marketing company to run a survey of its customers. "Our brand ranked highest in comfort and fit, which is critical," the exec says. "So while we were not the highest in brand awareness, customers that buy our products are loyal because of the fit and comfort components."
Gorsuch says that Baby Deer's collections are more often recognized for being relevant over unique. "Some trends translate to baby shoes, others do not," he says. "They key is being able to interpret what will work and what won't." Gorsuch cites basics as the meat and potatoes of Baby Deer, with fresh takes on sandals and short booties peppered into its collections each season. For 2018, western influences were popular, as well as two-buckle sandals. Gorsuch also cites a lot more color in the baby shoe marketplace than ever before. "Not gaudy, just more colorful," he says, adding that more accenting materials like touches of metallic and appliqués are also on the rise.
Baby Deer will report another increase in overall sales this year. The bulk of its business is through department stores, but the brand has continued to expand its distribution among specialty stores. "The biggest challenge today is finding your place in the market, especially the childrenswear and footwear business that is dominated by athletic," Gorsuch says. "It's important to remember there's business beyond that, so you need to be creative and focus on staying relevant to the trends outside the athletic market."
Gorsuch attributes Baby Deer's long-term success to staying flexible in an ever-changing retail landscape. "The speed of change today is faster than ever," he says. "It's important to note that something working today may not work a year from now." He gives an additional nod of credit to the company's passionate and experienced staff that ensures the brand is managed from both short- and long-term needs. Looking ahead, Gorsuch says a potential new revenue stream for Baby Deer lies beyond U.S. borders. "International expansion is one of our long-term initiatives, which is primarily about choosing the right market and the right partner," he says. "We're not there yet, but it's in the cards." —E.B.  
Children's Footwear:
Native Shoes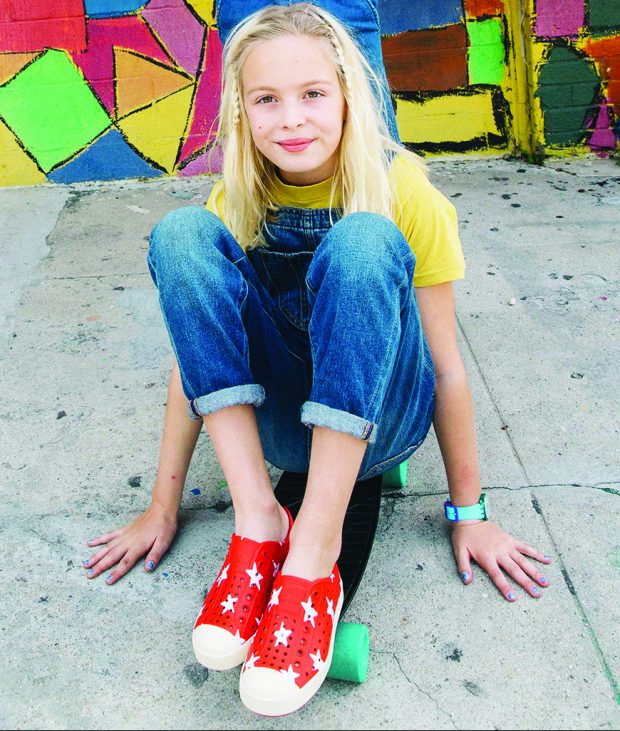 Honored to be recognized with its first Earnie award, family-owned Native Shoes has touted its "keep it lite" shoe designs and "beast free" sustainable manufacturing philosophies since launching nearly a decade ago. "We're inspired by designs that are reductive, essential and fun," says Mike Belgue, creative director of the PETA-certified vegan brand. "We're built on creating happiness and enlightening lives, one beast-free step at a time."    
Native's top-selling legacy style this year was the Jefferson, a perforated slip-on sneaker. The brand also made strides this year outside its traditional strengths in the kids' market. "Expanding our collection into sandals and transitional boots showed us there is a huge appetite from families for our styles year-round," Belgue says. Styles like the Kensingston chelsea boot, Phoenix sneaker and Charley sandal were a few of the new additions that performed exceptionally well in 2018. The option for more coordinating parent-child styles also proved to be a major draw for customers.   
Reflected in the brand's continued sales growth and consumer loyalty, Native proves to be more than just footwear but an integrated part of its customers' lives. Belgue says that fans can go to Native's blog for everything from style advice to vegan pie recipes, as well as interviews with industry creatives—a 360-degree experience that keeps the whole family engaged. "Another huge factor to our success is kids can, for the most part, put our shoes on and take them off themselves," Belgue says. "That empowerment paired with comfort creates a unique bond with the brand for years to come." —A.J.
New Brand:
Lola + The Boys
A former model with a marketing degree, Irina Ovrutsky has always admired the fashion world. Following the birth of her first child (Lola), the new mom developed a curiosity around kids' fashion. "I had always thought of opening my own women's boutique, but when Lola was born my perception shifted," Ovrutsky says, noting that she quickly fell in love with designing dresses for her daughter. "It was such fun doll- ing her up!" But it wasn't until Ovrutsky's two sons, Shia and Julian, came into the picture, that her vision for a one-stop shop became a reality. Taking the leap in March of 2016, the ambitious mother launched Lola & The Boys, what began as a direct-to-consumer online shop featuring stylish apparel for toddlers to juniors. Word of the new site spread fast. Attracting thousands of followers on Instagram, Ovrutsky decided to experiment with several pop-up shops around her hometown of Chicago before opening a flagship at Water Tower Place on Michigan Avenue. "It was an amazing experience having my own physical store," Ovrutsky says. "From there, I began getting more and more requests to expand into wholesale."
Lola + The Boys expanded into wholesale distribution less than a year ago, making its debut at Children's Club in February. Ovrutsky was pleasantly surprised to be taking orders from retailers she's admired for years, including Ron Robinson, Nordstrom and Lester's, to name a few. "The booth was packed," she says. "People just loved our bold and bright aesthetic."
Though Lola + The Boys focuses mainly on girls' pieces, Ovrutsky still offers boys items, including harem pants, collared shirts and witty graphic tees. Several of the pieces are designed by Ovrutsky, including the top-selling unicorn sequin bomber for girls and a variety of trendy tops, leather jackets and midi to "mixi" dresses. "I always ask myself if I would wear it," she says. "In my opinion, there doesn't need to be a big difference between adult and kids' fashion." Ovrutsky is onto something with her fun-yet-sophisticated approach, receiving many requests for coordinating adult sizes to boot.
"When it comes to designing, my kids have come up with many of our best out- of-the-box ideas," Ovrutsky says. "If I'm deciding between two prints, I can always count on them to be honest." Ovrutsky also points to the balance of quality and price point as another factor contributing to Lola + The Boys' success. "I want to keep the price at a really affordable level where the mommies are like, 'Oh, $80 for a jacket that looks designer? That's perfect!'" she says. "They especially love our fun takes on classic styles—like bombers and varsity jackets with patches. It's all about offering eye-catching pieces at a good price."
With more than 50 retail accounts now and counting, Lola + The Boys is scoping out bigger Chicago head offices. The company is also planning more events, pop-ups and fashion shows once it settles into new digs that best serve its growing demand. "Each day is getting busier and busier, which is good," Ovrutsky says, adding that the company goes above and beyond to fill reorders and whatever else its retail partners may need. "While there's no steadfast secret to success, my best advice is to always treat your customers like you would your friends," she says. "If you do that, the rest will come." —E.B.
Genderless Apparel:
Finn + Emma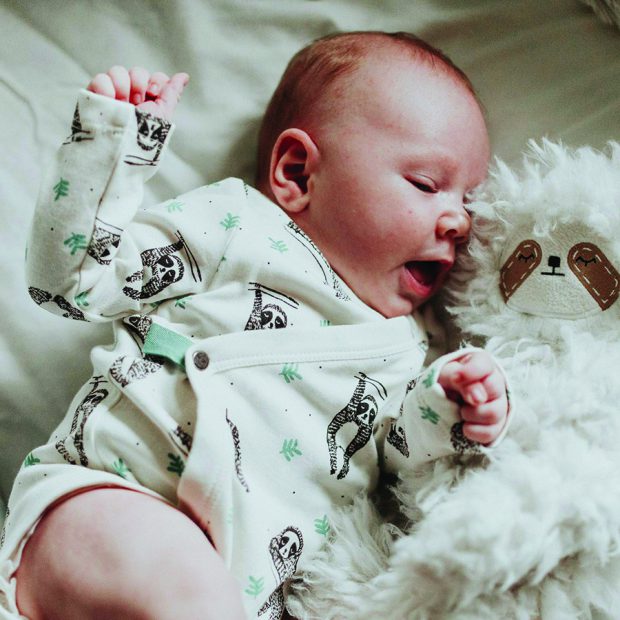 Sustainable manufacturing practices that produce eye-catching eco-friendly, non-gendered collections continues to be the formula for success for Finn + Emma. The Fairfield, NJ-based firm has garnered its second straight Earnie award. The brand's 100-percent G.O.T.S.-certified cotton clothing without inks or dyes, as well as complementary toys made from nontoxic materials, have become staples inside a growing array of retailers nationwide. The gender neutral designs only adds to their appeal, say retailers.     
While Ashley Sharp, owner of Green Bean Baby Boutique in Charlottesville, VA, doesn't necessarily merchandise her Finn + Emma stock as genderless, she often guides customers to the brand for that purpose. "Even when they knows the gender, my moms are more into colors like gray, white and cream," she says. "They don't want their baby to be categorized by gendered clothing." This year, Sharp cites Finn + Emma's sloth prints, plush and pastel green offerings as bestsellers, in addition to its stroller sets and infinity bibs.   
Pam Holmes, co-owner of Second Nature Learning in Moorestown, NJ, says Finn + Emma's trusted sustainable manufacturing practices are a key reason why she keeps stocking the brand each season. With all goods made in fair trade factories that adhere to environmental codes—including strict health and waste removal standards—Holmes feels confident her customers are only getting the best. "The products are very high quality, and the rattle and stroller sets are made by a women's collective in Peru, which is a huge selling point," she says, adding that Finn + Emma's rattle buddies are always hard to keep in stock.
Not only do Finn + Emma's unique products sell through strongly, its top-notch services make it a breeze to reorder. Many retail partners agree the company's customer service is second to none. Employees even go above and beyond when called upon. For example, soon after Sharp first opened her store, she had to bring her then-7-month-old to Children's Club in New York. "Of course my daughter threw up all over their booth, but the sales rep was so kind and down to earth," she says. Finn + Emma's sales reps are noted for their ability to build supportive, long-lasting relationships. "The rep I work with is just a text away," Holmes says. "I could text her at midnight, and she'd reply." —A.J.
Organic:
Burt's Bees Baby
To think it all began by selling honey out of a pickup truck… Today, Burt's Bees, a division of the multibillion-dollar Clorox corporation, is a multimillion-dollar business in its own right and recognized as one of the most well-known natural personal care labels in the world for men, women and children.
"Burt's Bees is very recognizable and holds a lot of weight in terms of credibility and authenticity," says Maria Nyline-Asker, president of Ayablu, licensee of infant apparel and product extension Burt's Bees Baby. "We're fortunate that we've had incredible growth year over year, and 2018 was no exception." She attributes that success to great product as well as a tweaked distribution strategy that has reined in national players to a "handful of key partners" (like Buy Buy Baby, Target, Amazon and Nordstrom) while expanding its specialty boutiques roster, having exhibited for the first time at Children's Club in New York this past August.
At that show, Nyline-Asker reports its signature 100-percent organic cotton to stand for its durable yet gentle hand-feel. "It's earth-friendly and GOTS-certified to meet the highest global standards for organic textiles—all at an affordable price," she says, noting how overwhelming the response was among buyers. "At one point, we physically couldn't fit all the buyers in our booth!"   
Striking a balance between sustainable and stylish, Mother Nature and Americana served as muses for this year's collections. Inspiring themes like "Dusty Oasis" and "American Prairie" were notable success stories, according to Nyline-Asker. She points to bedding, "Beekeepers" (wearable blankets), zip-front sleepers, one-piece jumpsuits and romper sets as being particularly buzz-worthy in 2018. "The graphics this year were bold and prints extraordinary," she says, citing a few more popular designs like a succulent floral jumpsuit, ditsy floral bubble, desert stripe sleeper and "A-Bee-C" sleeper.   
Nyline-Asker believes Burt's Bees Baby is just taking flight with plenty more growth on the horizon. "We've recently invested a lot in expansion internationally with plans to launch in China and Taiwan in Q1 of next year," she says, adding that the label is in talks with several other potential key partners, as well as anticipating more boutique account growth nationwide. "This day and age is so rich with inspiration everywhere you look—technology to couture fashion and everything in between," Nyline-Asker says. "There's still so much more to explore."—E.B.   
Gifts:
Elegant Baby
Pampering little ones for more than 50 years, family-owned Elegant Baby is in its second generation of believing today's baby gifts should be tomorrow's treasures. "I've been wanting an Earnie for years and am honored to have finally achieved it," says Yates Hooper, president and CEO, attributing this year's win to a successful rebranding and fresh representation that better resonates with today's young parents. "It takes a village, and I couldn't be more blessed to have such an amazing team."
Elegant Baby's first Earnie wasn't the only accolade the brand received in 2018. After opening a corporate showroom at AmericasMart Atlanta in June, the company was awarded "Best New Showroom" by the market. Represented by Brittany Harrell of Summer Place, the showroom is designed to reflect the brand's fresh Millennial-inspired aesthetic with dreamy rustic elements like string lights and a wooden swing tied with rope from the ceiling as a way to showcase product. The 900-square-foot space also contains a charming spot for customers to sit before a gallery of fresh brand imagery that incorporates fun merchandising ideas. "It's very lifestyle driven," Hooper says, noting new collections are typically displayed in gift bundles like a dinosaur knit outfit next to its coordinating toys and blanket.
The showroom is a microcosm of Elegant Baby's larger success. Doubling down on new product introductions and reinvesting in its presentation with a new logo and brand photography, Hooper is proud of the company's renewed look for 2018. Elegant Baby truly went the extra mile(s), shooting its rebranded photography in Miami instead of near its North Carolina-based headquarters. "If you just put stuff out there, it looks like any old stuff," Hooper says. "You have to put some romance behind it." He adds that the brand's major accounts like Bloomingdale's, Saks and Nordstrom have been supportive voices in shaping the creative direction in addition to its seasoned team of reps.
In terms of what's to come, Hooper is very optimistic. "We're growing in high double digits with people like Saks and Bloomingdale's, so it looks like there's an uptick." He also notes business with Buy Buy Baby to be robust and is enthusiastic about several new store openings. While the knit category continues to drive the bulk of Elegant Baby's sales, Hooper is looking forward to adding a new twist to the classics in mid-2019. "We're going to introduce a fair trade-certified layette collection," he says. "I'm not doing it because I think it's such a business opportunity; I just think it's the right thing to do. The best decisions always come from the heart." —E.B.
Tween Apparel:
Vintage Havana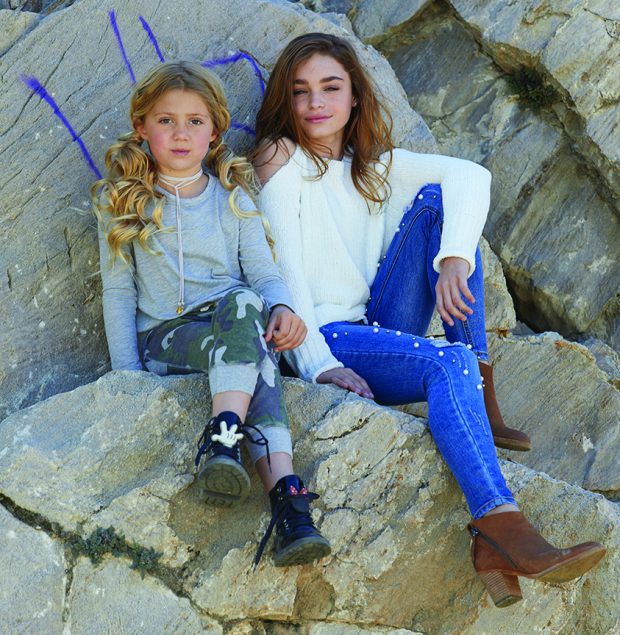 On a mission to become the go-to brand for tween girls, Vintage Havana has spent the last 12 years honing in on the trendiest tees, latest denim and hottest beachwear. A result of its hard work not going unnoticed, the brand is honored to be accepting its first Earnie award in the tween category. "When you strive to be the best, you stand out as a brand," says Moe Dabah, co-owner. "We set the bar for what companies should be doing in the tween market."
Cheryl Vann, owner of online shop Gypsy Girl Boutique, is one of the many retailers of Vintage Havana and affirms she can always depend on the brand's edgy, but age-appropriate styles. "They always stay up-to-date on current styles with designs that are fun for kids—especially picky tweens," Vann says, adding that the competitive price points (retailing between $30 and $80) is another factor contributing to the brand' success. 
Along with its many fashion-forward statement pieces, spanning top tween trends from athleisure and animal prints to camo and metallic foiling, Vintage Havana offers wardrobe staples like basic camisoles, undershirts and breathable activewear. This year, Dabah reports its denim and fleece lines as bestsellers, along with anything printed with camoflauge.
Vann agrees, echoing that comfortable terry-fleece tops were a top performer this year. "Kids don't like really tight clothing anymore," she says. "They want leggings, sweatshirts and comfy tops." Vann adds that small details like gold foiling, glitter, patches and shoelace ties were also a hit this year.   
As Vintage Havana continues to grow both in sales and distribution, Dabah says more trendsetting designs are in the offering for 2019. Expect to see prints like plaid and leopard throughout the collections, as well as more interpretations of the popular athleisure trend. Dabah also hopes to expand its boys' collection from toddler into tween styles. "We're gaining a lot of traction in that market, so I'm hoping to build on that and allow for a natural growth of our boys' apparel," he says. —A.J.