Julia Min, designer and founder of twelve little, on never having to sacrifice style for function when choosing the right diaper bag.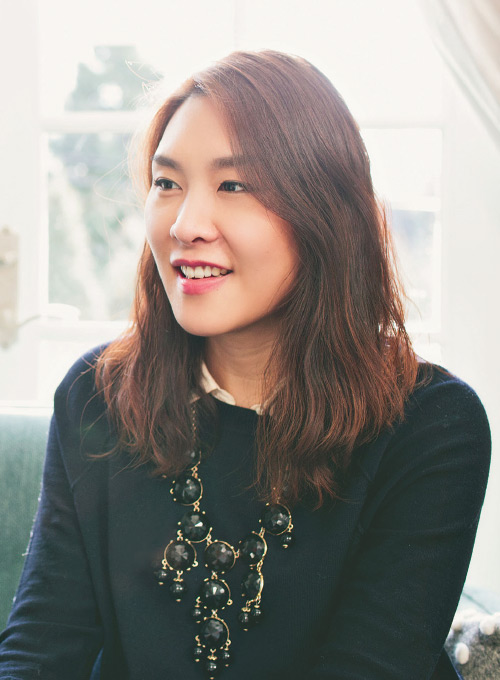 After years designing women's handbags for brands like Coach and Juicy Couture in New York, new mom Julia Min put her skills to the test to create a line of fashionable diaper bags. Teaming up with close friend and fellow Rhode Island School of Design graduate Jenny Chang, the duo launched Twelve Little. "Just because you have a newborn doesn't mean you have to compromise everything," Min says. "Twelve Little allows Mom to still be a little selfish and carry a bag she loves instead of one that's just convenient."
After a soft launch in 2015, Min took a hiatus to have her second and third child before stepping back into the role of designer and founder in 2017. Since then, the line of neutral nylon bags with leather trim has grown into a wider selection of functional water-resistant diaper bags with luxury elements like padded straps, bottle storage and hidden pockets for dirty diapers. The style most recently added, a "peek-a-boo" bag with a chic nylon and leather hybrid construction, includes hidden features like deep pockets and a built-in changing pad.
Min cites leopard and camo as popular prints of late. In addition, children's author and illustrator Sarah Jane is teaming with Twelve Little this fall for an exclusive mermaid and narwhal print on kids' lunch bags, backpacks, playdate circle bags and pencil cases. "I just love her whimsical style—always playful yet understated," Min says, noting the print is versatile enough to be carried from camp through back-to-school. 
Beyond its fashion-meets-function designs, Min is most proud of Twelve Little's commitment to donating products to local and national nonprofits each season. Past contributions have included to homeless shelters and military baby showers. "I want people to be inspired and realize that even a small company can make a big difference," Min says. "Customers need to understand Twelve Little is more than just thoughtful designs—we are a friend in our customers' communities."
How's business? It's been going very well! Last year we pushed marketing more than ever, which really paid off. We've always done social media, but in 2018 we invested in ecommerce marketing that gave us a huge boost.
How have most consumers discovered Twelve Little? Instagram has been huge. We do about half our online sales through the link, and we work with a lot of influencers and retailers who tag us. YouTube is also a surprisingly good platform because it has so many functions, and Facebook is good for community building.
What sets your designs apart from the competition? Our bags are not just pretty to look at, but promise our customers easy-to-use, easy-to-wash, easy-to-wear value. Most of the company is run by fellow moms, so we design keeping what it's like to care for our own children in mind.
What has been your favorite Twelve Little design to date? The Companion Backpack in denim nylon. It was our very first backpack. Even after updating it four times, it's still my favorite.
How do you see Twelve Little evolving over the next five years? We currently have good presence in small shops and some larger retailers. I want to always keep a good balance between our in-store and online sales. We carefully control our Amazon shop to give our wholesale accounts a chance to sell new styles first before they are available online. No matter what, we want to foster healthy relationships with our partners and continue to provide beautiful designs that never sacrifice function.
Who is a designer you admire? Diane Von Furstenberg, not only for fashion but also for her confidence and her elegant character in being one of the first American female designers.
What do you love most about being a designer? The most fun comes from when I can just focus on the beauty of designing—something that has always come naturally to me. Now that I'm a business owner, I'm forced to think more about numbers. But once you get past that tedious step, there's nothing more rewarding than seeing your visions come to life and be enjoyed by moms and kids across the country.