Inspired by family memories and travel experiences through the Caribbean with her husband , Colombo launched Piccoli Principi, a children's swimwear line in May 2017.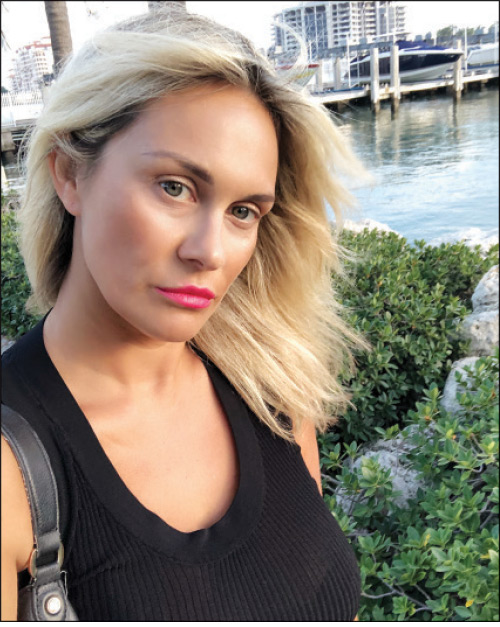 Born and raised in Milan, Italy, one of the world's epicenters of fashion design, perhaps it was inevitable Lidia Colombo would enter that world. The home of many couture house and host of fashion weeks, the business of fashion was all around her—even at home. "I always loved the way my mother looked," she says, recalling her mother's chic, eccentric sense of style. Colombo's fashion-conscious childhood eventually led her to working in showrooms across France, but it wasn't until she became a mother that an interest in designing childrenswear was born.
Inspired by family memories and travel experiences through the Caribbean with her husband (a yacht captain), Colombo launched Piccoli Principi, a children's swimwear line in May 2017. The brand fuses bright colors of tropical islands with the whimsy of her favorite book "The Little Prince," which inspired the brand's name "little princes" in Italian. For Spring '19, the collection reflects the isles near Sicily with dancing bears, sea stripes, pandas and dot motifs along with plenty of glitter, metallic and ruffle embellishments. An assortment of glittery goggles are also available.
As a mother, Colombo feels confident she knows what parents want in their kids' swimwear. "I want to create pieces that are eye-catching and make their little ones feel like princes and princesses," she says, noting the toddlers' apparel often ties back to the designs for older kids. "Moms love seeing their kids' match."
The designer says that while children are drawn to colorful and whimsical styles, parents more often search for practicality. "Moms, particularly in America, are very worried about everything to do with their children and are always asking for advice," Colombo says, noting she takes pride in fulfilling their needs each season. Manufactured at a small, family-run factory in Italy, Colombo uses eco-friendly fabric made from recycled fishnet and plastic salvaged from the sea for more than 80 percent of Piccoli's swimwear. With UPF 50+, the Italian Lycra offers sun protection and meets hypoallergenic standards. "My goal is to run a business where parents and kids don't have to think twice about sun safety or hurting the environment," she says. "There should only be happy kids and relaxed parents enjoying the beach."   
How's business this year? It's been a real success since working with Gilt.com, which was huge for marketing and generating lots of orders. A lot of famous resorts came to see me at the swim show. It was a great way to meet new buyers. The most important step when starting a business is building trust and long-term relationships with retailers during the first year.
Who is the quintessential Piccoli Principi customer? They're modern-day princes and princesses! My customer goes crazy for hot pink and ruffles and loves to match with her friends. And while the boys are little princes, they're also little superheroes, having the desire to feel strong and confident in our swimsuits.
What's your most effective way to build brand awareness? Social media is crucial to any type of business these days. The majority of our sales come from Instagram. In Italy, everyone loves influencer Chiara Ferragni (The Blonde Salad). She's a big inspiration to many as she transitioned from blogging to becoming a niche designer. Channeling that idea, we use pictures from our mom clients to share their experiences from all over the world and inspire future customers.
What's unique about designing for children? While safety rules are especially critical for kids, it's still important to respect their taste in style. We always try the suits on children before they go into production, weeding out any defects in the textiles or fit. Ultimately, we want the  overwhelming care and responsibility put into our designs to translate to how the children wearing them are brought up in society.
Is your son a wear-tester? Absolutely! He tests all the boys' samples. Like me, it's all about the first impression. He's very honest from the start, and if he doesn't like it, we won't make it.
What do you love most about being a designer? I love to transmit an idea through clothing and create a lifestyle for parents to introduce to their children. Our kids are the future, and we need to teach them lessons just like in The Little Prince:  "What is essential is invisible to the eye."