Fusing a philanthropic spirit with her lifelong desire of becoming a designer, Amanda Daum got her startup dreams off the drawing board after winning the 2018 "Chipstarter" competition, supported by Chip and Joanna Gaines, the stars of HGTV's "Fixer Upper."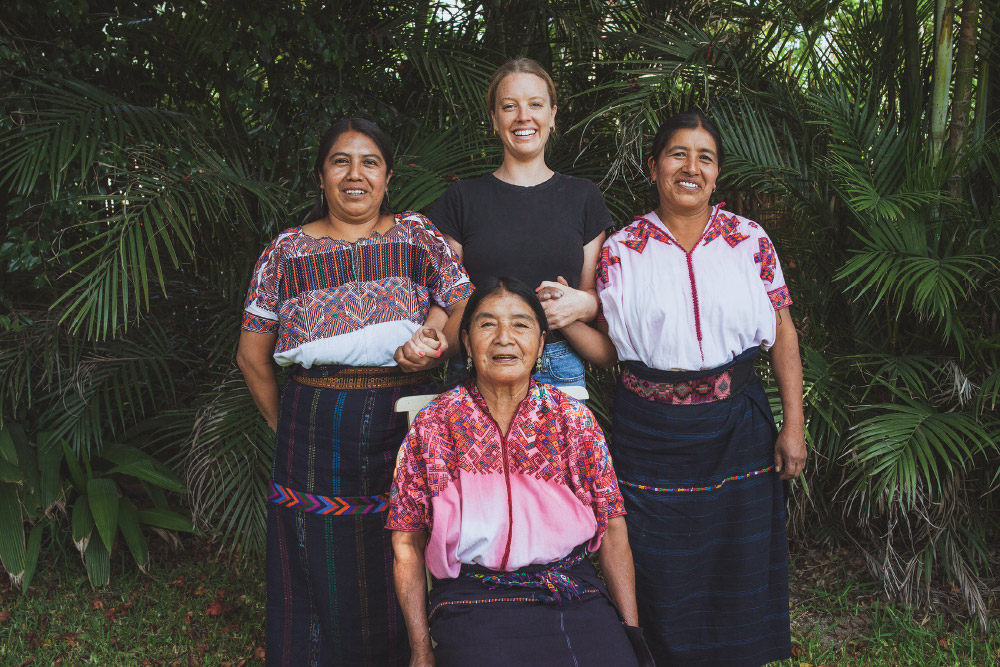 For nearly five years, Texas native Amanda Daum has called Guatemala home and the artisans of its remote villages her family. Fusing a philanthropic spirit with her lifelong desire of becoming a designer, she got her startup dreams off the drawing board after winning the 2018 "Chipstarter" competition, supported by Chip and Joanna Gaines, the stars of HGTV's "Fixer Upper."
"Standing next to Chip Gaines as he passed me a check for $40,000 was when I truly realized the hard work I had been putting into Sticks and how much it meant to me," Daum says. "I'm so grateful to have been chosen and continue to change the lives of so many deserving women who work with me."
Leading up to the launch of Sticks, Daum had traveled the world and became deeply inspired by the textiles she saw in far off places, like China and Laos. She volunteered in Uganda and interned at EDUN, a company known for promoting trade with Africa. She even spent time working fashion shows for Chanel and briefly dabbled with her own jewelry label, RAE. "My path to becoming a clothing designer has been winding, thrilling and challenging, but most of all, rewarding," Daum says, adding that she ultimately ended up in Guatemala where she discovered the most amazing textiles she'd ever seen. "I was immediately compelled to provide jobs for these insanely talented female artisans." Over the years, Daum has witnessed major milestones in her weavers' lives, from getting married to having children. "They're my family," she says, noting that she collaborates with them daily. "Our designs have texture, spirit and an intrinsic connection to the person whose soul and story was poured into the making of each garment. It's like nothing you've seen anywhere else."
Of late, Sticks has invested deeper into Guatemalan textiles and is working on plans to ramp up production. "I hope to revolutionize the handmade clothing niche by building my own production facility in Guatemala," Daum says. Her goal is to one day employ hundreds, if not thousands. Another goal: to shift the consumer appetite toward handmade products over environmentally harmful, mass-produced clothing. "Humbleness is in everything we do," Daum says. "I can't think of a more rewarding way to have fulfilled my dream of becoming a designer." —Emily Beckman
What was it like moving from Dallas to Guatemala? It certainly was a culture shock! However, the 'Guatemala crazy' is my new normal now. I've grown to love the country and its people. But it took some adjusting, for sure. I was very sick for the first few years. We call it the 'Guat bug' because there are so many parasites here. I even caught the Dengue virus! But leave it to the endless beauty of this country to keep me motivated and inspired day after day, no matter what. 
What's new for Spring '20? Our spring collection contains 14 hand-woven textiles, each from raw fiber to fabric. I wanted to express color, quality and uniqueness by mixing old with new. I felt drawn to pops of color that could be applied to modern silhouettes, like jean jackets and culottes. We naturally implemented several famous Guatemalan elements, too—color, jaspe, weaving—and then modernized it. Overall, Sticks is known for revitalizing Mayan designs that are thousands of years old. Some designs were even on the verge of being lost forever! Each fabric is made by hand, using only sticks, thus our name.
What specifically inspires you about Guatemala? The textiles I see women wearing just from glancing out the window of a bus are beautiful. Outside of the textiles themselves, I draw inspiration from the colorful fruit markets and tropical gardens. I also love the smell of fresh coffee and the sound of birds chirping me awake in the mornings. Every inch of Guatemala brings me into a creative space. It incubates me as my best self. Guatemalans are brilliantly creative. It's a huge part of the indigenous culture, and I feel so grateful to be a part that. 
In addition to parasites and a virus, what are some of the other challenges you've had to overcome in launching Sticks? Figuring out how to produce and scale handmade textiles in Guatemala has been insane! I really had a moment of doubt there. But truth be told, I've hardly scratched the surface of what is possible in Guatemala. Realizing this, I've been working harder and taking more risks. We started traveling so far out, to the border of Mexico, hundreds of miles from our home to find new artisans. I'll never forget the time I followed a man I'd just met at a market through the woods in his tiny village to visit a community of weavers. I didn't know if I'd really find weavers there, but I'm here to tell the tale. It's the incredible effort of my team that makes Sticks so special—building textiles that are so unique with people who are also so special.  
What do you love most about being a designer? Imagine a village of women dressed head to toe in beautiful colors. Their homes are abundant with love and enthusiasm for life. Everyday it's, 'Gracias a Dios por este dia,' which translates to, 'Thank you God for this day.' Design can have an incredible impact, and we want more people to realize that with the story of Sticks.