Meet the creatives behind Wee Ones, and learn how they keep this classic accessory relevent season after season as they enter their 45th year.
Wee Ones has  sure come a long way from a handful of hair accessories created by a first-time mom trying to tame her daughter's hair and accentuate her style. More than four decades later, the company designs, manufactures and distributes more than 10,000 SKUs to boutiques around the country. It is safe to say that Wee Ones is best-known brand of infant and girl's hair accessories in the industry.
Miles and Gina Faust purchased the company in 2010; Miles runs the business side of things while Gina leads the design and marketing efforts. In 2014, their daughter Allie joined the to help develop the in-house capability of printing custom designs on their ribbons. We spoke with both Gina and Senior Product Designer Marcella Ahearn about forecasting the trends, continuing to innovate and what's new for Fall 2024.
Earnshaw's: What's your approach for each new season?
Marcella Ahearn: When we design, we keep in mind that our customers look to us for classic designs, but also want something new and trendy. We always feature new Halloween, Harvest, and Christmas novelty collections, but for Fall 2024 we have Back to School, Enchanted Wonderland, Pretty in Pink, and the Trendy Girl collections. We always like to offer products that our customers can't get anywhere else; a bow with a scalloped or stitched edge, or exclusive prints and patterns that match or complement their apparel.
Earnshaw's: How many SKUs do you typically roll out?
Gina Faust: Including our classics collection and seasonal fashion designs, we offer more than 10,000 SKU's each season, with 1,200-1,500 of those SKUs being available for immediate delivery during the season in our in-stock program.
Earnshaw's: What role does trend forecasting play in the design process?
Ahearn: This is essential to our design process. Throughout the year, we are continuously studying the trends in children's and women's apparel, home, toys, social media, and even pay attention to things like children's movie premieres. We also conduct an in-depth color analysis of the apparel from brands that are important to our retailers, as well as children's apparel designers from around the world. This research helps us to make sure we are focusing on the most important trends, colors, prints, and patterns.
Earnshaw's: What have been some of your favorite designs and why?
Ahearn: I love our holiday novelty headbands because I can use my product design skills and specialized equipment to build and layer characters or icons on a wrapped headband, which complement the prints on our most popular bows in the collections.
Earnshaw's: What are your top-selling styles and why do you think those do well?
Faust: Our classic grosgrain collection continues to be a best seller year after year, offered in over 100 colors that will match virtually any apparel in our retailer's stores. Our scallop and moonstitch bows are also popular because of the unique edges, and our holiday novelty collections are always a hit because of the one-of-a-kind cute prints, patterns and embroideries.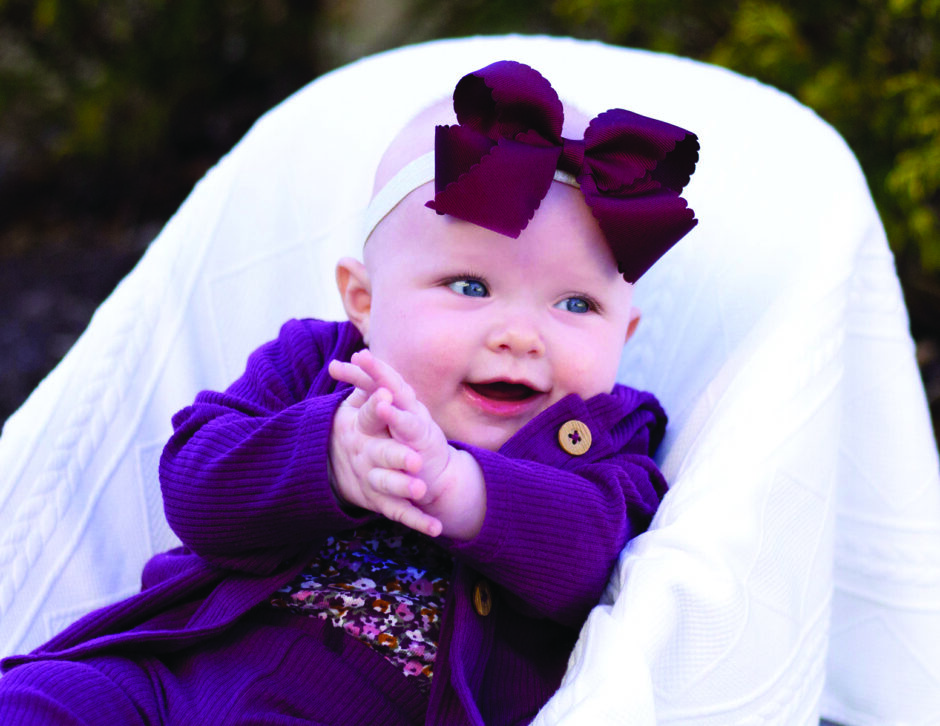 Earnshaw's: How has custom printing expanded your business?
Faust: We continue to invest in technology, equipment and techniques that allow us to offer exclusive designs constructed from ribbon not available to other manufacturers. Creating custom trims, edges, prints and embroidery on a wide range of ribbons ensures that we always offer retailers collections that are on-trend, with designs our customers can't get anywhere else.
Earnshaw's: What is new for the baby collections?
Ahearn: We offer the most extensive line of baby accessories in the industry, including sun hats, ball caps and bonnets, but our customers love the add-a-bow band that can be paired with any bow in our catalog. In 27 colors, this specially designed elastic band allows baby to grow with the bow! In 2024, we will add a beautiful light blue color that has been one of our best-selling baby colors to date.
Earnshaw's: What are some of your favorite new styles for Fall 2024?
Ahearn: Our new metallic and sequins options are among my favorites. We also know moms are dressing up their little girls in fancier styles again, so these shiny and bright designs are perfect for the holidays.
Earnshaw's: What's your favorite aspect of designing bows?
Ahearn: Designing bows at Wee Ones is fun yet challenging. It is a combination of fashion design, industrial design, and graphic design all in one. We are always innovating and exploring new materials and ways to make new products. So, every day is different and exciting.