Jumping from the financial world to crafting children's fashions might sound like a big leap, but designer Shamini Dhana is used to big leaps. As a child living in Singapore, she frequently flew across the globe to visit family on five different continents. So it's no surprise that her new children's apparel brand, Dhana, is […]
Northern Exposure
Tala Bee Kids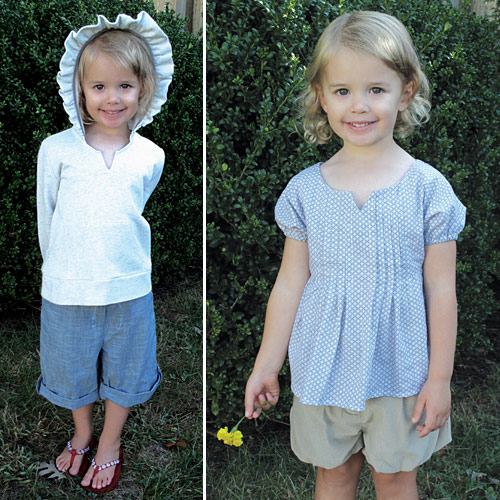 Worldly Pursuits
Dhana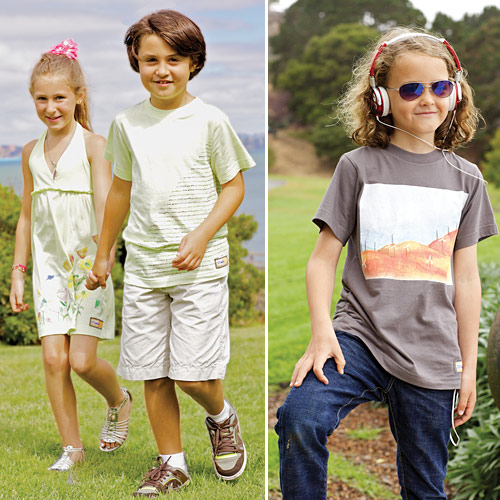 Jumping from the financial world to crafting children's fashions might sound like a big leap, but designer Shamini Dhana is used to big leaps. As a child living in Singapore, she frequently flew across the globe to visit family on five different continents. So it's no surprise that her new children's apparel brand, Dhana, is a reflection of her worldly upbringing.
After working more than 20 years in banking, Dhana retired in 2006 when she had her daughter. That's when it became clear to her that something was missing from the apparel market: stylish children's clothing that honored the environment and helped connect people from far-flung locales. "I realized there wasn't a brand out there for parents and kids to truly show themselves," the designer explained. "It's one step further than 'you are what you eat.' There are people now saying 'you are what you wear.'"
When Dhana began planning her line two years ago, she decided the clothes would be made of 100-percent certified organic cotton jersey and carcinogen-free, eco-friendly dyes, and would feature work by a new eco artist every season. Her Spring '11 collection—fittingly named "Wearin' the World"—sports watercolors of wind turbines and poppies by Irish artist Elaine Murphy, digitalized and printed onto the collection's dresses and tops for girls as well as tees and polos for boys.
But just because the company has an eco emphasis doesn't mean it's short on style. In fact, the brand was recently selected as the only children's label to be featured in LA Fashion Week's Designer Launchpad show for new and upcoming designers. Now, the collection for kids ages 5 to 12 is posed for global distribution, with wholesale price points between $14 and $21.50. Call (415) 513-3142 or visit www.dhana.com.
Northern Exposure
For some California designers, capturing the state's cool aesthetic is all about focusing on the bright, bold style of Los Angeles—but not for Tala Banatao. The San Francisco native is inspired by the casual elegance of California's northern neighborhoods, and it shows in the sophisticated clothes she creates for little girls ages 2 to 12. From soft jersey dresses to white cotton polka dot tops paired with denim bubble shorts, her new line, Tala Bee, combines stylish silhouettes with a barefoot-at-the-beach sense of comfort.
"I love this trend of loose and frilly," Banatao said. "Those are the kinds of things I look for when I'm designing—clothes that can work as a top or a dress, because kids love to layer." The philosophy helps maximize style options, as her striped lounge dresses and floral tunics can be paired with her cotton leggings or worn solo.
The laidback designer wasn't always so set on children's fashion. "When I was in college, everyone was encouraging me to go on the creative track, but I [thought], 'I need to do something serious. I need to be a lawyer,'" Banatao recalled. After a brief stint in law school, she finally followed her friends' advice and enrolled at the Fashion Institute of Design and Merchandising in San Francisco. Afterward, she worked as a fashion merchandiser at Gymboree, but she decided to launch her own label instead of staying at the company because "I didn't want to get pigeonholed into just one part of the process," Banatao explained.
For Spring '11, Banatao plans to incorporate knit dresses and tops into her line while maintaining the collection's timeless appeal. "It will still have the same aesthetic as far as elegance, but I wanted to have more casual pieces that kids will wear every day," she said. The collection's wholesale prices range from $10 to $40. Call (650) 269-9294 or visit www.talabeekids.com.
—Audrey Goodson