While pregnant with her daughter, Jane D'Haene was forced to quit her job as design director for an architecture firm, but when it was time to head back to work, she decided to pursue another career. "It's every mom's dream to dress her daughter," she explained, noting that she "blew the budget" buying clothes. D'Haene […]
Organic Chemistry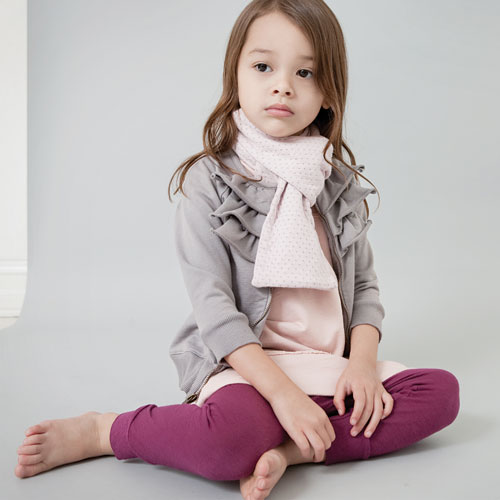 Sister to Sister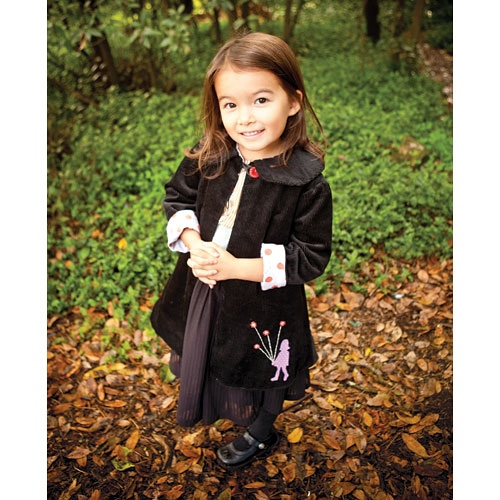 Taking Liberties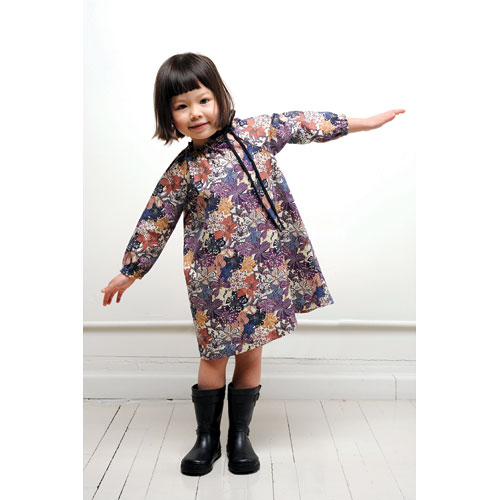 While pregnant with her daughter, Jane D'Haene was forced to quit her job as design director for an architecture firm, but when it was time to head back to work, she decided to pursue another career. "It's every mom's dream to dress her daughter," she explained, noting that she "blew the budget" buying clothes. D'Haene decided to take sewing classes in New York's garment district and began making her own apparel, which turned into a full-fledged business opportunity. For Fall '10, she launched Anais & I, a line for girls 6 months to 8 years.
Anais & I is big on comfort—in fact, D'Haene takes the advice of her daughter (for whom the line is named) seriously. "She would wear clothes only one time and say, 'I don't want to wear it again,'" she said. "I didn't want that to happen with my clothes." Not only does her daughter wear-test each item, she also adds her own design input: For example, several of the pieces have oversize pockets so her daughter can fill them up with toys. For the New York-based line's modern aesthetic, D'Haene looks to women's wear instead of children's designers for inspiration. Pieces include a long-sleeve, knee-length Liberty print tunic with a ribbon at the neck; a laminated black cotton double-breasted jacket with snaps; and a sweatshirt-style dress with a kangaroo pocket and a voluminous turtleneck. Also offered are a vest, elastic-waist shorts, pants, blouses, skirts, a hat and a neck warmer. Liberty prints are used throughout the collection—either separately or mixed with a sophisticated palette of solid black, grayish lavender, beige and berry shades. "For me, simple clothes look so much better on kids," D'Haene added.
D'Haene is working on a boys' collection she plans to debut for 2011. Wholesale prices for the current collection run $19 to $71. Call (646) 262-5423 or visit www.anaisandi.com. —Melissa Knific
Organic Chemistry
Hoping to bring together two passions—a holistic lifestyle and fashion—Kristin Coia launched the eco-friendly line Go Gently Baby after she became a mother. "The more I studied [the apparel industry], I was astonished at its chemical process," noted the designer, who once worked for women's swimwear brand Ashley Paige. Coia saw there were plenty of environmentally conscious brands available for kids, but they weren't fashion-forward enough for her tastes. "They were all very granola and boring in their style," she added. Instead, her label provides a modern aesthetic with garments that are simple and sweet with a hint of edge.
Go Gently Baby offers organic cotton garments for boys and girls sizes 0 to 4T. Whenever possible, Coia sources fabrics Stateside and all manufacturing is done in Los Angeles. In addition, the reactive dying process is earth-friendlier than most, and she uses natural materials like corozo nuts for buttons. The '60s serve as the design inspiration, and one of the most sought-after styles for Fall '10 has been the drawstring pant with a peace sign embroidered on the bum, available in cyan, storm gray, denim blue, watermelon and sweetheart pink. Go Gently Baby features a wide range of dresses for girls, including the Love jersey sundress with a large heart-shaped pocket and the Ruffle Roo with raw-edged ruffles on the arms and large kangaroo pockets. Top styles for boys include the baggy-fit Henry pant with oversize pockets and tiny front buttons and the Prep Jacket with raw edging. Zip-up jackets, cardigans, tees and sweatshirts are also available.
Coia recognizes that producing an organic line domestically takes extra effort, but she's insistent on making a difference. "We wish to go gently with all that we do and in the manner we do business," she said. Prices run $17 to $32 wholesale. Call (310) 980-1104 or visit www.gogentlybaby.com. —Melissa Knific
Sister to Sister
It all began when Liz Buenrosto made a dress as a gift for her 1-year-old niece. Formerly a designer for women's ready-to-wear, she had the background needed to launch her own line and decided that children's was her calling. Recruiting the help of her two sisters, Monica and Dora Buenrosto, the trio recently debuted Applesauce Designs.
The Modesto, Calif. company pumps life into vintage fabrics, buttons and trims, making for one-of-a-kind pieces. The collection for sizes 0 to 5 mostly focuses on girls' items, but it also includes a number of boys' pieces. Each garment is handmade by the sisters: Liz designs, chooses the fabrics and sews; Monica assists in the sewing and fabric selection; and Dora adds the finishing details. "I love that I have my family to help me," Liz noted. "It's easy to trust them." Between the use of vintage fabrics and refusing to outsource their work, she hopes Applesauce Designs' value of environmental sensitivity is recognized. "We're eco-friendly because we use what's already there," Liz added.
Pieces are inspired by a range of decades, from the '50s to the '70s. The whimsical collection incorporates a mix of fabrics such as cotton, wool and linen and textures like corduroy, denim, velvet, tweed, chiffon, taffeta and more. Highlights include a '50s-inspired sleeveless party dress that poufs at the waist and features back buttons and a ribbon tie; a shift dress with a sailor collar and a complementary reversible cape; a cross-back romper with an embroidered seahorse and ruffles; and a two-piece set pairing high-waisted shorts with a Peter Pan-collar shirt with back buttons. The apparel wholesales for $15 to $45. Handmade dolls, also made with the vintage fabrics, are available for $23. Call (209) 402-0418 or visit www. applesaucedesigns.com. —Melissa Knific