For years, Daphne Henderson had her sights set on creating a full apparel collection, but her time was consumed by another successful project—the heirloom pettiskirt brand Oopsy Daisy Baby, which she launched in 2001. Nearly a decade later, Henderson is now able to do both. She recently bowed Dew Drops Couture, a vintage European-inspired line […]
Back to Basics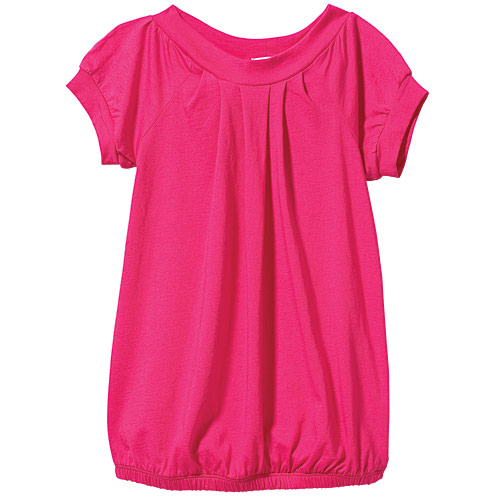 Morning Glory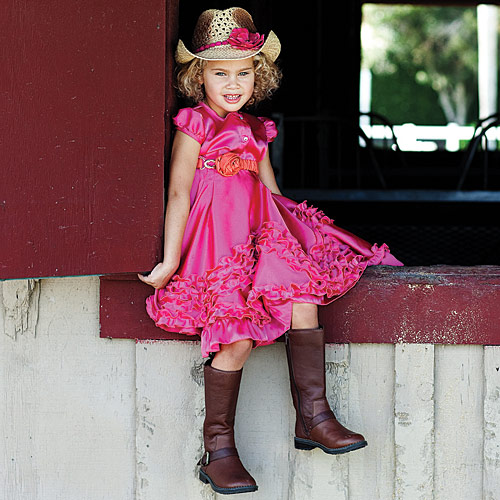 For years, Daphne Henderson had her sights set on creating a full apparel collection, but her time was consumed by another successful project—the heirloom pettiskirt brand Oopsy Daisy Baby, which she launched in 2001. Nearly a decade later, Henderson is now able to do both. She recently bowed Dew Drops Couture, a vintage European-inspired line for girls 3 months to 14 years. Henderson named the Southlake, Texas-based line after her grandmother, Dew Drop, who taught her how to sew. "She's the reason why I am where I am today," the designer added.
The chic line has a nostalgic twist, and Henderson explained that she aims to preserve the innocence of childhood. "Girls are little for only a short time, and there are a lot of clothes out there that make them [look] older than they really are," she said. Each seasonal assortment focuses on a specific time period (vintage '60s prints were used in the Fall '10 collection). Spring '11 will take a sweet approach with an abundance of ruffles, some tulle and prints with flowers, butterflies and birds. Highlights include an infant romper with crisscross straps and a ruffled bottom (available in seven colors); a machine-washable "wave" skirt that encourages wearers to twirl; and a sleeveless dress featuring a full skirt with ruffles and a large bow that trails down the side. Other pieces range from A-line and trapeze-style dresses to capri pants with coordinating tops to ruffled bloomers. "My head is about to explode with designs," Henderson joked, noting that approximately 100 items are available for spring.
Dew Drops Couture uses domestic and imported European fabrics—sometimes blending the two—to provide a variety of price points. Wholesale prices range from $14 to $60. The line also features a variety of accessories such as crocheted hats and reversible floral headbands. All items are made in Dallas. Call (817) 488-1123 or visit www.dewdropscouture.com.
Back to Basics
Noticing that basic pieces for kids were virtually nonexistent—especially when it came to high-quality, moderately priced lines with a good fit—Jamara Ghalayini and Claudia Schwartz combined their fashion expertise to develop Daily Threads, a line that would solve this dilemma. "Many of the brands typically associated with basics have kind of abandoned the basics market," said Ghalayini, owner of the Pumpkinhead Kids boutique in Los Angeles. She referred to lines like Splendid, which she says have gone the fashion route.
And so the duo recently launched their own Los Angeles-based brand for boys and girls 3 months to 12 years. Part of their mission was to create a line that focused on fit: Instead of applying a grading formula, Daily Threads bases its patterns on actual children. Some kids' lines have problems with fit, Ghalayini explained, adding that she often hears parents in her store complain about boxy shirts and too-long pants. "We wanted to make something that fits each and every child at every stage," she said. For example, a size 2T from Daily Threads features extra room in the waist to accommodate toddlers' diapers. Top bodies for girls include a tiered skort with a smocked waist, a scalloped tank and a tunic. For boys, cargo and basketball shorts have emerged as the leading styles. Other items run the gamut from lap tees for babies to pullover hoodies.
The collection features bold, solid hues like grass green, orange, fuchsia, yellow and grape. "It's like a giant table of jellybeans," Ghalayini said, describing a table merchandised with Daily Threads' items. "How could you walk by a storefront without stopping?" Super-soft fabrics are either 100-percent cotton or modal blended with cotton and Lycra.
Schwartz, founder of Aden & Anais (who recently sold her share of the company), and Ghalayini have been working on Daily Threads for several years, making sure to cover every detail—right down to the logo. For branding, a patch reading "DT" is on every piece, but it is small and subtle enough that it doesn't take away from the simple designs. The collection wholesales for $8.50 to $19. Visit www.dailythreads.net. —Melissa Knific