Reina Batata, which means "Sweet Potato Queen," is the whimsical title of a beloved Argentinean folk song, and the perfect moniker for the children's collection crafted by Argentinean designer Valeria Garavaglia. The line for little girls is a reflection of Garavaglia's eclectic influences, from her childhood in South America to her worldwide wanderings as an […]
Male Call
VBee's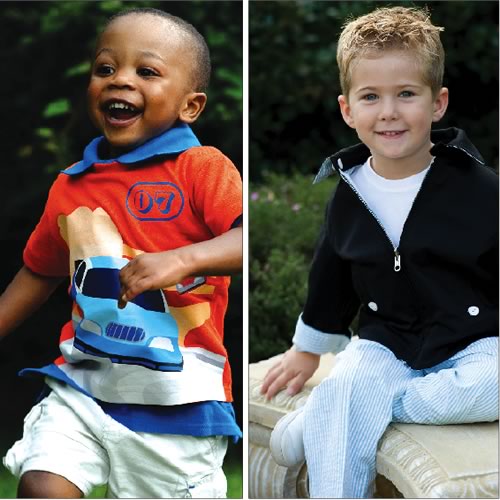 Hot Potato
Reina Batata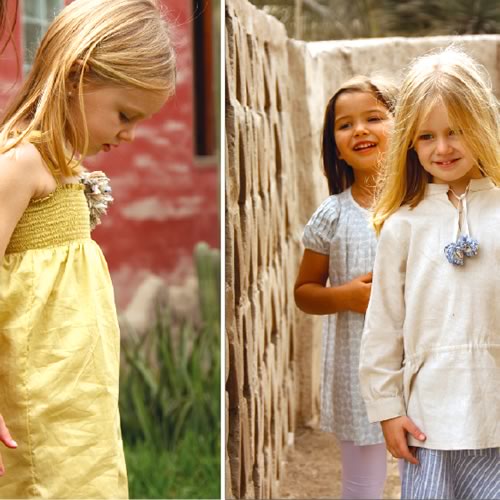 Reina Batata, which means "Sweet Potato Queen," is the whimsical title of a beloved Argentinean folk song, and the perfect moniker for the children's collection crafted by Argentinean designer Valeria Garavaglia. The line for little girls is a reflection of Garavaglia's eclectic influences, from her childhood in South America to her worldwide wanderings as an adult and her experience designing jewelry, interiors and landscapes.
"I like to mix a little bit of ethnic styles across decades," Garavaglia said of the line, which includes everything from an Indian-style blouse to an 80's-era jumper. Currently living in Peru, Garavaglia was inspired by the country's high-quality fabrics. "I found they produced [clothing] for the most famous designers and brands, but you could not find good design for kids in Lima," Garavaglia explained. "They were thirsty for it."
Despite her many influences, she noted that her collection is "cohesive," united by its stylish yet playful take on girls' wear, full of feminine details like ruffles, bowties and pom-poms. Available to U.S. buyers for the first time, Reina Batata is made out of 100-percent pima cotton and alpaca wool. The Spring/Summer '11 line features sophisticated floral and paisley cotton prints in a subdued palette of pale pink, green, gray and blue, and one- and two-piece swimsuits in fun patterns like flowers and chili peppers. For Fall/Winter '11, Garavaglia promises the "bigger and brighter" line will include dress and sweater/vest sets, winter Bermudas, pants and blouses. The collection fits girls' sizes 2 to 12 and wholesales for $15 to $40. For more information, contact valeria@reinabatata.com or visit www.reinabatata.com.
Male Call
The words "soft" and "subtle" aren't usually associated with little boys, but that might change if first-time designer Felicia Crouch has anything to say about it. Her new collection of classic basics for boys, VBee's, comes in pale hues and simple cuts that prove little boys can look polished, too.
Crouch set out to tackle the tricky task of creating clothes to take boys from "the playground to the church function to the ballet in the evening," with items like jackets that reverse from solid colors to plaid or seersucker, in soft shades that transition easily from day to night, including spearmint, pale blue and honeysuckle yellow. Crouch focuses on making timeless garments like trousers, jackets, tees and vests that moms can hand down to baby brothers.
Crouch was inspired by the challenge of finding age-appropriate clothing for her three-year-old son, Grayson. "I could find really trendy, graphic, hip-hop things for him," Crouch explained. "But I couldn't really find the things I wanted that were really classic and could be passed down from generation to generation. And if I could find it, it cost an arm and a leg."
That's why Crouch has aimed to make her line both valuable and versatile, with hats that wholesale for $2.50 up to reversible coats for $45. Based in Clemmons, N.C., the brand's spring/summer collection exudes a subtle Southern charm, with pink polos and lavender vests paired with navy trousers. For Fall/Winter '11, look for a leather bomber jacket with Sherpa fleece lining and a camel-colored leather peacoat that reverses to a medium wool.
The collection includes layette for infants beginning at 3 months and clothing and accessories for boys up to 8 years. For more information, check out www.vernellsbabyandkids.com or call (888) 483-7635. —Audrey Goodson