"Tallulah is a name I'd consider if I had a third child," Veronica Scott reflected when asked how she came up with the moniker Tallulah Moon for the children's brand she launched last year. "But it kind of is my third child." With her label, "I wanted to create a wardrobe for the little girl […]
Knit Wit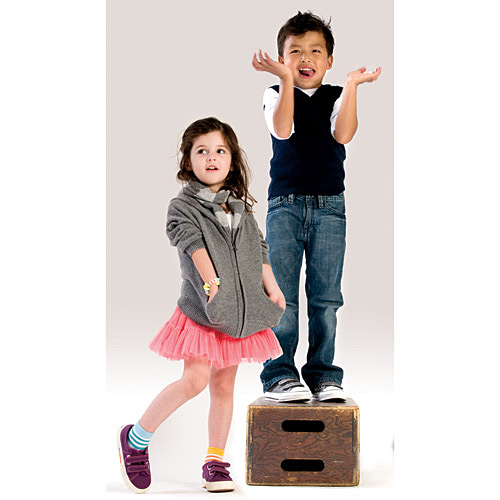 Couture Concept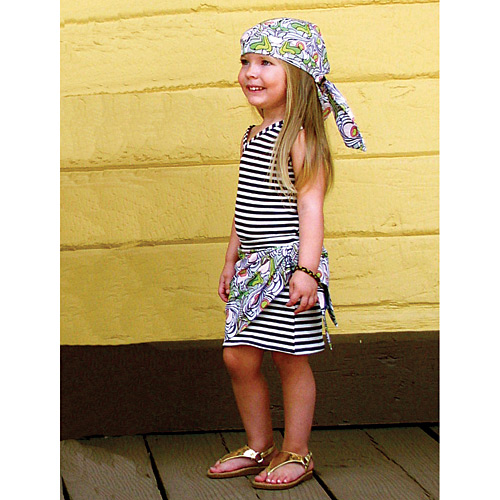 "Tallulah is a name I'd consider if I had a third child," Veronica Scott reflected when asked how she came up with the moniker Tallulah Moon for the children's brand she launched last year. "But it kind of is my third child." With her label, "I wanted to create a wardrobe for the little girl who dances, dreams, giggles or even sulks in her upscale clothes," Scott continued.
As a former stylist for Barney's, Scott has been entrenched in the fashion world for years, and after envisioning a collection that would offer the styles she believed were missing in the market, she set out to make it a reality. Based in Los Angeles, her U.S.-made collection offers fashion-forward looks for girls ages 2 to 12 that Scott believes can work in a variety of stores and for lots of kids. "Children have different personalities, which is why I like to combine lots of separates. There's not one way to wear this clothing. You can girl it up, make it rocker cool, or style it hip and modern." Perhaps this is why her current accounts include the edgy Lisa Kline Kids boutique in L.A. as well as more conservative stores across the South.
Scott describes her Spring '11 line as having a "genie chic" aesthetic. "I wanted to make it fun, summery and beachy with a harem twist," she noted. Some of the pieces she believes will be surefire hits are the Andie jumpsuit, a super-soft cotton knit style with a scoop back featuring three spaghetti-strap ties plus peekaboo cutouts on the sleeves; the Reggie cotton knit romper with a racer back and harem pant–inspired bottoms; and the Harper dress with an attached shrug. Other highlights from the large assortment include bubble shorts with a drop waist and ties at the cuffs; one-shoulder tanks made of fine European Lycra; and yoga pants with a foldover waistband. The apparel comes in cheerful, eclectic prints, and the spring palette spans vibrant pinks, vintage greens, turquoise and chic black. Scott's goal is always to create something "hip, haute and unexpected—something that makes a shopper go, 'Huh, that's different!'" she said.
Scott is thrilled that buyers seem to understand her unique approach to children's fashion. Rather than be one of a slew of vendors following hot trends, she remains faithful to her own fashion instincts: "If I'm designing something special and people are getting it and want more, that to me is the most rewarding part of my job." The main Tallulah Moon collection wholesales for approximately $14 to $60; couture pieces run up to $200. Call (877) 424-2241 or visit www.tallulahmoon.com.
Knit Wit
Shrinking a luxurious cashmere sweater is usually a bad thing, but not this time. In fact, Grace Sun, designer of the eponymous women's wear collection, gets a thumbs up for minimizing her creations for her new offshoot kids' label, O+Kay, which is introducing a slate of high-quality, basic knit pieces with a twist.
The idea sprouted when Sun and her business partner dabbled in making cashmere sweaters for their 2-year-old kids, Odin and Kayla, and decided a children's offering would be a great complement to the women's line. "We wanted to provide parents with cute, basic knits that kids can wear easily," Sun explained. "Cashmere has always been such a luxury, but we wanted to make it a part of their everyday wardrobe." Some of the girls' pieces are shrunken down from the women's styles, but others were specifically designed with the child in mind. "Some of the colorways are brighter for the kids, but the core design concept is the same," Sun added.
The pair is unleashing the 2T to 5T line at retail for Fall '10. Sun believes O+Kay will be an instant hit with parents because the styles are soft, wearable and seasonless, while children will love the mature look. "We are definitely designing for fashionable minis who are looking for classics and comfort," she said. "Every piece is designed to be comfortable and stylish and is the perfect addition to any wardrobe." The solid-color pieces are meant to be mixed and matched, and can be worn for multiple occasions.
The initial collection is made of washable luxury knits, such as cashmere and cashmere blends. Luxe silhouettes—like a pullover with a ruffle-edge hood, a button-up cardigan, short- and long-sleeve crew-neck sweaters, vests and zip-front hoodies—come in colors such as lavender, hot pink, caramel, cream, cotton candy and navy. O+Kay also offers slouchy knit hats and coordinating striped scarves. For Spring '11, Sun is planning to add more colors and silhouettes, aiming to make each piece "the perfect accent to any wardrobe."
O+Kay is set to retail between $40 and $125. For wholesale prices and further information, e-mail the company at info@gracesundesign.com. —Leslie Shiers