As the saying goes, "Necessity is the mother of invention," and Kat West, owner of New York-based children's label Babylady, found just that. Having worked in the fashion world for nearly a decade, West wanted to bring her own flair and creativity to the workroom when she had her first child. Initially, West made matching […]
Bright Eyed
Babylady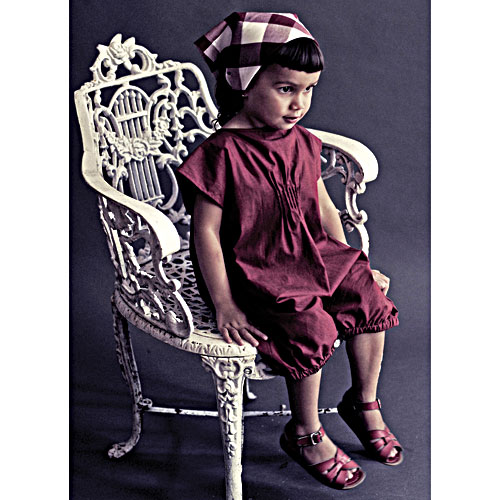 Norse Power
Frosk Wear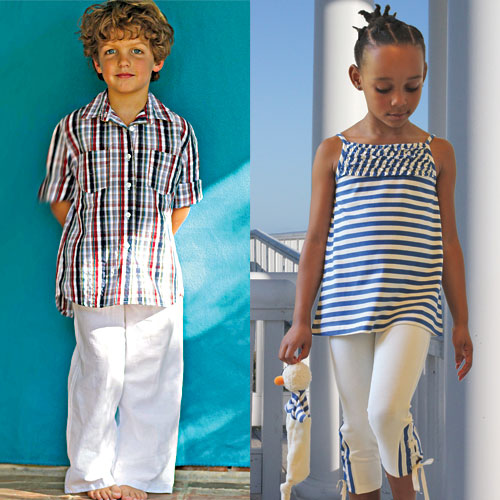 As the saying goes, "Necessity is the mother of invention," and Kat West, owner of New York-based children's label Babylady, found just that. Having worked in the fashion world for nearly a decade, West wanted to bring her own flair and creativity to the workroom when she had her first child.
Initially, West made matching outfits for herself and daughter Vivian, and enjoyed people's reactions when they saw the quirkily clad carbon copies. Her one-off designs got so much attention, she decided to create a small girls' line. The Babylady collection launched in Fall 2010, featuring batwing cuts, African prints and rhinoceros horn sleeves.
"I like provoking people's thoughts," she says.
Simple yet unconventional silhouettes (starfish jumpsuits, harem pants) with black and cherry red gingham prints (think funky fresh picnic style) rule for her Spring '11 girls' collection. "I wanted to use a print that was classic, but at the same time, more sophisticated," West explains. "No frills, no bows. I wanted to infuse the line with maturity and sophistication." The line's grown-up feel even manages to elicit a reaction from moms—who, she says, want the whole line in women's sizes.
The brand also makes limited edition tees and sweatshirts with their signature print of a sweet blushing face. "The image really fits the company's personality," she says. She recently reinterpreted the signature design for boys with a toughened up version—the "monster me"—which comes in burnt orange, black and purple.
Girls' sizes run from 2 to 6 and boys' sizes run from 2 to 12. The two signature designs are also available in adult sizes. Wholesale prices for Spring '11 range from $10 to $47. For more information, visit www.babyladyinc.com.
Norse Power
Bente Nilssen, a native Norwegian turned Texan, delivers Scandinavian simplicity in her children's line, Frosk Wear. Its creation came about when Nilssen gave birth to twins: "It makes you realize how important it is to have a good solution for dressing fast," she says. "Clothes need to be practical, but still look and feel good."
Nilssen achieved her objective by using European materials that are almost entirely natural. The collection is based on soft but durable clothing that won't fade and can be passed down from generation to generation. The look, she explains, reflects the relaxed Scandinavian lifestyle of her youth. "It's a simple look with clean cuts—not frou-frou with tons of layers," she says. "The styles have small details that surprise you—something peeking out unexpectedly, or a different colored lining."
Currently in production, the Spring/Summer line is built around three main themes: beach town (a nautical look dominated by red, white and blue), secret garden (floral prints, linen pants) and rancho gaucho (rich turquoise and purple prints). As for the upcoming Fall/Winter 2011 line, Nilssen draws color inspiration from birds and deep forests, with a richer palette than in seasons past.
Sized from 4 to 14, Frosk Wear's wholesale prices range from $12 to $50. For more information, visit www.froskwear.com. —Meagan Walker