Annie the Brave infuses girls' fashion with science-inspired motifs.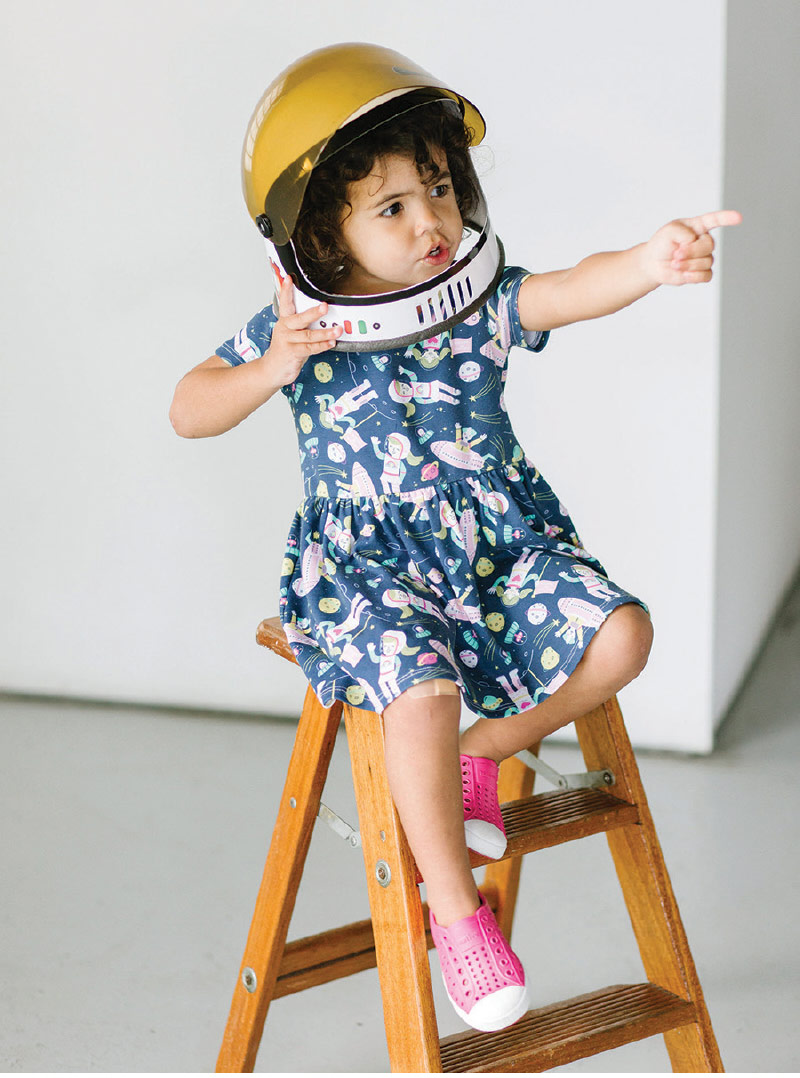 Stirred by the record number of female Nobel laureates in the sciences and medical school graduates in recent years, momtreprenuer Chelsea Coulston wanted to inspire young girls, like her science-loving 9-year-old daughter, to pursue similar career dreams through inspirational fashion. The only snag: finding prints that would convey the message. "There wasn't a single material with a scientist on it," Coulston says. "Girls are conditioned to think science isn't for them by only being exposed to rainbows, flowers and butterflies."
Coulston decided to do something about it with the launch of Annie the Brave, a line of dresses featuring prints of female scientists in their labs, an ocean of sea creatures like sharks and octopuses, and a galaxy landscape covered in female astronauts. "When a young girl is shopping, she should feel inspired," Coulston says. "She should realize that she is brave, strong and smart."
Named for Coulston's daughters, the brand launched with a Kickstarter campaign in April that raised more than $14,000. The 100-percent cotton, STEM-inspired dresses retail for $35. For back-to-school, Annie the Brave has added four more atypical dress prints: dinosaurs, bugs, travel and construction. Coulston says that sticking to dresses at first is a calculated move inspired by her own shopping experience as a mother. Namely, it's hard to even find dresses. "I've purchased plenty of clothing in the boys' section for my girls, but they don't offer dresses," she says. Looking ahead, the founder plans to roll out bicycle shorts for Spring '20, as well as expand sizing from 2T to 12. "Larger sizes reach preteens who are still interested in STEM but hesitant to shop in the boys' section," she says.
Coulston reports the response to Annie the Brave has been strong nationwide. It serves as reassurance for her brand's mission. "Moms and dads are loving the message and garment construction," she says. "Everyone adores the softness of the dresses and the vibrance of the designs." Many customers have shared their excitement in videos on social media of their girls twirling in the dresses or wearing them to kindergarten graduations. "It's so awesome to see our designs on brave girls," Coulston says, adding that she looks forward to expanding into wholesale soon. "The more availability we have to get the brand out there, the better it will be for young girls."