BlueQuail Clothing protects with sun-safe styles.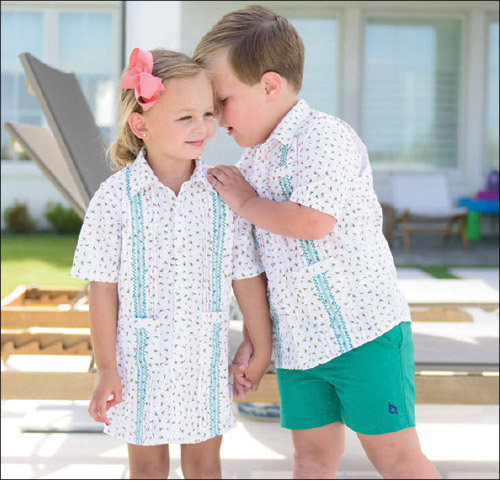 Constantly slathering on messy sunscreen, Texas mom Amanda Lundgren searched the market for better options to keep her twin boys safe from the sun. Unsatisfied by the selection she found, which mostly consisted of a few overseas brands, the momprenuer decided to launch her own collection in 2017. 
"When my dad had his skin cancer removed, I was reminded how important it is to take sun protection seriously from a young age," Lundgren says. "The kids are constantly outside playing at our ranch, which means I needed a solution that keeps them protected for long periods of time."
Made from naturally stain-resistant, lightweight, quick-dry fabric, Lundgren designs every garment to have UPF 50+ protection. What's more, her bold creativity sets her styles apart, offering brightly colored boys' button-downs awash with custom crawfish and fly fishing prints. "I get most of my inspiration from what's popular in the adult male fashion space," she says. "I even draw ideas from my husband's favorite shirts."
Within 24 hours of her look book going live, Lundgren was contacted by a showroom in Dallas that wanted to rep her. "In a week, I met my wholesale minimums and went to market the following August," she says, adding that BlueQuail Clothing is a win-win for everyone. "Not only is it safer, but it beats the fight of reapplying sunscreen to a squirming child," she says.
Subsequent seasons have introduced the Guayabera collection, inspired by the Cuban Wedding shirt, and the Ranching collection sporting a quilted shoulder patch ($44-48 SRP). While most styles are considered unisex, BlueQuail is expanding into girls' dresses ($60 SRP) and colorful performance polos for Spring '20, while adding fun prints of flamingos, tiny canoes, golf carts and hand-painted watercolors, BlueQuail is also.
Looking ahead, the founder aims to expand distribution into more areas where families spend a lot of time outdoors, like coastal towns and mountain resorts and expanding its size range up to 12 years. "We're even planning to add a few men's options," Lundgren says, citing a lot of recent requests for mini me matching. "It comes down to listening closely to our customers," she adds. "That's how we plan to grow most effectively."