The Circle Collective rolls out chic, ethically sourced collection.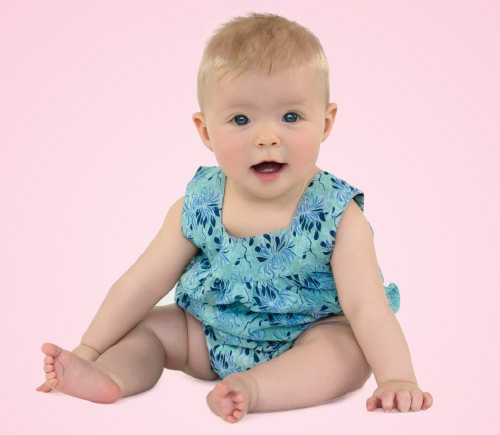 When Lauren Clarke Jensen became a mother to her first child, she and her sister Rachael Potts Clarke had an epiphany about manufacturing in children's apparel. The sisters had long travelled the world—from India to Australia to Singapore—and were firm believers in making sustainable fashion choices. "I was becoming attuned to how damaging the clothing industry was and how disposable our choices can be," says Potts Clarke. "When I wasn't finding stylish, sustainable clothing for my niece, I thought, 'Why don't we just do it?'"
On her next trip to India, where the sisters had long been fascinated by traditional artisan textiles, Potts Clarke met with suppliers. Using Clarke Jenson's fashion experience as former editor-in-chief at Harper's Bazaar Singapore and Potts Clarke's business savvy as a lawyer on Wall Street, they started The Circle Collective in 2018.
The collection of stylish pieces is made in factories Potts Clarke visited personally to ensure their sustainability standards were up to snuff. For example, the layette items are made from 100-percent organic cotton printed with AZO-free dyes by a nonprofit in Mumbai that trains people from disadvantaged communities in tailoring and needlework. Other clothes are made in a fair trade facility in Jaipur, and another factory uses a waste water filtration system to recycle water used in the production process. "It's critically important to us that our suppliers are focused on minimizing waste in the production process," she says. 
For Spring '20, the sisters are putting together a brightly colored collection with a supplier that specializes in vintage block prints—a hallmark trait of the brand. "People love our colors and prints because they're largely missing from the market," Potts Clarke says. Sustainability and fair trade story is a hit with consumers as well. "We don't want to be part of a system where women are paid inadequate wages and working in uncomfortable conditions, and that's resonated across demographics you wouldn't immediately expect."
First launching as a direct-to-consumer brand, the sisters went wholesale with a soft launch at select trunk shows late last year. "It has been an amazingly effective way to meet the customers," Potts Clarke says, noting the feedback has been invaluable.
The Circle Collective first targeted resort towns in New England, and is now working its distribution down the coast. Potts Clarke is harnessing Instagram to get the word out about the brand. "Touting Instagram is so hackneyed at this point, but it's the truth," she says. And the interest so far is strong. "Many store owners who carry adult clothing are very much looking to expand into children's," Potts Clarke says. "We couldn't be more excited for the opportunities to come!" —Aleda Johnson