January Moon offers nontoxic, stylish teething jewelry.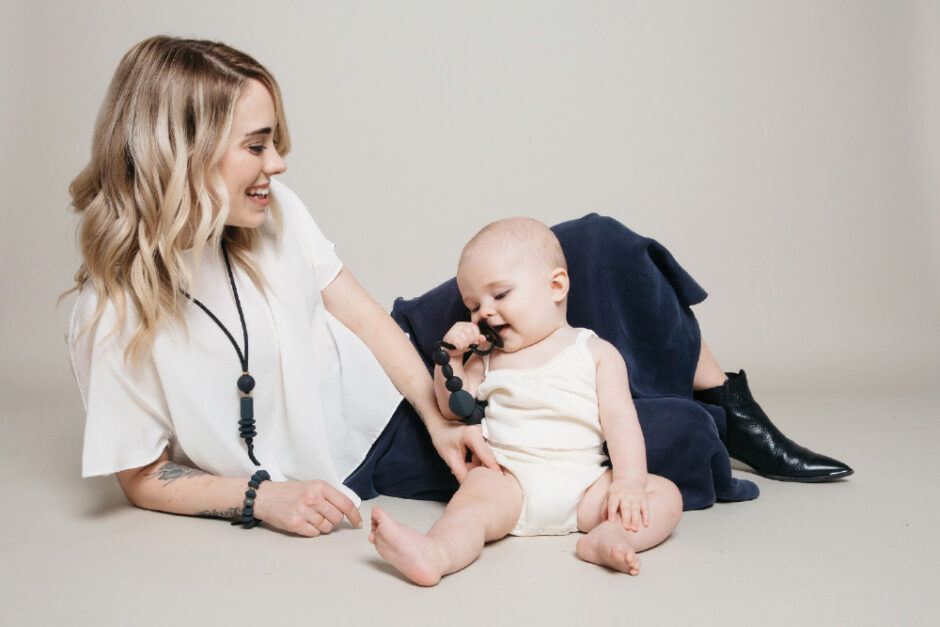 After seven years designing jewelry in Nashville, TN, Jenny Luckett decided to apply her accessories expertise to her life's newest chapter: motherhood. "My son wanted to put everything in his mouth, and I was worried it wasn't good for him," Luckett says of the inspiration behind the brand. Launched in 2016, January Moon offers high-quality teething jewelry built to withstand teething gums and grabby hands. The collection, a blend of chic and durable designs, is made from 100-percent, non-toxic, food-grade silicone, Japanese rope and 24K gold.
"I'm always working to make these products the best I can. I even worked with a mechanical engineer to come up with a special safety breakaway clasp for maximum durability," Luckett says, adding that all silicone beads are tested by a third party and compliant with CPSIA, ASTM F963-II and Prop 65 standards. "Nothing gets put into production until it passes rigorous testing and retesting."
The latest designs are influenced by Luckett's daughter, who was born just before the first collection launched. "All the products I've released are things I've seen her need during her development," she says. Beaded pacifier clips and brightly colored teething bracelets (SRP $24-$44) were useful during breastfeeding, and Luckett launched bamboo and silicone spoons and forks ($16) that attach to pacifier clips when her daughter starting throwing utensils on the ground. For Fall, Luckett is coming out with a line of necklaces for children who need extra sensory stimulation. "My son chews on his clothing now, so it was about finding a way to focus that energy somewhere else," she says.
While teething jewelry covers a niche time in a child's life, Luckett reports buyers at Playtime New York loved how January Moon's designs can be worn as a fashion statement well past when your child stops teething. "People are so happy and relieved to find something they can comfortably and safely wear when they don't want to wear other clunky teething jewelry," she says. January Moon can be found in a range of stores nationwide, including a partnership with Maisonette's Nordstrom pop-up this summer. "We're really coming up on large exposure, and we're excited to work with larger retailers," Luckett says. "We're looking forward to what's on the horizon."