Contemporary Classic
Baby Noomie fuses modern designs with traditional Pima cotton.
Delicate designs in soft shades of pink and blue typically come to mind with Pima cotton layette. However, in 2015, mompreneurs Alissa Wapinski and Andrea Schneider challenged the norm with a modern update to the Peruvian-sourced material many parents adore with the launch of Baby Noomie. Available in sizes newborn to 8 years, the collection of vibrant colors, witty phrases and freehand graphics has added a fresh spin to the super-soft fabric.
"Our goal is to make the classic fabric speak to modern moms," says Wapinski, citing the company's Moon and Back print as what really put Baby Noomie on the map in 2016. "All of our prints are hand-drawn and digitized, which makes each season's contemporary concepts especially unique to the market."   
Unicorns, pandas, llamas and bulldogs are just a few of the quirky characters on Baby Noomie apparel and coordinating accessories sold by retailers worldwide. For Fall '19, sweet treats take the spotlight including donuts, cookies and lollipops. "Andrea, our designer, must have been hungry when creating this one," Wapinski laughs. "And looking at buyers' response, I think she concocted just the right recipe!"
Wapinski says the Aventura, FL-based brand owes much of its success to fostering trusted relationships with its partners. "You can't just sit and wait for people to call you," she says. "It's up to you as a brand to take the initiative to phone, email, exhibit, advertise—whatever it takes!" Wapinski also cites mommy influencers like Arielle Charnas, Tori Spelling, Hilaria Baldwin and Stephanie Gottlieb, as significant to building brand awareness. "Moms recommending other moms our product is incredibly powerful," she says.
Responding to feedback, Baby Noomie plans to roll out more gift bundle options this year. "Anything we can do to support their sales, we'll make it happen," Wapinski says, noting that retailers receive new products at least a month and a half before anything is sold on its direct-to-consumer channel. "In today's world, hard work can take you places," Wapinski says. "I want my kids to see how we've built a brand from scratch and give them hope in following their own dreams." —Emily Beckman     
Little Kid, Big Message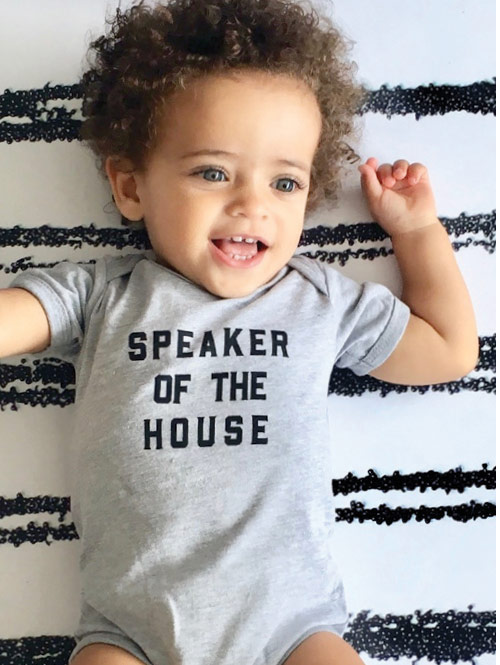 Love Bubby empowers children with outspoken designs.
Jaime Windau knows what it takes to connect with customers. After spending the first half of her career in retail merchandising for Express and Banana Republic, Windau founded Love Bubby from the belief that "you're never too young to make a statement."
What started in 2016 as a direct-to-consumer brand of monochromatic graphic tees with catchy political and pop culture references has made its way into retailers nationwide. Last year, Love Bubby even secured a spot on Oprah's Favorite Things list. "People want their beliefs heard," Windau says, particularly on social media. "A child wearing a witty T-shirt today has more power to spread positivity or make change than ever before."
Made in the U.S. from 100-percent Airlume combed and ring-spun cotton, Love Bubby's simplistic collection of baby one-pieces (SRP: $26) and graphic tees (SRP: $28) have business booming with bestsellers like Little Feminist, Speaker of the House and Always Fierce.
"When the Speaker of the House design launched at NY Now, we had to put in more orders after selling out in two days," Windau says. "Thankfully, our simple design strategy gives us great speed to market, plus our items will never have to be put on the sale rack."
Despite numerous inquiries about adding colors to the collection, Windau is hesitant. "Black, white and gray are what we're known for," she says. "Easy to remember—and wear!"
This year, Windau is focusing on growing Love Bubby's image. "We're working on brand awareness with retailers and consumers," she says, noting that she often uses hashtags like #TeachThemYoung for getting the word out on social media. Windau also sets an example with her  marketing campaigns, always casting a diverse range of models.
"My son is six and doesn't fully understand politics, but we are having more conversations about empathy and equal rights," Windau says, believing this type of messaging has staying power in childrenswear. "We can hope it'll bring a more united world in 15 to 20 years for our kids—the next generation." —Aleda Johnson