Three Moms share what, when and how they shop for their kids.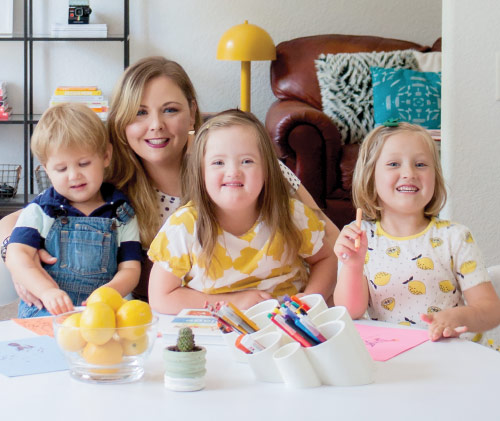 Rachel Fox, marketing manager and entrepreneur, Bentonville, AR. Daughters: Elsie, age 5, Eva, age 7; Son: Ethan, age 2.
How often do you shop for your kids? Only if there is a need, otherwise I shop for birthdays, holidays and other special occasions.
How important are sales? Very! I like to shop with some major retailers and local boutiques. I usually hit up the sales to make larger purchases of shoes, play clothes, jeans and socks. Places like Old Navy get me through a new season. We wait for sales at our local boutiques, but I do appreciate the slower fashion for its ethical, handmade quality. It's great for passing items down.
How much are you willing to pay? Anything under $17 for basics, $10 to $27 for shoes and up to $15 for accessories for store brands. For labels, ethical and slow brands, we spend $17 to $38. We typically invest more in dress shoes, formal wear and coats.
What are your kids' favorite brands? We love Lili Collection Shoes and Munchkin et Moi shoes. We also love Ittikid, Go Gently Nation, Alice + Ames, Shop ARQ, Pleiades Designs, Misha and Puff, Velveteen Clothing, Mabo, Wren and James, Tiny Cottons, Citizen Small Clothing, The Bee & The Fox and Tiny Remix.
What trends attract your attention? I love the vintage-inspired rompers and dresses, but I also love pops of color and minimalist apparel. Artsy and fun patterns are another go-to of mine.
Any looks you don't like? I'm not a fan of neon colors or cartoon-y characters.
What is the biggest change in how you shop for your kids? Consignment shopping and Facebook Marketplace has become very popular. Our family loves it—especially for babies. Highchairs, cribs, all those big baby items we purchase secondhand. We also get a lot of baby clothing from consignment shops because it's going to get spit-up all over it anyway. Last year, we bought brand new bunk beds for the girls from Facebook Marketplace!
---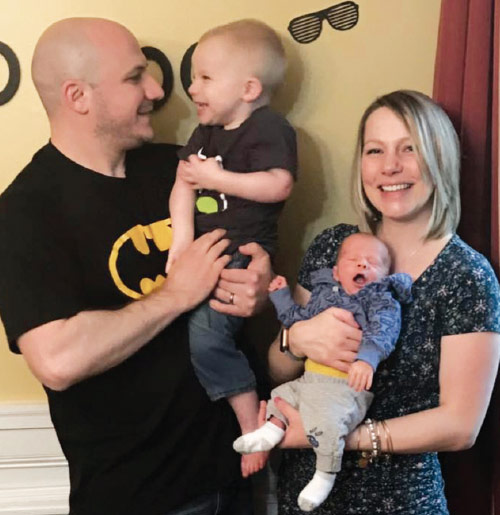 Vicki Salge, stay-at-home mom, Midland Park, NJ. Sons: Cooper, two months old, and Wyatt, age 3.
How often do you shop for your sons? For Wyatt, I only shop when there are good sales. However, I've been going out about twice a week to pick up last-minute items I forgot to get for Cooper before he was born. 
How important are sales? Very important! Even if we don't need anything, I'm much more likely to at least take a look when there's a sale.
How much are you willing to spend? I don't want to spend more than $30 on outerwear, basics or accessories. They grow too quickly! I will spend a bit more on shoes because getting the right shoe is important for foot development. I've spent around $55 for Wyatt's shoes.
Do you prefer shopping in stores or online? I prefer to shop online. It's much easier than dragging two kids to the store, especially when they're so young.
What are your favorite retailers? Carter's/OshKosh have great sales and cute everyday items. I also love Target because they have everything at a great price. We're big fans of Cat & Jack, Target's private label for kids. I'd have to say I'm sad that Gymboree went out of business—I used to find the cutest tops there for Wyatt.
What's your biggest shopping pet peeve? When the aisles are too narrow. It's hard to maneuver around a ton of merchandise and end caps with a stroller and kids.
Do you like assistance when you shop? Yes. Some days I just have trouble deciding and want another opinion. For instance, I love when employees help by grabbing multiple shirts that go with one specific pair of plaid shorts I picked out.
Any favorite trends of late? I love bandana bibs and sleep sacks for babies. Aden + Anais's muslin blankets are another favorite of mine. For toddlers, I go for anything with dinosaurs!
---
Melissa Aquije, sales account manager and blogger, Downey, CA; Son: Enzo, age 5.
How often do you shop for your son? Often. If I see something he needs or might need, I'll purchase it right away.
What's your ideal price range? I purchase shoes for $20 to $60, basics for $15 to $20 and accessories under $20. For outerwear, I'll spend a bit more, depending on the material and style.
Do you shop in stores or online? Both. I particularly love supporting small businesses, and that includes small online boutiques. I enjoy shopping in stores because I need my son to try on the clothes. Kids sizes change so frequently, and each brand has different measurements. I only shop online if I know the brand very well.
What brands do you love? I love shopping online for Kickee Pants and Hatley at BelliestoBabiesBoutique.com. As for stores, I usually go to the mall where I can find Cotton On Kids and other basic brands.
What trend is on your radar? Prints! Enzo loves wearing sharks, animals and any cool yet unique styles.