With sales on the rise for recent blockbusters and beloved classics alike, experts reveal how to take advantage of the boom in licensed merchandise.
To understand Frozen mania, it helps to be a kid. But it also helps to understand the essence of licensing in the childrenswear industry. As Marty Brochstein, SVP of industry relations and information at the International Licensing Industry Merchandisers' Association (LIMA), explains, "A license has no value to a licensee unless it evokes some sort of emotion. It might be trust in a brand, sense of humor, design sense, nostalgia or loyalty to a team. That will forever be a factor in branding and licensing—what does it make the purchaser feel?" So, it's not all about the catchy chorus of "Let It Go."
While particular franchises may go in and out of style, "kids have always been a mainstay of the licensing business," Brochstein states. After all, little ones can't help but reach for products bearing their favorite characters when they spot them on shelves, says Poonam Goyal, senior research analyst at Bloomberg Intelligence. It's especially true today: Sales of licensed goods overall have been on the rise for several years. In fact, licensed products raked in $99.9 billion in retail sales in the U.S. and Canada in 2014, according to The Licensing Letter's Annual Licensing Business Survey.
A Look Ahead in Licensing
Keep an eye on these trending properties.
Frozen 2: So much for letting it go—this Disney blockbuster lives on with a much-anticipated sequel in the pipeline. A new line of kids' rain gear from licensee Western Chief is on the way for holiday 2015.
Star Wars: The Force Awakens: Episode VII of the perenially popular franchise hits the big screen in December. No need to travel to a galaxy far, far away for products featuring its classic characters. Use the force of this license with cool R2-D2 knapsacks from MadPax.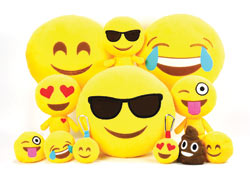 Internet characters: Licensed products help prolong the shelf life of uber-viral web memes and mobile games. Emojis, Grumpy Cat, Plants v. Zombies, Doodle Jump and Candy Crush all seem to be clicking.
Avengers: Age of Ultron: Iron Man, Thor, The Incredible Hulk and Black Widow are back in theaters. Look for themed Lego sets and Hasbro action figures.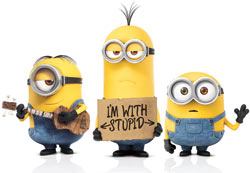 Minions: They stole the show in Despicable Me, and in summer '15, they're getting their own movie. Barry of Toys "R" Us expects they'll be among the big film and TV licenses that "continue to dominate the playroom." Keep your eyes peeled for Minions footwear from SG Companies this summer.
Retailers can cash in on that familiarity—as well as the purchase-driving emotional response that comes with it—not only by adding licensed products to their merchandise mix, but also by engaging with consumers on social media, creating eye-caching displays and staying up on the latest trends. As Richard Barry, EVP and chief merchandising officer at Toys "R" Us, puts it, the success of licensed merchandise "depends on the right balance of meaningful storytelling and compelling and inventive products."
Want to ensure your store is striking the right balance? Read on for top tips from the licensing industry's biggest experts.
Think Evergreen
Major entertainment licenses are an obvious choice when it comes to selecting licensed goods. Just look at Disney's grasp on the market—the company owns three of the top five toy licenses according to NPD Group's Retail Tracking Service (Frozen, Star Wars and Disney Princess). Sure enough, Barry notes ,"Disney licensed products are perennial favorites among customers across various categories" at Toys "R" Us. But Debra Joester, president and CEO of brand licensing agency The Joester Loria Group, advises retailers to strike a balance between "hot" and evergreen properties to provide their customers with more options. "The big entertainment properties have dominated the children's business, commanding a growing market share," she says. "But moms are looking for options, especially for their younger children." Accordingly, more and more retailers are rounding out their selection with evergreen icons, she adds, citing The World of Eric Carle (a literary property with timeless appeal), classic labels like Laura Ashley and the art-driven Keith Haring and Basquiat designs recently sold at the GAP, as examples. "We're seeing an appetite for classic properties that are not as susceptible to going from hot to cold, to round out a retailer's assortment," she explains.
Jaxxwear, for example, hit upon success with the Eric Carle brand in infant apparel. "This season alone we saw something like 40 percent growth over last season without expanding the size of the line," says Heather Jones, the company's president and creative director. "There is an aspect of nostalgia, but it's also just iconic artwork that people recognize." She adds that Eric Carle books have been beloved baby gifts for years, and apparel offerings have been able to build on that strong reputation. Brochstein agrees with the appeal of publishing properties like The Very Hungry Caterpillar, as well as classics like Madeline, Babar, Paddington and Clifford the Big Red Dog, noting that "books endure as a medium of children's characters." Marlene Obsgarten, VP of product development at Kids Preferred, adds that the company's evergreen licenses based on beloved children's books like Goodnight Moon and Pat the Bunny are a go-to for infant toys.
Remember Mom
The children's market has a uniquely dual nature, and that's especially true in the world of licensed goods. "For children's products, you're dealing with two audiences: the parent and the child," Brochstein explains, noting that purchases must be "mom-approved." (She is, after all, the one ultimately handing over the credit card.) For that reason, retro appeal works—particularly in infant wear, according to Jones. "Children at that age are too young to recognize or ask for anything themselves, so the consumer is essentially a parent, grandparent, relative or gift-giver who's going out and buying something [they] identify with," she says, adding that redesigns of popular '80s characters like Care Bears, Strawberry Shortcake and My Little Pony are poised for popularity, since they have both modern and throwback appeal.
Not to mention, millennial moms are more likely to dress their little ones in the same silhouettes and styles they sport themselves. That's why when it comes to licensed denim, if it's selling with adults, it's likely to be a hit with kids, says Albert Pardo, president of Five Star Apparel (which holds the licenses for major denim brands Hudson Kids and True Religion Kids). The company often takes design cues from what's going on in the contemporary and adult markets. "I really think that 30 to 40 percent of a kids' line should be somewhat of a takedown of the adult collection," he states. While he admits not all adult trends translate to kids, many do with the right fabric and tweaked fit. So which adult trends will make their way into kids' denim? Wider leg silhouettes, higher rises, flares, cuffed crops and slim boyfriend cuts will be big throughout fall '15, Pardo assures.
The growing "athleisure" trend in adult fashion is another that makes sense for kids. In fact, Pardo notes that kids have been hip to the versatility and comfort of activewear for a while. "Kids don't really like wearing jeans, if you think about it. You get them to wear [jeans] by giving them something that feels and looks great. If you do that, sales are amazing." For example, he adds, Five Star uses indigo yarns to create comfortable, denim-like joggers and sweats—perfect for romping on the playground.
Keep it Together
Go big and gain sales—that's the main rule for merchandising licensed products. In other words, make sure all of your Star Wars goodies are grouped together. Joester notes this helps retailers make the most of brand recognition. Most importantly, she adds, "If you make it easy for [consumers] to find more, they're likely to buy more."
Goyal points to shops-in-shops, like the Disney ones at JCPenney and Macy's, as a great way to leverage a popular license. "Let's say you're selling Disney's Frozen girls' apparel. You could also be selling the Olaf plush, a sippy cup, a backpack and a board game." She says smaller retailers can replicate this effect by concentrating licensed products in one area of the store in a dedicated display. "When you have a popular license agreement, don't scatter stuff everywhere," she advises. "When you put everything together it just has a more pronounced effect, whether it's in a big store or a small store."
Jones says Jaxxwear's Eric Carle garments sell "exceptionally well" when paired with corresponding mini board books and developmental stroller games. To facilitate this at specialty retailers, the company bundles a small collection of books and toys with their clothing. (One added benefit is that stores don't have to meet publishers' or distributors' minimums.) "We have seen much stronger sell-throughs overall when a specialty retailer creates an Eric Carle display that's not just clothing," she says. Similarly, Obsgarten says Kids Preferred contributes plush and beanbag toys to Eric Carle book displays at Barnes & Noble.
Gina Rothwell, owner of Sol Baby in Hermosa Beach, CA, also creates themed displays in her boutique. "The Bob Dylan raglan tee looks great next to his Forever Young book as well as the One Love book alongside my Bob Marley onesies," she describes, adding that she does the same with Star Wars toys and books, which she pairs with Junk Food tees bearing Chewbacca and R2-D2.
Consistent cross-channel merchandising extends to the web as well. Barry says Toys "R" Us emphasizes key licenses through "online hubs" that showcase products and content relevant to a particular license, "providing customers with immersive, digital destinations where they can shop and explore their favorite properties all in one place."
Be Social
It's no secret that social media is a marketing must, but it's especially true when it comes to licensed products. After all, what better place to find potential customers than the immensely popular Facebook page or Instagram account of a beloved property? (Star Wars, for example, has 1 million Instagram followers and 13 million fans on Facebook.) Take advantage of the "tribe identity" felt by the fans of a particular property, Jones advises, noting that The World of Eric Carle has a fiercely loyal and actively engaged social media following, and that whenever Jaxxwear apparel is mentioned on one of the brand's channels, there's an uptick in purchases. To get in on the action, tag brand names, use relevant hashtags in Instagram, Twitter and Facebook posts and ask questions that encourage engagement.
Even better, certain licenses come with tailor-made social media opportunities. Rothwell says she often promotes her popular Rowdy Sprout products through social media posts that correspond with an artist's birthday or historic moment. (A Facebook post from February marks Bob Marley's birthday with a photo of Sol Baby's reggae-themed tees and one-pieces.)
Get Ahead
Savvy retailers know that identifying the next hot property is key to maximizing licensed sales, but as Brochstein points out, the Frozen hysteria "illustrated the fact that even the biggest, most sophisticated companies can be surprised." After all, many major retailers—and even Disney execs—didn't anticipate Frozen's runaway success. "It's an object lesson in that every time you think that you know licensing and can predict who the winners and losers are going to be, you don't," he adds.
That being said, there are still a few trends worth exploring. First, look for the traditional boundaries between "boys" and "girls" to continue to be blurred. Case in point: DC Entertainment recently teamed up with Warner Brothers and Mattel for a reimagined superhero universe especially for girls featuring toys, apparel, books and media. Brochstein sees a "lack of firm gender lines in toys and themes" as an emerging trend in licensed products. He cites The Hunger Games franchise as spurring a "girl empowerment" theme that seems to be gaining traction. Even Amazon is following suit by doing away with categorizing children's toys by "boys" and "girls."
Second, look for sales of licensed goods to expand beyond the conventional big-box shop, as more and more of today's consumers seek quality over quantity. Joester says there is "definitely room for quality-designed product with a brand attached to it," and Jones agrees. "Historically, a lot of licensed products have been geared toward moderate and mid-priced retailers," she notes. But as parents increasingly gravitate toward less generic baby clothing, "there's a huge opportunity to combine licensed characters with fashion and cater to a whole niche in the market that identifies with a brand and prefers to buy a better quality garment or a fashion outfit—not a silkscreened onesie, but something unique."
No trend forecast in the 21st century would be complete without a mention of tech. When it comes to kids' toys, there is, indeed, 'an app for that.' Obsgarten says apps are, in a way, "a new form of toy," adding that they contribute to the world of licensing by "enforcing an existing character in a new way or creating new characters." BirthdayLand, a newly launched Kids Preferred license, combines tactile toys and digital entertainment. When consumers purchase BirthdayLand plushes, they get a code that unlocks games and other features in the corresponding app. (The line is currently exclusive to Toys "R" Us, but will expand to other retail channels in the fall.) Obsgarten expects to see more and more consumer products inspired by characters from apps, mobile games and social media in the near future.
And it's not just toys that are getting a tech-inspired makeover, with everything from the popular gaming app Angry Birds to Internet celeb-u-pet Grumpy Cat popping up on kids' apparel. Plus, a growing number of clothing lines are now designed by teen YouTube stars like Bethany Mota (for Aéropostale). So how does a busy retailer keep up with quickly shifting digital trends? Thankfully, licensing leaders are plugged into the need to educate the industry about the emerging category—this year's Licensing Expo featured a new Digital Media Licensing Summit to "introduce licensees, retailers and manufacturers to a new world of licensing partnerships with globally–recognized digital brands and stars," says Jessica Blue, VP of the expo. As she puts it, "Part of our role as the world's largest licensing trade show is to support the industry in staying current with popular youth culture and media technology trends."