United Legwear & Apparel Co.'s Got Game It's been a busy year for United Legwear & Apparel Co. The "feel-good" lifestyle brand Fun Company, maker of Fun Socks, was launched by Isaac E. Ash, president & CEO of United Legwear & Apparel Co., last year and is now expanding with a line of brightly colored […]
United Legwear & Apparel Co.'s Got Game
It's been a busy year for United Legwear & Apparel Co. The "feel-good" lifestyle brand Fun Company, maker of Fun Socks, was launched by Isaac E. Ash, president & CEO of United Legwear & Apparel Co., last year and is now expanding with a line of brightly colored kids' crew socks. "Even though ULAC has grown into a company that makes bodywear, loungewear, accessories and kids' apparel, socks is still a very significant category, so we introduced Fun Socks as the first product launch of Fun Company," Ash says.
Debuting this fall, many of the kids' sock offerings are exact takedowns from the adult lines, creating fun "mini me" moments for parents who love posting family photos on social media. The kids' socks are sold as three-pair variety packs ($10 SRP) in fun patterns, including French Bulldogs, stripes and skulls for girls and pizza, footballs and astronauts for boys. "Socks are a great way to freshen up an outfit, and like all accessories, they're an inexpensive way to get the most out of what's already in a child's closet," Ash says.
Fun Socks advises retailers to consider stocking adult socks alongside the kids' assortment for best results. "Mom or Dad might pick them up to match their kids, and the shopper's order value increases," Ash says, adding that Fun Socks are best merchandised near outfits that they'd complement or next to the cash wrap as an impulse buy.
As a result of its initial success, Fun Socks will expand in January with gift sets perfect for baby showers or welcome home gifts. Offerings include six-pair infant gift boxes for $20 and two-pair "Mommy & Me" and "Senior + Junior" packs for $16 that feature an adult pair of socks and the matching baby design.   
In addition, ULAC announced a new partnership with Epic Games to create a range of merchandise for the wildly popular Fortnite franchise. The video-game themed collection will feature bags, backpacks, duffle bags, carry sacks, waist bags, lunch kits, belts, wallets and card cases. "Fornite's extraordinary success has made it more than a game—it's a global cultural phenomenon," Ash says. "We'll be making bags and accessories that capture very specific, authentic aspects of the game's aesthetic and integral details, so Fortnite fans will feel they have a piece of the game in real life." The collection will make its retail debut this May.
Little Goodall Stays Hungry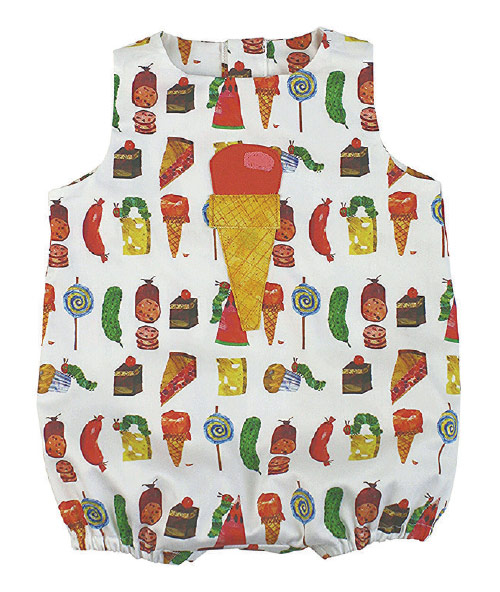 Little Goodall and The World of Eric Carle have partnered to create a line of clothing inspired by the author's colorful illustrations. The collaboration will include multiple collections with the first based on Carle's cherished storybook The Very Hungry Caterpillar in honor of its 50th anniversary. Since its release in 1969, the book has been translated into 60 languages and has sold over 45 million copies.
"I grew up loving Eric Carle's books and artwork as a child, and more recently shared his books with my son," says Molly Goodall, founder and creative director of Little Goodall, adding the timing was perfect with nostalgic kids' birthday parties trending on social media.
For the Spring '19 collection, Goodall was tasked with translating Carle's best-selling picture book into playful, sustainable clothing. Ethically made in the U.S., the cheerful woven prints are all based on the food the caterpillar eats through on his way to becoming a butterfly. More so, kids will enjoy searching for all the caterpillars that wind their way through strawberry, lemon and tropical fruit patterns.
"The shapes are classic but the details are new, like a high-low dress with an unexpected pop of color at the hem or collars made of layered leaf shapes," Goodall says, adding that the response has been positive. "Buyers have come to us saying that The Very Hungry Caterpillar is their favorite children's book to read with their child, so it holds a special place in their heart," she says.
Available in sizes 9 months to 7 years, the line retails for $36 to $120 and will be sold in boutiques across the U.S. and online.