For 50 years, The Pied Piper has enticed multiple generations of parents to stop by the Baltimore boutique, thanks to its contemporary spin on Charm City's classic style.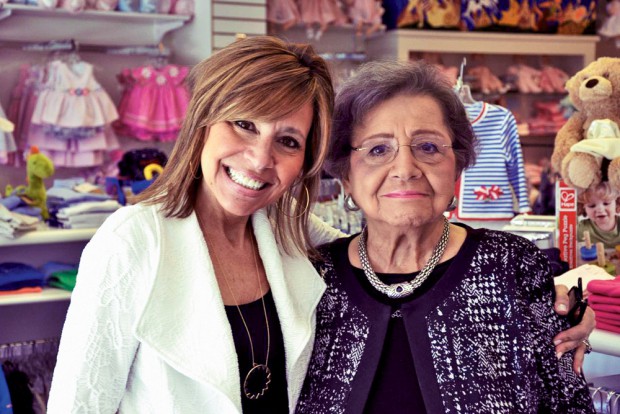 In an ever-changing retail environment, what's the secret to longevity? For mother-daughter duo Kathryn DeVincentis and Rosemary Schneider of Baltimore institution The Pied Piper, the answer lies in balancing consistency and evolution. The beloved boutique has remained dedicated to offering excellent customer service and classic childrenswear for 50 years, but keeping up with contemporary style has also been indisputably important to the store's continued success.
Another secret to The Pied Piper's longevity is DeVincentis herself, affectionately known as Mrs. D to her customers. DeVincentis opened the shop in 1965, and at 86 years old, she and the shop are still going strong. "Everyone loves Mrs. D for her honesty, sincerity and her genuine love for and interest in her customers," Schneider says of her mother. That affection for Mrs. D doesn't just lead to a sale—it leads to lifelong relationships. With a clientele made up of multiple generations of loyal customers, DeVincentis now helps outfit the great-grandchildren of the store's first shoppers. And it's not just grandparents who keep coming back time and again: "Brides often come in to outfit their flower girls and ring bearers, and then we see them a few years later for their first baby," Schneider reveals.
Like the city's hidden charms (thus its nickname, Charm City), The Pied Piper adds a bit of whimsy to its timeless décor. Furnished with bright white fixtures and built-in armoires, as well as a separate room for boys' items fitted in rich mahogany, the traditional layout makes navigating the sales floor a cinch for customers. The store's indoor playhouse, filled with toys and games, adds a playful touch—and keeps kids occupied while parents shop, Schneider adds. And with an impressive 4,000-square-foot sales floor stocking between 60 and 80 brands at any given time, it all adds up to a go-to destination for Baltimore families.
But the biggest reason those families return year after year is the store's spot-on selection, befitting Baltimore's preppy-meets-modern aesthetic. As Schneider describes it, "We lean towards the traditional and classic, but our customers are definitely also open to more contemporary lines, as long as they're clean and the fashion is rooted in the refined." Think classic sailor suits and floral print dresses fit for a boat ride on Chesapeake Bay, or traditional blazers paired with quirky-print ties for a blue crab feast.
Bestsellers include Florence Eiseman, Biscotti and Ella Moss for girls and Ralph Lauren, E-Land Kids and Appaman for boys. As for European brands, French label Lili Gaufrette is a favorite in both boys and girls. While special occasion clothing and gifts are popular items, customers can also find everything from underwear, swimwear and sportswear to coats, hosiery and accessories. "Basically, a customer can outfit their kid for the whole season here—we are a one-stop shop," reports Schneider. That convenience factor, she adds, is a major draw for today's busy moms.
THE LAUNCH OF A LEGACY
DeVincentis always had a passion for retail. After attending the Rochester Institute of Technology and the Fashion Institute of Technology in New York City, in 1951, she began her career by managing the 5th Avenue location of Peck & Peck, a high-end specialty retailer selling private label women's wear. A newly opened location brought her to Baltimore in 1953, where she met and married Dr. Michael DeVincentis. They soon started a family and she dedicated herself to raising her children and conducting charity work at the hospital where her husband worked as a surgeon.
Once her youngest, Rosemary, was in school, however, DeVincentis felt a calling to return to retail. A survey of the Baltimore retail landscape revealed a gap in the market for a better children's store, so she opened The Pied Piper, whose name she chose after the popular children's tale because it reflected the double P's of Peck & Peck. There, she scooped up brands like Magil and Simonetta, introducing the area to high-end European children's fashion.
It wasn't long before Schneider followed in her footsteps, taking an interest in the business from an early age. "I used to sneak out of school to go with her on buying trips to New York," she laughs. It was also where DeVincentis began to pass down her retail
expertise, helping her daughter develop a keen eye for buying. Schneider worked summers through high school and college in the shop, returning full-time after finishing school and starting a family of her own. She still approaches the business with a sense of fun nearly 30 years later and looks forward to passing the torch to her own daughters someday. "With our strong following, if we just stay the course and keep doing what we're doing, I don't see us going away," she says. "It'll be here for them if they want it."
Staying the course means maintaining the right balance between classic and trendy. The key to the curation is stocking traditional styles from brands like Marco & Lizzy, Anavini and Susanne Lively Designs alongside more modern pieces from Ella Moss, Splendid and Mayoral, Schneider explains. "One lesson my mom taught me early on about this industry is that you can't stay still. We want to offer our customers the merchandise they have come to depend on us for, but we also want to introduce them to new, cutting-edge trends, so they can stay current," she says. But fashion-forward pieces must also be refined to make the cut. For girls, classic A-line silhouettes in updated, modern prints from Lili Gaufrette are a good bet, while graphic tees from Quicksilver and Monster Republic are a big hit with boys. For the tricky tween demographic, adult takedowns from the likes of Kitty Kat and Blush are bestsellers. "We try to appeal to as broad a spectrum of customers as possible so there's something for everybody when they come in," Schneider adds.
Formerly dominated by European labels, over the years she's seen the high-end children's market shift to include more American companies. "Many of the super high-end lines have gone away," she notes. Part of it she attributes to today's economic environment, where consumers have become more price-conscious. In response, Schneider says she's developed a sharper, keener buying strategy that incorporates more mid-range price points, and has expanded the store's offering to include more separates. "Over the years parents have become more willing to dress their kids more like adults, especially little boys, and people buy more separates these days, for infants on up," she comments. The selection criteria at The Pied Piper, however, remain the same: Merchandise must be well made, comfortable, visually appealing and a good value—and most importantly, fun.
THE SECRET TO STEADFAST SHOPPERS
Providing every customer who enters the boutique with top-notch service is another of the store's core values. With a gift registry, free wrapping in the shop's signature pink or blue-checked paper and gift basket and corporate gift services, the store's status as the Baltimore area's go-to gift destination is solidly established. But The Pied Piper's reach extends beyond the local region. Baltimore transplants living in New York remain loyal to the institution, taking advantage of its services because they seek the wide selection and trust its staff to pull together top-quality gifts. "People call in, let us know the sex of the baby and give us a budget—we do the rest," Schneider describes. "Sometimes they have an idea of what they want, other times they leave it completely up to us. We select a variety of items, from specialty pieces to everything a new mom needs to get started, and ship to the mom-to-be or to the company giving the baby shower."
For Schneider, the store's most unexpected fan base is located in the United Arab Emirates. Followers there discovered The Pied Piper by word of mouth from customers who visited the area to be treated at the Johns Hopkins Hospital. While in the waiting room, one mom read a profile on the shop—and the rest is history. "We've always carried finer, high quality pieces—it's part of what sets us apart from other stores in the area—and they just love the beautiful smocked dresses, the traditional silk suits for little boys and our wide selection of accessories," she reveals. "Some of the lines our UAE customers love are Chantal Designs dresses, David Charles, Mademoiselle Charlotte, Little Threads and Lili Gaufrette."
Because the store's website doesn't offer online shopping, sales associates at The Pied Piper offer out-of-town customers something akin to a personal shopping experience. Customers call in to make requests, associates photograph and send them options via phone or email, they make selections, then the staff processes the transaction via phone and ships the purchases. Schneider notes that customers particularly love the service because it allows The Pied Piper to zero in on what they're looking for and tailor the offering to them.
While she admits that the Internet is the biggest challenge facing the business today, Schneider believes that as long as brick-and-mortar retailers are aggressive in serving their customer base and attracting new fans, they'll survive. "People enjoy shopping. It's always going to be a source of entertainment to the public," she professes.
And entertainment is a big part of keeping the store's customers satisfied. Regular in-store events include visits from a silhouette artist, who sketches portraits of the shop's littlest customers, a yearly fall fashion show to highlight new collections and an annual lollipop birthday party, where little shoppers are treated to lollipops while their parents are invited to take advantage of sale prices. This year looks to be the store's biggest lollipop bash yet, when The Pied Piper celebrates its golden anniversary in November with ongoing raffles, drawings and prizes. "We told all of our manufacturers that we're turning 50 and love presents, and the response was wonderful! They were all very generous and we'll have so many great things to give away," Schneider enthuses.
After all, she adds, it's the continued support of customers and vendors alike that is at the heart of the store's long-running success. "People come in here and they're just so happy. They appreciate us, our honesty, integrity and what we do," she confides. "And with so many small shops closing all the time, people are really happy that we're still here!"
What's Selling at The Pied Piper
What are your bestselling items for girls?
For little girls we do great with Florence Eisman and Biscotti. For tween girls it's Ella Moss, Kiddo, Derhy Kids and Splendid.
For boys?
Ralph Lauren Childrenswear, E-Land Kids, Vineyard Vines for ties and Under Armour for playwear.
For babies?
Mayoral across the board. Also Kissy Kissy, Magnolia Baby, Anavini, Little Threads and Marco & Lizzy.
Gifts?
Gita Accessories makes these amazing matching hat and sweater combos in cotton or chenille that are so popular. We also do a lot of Baby CZ and Aden + Anais for showers.
Toys?
Melissa & Doug toys are a great value for their price point. We also sell Madame Alexander dolls. Gund, Hape, Juratoys and Yottoy are all great, too.