The event will stream online with celebrities, families and educators.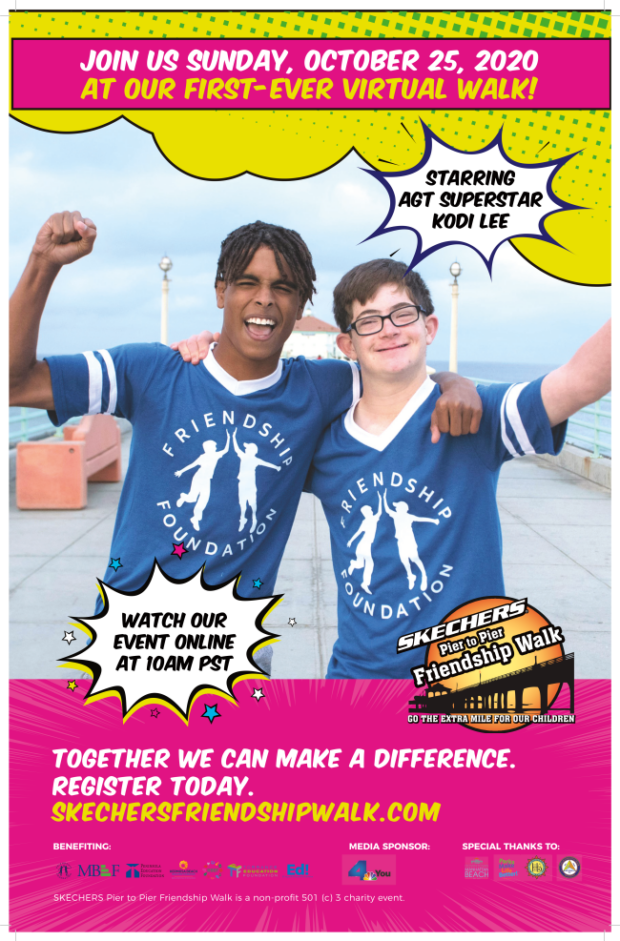 Skechers' 12th annual Pier to Pier Friendship Walk, 10:00 a.m. Oct. 25, 2020, will stream online with celebrities, families and educators. The event raises funds to assist children with special needs and their families through one-on-one peer mentoring and social recreational activities, such as summer camps, outings, sporting events and a variety of classes that include music, yoga, cooking, art and drama.
To date, more than $13 million has been raised. Through donations, public education foundations also retain vital academic programs, maintain smaller classrooms, improve libraries and upgrade school technology. In addition, the walk funds the Skechers Foundation's annual scholarship program, which will donate $100,000 to deserving students across the country in 2020.
"We're very excited to share that America's Got Talent winner Kodi Lee will be performing several songs. Our celebrity ambassadors Sugar Ray Leonard, Brooke Burke, Tommy Lasorda, Denise Austin, Clayton Kershaw and numerous others will take part in our walk program," says Michael Greenberg, president of Skechers. "This will be a celebration like no other—a special walk we'll never forget."
Greenberg adds that the company is more committed than ever to its fundraising responsibilities and asks all to please help make a meaningful difference. "The need for public school donations is at its most dire due to Covid-19's shutdown and our Friendship Foundation depends heavily on the funds we provide to continue to support parents and families of children with special needs," he says.
Co-produced by the Skechers Foundation and the Friendship Foundation, the Skechers Pier to Pier Friendship Walk is supported by presenting sponsor Nickelodeon, media sponsor NBC4 Southern California, dozens of dedicated corporations and passionate citizens. Register to virtual walk and/or start a team here.