A wholesome celebration in honor of Elmo's birthday.
Sesame Street is celebrating the birthday of its most famous furry red monster, Elmo, with the launch of the #ELMOtivation social media campaign. The campaign is meant to inspire kids and adults to see opportunities around them using shareable images and videos.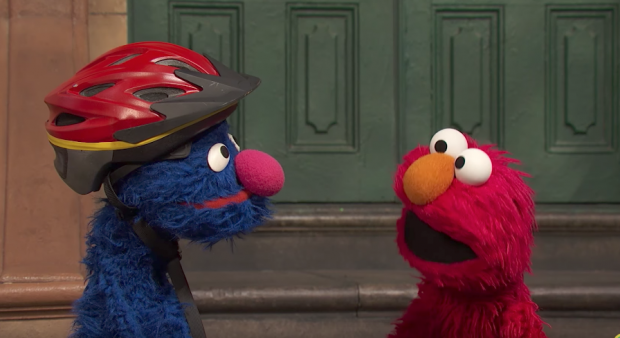 #ELMOtivation kicked off today with a video featuring Elmo encouraging Grover to not give up practicing his roller skating. "Just because you can't do something yet, doesn't mean you can't do it," Elmo says. "You just need to keep practicing."
"Who better than the eternally optimistic Elmo to inspire kids and adults to see new opportunities, play in whole new ways, and be everything they want to be," says Scott Chambers, senior vice president and general manager of North America Media and Licensing. "Sesame Street is spreading positivity through the power of #ELMOtivation!"
#ELMOtivation will share encouraging words from other Sesame Street characters throughout the year, such as "Sometimes me wonder what is friend? Then me remember, friend is someone to share last cookie with" from Cookie Monster, and "Does it really matter if the trash can is half full or half empty? Just be happy there's trash in it!" from Oscar the Grouch.
The initiative will also be supported by a theme song and music video, content from the upcoming season of Sesame Street, curated YouTube playlists featuring uplifting Sesame clips and shareable social media content starring Elmo and all his friends.
In addition, a dance video campaign will launch this fall, giving kids the #ELMOtivation to share their takes on Elmos' famous Happy Dance. Celebs participating in the campaign include Jack Antonoff, Whoopi Goldberg, Tiffany Haddish, Keegan-Michael Key, Zoe Kravitz, Bill Nye, Patton Oswalt, Questlove, and Allison Williams.