Molo and Vans partner for cool footwear collab.
Fresh off a year of celebrating its 15th anniversary, Molo is partnering with powerhouse classic skate brand Vans for a footwear collection. The collaboration features four prints on Vans Classic footwear. To complete the look, Molo is launching an 18-piece capsule collection with apparel in prints that tie into the Vans x Molo footwear collection.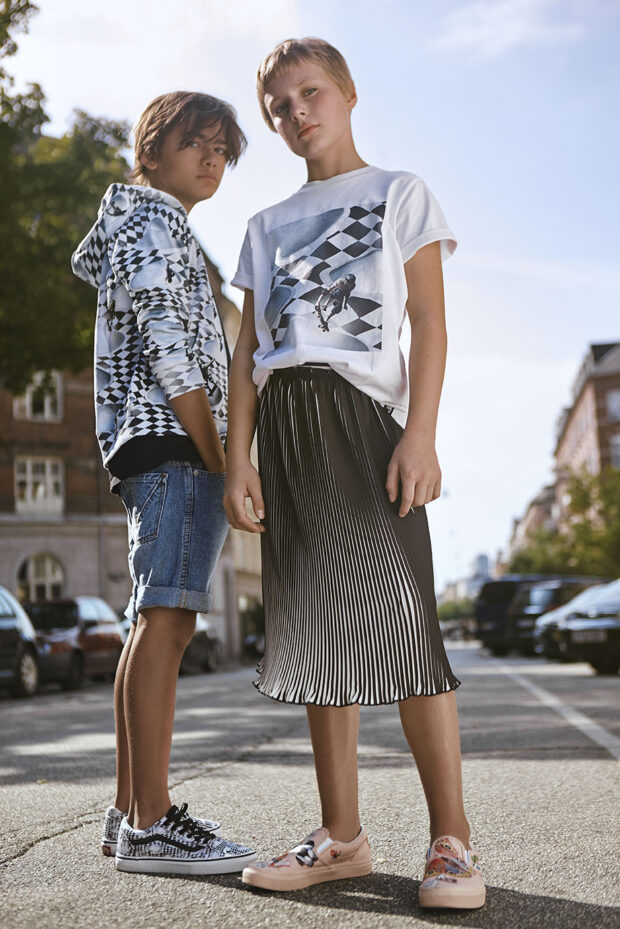 The two brands love of unexpected design for kids made them perfect collaborators, according to Mogens Jepsen, Molo CEO and founder. "When we got the opportunity to do this collaboration with Vans and design the visual identity of their iconic shoes, it was very straight-forward that it would be a perfect match," Jepsen says. "Both brand identities are edgy and have an urban feel, and it has been a natural process to exploit the synergy in our shared visual aesthetic and target audience."
Vans Classic footwear played the perfect canvas to Molo's vibrant array of prints. The Vans Old Skool draws inspiration from Vans' heritage checkerboard print and incorporates Molo's Skate Check print. The Sk8-Hi Zip is dressed up with a satin side stripe and laces. It features Molo's Best in Show print, a repetition print of Molo's favorite animal, the horse, in muted tones with a hint of rose.  
The Vans Classic Slip-On comes in two prints. The Butterfly print features on cameo rose, and each print is unique as no two side are alike. The other print is Surf Surprise, showing a surfer ready to catch a wave on an island beach unaware of a sea monster lurking below the ocean surface. The Slip-On sports blue translucent gum sidewalls to mimic water.
The collection will be available for Vans and Molo fans in kids and toddler sizes in Molo stores, selected Molo and Vans retailers and on Molo.com and Vans.com.