Graduates share what it took to complete senior thesis collections during a pandemic.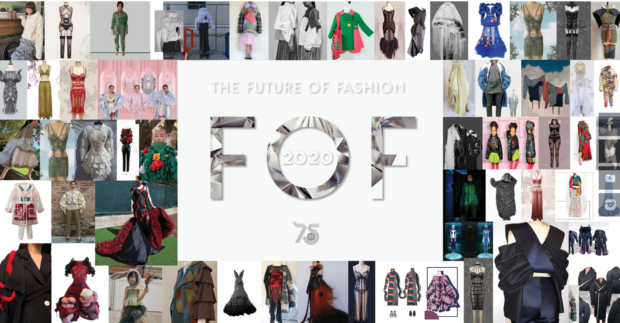 Due to the pandemic, the Fashion Institute of Technology (FIT) announced its annual runway show, Future of Fashion, featuring looks by Fashion Design BFA graduates, will alternatively be available in a virtual gallery format.
"The beautiful garments created this year, many of which were completed in childhood homes across the globe, represent the ingenuity and tenacity of this extraordinary class," says Sandra Markus, FIT fashion chair. "On overcoming the challenges presented during the final semester, we applaud their resilience and optimism during these unprecedented times."
Each designer's senior thesis was judged by a panel of FIT alumni, including Danielle Bernstein, Ken Downing, Candy Pratts Price, Nicky Hilton Rothschild and Robert Verdi. Prior to the pandemic, students also benefitted from mentoring tailored to their specialization. Molly Gambler, boys' designer for Ralph Lauren, was the esteemed designer offering feedback to childrenswear students.
To help shed light on this year's local rising talent, Earnshaw's spoke with three 2020 graduates, specializing in kidswear, to learn more about their senior thesis collections, the challenges brought on by Covid-19 and their views on the future of the industry.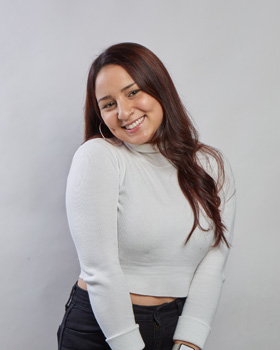 Ashley Olivo
What inspired your collection? My "Starsailors" thesis collection was inspired by my fascination with outer space. Outer space offers so much inspiration that, creatively speaking, the possibilities seem endless—much like space itself. I chose to focus my designs on our human ability to travel to outer space with the help of technology. "Starsailors" was drawn directly from spacesuits and space shuttles.
How would you describe your personal design aesthetic? It took me a while being a student at FIT to discover my specific aesthetic as a designer. Ultimately, I realized I'm a designer of sporty streetwear and athleisure. I also try to design with sustainability in mind. One small step can make all the difference in this world.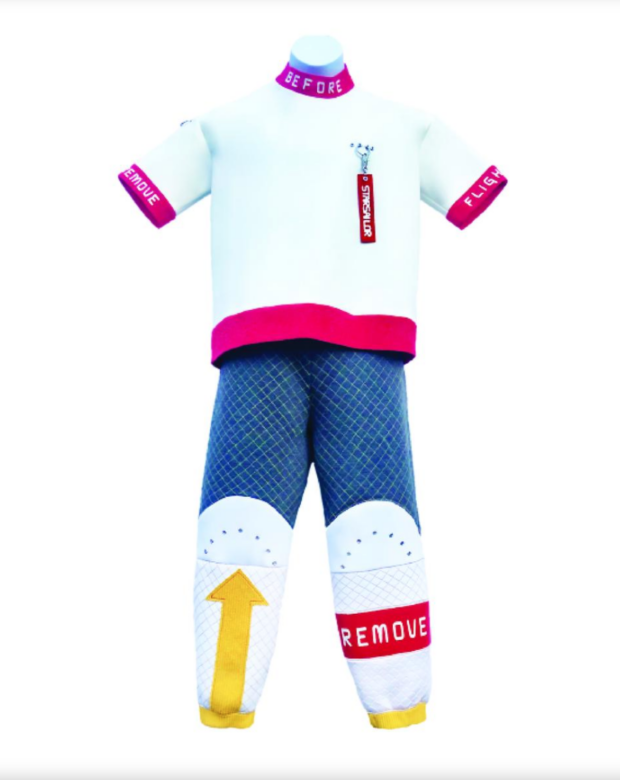 How did the pandemic affect your design process? The pandemic forced me out of New York and back to my home state of Connecticut in the midst of completing my senior thesis. The day I realized I had to leave, I packed one luggage with my sewing machines, two bags with supplies and a bag with personal items. I told myself this was going to get done no matter what. The hardest part for me was just staying motivated through all of the massive stress and uncertainty. What helped me overcome this time, when motivation was minimal, was knowing I was about to graduate and accomplish my childhood dream. I also reminded myself of the great opportunities that could come of this senior thesis project. In the end, the greatest motivator was that I wanted to see my design come to life, and only I could make it happen.
Why children's fashion? My decision to go into children's apparel actually happened as an epiphany! At FIT, the first two years are concentrated in women's apparel, and it just was not lighting my fire. For a very long time, I've had family and friends asking me to make their children's costumes and dresses for special occasions. One day this all came together, and I felt that flame of excitement. I found my passion in childrenswear, falling in love with its freedom of design, expression and vast use of color and fun details.
What kids' labels do you admire? Burt's Bee's Baby for their values in sustainability. They use earth-friendly materials, as well as 100 percent organic cotton, and donate to different organizations and causes. I also enjoy Kith Kids, Rockets of Awesome and Mini Rodini, for all of their individual aesthetics.
How do you see our industry evolving over the next five years? I think children's fashion will evolve into being more sporty/active-focused, similar to what we're seeing throughout women's fashion. Everyone wants to be comfortable, especially highly active children who are always running, playing and engaging in activities that require freedom of movement. I think we're going to see a strong influence of comfort meeting fashion in the world of children's apparel.
What's your dream job? Running my own successful brand, whether it be in boutiques or popular online/brick-and-mortar shops. I just want to be able to create freely and bring those ideas to life for the world to admire and wear.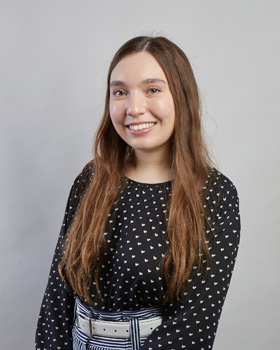 Courtney Rivera
What inspired your collection? When I was designing my thesis collection, my 'muse' was Coco 3000, a character I created. She's an astrobot (a robot who also happens to be an astronaut) from the Andromeda Galaxy (or M31, for short). This idea came from thinking about how we are not only polluting the Earth, but also our solar system. The 1960s were also a major focal point of my thesis collection with silhouettes inspired by the era, the space race and Andy Warhol's pop art commentary. I hope my 'Space Junk' collection inspires the next generation to be more sustainable with their choices.
How would you describe your personal design aesthetic? I love to design clothing that is fun, quirky and colorful. Graphics are always my main focus. I often start by envisioning them first before I even think about silhouettes.
How did the pandemic affect your design process?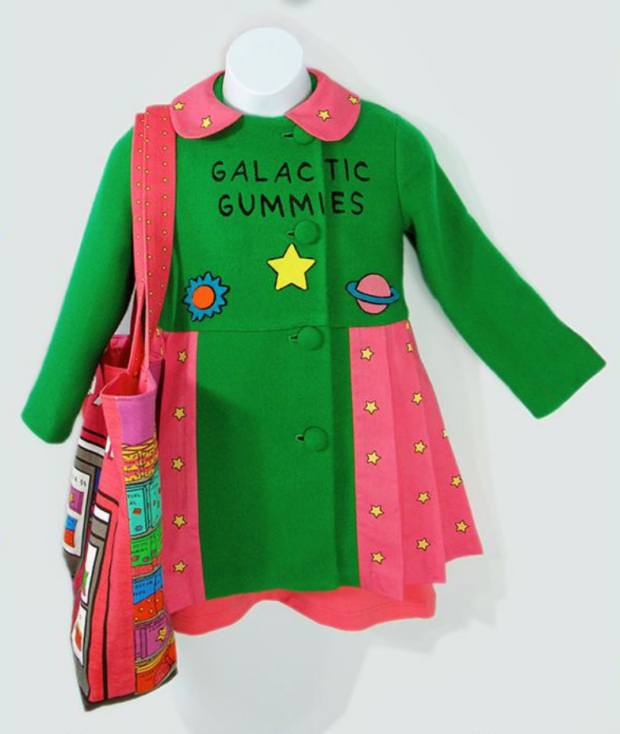 Surprisingly, being back in my hometown of Virginia Beach with my parents and my dog actually made completing my thesis collec
tion less stressful and chaotic. I saved a lot of time with my classes being moved online. Traveling back and forth to school and stores for supplies really adds up. With that eliminated, I had more time to focus and complete my thesis a week before the deadline. I'm grateful I was able to purchase all of my fabric and supplies before New York went into lockdown. And, thankfully, I was also able to get my embroidery/applique work done at FIT's Faculty Research Space the day before the school closed all student services. I honestly didn't face any challenges when I think about it. I have a sewing machine, surger and iron at home, so I didn't need any equipment from the labs at school. I was very lucky.
Why did you choose children's fashion as your concentration?I have a hard time designing garments that aren't playful. I remember my first two years at FIT were very challenging because I felt like I couldn't express myself fully when studying and designing women's wear. My least favorite garment I ever had to design was a fluted bodice (that would theoretically be used in a wedding dress). With that being said, I love childrenswear because I can truly design from my heart.
What are some children's wear labels you admire? My top three favorite labels are Stella McCartney Kids, Hugo Loves Tiki and Wauw Capow by BangBang Copenhagen. I feel like I can relate to them the most because, like me, graphic design is a major focal point for these companies.
What will children's fashion look like in five years? I believe children's fashion will become more gender-fluid and sustainable over the next five years. Parents of the new generation are more accepting of their child's fashion choices than ever before. As a society, we are also becoming more conscious of the clothing we purchase, and we are asking ourselves questions like 'who made this garment?' and 'how long will it take for this garment to decompose?' Hopefully, we can shift toward safe working conditions, better pay for all garment workers and the abolishment of fast fashion.
What's your dream job? My dream job has always been to design at Kate Spade New York. I know the company's vision has changed a bit since the new addition of Nicola Glass as the brand's creative director. Unfortunately, they currently do not have a childrenswear line. However, the world is always changing, and I hope they will reconsider adding one.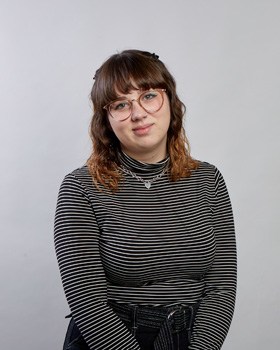 Emma Baxendell
What inspired your collection? My thesis collection is called Sweets Shop collection, which is all about the sweet, colorful treats kids love. I focused on the inspiration of cupcakes and sprinkles, and I really wanted to incorporate those elements into my garments literally, which is why I chose the big cupcake bib for the overall skirt and the faux sprinkles in the raincoat.
How would you describe your personal design aesthetic? My personal design aesthetic is very bright and fun, and I like to make my collections very thematic. I toe the line between high fashion, and functional, accessible garments that kids will actually want to wear day-to-day. My aesthetic is based on the kind of clothing I would have loved to wear as a kid and would even wear now.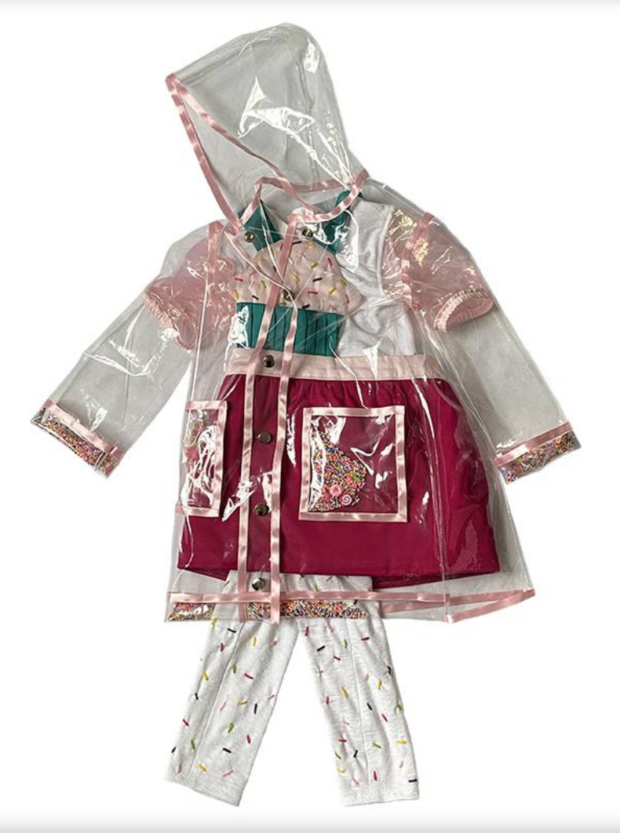 What were some design challenges brought on by the pandemic? The pandemic was definitely challenging to my design process in a couple different ways. I went from having all the space and resources I needed at school, to having to work on my home sewing machine in my cramped apartment. There were actually a couple elements in my thesis garments that had to be changed due to lack of resources, such as hand-embroidering the sprinkles onto the cupcake bib and leggings instead of using the school's embroidery machine. It was also really challenging just to find the motivation to work on my look some days when I was being constantly bombarded with bad news about the state of the world, but in the end, I knew I had come so far already, and I wanted to finish strong with something I was really proud to have created.
Why did you concentrate on children's fashion? When I first started my degree, I had no intention of ever going into childrenswear, but as I progressed in my fashion design curriculum and solidified my design aesthetic, it was clear to me that childrenswear was the right path for me. My aesthetic has always leaned younger and more thematic, and I even had professors in my womenswear classes tell me that my designs were too juvenile for the women's market. I chose childrenswear because I had already built up that womenswear foundation during my first two years at FIT, and I was eager to take a chance and learn something totally new. In the end, I couldn't be happier with my choice, and I really feel that my education in childrenswear helped me find my voice as a designer and solidify my aesthetic.
What are some children's wear labels you admire? My absolute favorite children's brand is a Danish brand called Wauw Capow by BangBang Copenhagen. I actually found them accidentally while doing market research during my first childrenswear semester, and I've loved them ever since. Their clothes are very funky and fun, and they use a lot of cool trims and textural elements that give their garments a ton of personality. I'm also a big fan of Target's various lines, like Cat & Jack and Art Class, because they find ways to make everyday clothing just a little more fun and exciting. One of my favorite children's collections ever was the collaboration between Art Class and Museum of Ice Cream. I am also so excited Gymboree is being revived by The Children's Place. Their collections are always super thematic, and I love seeing the way they translate simple ideas into entire lines, from clothing all the way down to shoes and accessories.
How do you see children's fashion trends evolving over the next five years? I think that children's fashion trends are progressing to become more fun and more about what kids actually want to be wearing. Textural features like flip sequins and character licensing have been so huge in childrenswear, and I think the market will continue to cater to what kids find fun and exciting.
What's your dream job? My dream job is to work as a designer for a large childrenswear company because I want my designs to be accessible to a wide audience. I feel that my aesthetic is very fun and fashionable, but can also be translated into something more marketable on a broader scale.
What do you love most about being a designer? I love being a designer because I like knowing that I can have an impact on people's lives. You always hear the idea that art isn't a career or you won't be able to make a living out of it, but the truth is that everything in our lives was designed by someone. Clothing designers especially are so important because clothing is always going to be something we need, and I love that that can take so many forms, from haute couture fashion all the way down to our everyday ordinary outfits. Whether they consciously choose it or not, people will always be affected by fashion, and I love knowing I can give people even more options by putting my ideas and designs out there.
Looking to expand your design team? Get in touch with FIT's graduating talent! Email Emily.Beckman@9Threads.com for an introduction.