The new line of soft toys eases little ones' anxieties with more than a soft hug.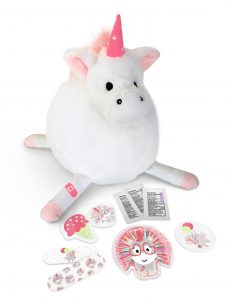 Founded by Florida State University student Hilary Richards, Boo Boo Balls is a new line of soft toys designed to ease little ones' anxieties by giving them much more than a warm hug.
Hidden inside a secret zipper pouch, each plushie includes:
1 gel freezer pack (for hot/cold use)
12 matching designer character bandages
6 matching designer character stickers
3 antibiotic ointment packets
A percentage of this year's sales will go to children's charities, along with hundreds of Boo Boo Balls being donated to children's hospitals across the country.  For more information, visit boobooballusa.com.