Free Bird
SoCal-based women's brand 4Love&$ sizes down its free-spirited sensibility to launch tween line 4Love for Fall '14. Tanks and tees emblazoned with inspirational messages pair perfectly with the brand's boho-chic skirts and tribal print pants, while cozy cardigans and oversized sweaters add a stylish layer to ditsy floral dresses. Designed and made in the U.S.A. for girls sizes 7 to 16, wholesale prices range from $12 to $18. Visit www.4loveandmoney.us.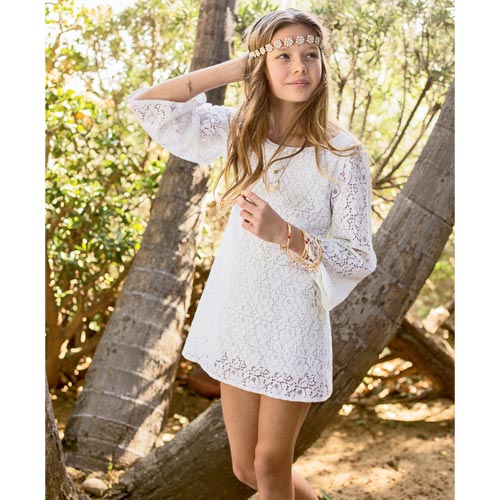 Fiesta Fashion
Vibrant hues and quirky graphics abound as 20-year-old Spanish brand TucTuc docks on U.S. shores for the first time this year. A sunny palette of azure blue, orange and lime green, punctuated by fun prints like jellyfish, lends itself to a lineup of tops, tees, pants, dresses and swim-wear for a stylish twist on classic silhouettes. Inspired by the fantasy of childhood and designed for play, sizes for boys and girls range from newborn to 12 years and wholesale prices range from $9 to $60. Go to www.tuctuc.com.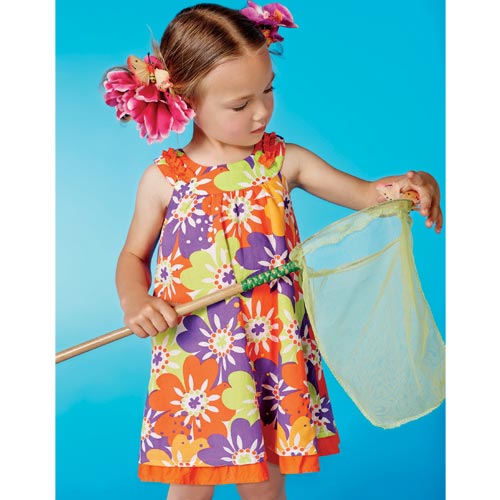 Controlled Environment
Meet Mbaby by Munchkin, a temperature-regulating layette line for boys and girls in sizes 1 to 12 months. One-piece bodysuits and footed pajamas feature patent-pending double-layer fronts and single-ply backs to keep infants warm, comfortable and safe in their cribs. Elsewhere in the line, mix-and-match playwear offers plenty of outfit options, while diaper changes are a cinch with snap guides and roll-up footies that allow garments to grow with baby. Wholesale prices range from $30 to $50. Check out www.munchkin.com/mbaby.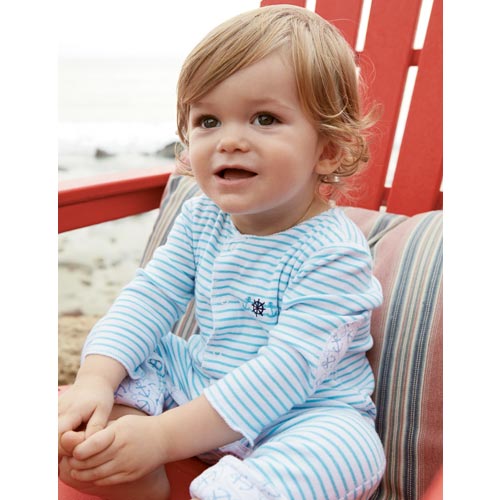 Sweet Dreams
After stumbling upon medical research showing that swaddling babies with their arms up is a safer and more natural way to snooze, an Australian mom crafted a swaddle suit that gives babies access to their hands—to help them self-soothe and sleep longer. Already a smashing success down under, the Love to Swaddle Up by Love to Dream is ergonomically designed and made from one layer of cotton elastane so it's breathable and lightweight, and retails for $30 to $35. It comes in four col- ors and is offered in three sizes designed to fit babies ranging from 6 lbs. to 24 lbs. Visit www.lovetodream.com.au.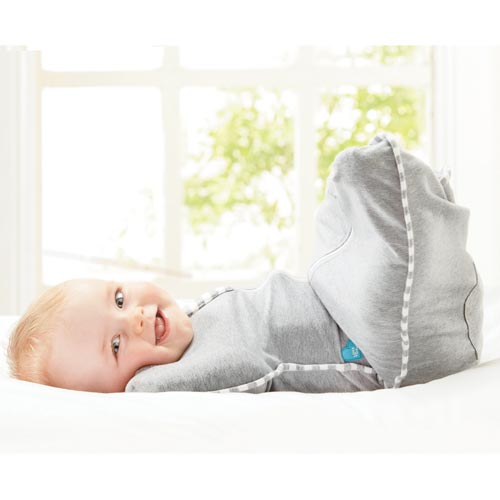 Man Tailored
British newcomer Unruly Blue turns the theory that blue is for boys on its head by using every color but for its U.S. debut this fall. Instead, the 3-year- old line meets the demand for tailored duds by sourcing a colorful array of printed fabrics and natural textiles from the likes of Liberty of London and Harris Tweed. Styles span three-piece suits to cotton formal button-downs and 100 percent cashmere sweaters. Sizes range from 4 to 14 years and wholesale prices range from $30.40 to $139.20. Go to www.unrulyblue.co.uk.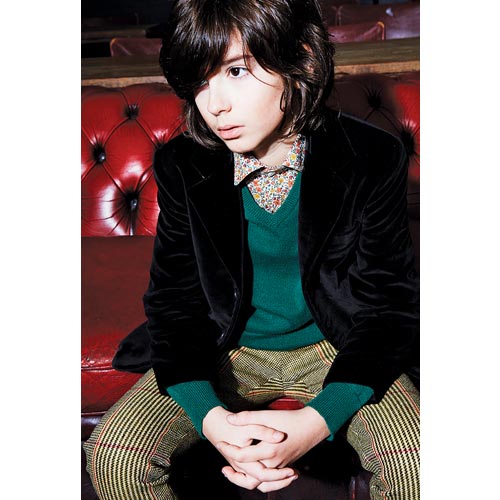 Happy Feet
Kids who can't get enough of Pediped's Flex line of rubber-soled sneakers, boots and shoes can now wear their favorite styles for a little longer: The Henderson, NV-based brand has expanded its sizing up to EU 36 for Fall '14. The company, which turns 10 this year, has also added new colors and styles to its athletic collection, like black and gray sneakers for girls and red and green ones for boys, as well as shearling lined booties for babies. Wholesale prices range from $17 to $38. Check out www.pediped.com.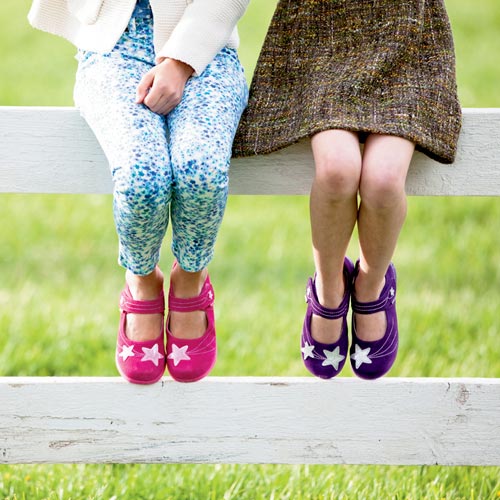 Back to Nature
Italian brand Ocra brings its line of zero-impact shoes to the U.S. just in time for the back-to-school shopping season. Boys and girls will love the blend of leather, suede and pony hair, as well as cutouts that look like wings, stars and spots—while parents will appreciate the quality. Handmade by Italian craftsmen using chrome- and pollutant-free tanned leathers, the shoes' soles are vegetal-tanned, and the only plastic the company uses is recycled and 100 percent biodegradable. Sizes range from EU 18 to 32 and wholesale prices for fall range from $60 to $85. Go to www.ocra-lab.it.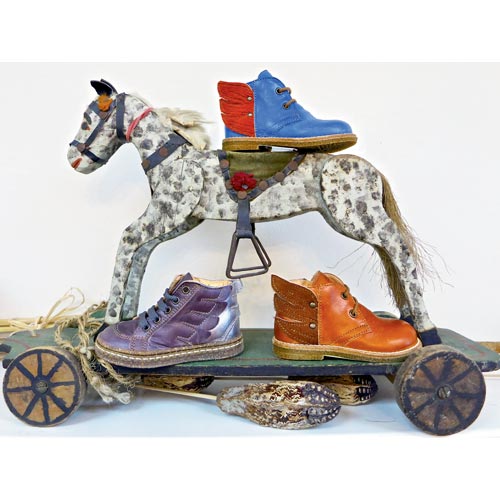 Baby Basics
When Designer Rachel Pally was faced with finding clothing to help her firstborn son stand out, she looked to her 14-year-old namesake line for inspiration, and in Spring '14 Rachel Pally Baby was born. Pants, dresses, jumpsuits, blankets and tops pop with fun prints like digitally enhanced tie-dye and arrowheads—some of which even match those in the women's line—and everything is made from super-soft jersey modal. Wholesaling from $15 to $36, most pieces are unisex and sizes range from 0 to 24 months. Check out www.rachelpally.com.