From classic to color-changing, fall has it all.
City Kid
Disa NYC takes more than its name from its home base—all of the brand's sophisticated, minimalist designs are handcrafted in New York City, too. Gleaning inspiration from the free-spirited wildness of childhood, the collection comprises a mix of modern silhouettes (think unisex garments like drop crotch pants) and traditional pieces (like dresses with underskirts and ruffled tunics). The fall collection includes sweatshirts, long-sleeved tees, corduroy pants, hoodies, denim and dresses in a classic palette of grays and blues, as well as bold shades like burgundy and magenta. Kid-inspired prints include puzzles, stars and chalkboard drawings. Available in sizes 2T to 6, wholesale prices range from $20 to $60. To find out more, see www.disanyc.com.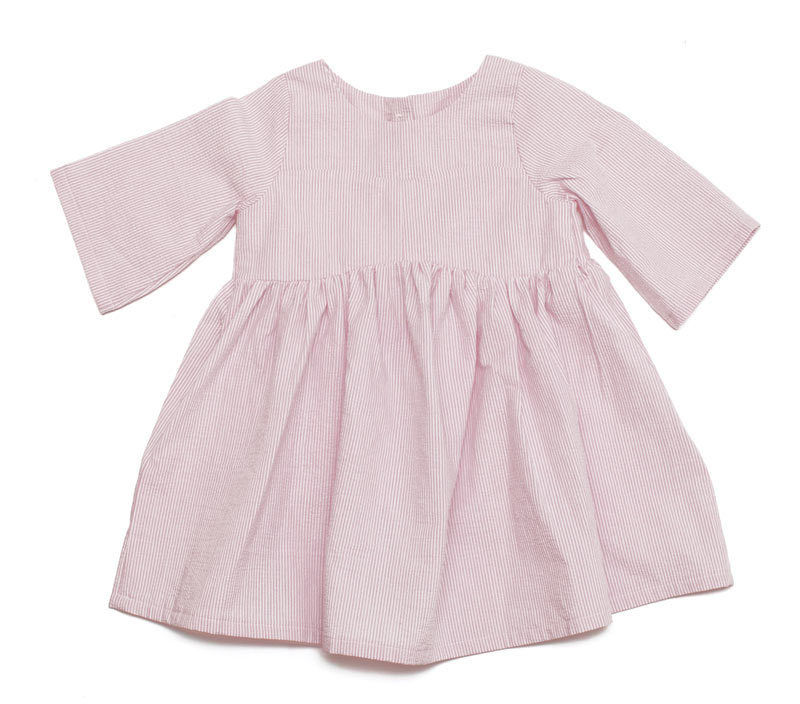 Gilded Age
Want to add some American-made options to your selection? Consider going golden—Golden, CO, that is. The city is home to Eddy and Scout, and it's also where 100 percent of the company's clothing is made. Formerly named Little Red Canoe, the brand re-launched at February's KidSHOW in Las Vegas. Offering ultra-soft, grow-with-me sized clothing for boys and girls ages 2 to 12, the collection's extendable seams and double sizing give its dresses, pants, hoodies, tops and leggings a longer life span and make the items ideal for lanky little ones. For Fall '15, the collection takes inspiration from playing in the woods and features deeply saturated shades of red, teal, charcoal and moss green. Meanwhile, spunky screen-prints—think zip-lining squirrels and cityscapes—add edge to the earthy styles. Wholesale prices range from $16 to $28.50. Check out ww.eddyandscout.com to learn more.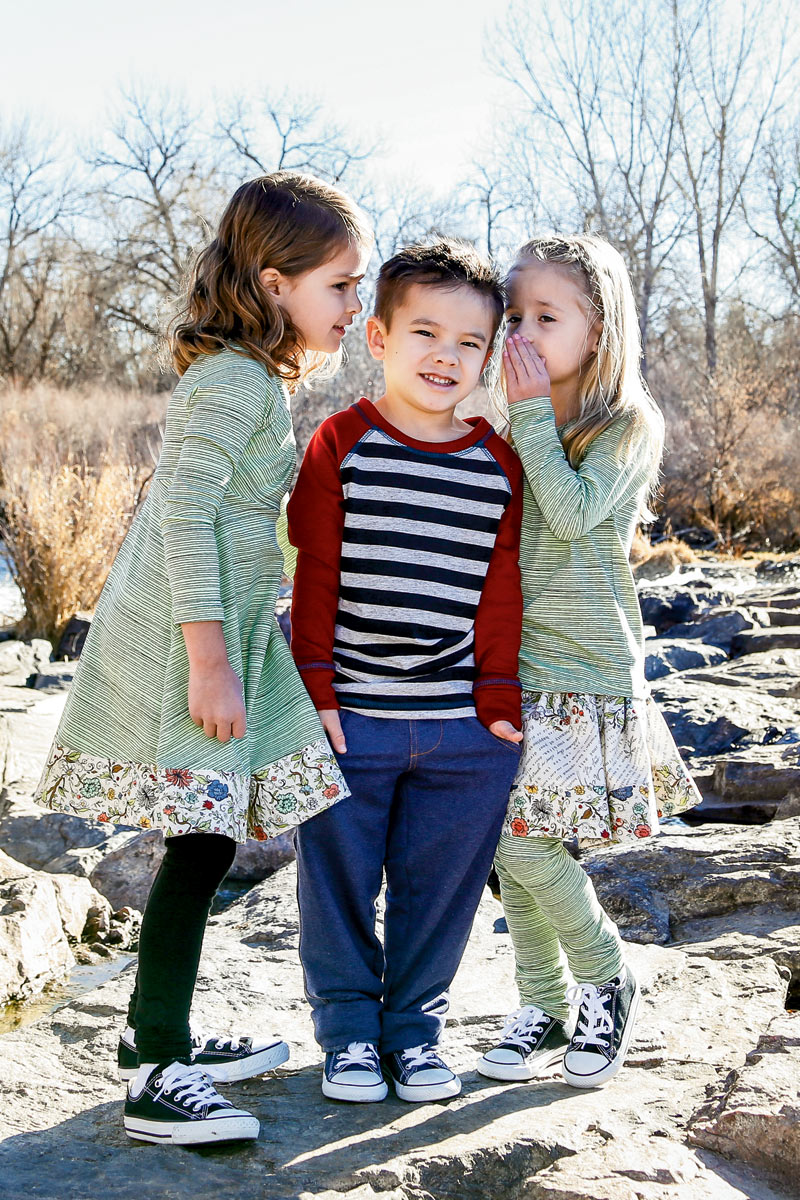 Hot Stuff
To accommodate the hot summers and mild winters of South Florida, Lauren Glazier launched Forest+Meadow. Available in sizes 2T through 5T, the brand offers stylish, tailored clothing in lightweight fabrics intended to beat the heat, such as linen and cotton. Classic silhouettes, like dresses paired with matching bloomers and easy-to-layer pieces like vests, are modernized with fashion-forward prints, such as paisley and tie-dye. The Fall '15 "No Baggage" collection, which wholesales for $18 to $38, takes inspiration from 1920s luggage—rich jewel tones in shades of orange, blue and charcoal are accented with vegan leather and vintage-inspired herringbone prints. Visit www.forestandmeadow.com.

Little Miss Attitude
Meet Splatter, an art project gone stylishly right, thanks to the brand's one-of-a-kind spray-paint technique. Aside from the namesake print, catchy phrases and quirky screen-printed images like skulls, hearts and flowers pop up across an array of sweatshirts, tees, leggings and shorts for girls ages 4 to 14. Available in soft brushed cotton, thermal and fleece, vibrant hues of blue and pink join darker tones for fall. Wholesale prices range from $15 to $40. Check out www.splatterclothing.com.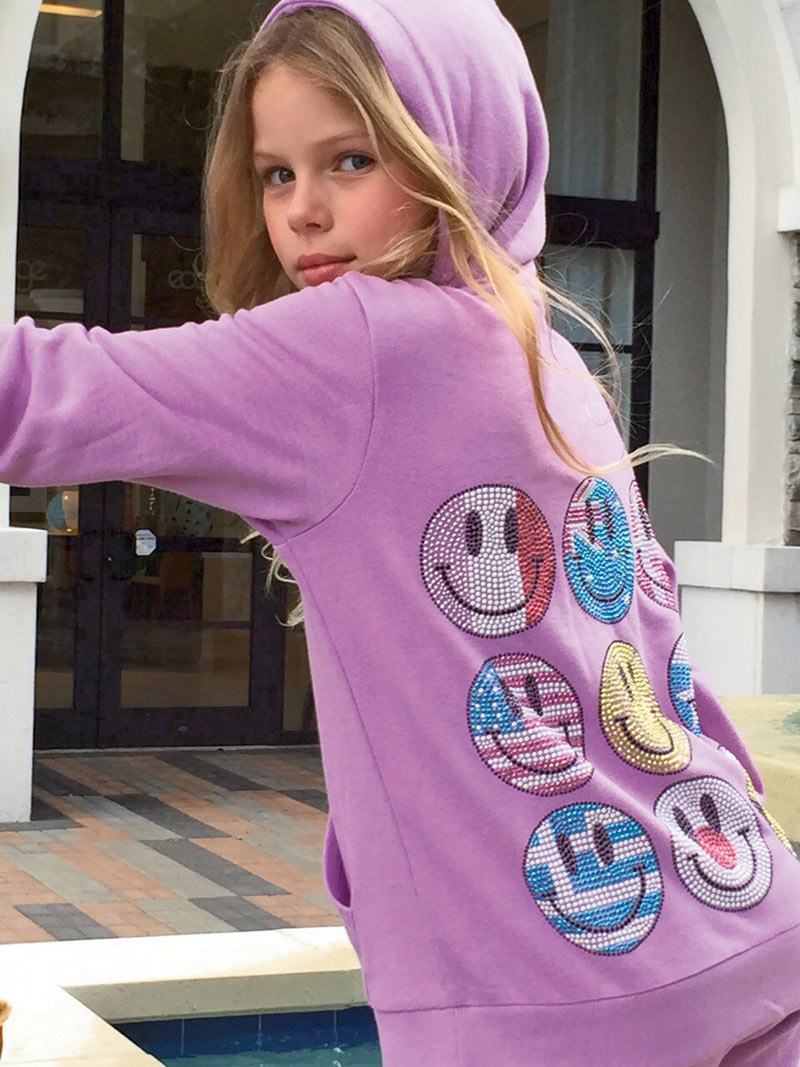 Spanish Mission
After its 2011 debut in Barcelona, Spanish brand Nobodinoz quickly became known in Europe for the bright colors, modern designs and eye-popping geometric patterns featured throughout its range of clothing, toys and furniture. After debuting at Playtime New York in March, the brand's Euro-chic clothing is now available in the U.S. The Fall '15 "Look At Me Now" collection epitomizes the Nobodinoz aesthetic: Look for black and white patterns and quirky prints featuring everything from cartoon monkeys to pianos on a range of circle skirts, harem pants and furry vests available in sizes 3 months to 8 years. Manufactured in France and Spain, wholesale prices range from $6 for accessories to $75 for apparel. Visit www.nobodinoz.com.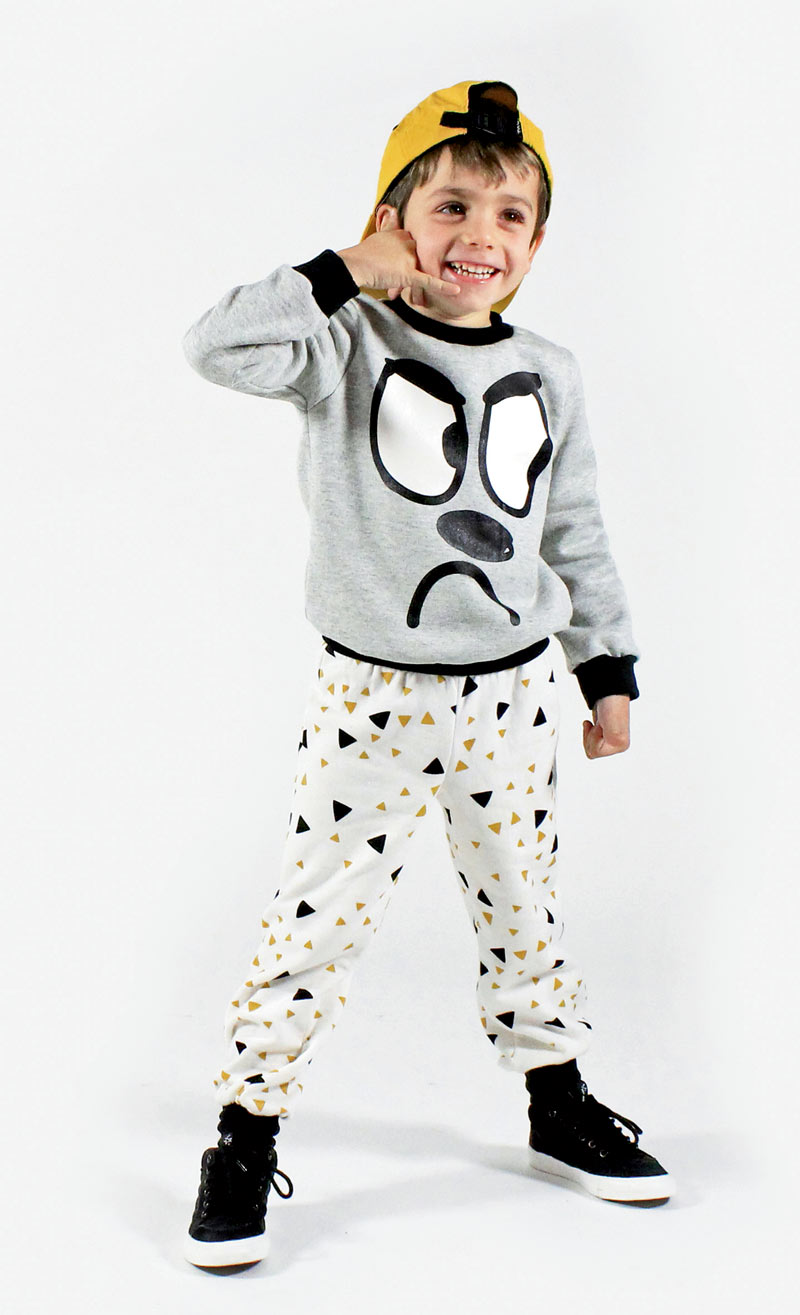 Over the Rainbow
Say goodbye to ho-hum rainy days with Holly & Beau. The British brand, which debuted at ENK Children's Club in March, brings its color-changing rain coats, macs and umbrellas stateside for Fall '15. Available for boys and girls ages 2 to 8, the PVC-free rainwear comes in an array of quirky prints, featuring everything from monsters to cupcakes. Umbrellas wholesale for $10, while macs and coats are $30 and $39, respectively. The color-changing concept is sure to brighten any rainy day, while a polyester fleece lining adds warmth and keeps kids cozy. Check out www.hollyandbeau.com for more information.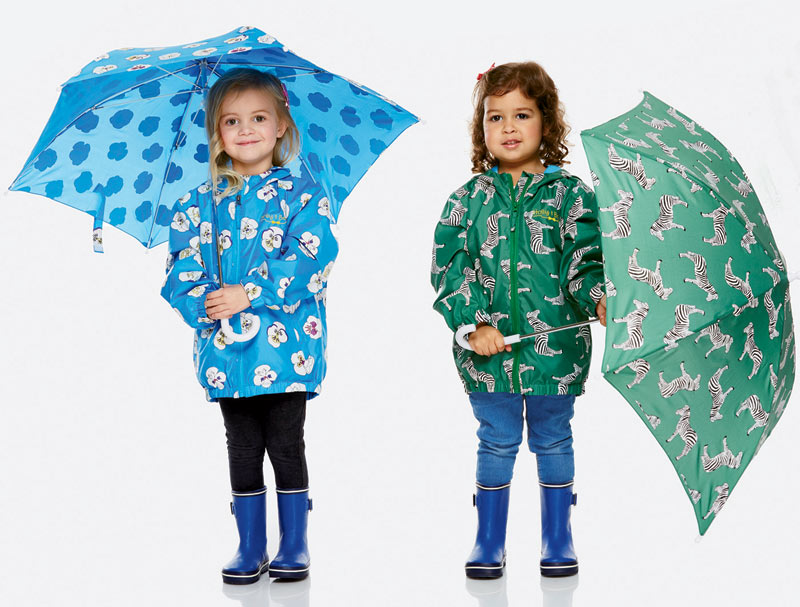 It's Natural
To create a clothing line suitable for babies with sensitive skin, Peruvian mom Arly Sue Ayala went back to her roots. Made with 100 percent Pima cotton, as well as some pieces in 100 percent organic cotton, PillieMillie debuted its collection for boys and girls 0 to 24 months in March. Featuring dress sets, bodysuits, rompers, pants, shirts and overalls in classic shades of white, blue and pink, the line wholesales for $12 to $25. Smocking, ruffles and embroidered details such as delicate flowers and baby toys add a playful touch to the brand's traditional styles. Visit www.pilliemillie.com.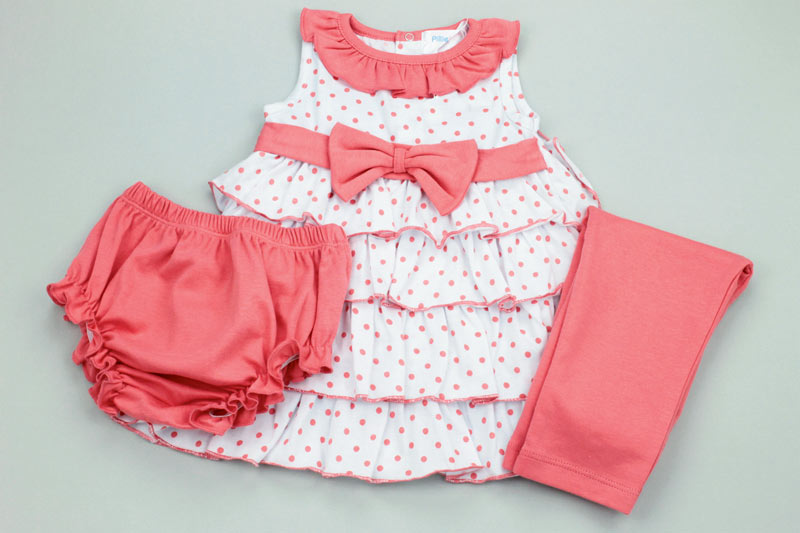 Oh, Canada
With everything from fast food to goldfish prints, Toronto-based Ollie Jones transforms simple silhouettes from basic to brilliant. Originally launched in February 2014, the line of leggings, skirts, harem pants and headbands are printed on 100 percent organic cotton and cut, sewn and packaged in Canada. For Fall '15, the brand's "Wild Wild West" collection is packed with Aztec prints, sketched arrows, dream catchers and painted paddles, set against a neutral palette infused with pops of bright color. Wholesale prices range from $5 to $16. Learn more at www.olliejonesclothing.com.