New year's resolutions can never be addressed too early, especially when it comes to business. And after a tough 2009 during which market traffic was noticeably down and the retailers who did attend weren't exactly throwing around cash, the children's industry is more than ready to turn toward 2010 and a fresh start. No smart […]
Viable Markets
"We are all watching our spending very carefully, taking time to be sure that what we spend our dollars on is going to secure a good return."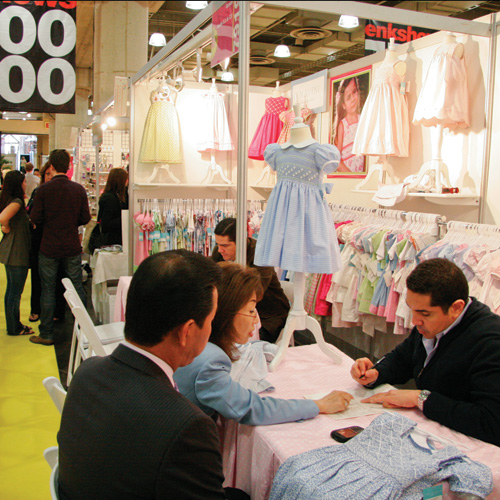 New year's resolutions can never be addressed too early, especially when it comes to business. And after a tough 2009 during which market traffic was noticeably down and the retailers who did attend weren't exactly throwing around cash, the children's industry is more than ready to turn toward 2010 and a fresh start.
No smart businessperson should write off '09 as a year to forget, however, as the worst of times can trigger the brightest of ideas. Experienced show managers and showroom reps—eager to boost the market back to a healthy state—are already looking back on the recession's teachings to find ways to evolve their platforms for the next calendar year. Here are a few of the top lessons learned:
Lesson 1: Make It Unmissable
Across the country, kids' shows have amped their efforts to make their events more affordable, accessible, efficient and enticing to manufacturers, reps and retailers—because give them any reason not to go and they won't. "We are table setters. We present a market to a buyer, but that buyer has to feel there's a reason to come," said Stanley Kaye, show director for ENK's Children's Club in New York. "It's up to us—the show managers—to create a professional, stimulating environment to make buyers and exhibitors feel the time they spend at market will add value to their businesses."
As travel budgets have withered, technology has evolved to the point where a manufacturer's line sheets are just a PDF away and virtual trade shows are popping up online. That means markets must find new ways to attract retailers and remain competitive. "We have worked to make the Las Vegas market a cost-effective event for both exhibitors and buyers," KIDShow director Denise Raeside said. "That is more important now than ever. We are all watching our spending very carefully, taking time to be sure that what we spend our dollars on is going to secure a good return."
Many believe industry gatherings are not just a requisite stop for buying merchandise; they are also a vital forum for participants to trade business and trend information, network with other insiders and score special deals. According to California Market Center (CMC) marketing manager Deborah Levine, the Los Angeles market is adding a seminar series in 2010, hosting industry experts who will offer business insights to help retailers improve their operations. Atlanta's AmericasMart plans to host a Kids' Day during next year's markets, which will be promoted across the entire merchandise mart and will highlight the children's showrooms and various seminars, social events and giveaways, said Gayle Gibbs, vice president of leasing for the trade center's Children's World section. The Dallas Market Center (DMC) will hold more special events as well, including fashion shows that will provide a directional display of fashion trends straight out of its showrooms, said Cindy Deloach, vice president of the Martha Foster Group showroom in Dallas, who serves as a liaison between the United Southwest Children's Organization (USCO) and the DMC. In addition, many of the regional markets are providing extra incentives—from gift bags to valet parking—to make their shows a true destination for retailers. "We know how important it is for them to be in their stores, so we're doing everything we can to make [our market] convenient for them," Deloach said.
Of course, the market must be an appealing event for manufacturers, too. "With strong retailers, we secure exhibitors; and with strong exhibitors offering fresh product, we secure strong retailers," Gibbs noted. This symbiotic relationship means show managers must listen closely to both groups.
"We give specific advice to our vendors," said Florence Rolando, co-director of Bubble New York. "Some ask us how to display their collections; if they are European, they [might] ask us how to approach the American market, and via Bubble London we are able to help U.S. companies to launch on the European market." Rolando said Bubble is also planning to introduce a new section in 2010 that will focus on stylish brands with lower price points. "This is crucial in this economy," she stressed, promising the addition won't compromise the show's well-edited, boutique focus.
When it comes to wooing vendors, "it comes down to understanding the market," Kaye asserted, noting that ENK rolled back its exhibitor pricing in 2009 to be close to '08 rates. ENK also carefully arranges Children's Club's floor plan in a way that makes sense to those shopping the aisles and for an alluring overall image. This helps uphold the event's reputation, Kaye said, explaining that on top of convenience, it gives exposure to lines and products buyers may not be able to find anywhere else. Those rarities give the market "sizzle" and attendees a sense of discovery, he said, noting that ENK aims to drive home the message that "by not coming, they're missing out."
Lesson 2: Band Together
More than ever, show organizers say partnership makes for a successful market week, and this collaborative spirit is evident as regional markets put added emphasis on their children's segments.
"Ironically enough, these economic challenges have united Kids On 6, our Los Angeles children's association, more than ever," reported Sandra Martinez of Los Angeles' In Play Showroom, who co-heads the CMC's children's rep group. "We sat down as a group and challenged and supported each other on how to better our business structure moving forward." Jennifer Jordan, CMC's director of leasing, agreed that the Kids on 6 showrooms are demonstrating strength in numbers. "They have shown a tremendous amount of unity in their planning, organization, marketing and retailer outreach," she said.
This past year, the Kids on 6 showrooms created a collective website (www.kidson-6.com) to feature their brands and to better establish the group within the merchandise mart. Martinez noted the site allows participating showrooms to highlight events they have planned for market weeks and keep attendees—and prospective visitors—informed. CMC's Levine described another joint effort under way for 2010: a retailer "Fly-In" program, through which the kids' showrooms will raise funds that will be matched by the CMC to help transport selected retailers to the L.A. market.
In Dallas, timing issues were solved as the USCO and DMC worked together to pinpoint the best market dates. Deloach said that when the apparel and accessories market dates were set to overlap with spring break—a standard vacation period for many children's retailers—DMC execs listened closely to their concerns. As a result, while its complex-wide crossover market will take place March 25-28, a separate KidsWorld market will be held March 11-14. Dallas' children's reps are also partnering to ramp up their special events, including two annual fashion shows that highlight up to 200 apparel pieces on the runway.
Exhibitors' efforts are also integral to making trade shows thrive, Raeside said. While all markets are constantly developing their retail target lists and reaching out to potential attendees, Raeside lauded KIDShow's proactive manufacturers for keeping her team in the know. "One exhibitor I call my 'retail relations assistant,'" she laughed, noting that help from all sides helped KIDShow reach a record number of first-time attendees in August '09, despite the economy's impact on many buyers' travel funds. "We're lucky that we have a strong group of exhibitors that work as hard as we do to insure the most successful event possible," she said.
Lesson 3: Put Your Nose to the Grindstone
It's easy to blame poor sales on the recession, but sitting back to wait it out is not the way to get ahead. At the root of all victories, however small, is hard work—and it's today's efforts that will help set companies up to thrive once an economic turnaround takes root. "One good thing about the crisis is that it challenges people," said Rolando of Bubble, who noted that just like vendors, the markets are compelled to develop more creative ideas in every aspect of their business, from product to strategies to customer relations and outreach.
While today's climate poses a further challenge to an already fast-consolidating children's retail landscape, show managers say they haven't backed down from their search for newcomers and continue to promote their shows in every way they can. "Each season we probably drop 30 to 40 customers from our list whose stores have closed, yet we're also adding prospects," Raeside noted. Grassroots marketing has come into play for the CMC, Martinez said. Along with touting Los Angeles as a prime destination for the industry, "We have made it a point to partner with local businesses to promote and help each other out during these tough times," she said. Meanwhile, AmericasMart is beefing up its retail services team. Gibbs said a new manager has been hired to reach out to kids' retailers on the behalf of the Children's World and help accommodate their market visits.
Show managers are teaming up with exhibitors to help them get the most out of their show investments. "In the '90s, [exhibitors] just sat back and waited for buyers to trip on into their booth," Raeside said. "Now, you have to do your work ahead of time." KIDShow gives its exhibitors a mailing list free of charge so they can promote their presence at the show before they arrive, which helps them set appointments and prepare to do business in advance. This leaves them more time to focus on new accounts, Raeside said, stressing that that's one of the main goals of exhibiting at any trade show.
Showrooms are taking action as well. In addition to sending out their typical pre-show e-blasts and flyers, Terra Fazzio, president of New York's Thread Showroom, said her team created customized "buyer packs"—a mailer of line sheets catered specifically to each store—in the weeks leading up to the October AmericasMart show. Fazzio said the extra effort proved successful, as Thread picked up 30 new accounts in Atlanta. "We would definitely continue to do those," she said.
This past year, KIDShow launched a "Show Specials" program to help its exhibitors increase buyer interest. Before the show, vendors chose a deal to promote, i.e. price promotions that retailers could then pass on to their customers. "We tried to convince them to not just do free shipping but rather great deals—something that would really draw people to their booth," Raeside said. Retailers then received a pamphlet promoting these deals when they registered at the door, directing traffic to those vendors. About 35 companies took part during the August show, Raeside reported. While it meant some extra pre-show homework for vendors, "I think for many it made a huge difference," she said.
Deloach said that just as retailers who are serious about their businesses work day-in and day-out to keep them successful, the market and showrooms are doing their part, too. "It goes back to all the little things we do for our buyers," she said. "So many reps are willing to open early, work late… We've positioned ourselves to be [on top]."
"We understand what the world is like out there, and we're not taking any steps back from what we learned in '09," Kaye stated. "Every business has to evolve and change with the times." Most market and showroom execs agreed it will take time to work out of the recession, but creative outreach, incentives and building the best shows possible will help buoy the industry. "Much like the fact that it took 18 months to get into the recession, it's not going to go away overnight," Deloach said. "But [for those] who are serious about their business and interested in growing it, they will come out of it sooner rather than later." —Leslie Shiers