Profiles of the 22 manufacturers selected for design excellence in childrenswear

Accessories
Wee Ones
Leadership: Owners Gina and Miles Faust
Company Originated In:
2010
# Earnie Awards Received:
14
# Years Designing:
43
# Employees:
20
Design Foundation: The Wee Ones bow has been hand tied in the same four-loop silhouette for more 40 years. The company uses high-quality ribbons and materials and seals the edges to prevent fraying. Its patented WeeStay™ No-Slip Clip, which was introduced 10 years ago, helps keep bows in place.
This Year's Success Story: "With the struggles that our retailers went through at the height of the pandemic, we anticipated that they would buy cautiously in 2021," says Gina Faust. Even though Wee Ones is known for trend colors and seasonal designs, our designers felt it was best to focus on what was a safe sell—the basics and classics. Our 'enhanced basics' collection showcases scalloped and embossed edges as well as colorful stitched edges to provide a cute contrast. We also introduced embroidered icons on the bow tails. These features helped retailers offer 'new' and 'fashionable' bows in the colors that sold best for them in their stores.
Best Business Practices: "Keep innovating and growing the company, even with an uncertain retail forecast. The SS22 line was developed when the pandemic was at its worst; it gave us something positive to focus upon during an otherwise dark time, and this collection has been incredibly well received by our retail partners."
Top Sellers: Basic grosgrain bows in medium and king sizes, the new scallop edge grosgrain and moonstitch bows.
Advice Column:  "The relationship you have with your retail partners is your most valuable asset." Building trust over time, Wee Ones has more than 40 retailers today that have done business with them for more than 30 years and counting. Their buyers expect quality and innovation, which motivates the company to keep looking for what's next and how they can be a more valued partner.
Labor of Love: "Owning a family business is hard work and offers unique challenges, but what keeps us going is seeing the difference our products make. When we see a smile on a little girl's face when she's wearing a Wee Ones bow, or a retailer tells us we're their most profitable vendor, we know that all the hard work and long hours are worth it. And, despite the evolution of fashion, Wee Ones has remained relevant to our retailers for over 40 years."
Design Mantra: Fashion evolves, quality endures.

Activewear
Malibu Sugar
Leadership: President and CEO Jil Garcia
Company Originated In:
2011
# Earnie Awards Received:
2
# Years Designing:
20
# Employees:
4
Design Foundation: Jil Garcia saw a need for girls' layering pieces that would give their wardrobe great function and versatility while still being stylish. This had existed in the women's market, but not for tween and teen.
This Year's Success Story: "We focused on having our customers feel happy, especially after the challenge everyone faced in 2020. We always strive to have fun, bright colors but this year, we introduced new tie-dye prints that were very well received. We also are always looking at fashion trends in the women's market to see how we can adapt those."
Best Business Practices: Focus on best-selling styles and go deep with color options and style variations.
Top Sellers: Bandeau Bra Cami, Full Cami and sleeveless tops.
Advice Column: "Susan Blakely, the founder of Spanx, has said: 'Everyone has at least one million dollar idea. When you think of something that is not out there or that you could do a different way, that is a sign to do it. Just go for it. If it doesn't work, at least you tried.' And I am very glad I tried Malibu Sugar!"
Labor of Love: "We are offering styles that boosts girls' confidence and makes them feeling great about what they are wearing. I love to hear that our customers love the softness and comfort of Malibu Sugar and that's it's their favorite seamless brand."
Design Mantra: Signature seamless style for girls 4 – 14 that makes them feel happy, comfortable and confident.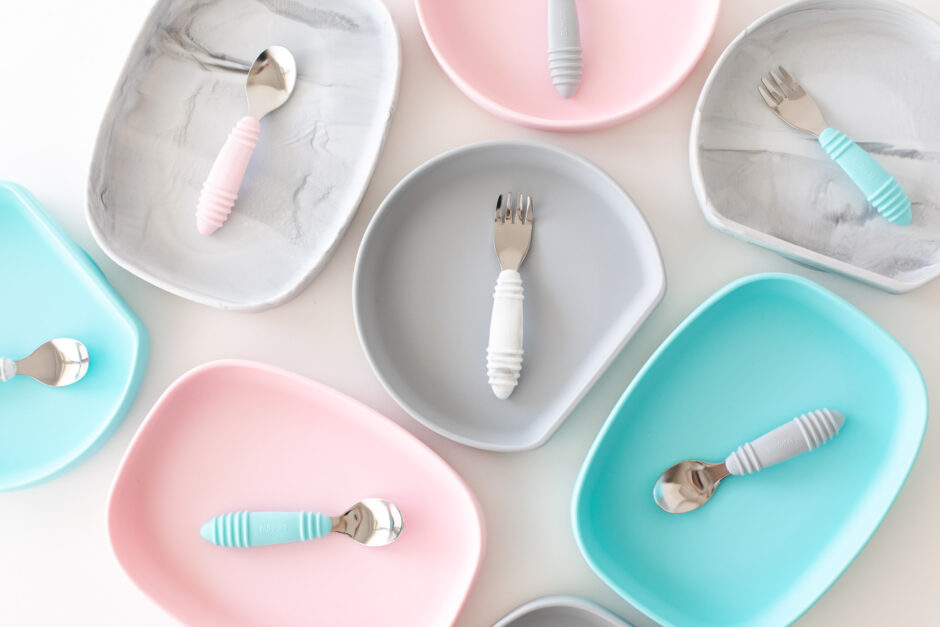 Baby Products
Bumkins
Leadership: President and Owner Jakki Liberman
Company Originated In:
1990s
# Earnie Awards Received:
1
# Years Designing:
30+
# Employees:
45
Design Foundation: Jakki Liberman started creating feeding products for her own kids. While Bumkins has grown and changed since those days, several of the original items remain best sellers.
This Year's Success Story: "We've been flexible and stretched every which way we needed.  It's been a crazy time adjusting to all the problems and demands caused by COVID, but we've continued to manage things well, mostly due to our amazing team."
Best Business Practices: Boosted strategic efforts for social marketing and e-commerce.
Advice Column: Keep Calm and Carry On. "This expression is especially relevant these past two years with so many changes in the world due to COVID."
Labor of Love: "I enjoy building a team, developing talented leaders, and learning how to adapt our business to the changing world."
Design Mantra: Colorful, fun and practical designs for modern families.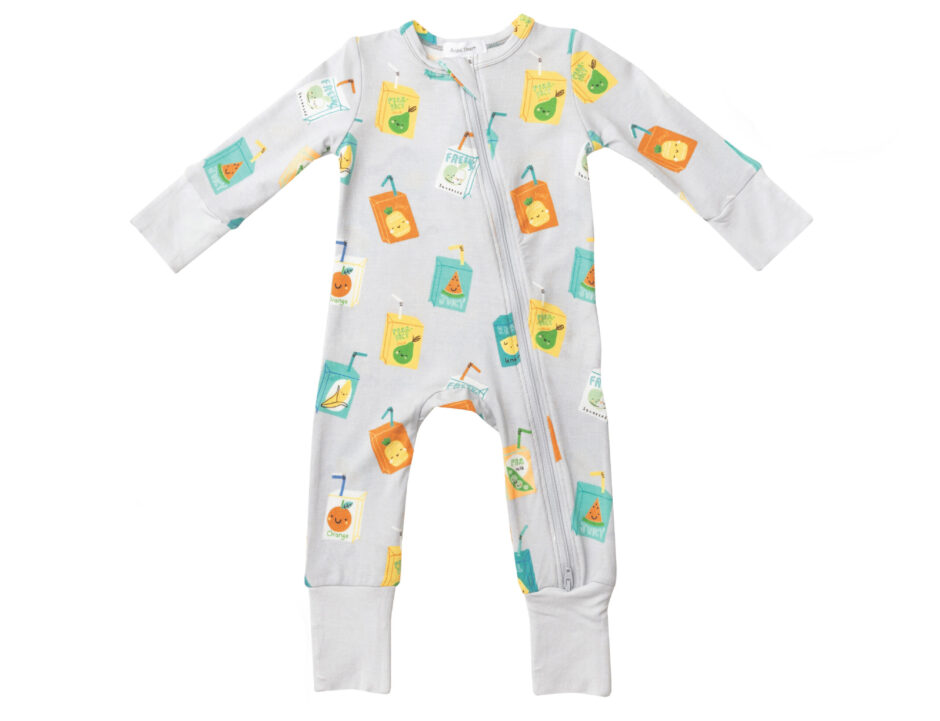 Baby/Toddler Apparel
Angel Dear
Leadership: President Jeffery Cheng, Director of Creative, Sales and Marketing Kimberly Perrin
Company Originated In:
2000
# Earnie Awards Received:
6
# Years Designing:
50+
# Employees:
30
Design Foundation: Starting as an accessory company with blankies and lovies, Angel Dear branched out into layette in 2006 with a focus on European-styled cotton cashmere sweater knits. Then in 2008, they added muslin accessories and apparel. Bamboo jersey, organic cotton, corduroy and chenille round out the core collections and organic French terry will be added to the AW22 collection.
This Year's Success Story: The company expanded its bamboo collection from layette to include more playwear and toddler sizes.
Best Business Practices: "We have a brilliant design team," Kimberly Perrin says. "In addition to working with many amazing creative studios worldwide, we have two full-time in-house illustrators. When you take a close look at our art, you can see the different styles of the artists we work with. It's fun to bring all of our ideas together and put together a cohesive collection with a clear point of view."
Top Sellers: Footies, for the two-way zippers and art; anything corduroy in printed and solid options in contemporary colors and anything muslin, also for the art. "We love to offer up pretty, classic, painterly florals alongside 70's funky florals."
Advice Column: "Say 'yes' to the scary stuff."
Labor of Love: "I love the development process the most.  At the beginning of every season, we ask ourselves questions such as, 'How do you make a dinosaur look new and fresh?' What fun things will our avocado be doing this season?' Many wonderful ideas come out of these brainstorming sessions. Take our SS22 collection—we ended up with almost 200 amazing prints!"
Design Mantra: Childhood is full of energy and wonder.  Children's clothing should be functional and soft, but also fun and colorful."

Beauty & Personal Care
Noodle & Boo
Leadership: Founder and CEO Christine Burger
Company Originated In:
2003
# Earnie Awards Received:
1
Design Foundation: When her own babies had extremely sensitive skin and eczema, business-savvy mom Christine Burger set out to create products that had the efficacy of pharmaceutical products using only natural and proven-safe ingredients for sensitive skin. The company is named after the nicknames of her sons Andrew (Noodle) and Matthew (Boo).
Labor of Love: As part of Noodle & Boo's business model, the company helps children in need. A portion of Noodle & Boo's profit is set aside for children's charities. Burger's personal mission statement is: "To bridge the gap for children who don't have parents who can fight for them."
Design Mantra: Luxurious products with gentle, wholesome ingredients that are optimal for sensitive skin.

Boys' Apparel
Me & Henry
Leadership: Owner and Designer Mark Jeynes
Company Originated In:
2018
# Earnie Awards Received:
1
# Years Designing:
23
# Employees:
10+
Design Foundation: A boys' line that plays on a classic-meets-vintage aesthetic in fun, unusual and soft fabrics. The
collections include sizes 0 to 16 and Daddy and Me.
This Year's Success Story: "Produce soft, cozy fabrics in gorgeous colors and plaids/stripes—and then make sure you deliver it on time."
Best Business Practices: Over the past year, Mark Jeynes continued to travel from his home base in the UK to visit his American accounts, attend as many markets as possible, ensure that samples arrived on time to showrooms, and oversee that all orders shipped on time to stores.
Top Sellers: Jeans in denim or charcoal, the white micro pique Henley—that had to be manufactured four times to keep up with demand—and twill shorts available in 10 colors. Jeynes says, "Who doesn't need great jeans, a basic white top and a mass of twill shorts?"
Advice Column: Professionally: "Never let customer service slip." Personally, "I try to remember this business is kids' pants and tops, and that there are bigger things in the world happening and to find balance when things get tough."
Labor of Love: "I love selling my line at market and meeting the accounts that love it — I adore seeing what they choose and how they build the line in their stores. Despite being UK-based I try to visit as many stores as humanly possible in between markets so that's also a huge treat!."
Design Mantra: "Boys deserve fun clothes, too!"

Children's Footwear
Old Soles
Leadership: Designer Vicki Lever
Company Originated In:
2006
# Earnie Awards Received:
1
# Years Designing:
15
# Employees:
4
Design Foundation: Inspirational runway fashion that's both playful and luxurious.
This Year's Success Story: "We have kept our collection large, as we always have, to suit every occasion—we haven't let COVID take anything from us,"  Vicki Lever says. "If anything, we have dug deeper to bring the world of fashion to our customers and give them the support they need from well-made shoes."
Best Business Practices: "In these hard times, we have reinforced our deep connections to all parts of the industry globally. We have overcome challenges and have been understanding to our suppliers and customers. Going forward, I believe our connections are stronger as ever."
Top Sellers: New Leader, Shoot High for the fashion-forward customer and Bolted, an easy option for back-to-school and weekends—"these shoes only need to be taken off for bedtime!"
Advice Column: "Sit up straight or you will get a sore neck."
Labor of Love: "Before lockdown, I would have said travel and the face time with customers."
Design Mantra: Celebrate little feet with our passion for fashion and an intelligence for fit.

Crib Shoes
Elephantito
Leadership: Creative Director Maria Frallicciardi
Company Originated In:
2004
# Earnie Awards Received:
1
# Years Designing:
17
# Employees:
31 +
Design Foundation: Luxury children's shoe brand known for elegant, timeless and impeccably made all-leather footwear.
After working in international marketing for over a decade, Maria Frallicciardi, took her degree in Design and Art History to try her hand at entrepreneurship. Her niche of choice? Children's shoes. She aimed to create stylish, age appropriate and expertly crafted footwear that emphasizes good quality, comfort and durability. With Elephantito as a vertical business; Frallicciardi and her team are involved in each step of the process from design through distribution.  The company's state-of-the-art factory in Peru is equipped with Italian machinery that's run by expertly trained shoe artisans; the location also sets a socially responsible example.
This Year's Success Story: Elephantito values simplicity, style, comfort, and sophistication. The brand offers timeless styles mixed with unexpected textures and rich color palettes.
Best Business Practices: Don't follow the lead of large corporate retailers, use your unique differences to your advantage. Independently owned companies that can compete with the big companies are few and far between. "Instead of copying their Best Business Practices, their expensive marketing campaigns or complex supply channels, we choose to capitalize our differences such as our efficient infrastructure with low overhead. We perfected a product that has become a leader in our niche market."
Top Sellers: Classic Mary Janes in premium leather; fully lined with natural sheepskin for softness, protection and absorption; outsole rubber soles that are lightweight, lasting and flexible; insoles constructed out of recycled leather sheet for support with extra cushion, softness and absorption provided by a thick layer of Bontex [what is this?] wrapped in a fine layer of soft natural leather; and the heel and toe are reinforced to protect children's feet as they grow. Club Loafers made from supple leather in rich, natural tones; all-around hand-stitching; breathable leather lining and insole; and a pattern of rubber pebbles on the shoe's outer sole and ankle for extra support. Classic Sandal with Scallop handmade in premium leather with a breathable leather lining, padded insoles and rubber soles.
Labor of Love: We celebrate childhood every day.
Design Mantra: A modern approach to classics with quality, style and comfort. "We love to dress kids like kids, but with style and personality."

Gifts
Mud Pie
Leadership: Founder and CEO Marcia Miller, Vice President of Product Development Gina Cullen
Company Originated In:
1988
# Earnie Awards Received:
8
# Years Designing:
21
# Employees:
144
Design Foundation: Still run by Founder Marcia Miller, Mud Pie began with 10 items and has grown into an award-winning manufacturer of home décor and gifts, baby and kids apparel and gifts, and women's fashion and accessories that celebrate life's special moments. Based out of Atlanta, Mud Pie is carried in more than 16,000 specialty retailers.
This Year's Success Story: In a seemingly counter-intuitive move, Mud Pie actually expanded its collections. "No matter what the economic or political climate, people still want to give gifts–for baby showers, christenings, birthdays, and holidays," says Gina Cullen. The company also saw a need to make the retail ordering process easier for kids' gifts and apparel so they created separate catalogues for those categories. "This change has also enabled us to maintain better in-stock positions on the items our retailers order most frequently."
Best Business Practices: Mud Pie cites its unique "gift" approach they take when creating products, and that resonates with retailers. "Whether we are designing a bib or a plush toy, every item includes a special touch that makes it feel like a gift."
Advice Column: Listen to what sells. "The customer buying your products will tell you what they like and what kinds of products you should develop."
Labor of Love: "We love to surprise the customer with more than they expected."
Design Mantra: Mud Pie is a lifestyle brand that creates delightful gifts to inspire all of life's sparkling moments. Our aim is to add laughter, inspiration and joy to everyday celebrations.

Girls' Apparel
Rylee + Cru
Leadership: Creative Director Kelli Larson and President Kevin Murray
Company Originated In:
2016
# Earnie Awards Received:
2
# Years Designing:
7
# Employees:
32
Design Foundation: Kelli Larson worked as an illustrator and graphic designer for 12 years. After she became a mom, she was inspired to create childrenswear that was different from what she could find in the market. Rylee + Cru was created with the idea of merging her original art and earthy colors with contemporary, comfortable kids' clothing.
This Year's Success Story: Work ethic, leadership, creative vision, and teamwork make the dream work. "As we have grown, Kelli has come to understand that it does require a team to make everything happen. We are so thankful for all our junior designers, tech designers and graphic designers that make everything possible."
Best Business Practices: People first and operations changes. The company added two new staff members to its design team, hired a new warehouse manager and additional warehouse staff to help run the new in-house fulfillment operation. "Jesus, our warehouse manager, has proven to be an amazing addition to our family and is leading a great team that is dedicated to continued improvement to our customer experience at every level."
Top Sellers: For SS21, it was the Layla Dress in the Spring Meadow print and matching Tie Bubble romper. For AW21, it was the long-sleeve bubble romper and Greta dress in the Bloom print. The Tulip Cardigan was also a huge hit, and the Fringe Jacket immediately sold out.
Design Mantra: Rylee + Cru merges art and imagination, offering unique clothing for the modern child and mom. "Each collection is built from high-quality basics with soft and well-loved qualities matched with beautifully muted tones and timeless traits. With each shape made to be comfortable, thoughtful fabrics and materials are then meticulously sourced in order to make dressing both effortless and memorable."

"It" Item of the Year
Bari Lynn Mask Chain Kit
Leadership: President/Founder Bari Erber
Company Originated In:
2007
# Earnie Awards Received:
1
# Years Designing:
14+
# Employees: 23

Design Foundation: Inspired by timeless, luxury brands such as Chanel and Gucci, Bari Erber started designing her own line of accessible, well-made accessories for young girls. "A headband should be able to be worn in 2010, 2021 and beyond."
This Year's Success Story: Rebuilding, reflecting and taking risks. "It was a year where we spent extra time listening to our customers, being more flexible for their needs and understanding the shifts of business. Our goal was to continue making great products that people would want to buy, and to support our customers and clients during challenging times."
Best Business Practices: Giving back to charities and a return to client-facing values. "We used the year to build stronger customer service. We also shifted from limited, tri-annual seasonal drops to dropping new styles every few weeks. This created constant freshness and immediately filled those voids of having products in stores."
Top Sellers: In addition to her Earnie award-winning mask chain kit, popular items include headbands in a variety of colors and patterns; Hangonz, which is a bracelet that attaches to your phone so it can't be dropped and pop/fidget toys. "Since masks had become the new accessory, I decided to create a kit so tween and teens could add some color and fun to something that has to be worn for safety. I really enjoyed putting a Bari Lynn spin on this product!"
Advice Column: Erber first and primary mentor, her grandmother, always told her to "live and always stay true to who you are." Her grandmother instilled the qualities of confidence and tenacity and those qualities remain with Erber today and always.
Labor of Love: Erber is grateful for the chance to be a positive role model for her family and community. "I am a wife, mom of six, business owner and an active member of my New York City community. I also love the opportunities that Bari Lynn has afforded me. We have been able to put smiles on tens of thousands of children's faces who are ill, less fortunate or orphaned. Those smiles are what motivates me to continue to be the best that I can be and create children's products that are so popular."
Design Mantra: Our goal is to have our products make girls smile and feel good about themselves. We hustle as if each day is our first day in business.

Mommy & Me/Daddy & Me
Posh Peanut
Leadership: Founder and CEO Fiona Sahakian
Company Originated In:
2011
# Earnie Awards Received:
1
# Years Designing:
11
# Employees:
54
Design Foundation: Whimsical, bold and sophisticated. They aim to bring a smile to faces through beautifully designed, quality pieces that are loved throughout a child's growth.
This Year's Success Story: "We listened to our community of more than 800,000 moms and designed around them."
Best Business Practices: They added more inventory and introduced toddler and kid collections.
Top Seller: Patoos, which means "blanket" in Armenian.
Advice Column: Know your numbers.
Labor of Love: I love creating and knowing that each piece we make is thoroughly loved by our customers.
Design Mantra: We celebrate the notion of family. Where life begins and love never ends.

Most Eco-Conscious
Pajamas for Peace
Leadership: Founder and CEO Chandinie Francis
Company Originated In:
2018
# Earnie Awards Received:
1
# Years Designing:
3
# Employees:
9
Design Foundation: Pajamas for Peace started creating sleepwear that promotes peace, kindness, inclusivity, and inspires curiosity and learning. Its mission is to bring comfort to children and families in need while also conveying a message of peace and kindness with its sleepwear. Pajamas for Peace has a Buy One, Give One, Empower One model and for every pair sold, they donate a pair to one of their partner shelters.
This Year's Success Story: "Our design success is really attributed to our extremely creative, compassionate and hardworking team of 'peacemakers,'" says Chandinie Francis.
Best Business Practices: The company executed three major initiatives that comprised moving to a virtual working environment and hybrid model that met the needs of their employees, furthering its partnerships with organizations that work to create meaningful change in the world and growing its eco-conscious model and holding our manufacturers accountable to ethically sourced and responsible principles and practices throughout the supply chain.
Top Sellers: ABC Animals, I'm Busy Saving the Animals and Save the Oceans prints.
Advice Column: Francis' favorite quote reminds her that we are responsible for creating the world we'd like to see, both personally and professionally: 'It's not what the world holds for you, it's what you bring to it.'"
Labor of Love: As an Indo-Caribbean woman and CEO of a growing brand, Francis is inspired by living a life in the service of others and having the opportunity to put her company's mission into action by engaging with diverse individuals, communities and organizations towards a shared purpose of creating a more peaceful, safe and just world. "I absolutely love working with a compassionate team to advance our mission of peace and empowering others."
Design Mantra: To inspire curiosity, wonder and kindness while creating peaceful and meaningful bedtime moments and learning opportunities for children and families.

Newborn Apparel
KicKee Pants
Leadership: Founder Aerin Nicole, Director of Brand Marketing and PR Lindsey Sims
Company Originated In:
2007
# Earnie Awards Received:
10
# Employees:
47
Design Foundation: While on bed rest with her second son, Aerin Nicole had a vision for KicKee Pants – quite literally as her newborn was a kicker! She desired clothing that honored the whimsy of childhood while also putting first their comfort and safety.  Lindsey Sims says that the company was the first baby/children's brand to utilize a bamboo blend fabric.
This Year's Success Story: "While sleepwear has always been a bestseller for KicKee, the company has really built up steam by expanding our collections, Sims says.  "We love being there for those very first special moments, like bringing home a baby in their very first outfit – and then following them on their journey from there. Seeing the families in our community grow is incredibly rewarding."
Top Sellers: "Our Footie has been our #1 seller for the past 14 years. With bamboo fleece in the paws of the feet, the choice of snap or zipper and our one-of-a-kind prints on our super soft fabric, footies have always been a favorite! Underlayers have also become a top seller for us. Our fabric is so incredibly light and soft, it's all-day-wearable comfort."
Labor of Love: "My favorite part about my job is the creativity. Brainstorming concepts, producing photo shoots, working with our amazing graphics team, and so much more."
Design Mantra: We choose to never stray from our original vision and mission for our business, despite what is happening around us.

New Brand
Lev Baby
Leadership: Founder/CEO Liat Levy
Company Originated In:
2021
# Earnie Awards Received:
1
# Years Designing:
1
# Employees:
7
Design Foundation: Modern and fun prints that tell a story and capture the important moments in life. The new brand and first-time Earnie Award Winner focuses on bonding with family, which is truly more important than ever. The time when children are small goes so fast, Liat Levy says, and it should be savored. "We want parents to slow down and capture every moment along the way, whether large or small and enjoy each sentiment and memory."
This Year's Success Story: The company's artist creates original prints that each tell a story and capture emotions, which Levy says is a fresh approach for the market.
Top Sellers: Footies, toddler loungewear and blankets in highly creative, seasonal prints.
Advice Column: Levy connects to some classic pieces of wisdom such as "push limits and aim high" and "reach for the stars and don't give up."
Labor of Love: "Seeing families connect to the brand and choosing Lev Baby for both their every day and special moments."
Design Mantra: Make clothes that make memories.

Outerwear
Appaman
Leadership: Founder and Designer Harald Husum, Co-Founder Lynn Husum
Company Originated In:
2003
# Earnie Awards Received:
6
# Years Designing:
18
# Employees:
16
Design Foundation: NYC street wear with a nod to Scandinavian style.
This Year's Success Story: "We have always brought a unique aesthetic to the category and regardless of what was happening this year, we delivered on time and on trend."
Best Business Practices: The company leaned into marketing and e-commerce to increase brand awareness. Appaman also prioritized its wholesale accounts, making sure to understand retailers' varying needs during these difficult and unusual times.
Top Sellers: The girls' Apex puffy vest and tie-dye concert tee, which are Appaman classics. "They always deliver and never disappoint in both fashion and function. They both merchandise well with the line making them a favorite of both the buyers and end consumer. The concert tee was a crowd pleaser this past spring. The color was perfect and the fit and styling worked for a broad audience."
Advice Column: This too shall pass.
Labor of Love: "I love that we grew this company in step with the growth of our family. Appaman is truly like our third child."
Design Mantra: Deliver a quality product that is contemporary and on trend. "Our goal is to celebrate kids and create clothing that helps them feel their most confident and unique version of themselves. Our authentic style elevates remarkable experiences that take children from recess to the reception."

Sleepwear
KicKee Pants
Leadership: Founder Aerin Nicole, Director of Brand Marketing and PR Lindsey Sims
Company Originated In:
2007
# Earnie Awards Received:
10
# Employees:
47
Design Foundation: Variety is the spice of the company's sleepwear collections. "Our designs are always changing —we release a new collection of fun, new prints and styles every 60 days so there is always something fresh for store shelves."
Best Business Practices: KicKee Pants truly engages with its customers and uses the feedback to constantly tweak and refine products. "Our community brings us along on their adventures. They rely on us for comfort, quality, safety and originality. We always keep these things top of mind when designing our products."
Labor of Love: "It's so rewarding bringing our products to life—from the first sketch to the final photo shoot and launch."
Design Mantra: "We choose to never stray from our original vision and mission for our business, despite what is happening around us."

Special Occasion
Imoga
Leadership: President KJ Kim
Company Originated In:
2005
# Earnie Awards Received:
1
Design Foundation: With two young girls of his own, KJ Kim was constantly searching comfortable and sophisticated clothing for them—and it was challenging to find. So that became the cornerstone of Imoga. "The brand focuses on what our customers love the best—functional comfort with sophistication."
This Year's Success Story: "I adapted to the new normal, designing with a mindset that our little ones need comfier and easier silhouettes."
Best Business Practices: "I made a smaller but stronger collection aiming my design on comfort and simplicity with a hint of our classical luxury details."
Top Sellers: There are three: first up, the Stella tiered dress. "This is an easy A-line dress that looks flattering on every girl regardless of her body type. It has three strong and eye-catching prints mixed together with beautiful shimmery velvet trims." Next, the Carly multicolor sweater. "Having all the colors of the color wheel, this sweater grabbed everyone's attention with its one-of-a-kind stitches and texture. It was very easy for the buyers to coordinate with any bottom to make a great outfit." Finally, the Yuria reversible coat. "This coat was one of the most popular items in the collection due to its ease, comfort and multi-purpose use. It was designed with a repeated heart quilting pattern and cozy, warm, faux-fur interior."
Labor of Love: "I love the endless opportunities to design collection after collection that brings joy and happiness to our consumers."
Design Mantra: "There is wisdom in every child's whimsy. Children trust their instincts. They are driven by their senses, not rules. There's no planning, no judgement, no editing. What piques their curiosity and catches their eye, what makes them swoon in the moment is what matters. We design with this spirit in mind."

Swimwear
Feather 4 Arrow
Leadership: Founder/Creative Jaime Riese, President Julie Rich
Company Originated In:
2008
# Earnie Awards Received:
1
# Years Designing:
13
# Employees:
8
Design Foundation: Inspired by Southern California beach culture and life lived outdoors. The resort and Spring '22 collections showcase bright exclusive prints in soft comfortable fabrics in elevated styles. "The ready-to-wear is designed and built off high-quality basics that are buttery soft and mixes and matches with all swimwear," says Julie Rich.
This Year's Success Story: "We designed a well-curated collection bringing West Coast together with East Coast for a perfect blend of style, comfort, and quality."
Best Business Practices: "We have taken 2021 to focus on building strong relationships with our buyers and suppliers, which has greatly helped our ability to navigate through the global challenges."
Top Sellers: Girls' Waverly UPF50+ Reversible Bikini, which can be worn four ways; girls' Sea Breeze Kaftans that are elegant and casual with hand-dyed tassels that mix and match with all swim collections; boys' Palm Daze UPF50+ board short with four-way stretch—the exclusive-print board shorts are designed for "extreme comfort."
Advice Column: "There is no guarantee in business or in life," Rich says. "You must adapt to your customers' needs and your environment. Approach everything you do with humility, grit and determination."
Labor of Love: "I love the creative process of designing our collections and seeing our initial ideas and drawings evolve into a complete, well-merchandised collection.  I love working with our incredible team of strong and smart women who are so passionate about what we do—I am inspired daily by everyone's unique skills."
Design Mantra: "We have curated the best Up-Cycled, Re-Cycled and UPF50+ Sun Protective fabrics to align with our changing world, bringing an innovative freshness to the market."

Teethers/Pacifiers
Three Hearts
Leadership: Director of Sales Linda Trieu
Company Originated In:
2017
# Earnie Awards Received:
1
# Years Designing:
4
# Employees:
16
Design Foundation: After having her first child, Linda Trieu felt that there was a real void in the market for fun and cute accessories for boys. Inspired by European design and its simplicity, Trieu began to design her own toys, bibs and clips that she started to sell Etsy. That led to pop- up markets, a small brick and mortar and then during a buying trip to Dallas Market, a retailer suggested she start a wholesale business. Three Hearts is now in more than 3,500 retailers including more than 35 Nordstrom locations.
This Year's Success Story: Trieu works constantly to perfect her designs as well as understand the psychology of the buyer and consumer. "You can be an amazing designer but at the end of the day, you must understand who is using your products, who is selling them and cater to their likes and wants. Sometimes we as designers get tied up in our own ideas and thoughts but it's not about us—it's about what makes a product sellable and what we need to do as a company to support our retailers to achieve product that moves."
Best Business Practices: The company hired more staff and chose to trust their expansion and scaling process to meet customer demand.
Advice Column: Don't be so hard on yourself!
Labor of Love: "Meeting with retailers and really having the opportunity to see how the product sells in their stores."
Design Mantra: Alternative baby accessories for young and hip parents that compliment their lifestyle.

Tween
KatieJNYC
Leadership: CEO and Founder Shari Fine
Company Originated In:
2017
# Earnie Awards Received:
2
# Years Designing:
5
# Employees:
10
Design Foundation: The original concept of KatieJNYC—which was named after Shari Fine's daughter Katie—was to create luxury apparel for the tween girl (7-14) who, at the time, had very few options from which to choose.
This Year's Success Story: Fine attributes her company's success to the overwhelming support of the specialty retail community: "Their influence, feedback and enthusiasm has been such a crucial part of my journey and it motivates me to work hard every day."
Best Business Practices: Fine remained dedicated to her brand throughout the pandemic and there there were plenty of days where she had to figure out how to congregate a new norm in fashion and production. "I didn't stop my business because nothing was as hard for me as the thought of not doing what I love or designing or creating."
Top Sellers: The Livi Tank, which has been their most popular product since the beginning; The Dylan Sweatsuit, made from one-of-a-kind plush fabric with exciting colorways that change seasonally; and The Brooke Skirt: a best seller for Spring/Summer 2021—so many colors, prints and pairings which allowed really everyone to make it their own.
Advice Column: "They said she couldn't so she did," which is the title of a book by Kendra Blevins Ford about the previously untold story of the Navy's first poster girl and has inspired memes and merchandise.
Labor of Love: Fine loves meeting new people and creating new product, knowing that her brand has a part in everyone's story and personal experiences. "I feel grateful that a part of KatieJ gets to go along for the ride. I hope it makes all my girls feel just as amazing on the outside as they are in the inside, which is greater than anything I ever could have imagined. There is no more rewarding feeling then creating something that people love and enjoy."
Design Mantra: Create clothing that makes girls happy and confident.

Undergarments
Esme
Leadership: Designer and Co-Founder Sarah Oh
Company Originated In:
2001
# Earnie Awards Received:
3
# Employees:
25
Design Foundation: Unable to find quality underwear for her daughters, Sarah Oh set about creating a collection that little girls like hers would love.
This Year's Success Story: Oh had the foresight to stock up on supplies and trims, anticipating global supply shortages and delays with no guaranteed delivery dates.
Top Sellers: Girls' underwear, boys' boxers, and pj's—all three are necessities.
Advice Column: No matter what situation you're in, always keep your head up high.
Labor of Love: "Creating new fun prints that children and moms will love."
Design Mantra: To give the most comfort with style and color, as the company's tagline expresses:  "Wear it. Live in it.™"